Let me set the scene. Spring was on its way in Sussex and I was on my usual daily rounds. Every now and then you get one of those special days, this was one.
Come and enjoy a ride through Sussex with me.
A

Trip Through the Sussex High Weald

Perfect Day

Spring had been a long time coming. The drab cold months of winter had smothered any enthusiasm for the New Year but today spring had arrived. A clear blue sky and a warm breeze heralded in my favourite season.

It was as if my eyes were suddenly opened. The whole countryside was alive with willows sprouting and catkins budding from branches screaming let me out! A profusion of spring plants lined the roadsides and fields. Every flower, from daffodils to primroses, had popped their heads up as if in recognition that winter had fled. Today, England really was a green and pleasant land.

My morning started with a quick trip up to Buxted to an old Singer pulled reluctantly out of the dusty loft for a pair of curtains. As I arrived the village school bus was being loaded with children on their way to another day at the village primary.

The machine gave me a good fight but before long it was dragged out of retirement and sewing beautifully. I was not too sure how pleased the owner was – now having to make the curtains. I had a sneaky feeling she would have much preferred her husband to fork out for a new set at the local soft-furnishings shop in the High Street. Still, no sooner done than I was off to my next call towards the Sussex-Kent border.

This was an unusual repair. A Toyota industrial with a timing problem that turned out to be the tip of a needle jammed in the hook. It put up a fair struggle but, in the end, succumbed to my enthusiastic attack and superior endurance.

Before long I was off again along a small country lane near Burwash, to my next call. Burwash is famous for, among other things, our poet and novelist Rudyard Kipling, of Jungle Book fame. He spent the latter years of his life at Bateman's, a lovely manor built in 1634 for a local ironmaster.

Not a lot of people know that our part of England cradled one of the first major iron industrial areas in the world.

Kipling lived at the manor for over 30 years and whilst there he wrote such stories as Puck of Pook's Hill and Rewards and Fairies. His ghost still lives there now. When you visit Bateman's you can feel his presence all around.

Years ago I met an old lady, Alice, whose parents were in service to the Kiplings and, as a child, she knew Rudyard very well because he often played with her. She called me out to service her machine. Alice was now living in a warden-assisted home off the Burwash High Street. She was amazing. She had hardly ever been out of the village.

Now that may seem extraordinary to us today but life for Alice was very different. Her knowledge about things outside Burwash was almost non-existent but in the village she knew everyone and everything – and I mean everything! She told me where the well was, pointing out a drain-cover just off the High Street. She told me who had fallen down the well in 1924 and how he had been rescued. She told me who went off to war and never came back. She told me who the blacksmith was and what he got up to. Her mind was electric!

As I fixed her machine we travelled back in time together. Back to a Burwash of the past. She had a beautiful, soft Sussex accent that only survives among rural folk born and bred. It was almost musical as she spoke. What a delight it was to listen to her reminiscing.

Then she mentioned Rudyard Kipling.

"What?" I said, "You remember Rudyard Kipling?"

"Oh yes! I remember him as if it were yesterday. He used to play with me out the back of the kitchen."

I was so intrigued. "At Bateman's?" I asked.

"Of course! Mind you I was no more than a child but, as I remember it, he made me a cart of sorts out of a treadle sewing-machine lid and some wheels. He would push me around for hours as my mother cooked in the kitchen."

"My father worked as a gardener so the Kiplings employed them both. Mind you, it was her that wore the pants in that house!"

"What do you mean?" I replied hating to break her flow.

"She wore the pants all right, the mistus (lady of the house). It was a big mistake to cross her. Even Mr Kipling took to hiding sometimes."

"Go on! You're kidding me."

"Oh no! I have seen him, more than once, go and hide in the outside lavvy, down the garden. He would be in there for ages. Mrs Kipling would give up hunting for him after a while. Then out he would creep with handfuls of paper, toilet paper, full of scribbling."

"You mean he wrote some of his stories in the outside toilet? Hiding from his wife!" I said in astonishment.

"I think that's about the long and short of it," she smiled. "She made my dad cut holes in the Yew hedges so that she could peek at the prisoners working in the gardens. Just in case they were being lapsy (lazy)."

"Get away! You're pulling my leg," I laughed.

"No! God's truth. When they had German prisoners to do the gardening she would creep about spying on them. Making sure they weren't up to no good. When the yew flowered, we called the red fruit berries that held the green seeds 'snotty-gogs' as they were all slimy. Now that's an old Sussex word for you."

"I remember old Mr Kipling always forgot to order the right groceries. He used to cuss the stupid boy at the shop in Heathfield High Street and then he'd say's he might as well go and pick them up himself. We used to ride in a big old Rolls-Royce and pick up the veg. When we got to the shop it weren't the boy that forgot at all. It was himself escaping for a few hours. I'm not saying he did not love her dearly but she was a hard woman. Hard but fair. Oh she was the mistus all right!"

I left Alice with images of Rudyard writing some of his great poems on loo paper while hiding in the outside lavvy. What a wonder Alice was! As for Rudyard Kipling, you could say that he wrote at his convenience!

I only meet people like her once in a blue moon. Amazingly, a few years later, I met the grocery boy whose job it was to deliver the fruit and vegetables to the Kiplings. He remembered Alice and the 'scoldings' from Mrs Kipling for forgetting some of the vegetables.

My next call was to a farm set in the High Weald, a stretch of heaven that runs in a ridge from East Sussex to Kent. I was calling on a hop farm. As I arrived Mrs Hillbury and her husband were busy getting things ready for the new season.

Hops are an essential ingredient in all good beers and lagers and, as most people know, British beer is the best although some of it is so strong it will put hair on your chest and make you think the world is ending.

Unfortunately some sneaky scientists a few years ago figured out how to remove the essence from the hops. This means that hops do not have to be stored any more. Hop essence from years ago can be dropped into the brew to give it that special preservative and bitter taste so needed for quality beer.

Many of these farms are still run as they have been for centuries. Hop vines are grown over sheets of coconut matting up long chestnut poles that were harvested from the local forests where they have been coppiced in the same way since Norman times.

In times past, during the hop-picking season, whole families would arrive from London and spend a few weeks' holiday picking the flowers. Families stayed in shantytown style tin-huts along the edges of the fields. During the hot autumn days the women, with pinnies and scarves around their heads, would pick all day while their children played around the fields, running wild in the countryside away from the city smog.

The huts sometimes had little more than a bedsheet pinned up to separate families. For a short time there was a spirit of the old days that came back to life. Then, as suddenly as they arrived, they all went back on the buses and headed for the smoke (London). The fields that had echoed with cockney laughter lay silent once more and young children were home to dream of harvest time in hop country.

One of my friends was a hop-child and I lived these memories through his eyes as he talked of those days with a tear close-by.

There were also downsides for the farmers. Hops have a natural sedative effect like a sleeping drug and it is hell getting everyone up in the mornings as they sleep the sleep of the dead. Mrs Hillbury used her tractor to wake them all. She would run up and down the sheds revving the old Perkins diesel engine until everyone was awake.

While parking, Colin the beekeeper passed me, going off to smoke out his bees and check his hives for the first time this year. Smoking calms the bees before opening their hive. The bees are all getting out of bed after a long break and getting back to work on the spring flowers.

"Off to get your first sting?" I shouted.

He just laughed and waved. If he does not sort out his hives at the right time the queen takes off and looks for a new home followed by her faithful swarm. I knew I would taste his honey in a few months. My wife's family have kept bees on their farm in Hereford for decades and it tastes like no other honey.

After dropping off Mrs Hillbury's Bernina at her farm – I had replaced the cam gear, a common problem with Berninas – I wriggled my way down country lanes to Punnetts Town.

This area of the Weald is Mad Jack Fuller country. Mad Jack, whose actual name was John, came from a wealthy iron-working family that boasted, back in the 1700s, that only they could make great cannon. The discovery of huge iron and coal deposits on the land here brought them untold wealth. Then the manufacture of cannon brought more wealth and distinction.

Fuller Cannon lined the coasts of England to protect her shores. They were dragged into battle at Waterloo and brought Napoleon to his knees. They thundered around the world as Britain became master of two-thirds of it. They were hauled up the Khyber Pass in India and across the plains of Africa. Fuller Cannon had become part of the British Empire and the Fuller name moved to its place in history. Local gossip tells that Fuller cannons lined the decks of the HMS Victory as Nelson sailed victorious into history and immortality in the Battle of Trafalgar.

Out of all the follies that Jack built around this area, the Brightling Needle, stands out the most. Built on an ancient beacon site it stands 640 feet (about 210 metres) above sea level on the brow of a hill. They say that as long as it stands no one will forget him.

Locally he is more fondly remembered as Honest Jack because he refused a peerage apparently saying, "I was born Jack Fuller and so I shall die."

However Jack Fuller was a boastful man and, one day, in a bet with his fellow MPs he said that the views were so magnificent from his Sussex Manor that he could see no less than five church steeples. When he got back from the House (Houses of Parliament) he realised he could only see four. Never one to be outwitted he quickly got some local builders to knock up an extra church steeple on the edge of his land.

When his visitors arrived they counted all 5 church steeples. He won the wager and the steeple is still there today. He has an odd-shaped triangular grave in the local churchyard. Legend has it that he sits there, at a table, with his cat and a bottle of red wine.

My next call was down a tiny lane where I had to park and walk the rest of the way on foot along a narrow path that we call a twitten. The path leads only to Mrs Jenny at Blackbird Cottage. The path winds its way lazily down to her place and is hardly wider than my shoulders. The ground was layered with clinker from her fire. She sprinkles the ashes over the path to keep it from getting waterlogged in winter.

Halfway down I stopped to soak up the countryside.

You can see why pagan rituals were performed to herald in spring at this time of year. Everything has come to life. After months of cold inactivity the very earth itself was breathing.

Bright yellow celandine flowers were popping up in the meadows like water lilies on a green-velvet lake. Wild periwinkle was everywhere creeping out of the hedgerows looking like bits of the blue sky dropped to the ground.

There was almost no sound, just a quiet hush over the countryside. In the distance a horse whinnied and a cow replied. A dog barked on the farm down in the valley but otherwise all was quiet. They say that, on special days like these, sound travels for miles and a dog barking in a Sussex pub can be heard by and replied to by one in Kent.

After dilly-dallying for too long I fixed yet another Bernina. They go wrong just as much as any other machine. This time the bearing had slipped out of alignment causing the machine to miss stitches. Mrs Jenny's old Alsatian followed me up the path before deciding enough was enough and slumping in a sunny spot for the rest of the morning. She looked at me as I went as if to say if you were smart you would stay too.

There are many pubs, around the country, that I pass on my travels. They have a thousand names. Everything from the Rat & Parrot to The White Hart. Many are named after local heroes such as Jack Cade and the like. The one that always makes me wonder is the Kings Head. I pass pubs with this name all over England.

Some may be a reference to Charles the First who had his head chopped off – one way to get instant relief from a headache I suppose!

It was a chilly morning back in January 1649 that King Charles stepped up to the scaffold with the drums rolling. He had had his tailor make two shirts, one over the other, so that the crowd would not see him shiver and mistake it for fear. He had complete faith in God and a belief that he had a divine right to rule England. Rather than renounce his rights he would face his maker.

Oliver Cromwell had forced his hand and, with his life, the King would pay the ultimate price. As he reached the executioner he pushed a gold sovereign into the hooded axeman's hand – for the axe man to give a clean blow – then he knelt and folded his black hair forward over the block.

The axeman's blade fell with a sickening thud. A huge sigh rose from the onlookers. Few people had really believed that the execution would take place. The axeman held the dripping head of the King up to the crowd but no one cheered. His last words were still in their ears, "I go from a corruptible to an incorruptible Crown, where no disturbance can be."

For the next decade Cromwell ruled our land and brought about many changes, some good, some bad. For example St. Paul's in London fell into a terrible state of disrepair. At one point, the church was so bad that a road was knocked through with shops and seamstresses and the chancel was used to stable horses. Hard to believe now.

My next stop was at Heathfield to sharpen some scissors and give a bit of technical advice on making blinds for a conservatory. I apologised for the smell of the fireplace that had stuck to my shoes after the walk down the cinder path earlier. I dropped off a model 221 Featherweight manual for the customer, stopped for a coffee and finally headed back across my beautiful corner of England towards the sea glimmering on the horizon with the Downs lying like a sleeping giant across the skyline.

I was full of the joys of Spring like a new-born lamb. For today, after long weeks of drab and dull weather it really was a perfect spring day.

The End

If you would like to read more stories like this they are in my Random Threads trilogy and my latest book Tales from the Coast.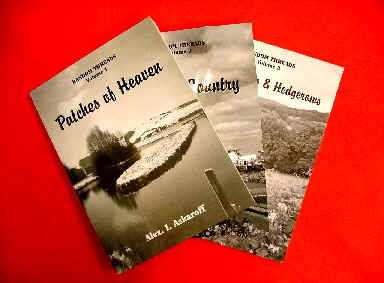 For more information on how to order and prices just mail me anytime: alexsussex@aol.com
Or go to: Books