Books by Alex Askaroff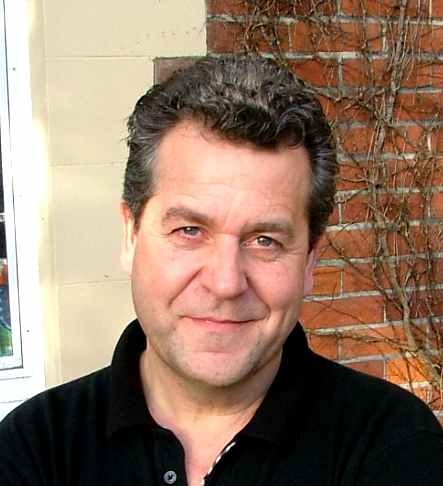 A Personal Note From The Author
Amazingly I have another 30 pages of reviews!
I must thank you all for your wonderful comments. I have to admit that I have made many new friends, some just arriving on my door from all over the world including America, Canada, Mexico and Australia. My favourite turning up on my doorstep with a card and cake, how about that for a nice surprise!
Evocative and descriptive. Excellent writing—Professor Jacque Johnson.
Wonderful warm and charming. Alex has a remarkable talent—Anne Brennan:
President Allegro Communications.
Alex's books are rare desired and most welcome—Dick Wightman, Treadleon.
A trilogy of local gems—Aspect County Magazine.
You will be entranced by his stories and travels around Sussex—Sussex Books.
Wonderful humour and writing— Sussex Life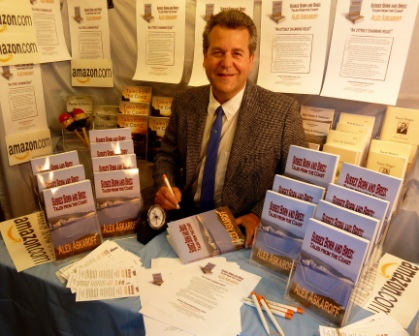 Alex Thank you so very much. Your books are magnificent. You have a lovely speed and rhythm in your writing. When I read

Do Not Grieve I must tell you that I found tears of joy running down my cheeks.

I have often said that the beauty of England makes us Brits all poets, but with this poem I now must add that it is our love of England and our unabashed willingness to share our emotions that makes us the best poets in the World, and Lad, in my book, you stand out as one of the best modern English poets.

J. J. USA

Alex

Reading your stories, I become desperately "home-sick" for the land of some of my ancestors.
Really, the stories are as evocative as Kipling's.

CW USA

Alex
You truly are the Sussex Bard.
Chris Wozny
Editor, Fireship Press, USA

You may feel that you know Sussex but I guarantee Alex will make you look again and fill your minds with the happiest of thoughts—Frank Scutt OBE.

I couldn't put it down, Hillarie Belloc would have been happy to put his name to a book like this— Magnet Magazine

Word pictures of landscapes and pictures straight from the heart.

A fascinating read— Jim Flegg Country ways Television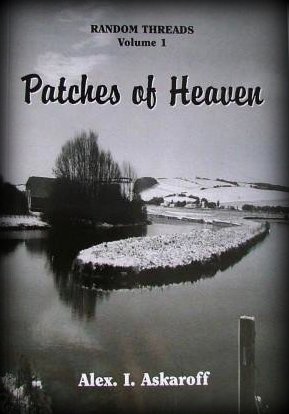 Full of laughter, even a few tears, folklore and wisdom. Books to be dipped into and treasured a delightful trilogy— The Hash
I retired to my bed, and let your book give me a glimpse of somewhere else, through the eyes of someone else, by the time I turned off my reading light, I was at peace with the world. Not convinced it is either safe or sane, but the edge softened by your beautiful words
Pat Bergman,
Highly individual and rich in feeling for the past, Askaroff is a writer of talent with a descriptive gift for character. His stories are imaginative and highly original, full of atmosphere and nostalgia, these are stories for the fireside — Athena Press
Alex your books are wonderful! And the stories are great,
I am reading them slowly...Again, so I can savor every word.
Nancy B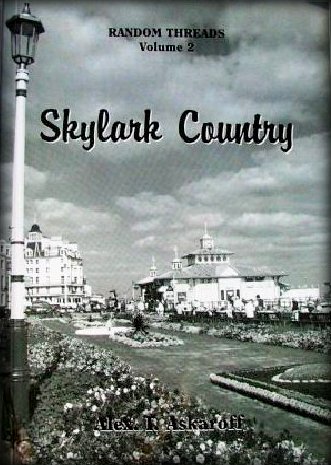 Hi Alex,
I got your book yesterday, I'm enjoying the way you have with words. The pictures of the downs and villages are great. The first thing I read was the back cover about the cross-dressing bartenders. I thought; here we go with more rip roaring stories. Hilarious! Keep up the good work.
Shirl
THE BEST BEDTIME BOOK EVER, WENT TO BED HAPPY AND WOKE SMILING. Marge E.
Genius—Southern Counties BBC radio.
Hi Alex:
Received your new book in yesterday's mail. I can tell it will be another hit.
Thanks,
Irene A
Hi, Alex!

I just wanted to say thank you for the laughter.
So James Herriot! The most sparkling of his style.
Daniel MacKay
You'll be back for more—County Life.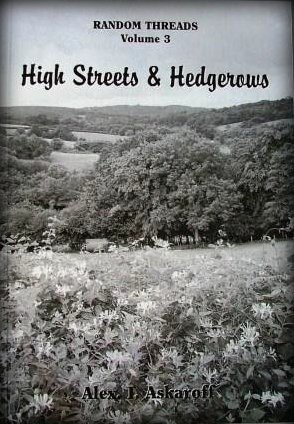 Hello Alex...
I love your stories.....and guess what??? I have Herriott in my genealogy. I love the way you keep our interest.
"McMolly"
Hi Alex~
I received my books today and it was a special surprise as it is my birthday! The books are wonderful they make me want to make me pack and head for East Sussex for a vacation!
You're a natural storyteller, and your work is both accessible and engaging. Your narrative style is a significant part of its charm. It's not surprising that you've had the reader response you've enjoyed, and I do predict it will continue.
Good job, Alex!
Linda.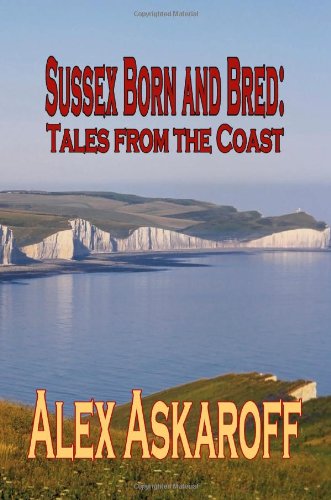 A polished masterpiece—What's On Magazine.
Charming, entertaining and a pleasure to read. Pen Press
Hi Alex,
Your book was so delightful! I made myself wait to read it and then gobbled it up like a cherry turnover I was going to make myself wait until after Christmas to read the book but I just couldn't. It is just delightful.
Hugs, -- Gretchen
Hi Alex. We received our book we would recommend it to anyone. Some great experiences like the cross dressing Bartenders.
Jack/ Ca.
Hi Alex, I've just spent several enjoyable hours reading your book. I laughed out loud when I read "Favourite Sayings". Very James Herriot!
Well done.
JP
Hi, Alex... Just love the new book it's simply marvelous.
Gayle
Dear Alex,
Received the book the other day, and am really enjoying reading it. You certainly have a knack for story telling!! Keep up the good work, and I'll Look forward the the next one.
R Grace
Hi, Alex:
The book has been great I can't believe it. I read the whole book last night by the fire. Thanks so much for sharing your Herriot talent.
Keep up the good work.
Eyleen T
Hi Alex
I just wanted to let you know that I am savoring your book, going slowly. I so love the way you express yourself sometimes. I was moved by your description of the little dead sparrow: "To this day I can feel that sparrow in my hand, just how mournfully light it was." I am as delighted with this book as I was with the first.
Gayle
Subtle charming nostalgia, the perfect feel-good book.
Mary Walker, Can.
Hi Alex,
I am reading your book and love it! Now I know why everyone has raved over it. Right now it is the "must read" book in the house. Once again congratulations.
Jacque
Hi Alex:
The book arrived safely almost a week ago and I have been reading it. I love it, love it, love it. Thanks for the wonderful book.
Nancy W
Alex,
I love your book. You are an excellent storyteller. Through your words I see.
Jac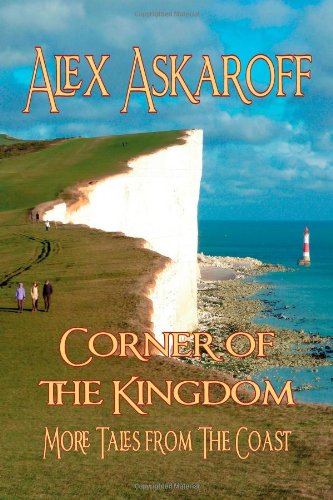 Subj: COMPLAINT
To: alexsussex@aol.com (Alex Askaroff)
Hi Alex
I've got a complaint about your new book. I took it to bed to read myself to sleep, but the stories were so captivating I stayed awake a couple hours longer then anticipated. I was bloody tired this morning and almost late. How do you pick up so many fascinating details of the places you go? I've lived in Seaford and not taken any particular notice of that canon.
The book's a real pleasure to read and should appeal to anyone who appreciates the country as you obviously do. I particularly enjoy your descriptive turn of phrase. To me the book's a lesson in appreciation - the simple and not so simple - fact and hearsay brought to life with a touch of humour. What else can one say but write on..
NC
Hi Alex!
I'm enjoying reading the book...makes for excellent reading just before bed!!....It's a good read, gives me a real kick!
Marybeth...H
To: AlexSussex
Hi Alex
Your book is wonderful, thank you so much. You need to keep writing, you have a gift. Happy Holidays
Jan and Ed Torrez
ALEX, RE: NEW BOOK
YOUR BOOK IS OUT OF THIS WORLD and such a blessing at this time of trouble here in the USA so nice to be able to "escape into another world" so to speak for awhile.
Casey M
Hi Alex. I received your book in the mail on Monday. I read it so fast, it was a real blast. Take care, and good luck
Lisa
Subj: Book
Alex,
Your book arrived in Michigan, USA and I just wanted to let you know that it is great. Well done…. again.
Thanks Karen
Alex,
The book is great and very special. I am almost through it and will then wait a week or so and read it again at a more leisurely pace. Thanks for writing it.
Fran
Dear Alex,
I must say I am impressed with your stories. Why don't you now come to Australia for a holiday so that you can include some uniquely Australian stories in the next book along with some American stories. That would make it an international edition !!!!!!
Regards, Sue C
Subject: Re: ALEX IN ENGLAND & more
Alex, your book has arrived and I am fighting my 14 yr. old daughter for the books now. I made the mistake of letting her read some of it prior to finishing myself.
GREAT as always...
Victoria. W
Hi Alex
I just had to email you. Your new book is a hit, full of touching, poignant and funny stories, written expertly. Your writing is incredible. The photos that accompany the text are also beautiful. Makes me wish I was in England to tour the countryside. When I read the book I feel like I am right there beside you. Well done and thank you.
Edward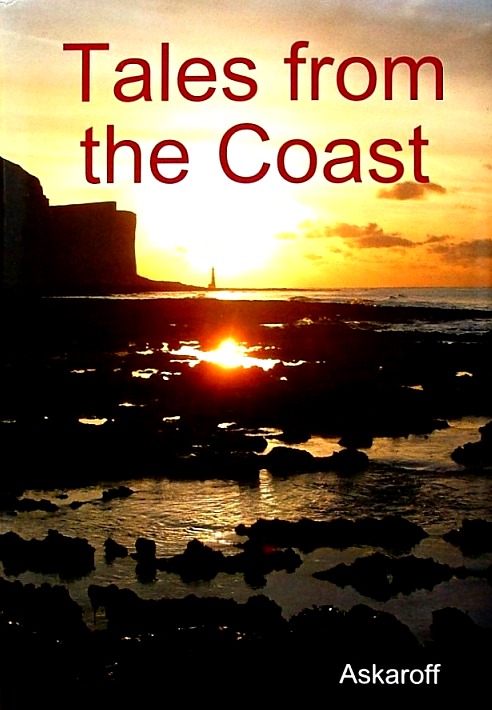 Hi Alex,
Just to let you know my book came today. It is very nice, got quite a kick out of it. You have a true gift.
Thanks Alex,
Diane
Hi
The book arrived..I love it!!
Linda Harral
Hi Alex,
The book is great. Makes me want to come and revisit all my favorite lanes and villages.
Your writing has real style. Your enjoyment of writing is reflected in your excellent results.
Frank D
Another: Happy customer
Hi Alex,
Just had to tell you your books are wonderful.....really wonderful, I can't put them down!!! I am going to go to sleep early tonight and read ....read.....read....Thanks so much for putting your stories into these books.
take care and God Bless
Elyse
Hi Alex,
My book came in the mail yesterday. I stayed up way too late reading it. I just love it!
Sharon R
.
Jaunty, yarn-spinning and hilarious anecdotes, fine wordsmanship. Pen Publishing.
To: AlexSussex
Hi Alex, may I call you Alex?
I loved all the stories in your book, especially the one about the cross dressing bartenders. If you don't be careful we will be showing up on your doorstep. You have a great eye for nature.
Marilyn R
Hi Alex,
Your wonderful new book, "Skylark Country" arrived on November 29th. You've written more wonderful stories, thanks so much. I have been staying awake much too late reading them at bedtime.
Thanks again,
Sharon W
To: alexsussex@aol.com
Hi Alex,
Just wanted to give you some feedback on your book, I love it - the stories are great and I especially like the fact that it is fatter than the first and has more pictures. It makes me homesick even though I'm from London!
Mary K
Hi Alex
Your book is fantastic and such a
wonderful way to escape from the world of today for a couple of
moments.
Casey S
To: AlexSussex
Alex, I finished your book. Your stories are so entertaining. Your book is full of fun. I just had to let you know how much I liked it.
Marilyn
Hi Alex,
Your books are great. They remind me so much of the James Herriot stories of when he was a country vet.
Thanks,
Donna B
See Alex Askaroff on Youtube, brace yourself!
http://www.youtube.com/watch?v=8-NVWFkm0sA&list=UL
Alex,
I had to drop you a line to let you know just how much
I have thoroughly enjoyed your book. It was just delightful.
Thanks donna n
Hi Alex
Your book is wonderful, outstanding. We have both read it and are now reading it again one story a day so that it will last longer.
Ann and George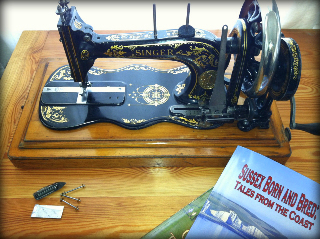 Hi Alex,
I enjoyed your book very much although my wife pinched it first. She read your other one before I did as well.
I need to order at least 10 more of them for "real good" customers of mine for Christmas presents. Go ahead & send 10 of them & let me know the total cost with shipping...OK?
Again.....thank you so much.
Glenn W
Dear Alex,
I loved the book, it's a little part of England for me for this Christmas, a wonderful touch of home.
Again, my thanks and wishes for a Merry Christmas season to you and yours ~
Kathy S
Hi Alex,
I am really enjoying the books, trying to read them all at once-
With tears down my cheeks,
Judy
Hi Alex,
I just finished "Skylark Country" last night. I think my very favorite story is the one about the emerald and diamond ring, then the cross dressers, I laughed so much my ribs hurt; all the stories are wonderful. You meet some very colorful people in your travels.
Thank you for writing such wonderful stories, your descriptions of the English countryside make it almost possible to see them in my mind's eye.
yours in stitches,
Sharon W USA
Good morning, Alex ~
Your books put me in heaven.
Warm regards and best wishes.
Kathy
Hi Alex,
I received my copy of Skylark Country Thanksgiving week and had no time to read it amidst the company and Thanksgiving dinner. Then came the flurry of Christmas preparations and it was not until this weekend past that I was able to "hole up" and start reading. I knew I needed the entire time as I wouldn't be able to put it down.
You did not disappoint me. BRAVO! You did it again! You managed to transport me to your lovely countryside and I was able to enjoy it right along with you.
Thank you so much.
Lynn O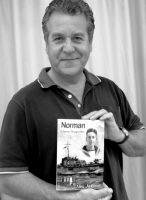 Hello Alex,

Alex I love trivia and the part I liked the best in your latest book was the story of the archers and the so-called V for victory. I do not know how anyone can "save" your stories to read and savor. I ripped into the package upon receipt and by nightfall every word has been read. Can't wait for the third book!

Jeanne W

Hi Alex,

I received your book.

Your knack for telling stories is

just wonderful and all of us who have purchased

your books have enjoyed them very much.

I hope you are thinking of another literary

venture once the trilogy is complete!!!

I am wishing you a Happy Holiday with your family.

Rosemary S

Hi Alex.

I got the book, I can't lay it down I feel like I am on a trip to England. You are a wonderful writer.

Velma P

in the middle of the USA. Blackwell, Oklahoma.

Alex

Your book was very interesting I love how you describe the local towns.

You really have a talent for writing!!!! In places I

rolled over with laughter.

Kathy A

Alex,

I just received my book today. I took it to work so I could read

on my lunch and breaks....I am having a hard time putting it down so I can

finish my Christmas shopping. Thanks so much Alex.

Peggy L

Alex,

YOUR book rocks. I love your turn of phrase and idiom,

not to mention the stories themselves. It's great you have such a

range of talents

Juno R

Hi Alex,

Your book is just wonderful, you take us on a trip to your country with each story.

A special thanks.

Velma

Dear Alex,

My friend's husband has cancer. I went by to pay a condolence call and

took one of your books, telling him I thought he would enjoy this.

He took it and just flapped it on the table...I thought...well OK...

We were there again Christmas Eve, and he told me he had read it and really

enjoyed it and it made him feel good.

Thank you so much for writing the books.

Cacilie D

ps...I finished reading mine on the trip home...did not sleep as I usually do.

Alex

Your books are great and a taste of the true England, Alex- it's a joy to read - I recommend it highly. It is like listening to a good friend

tell you a lovely story. Well done

Janice U

Hi Alex.

I received your book several days ago and thought I'd read just one

story and then wrap it up for a Christmas gift. I never did get it gift

wrapped, but read it from cover to cover. I certainly did enjoy the read.

Janell S

Hi Alex~

I have received both of your books and have enjoyed them thoroughly. I bought 12 of the first book and 4 of the second one. I have given several of them as gifts. Everyone loves your colorful method of writing. Now I want to come visit you and see your beautiful countryside.

Linda C

Hi Alex,

I spent Christmas night reading your new book-and loved it. My daughter stole the book from me to read the story of the one-armed seamstress-because she wanted to know why I was giggling so loudly.

I can hardly wait for Vol. 3. Just let me know when to order it.

Flo Jolly

Hi Alex

I must thank you for your book on your sewing machine repair adventures. I find your stories so amusing, but your greatest gift you have is your fantastic description of the English countryside. It is obvious you love your part of the world and I am fascinated. Skylark Country the best of so many books I have acquired written by "home" authors.

I am eagerly awaiting your next effort.

Thanks once again.

Buslyn USA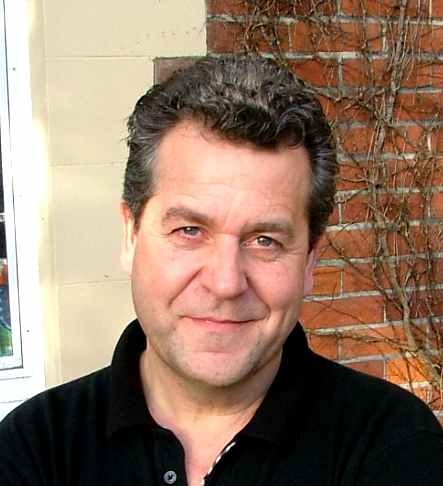 Alex Askaroff Biography

Hi Alex

I am doing my happy dance after reading your book. I just love your stories and they are so very descriptive. I really like the descriptions of the folk you do business with. I can almost see them as they answer the door. And I do like the funny ones. Now Alex you must get on with your next book!

Betty Jo

Alex,

your book is simply "Refreshing." It is like the collection of letters from a very dear friend, inviting you to share his experiences and thoughts for the day or week, with words that allow you to see as if you were there in person. Serious, and yet, with humor.

Alex, you are the kind of person who, when life drops you a lemon, you not only make lemonade, you also make a wonderful lemon pie.

It has been a real gift and delight to share your book, and your life in the land you obviously love so dearly.

Pat

………………………………………………………………………….

Dear Alex

I am just writing to let you know that my husband and I both really enjoyed your book, when I read about the Emerald Ring Chills went through me, your description was wonderful, it was a great emotional trip. Several family members are awaiting their turns to read it.

Thanks again.

Sincerely,

Madalene Y

Hi Alex,

I just thought I must let you know I am reading your book and enjoying it immensely.

Please keep up the good work.

Peggy/Q

Alex,

your stories i.e., The Emerald Ring and "The

Rocket Scientist" are really something . I loved the Emerald

Ring Story, we never know when someone leaves a treasure for us what it will hold.

Thanks Alex for your wonderful wit, humor, depth of feelings and your great

ability to entertain! If you have not started on book 3 its time to do

so!

Peggy H. USA

Hi Alex,

I loved your book. When I die, I want to come back as

a sewing machine repairman in rural England and eat all the doughnuts I want!

Best Wishes,

Mary Z.

Alex

I have enjoyed every word you have written, from the true family history to the poignant stories of despair and the funny stories about men in leather with sewing machines. You have a gift, please continue to share it with the world....who knows, maybe Oprah will read one and get bitten by the Alex bug.

Jan

Dear Alex

As a "bulk" buyer of your books (3-4 of each), I highly recommend

that whatever you're doing to write these books, DON'T STOP! I've read both

books cover to cover, and have given several of them as gifts to like minded

friends and relatives, and the feedback I've gotten has been tremendous. I'm

congratulated from the receivers for my good taste in books, and my generosity in sharing, and so I pass that onto you as well. We all thank you for sharing your wonderful stories with us.

Keep up the great work!

Marti Jo

Alex,

I have thought of a way to improve your stories.

WRITE MORE OF THEM!

Valerie in S.Germany

Hi Alex,

I love your books they are pure Heaven. I think your balance of humor and pathos is perfect.

You've done a wonderful job.

G. U, USA

Hi, Alex:

I've been a professional editor for 18 years.I think your stories are wonderful, and in the hands of a sensitive editor to, they could be even better.

Good luck with your writing! If you have questions or want any kind of

help, e-mail me any time!

Anne B

Subject: Alex

Alex, I love your format and type of stories. You really remind me of the

"All Creatures" books, which I loved. Your books are lots of fun, they make me want to visit Eastbourne.

Judy Z

Hi, Alex,

You are a born storyteller, and that any story, funny or not, that you choose to write down will be interesting to your readers. Story telling is a wonderful art - not everyone is good at it - you are one of the best. Another thing that I like about your stories is your ability to paint a picture of the day/location with words and also to give us the flavor of your country side. I visited England about 30 years ago, I was there several times, mostly in London, but one trip to Norfolk by car and I always feel as if I am right back there when I read your prose.

Polly

Hi Alex,

I just love your books. You must make the 3rd in the trilogy thicker, and longer, and have more stories and more funny stories. Just keep on writing!

Linda V

Dear Alex,

I read every book James Herriot ever wrote, and my favorite topics in his books are about the animals and the meals just like my favorite stories in both of your books are the ones that talk about your

experiences working on machines in people's homes. I love hearing about them.

Thank you for lovely books.

Joe E

Hi Alex,

I love your stories; the funny stories are definitely the best. Your rich descriptions of the people and the countryside are enchanting. A nice fat grand finale volume would be super, I look forward to it.

JoAnn

Hi Alex,

I love the spontaneous, on the fly spirit of your writing and the lively pace.

As to the stories, keep them coming. I think you have just the right mix of humor and more serious material, and I love the descriptions of your corner of the world, and the wonderful character sketches of the people you meet!

I loved your book you will be the next James Herriot!

Warm wishes,

Caroline L,

Dear Alex,

You must make book 3 longer (because we don't want the stories to end)

Your stories are very sweet and touching, all of us enjoy a good chuckle.

Your gift of putting stories to paper has been most appreciated by all of us.

Thank you so much for the joy and humor your books have brought.

Rosemary S

Dear Alex.

We all enjoyed your book so much.

Your stories are believable, well-thought-out, and enjoyable. They give the reader a glimpse of past and present that is both humorous, sincere, and....yes....comforting. In addition, they bring to your readers a wonderful sense of life in a different place and...sometimes....a different time much like the James Herriot stories!

You do a good job of making the stories flow. You are able to 'see' a story in an incident that might not inspire other people. Well done.

Sincerely, Roz in V

Dear Alex,

I am savoring the stories from Skylark Country and laughing until I gag with tears rolling down my face. Great book.

Judy F

Subject: Alex' new book and Volume I and II

Hi Alex

Your stories are so interesting, colorful, and bring the reader along

With you. I also like the size of the book and the glossy pages used. Your

style of writing reminds me a lot of James Herriot who also hails from your

neck of the woods, very personable, insightful and written with a lot of

humor; Whatever you do, don't change your style of writing we love it.

Janet

Alex,

I received your book Sat and could not put it down. Your descriptions of the

countryside really bring it to life as well as show your thorough

appreciation for life in your neck of the woods. The emerald ring story was

touching and the gay bartenders were very funny.

The length was great and I, for one, would like to see more stories of the

characters you meet in your travels in the next one (now that I already have

a good feel for the countryside).

Amy in NJ

P.S. I love the list of "excuses" in the back!!

Hi Alex

About your book, I loved it. You have a love for your country that shows

up in every page.

Carl in Canada

Hi Alex,

the book arrived today. I'm already on

chapter 2 and am enjoying it thoroughly! You are a terrific writer.

Thank you very much

C Lewis

Hi Alex,

The books are just wonderful. Thanks so much for

putting them together.

Ingrid H

Hi Alex:

I live in Tillamook, Oregon on the West Coast of the USA. I have enjoyed your Random Threads books very much. I really enjoy the funny stories about the people you service machines for and would like to see some pictures of the machines you work with. Do keep writing - I love reading about your "service calls." Thanks for the good entertainment.

Charlotte L

Hi Alex,

Your Skylark Country is fantastic!

I'm impressed with how professional the whole thing appears. You publisher has done a great job. The minor, "home" editing faults take nothing away from the book.

I liked the quality overall, particularly the type of paper used and the clarity of the photos.

All in all a wonderful experience

.

Thanks, too, for the personal note. It is one of the things that I love.

Regards

Lin (Australia)

Hi Alex,

I have read your wonderful books and enjoyed them so much.

Can't wait for the next one!! Sounds like you do have a lot fun in your work. I loved your story about the wonderful industrial singer that did all those stitches.

Donna S

Hi Alex,

I Just wanted to let you know I am half way through

your second book and I truly look

forward to crawling into bed at night to read a couple

chapters. The stories are fresh, interesting, and

make you feel great! I loved James Herriott's

books on his veterinary travels and love your

tales on your sewing machine travels!

Keep up the great work Alex, looking forward to book

three!

Sue R Syracuse

Hi Alex,

I received my books and they are wonderful!!!!!!!!. I am savoring the first

one by only reading a couple stories a night (out loud to my husband who loves them as well, huh!).

Thanks so much!!

Luella Millington

Hi Alex:

Your writing reminds me of that of James Herriot, one of my all time

favorite authors.

Thanks, Alex.

Mary F

Alex, thank you for your wonderful stories.

Your words paint a beautiful picture of a place I should love to visit someday.

Perhaps when my health returns I can make a journey to the places you have described.

My sincerest thanks.

Paula

Hi Alex,

I received your books and started reading one immediately.

It's really hard putting it down to get things done around the house.

Great work.

Thank you again,

Teri

Hi Alex,

I got my book and I love it. The pictures are wonderful and your stories so much fun to read - just a delight. Your books are quite wonderful.

Ellen

Alex,

I thought I must tell you, we all love your stories, I bought four books for friends. At a time when age has limited their activity, your humorous tales and descriptions of the countryside provide a pleasant escape from the hum-drum of everyday life.

Thank you very much.

Linda P

Alex,

Patches of Heaven arrived today I love it!!

Thanks, La

P.S Alex keep me on your mailing list for the next book.

Hi Alex

I LOVE the new book, it is just the best, I was reading it at the doctor's office today and when they called me to go in, I did not want to stop reading it.
It will be a sell out!!
Jan A

Hi Alex

We love your books. You are an excellent storyteller.

Ellen M

Hi Alex,

Just wanted you to know that the new book arrived in San Antonio, TX.

Its fantastic and enjoyable it makes the time fly by.

Hope you and the family have a very Merry Christmas and a Happy New Year.

Buck

Hi Alex,

I received the book it's wonderful.

Thank you,

Mary M


Hello Alex,

An outstanding success. So funny,
OK, what is next? What ever it is, sign me up to receive a copy.

Thanks from Jeanne W


Hi Alex,

Your book is all so good.

from Patricia in America



Hi Alex,

While my husband is ill and not able to do much of anything, I am reading to him to entertain him. I am on your second book. I like to read to him a story at a time, but he always wants more.
Thanks for giving me a laugh in a time when things are not too good.
Marilyn


Hi Alex,
this is just to let you know I received my two copies
of volume III and I am very happy to have them A+
Thank you so very much!! Your delightful descriptions of the beautiful
English countryside are a pleasure to read.
I do hope you will further continue to write....
It is obvious you have the talent.
Rosemary S


Hi Alex,
Your books are wonderful.
Thank you for your great books.
Let us know when you write more.
Elizabeth G


Hi Alex
We love your books, Alex - they're magical and transporting. I So enjoy the
exhilarating ride. You can't help but come out a winner. I promise!
Mary A

From: "Linda"

Hi Alex,

I thought I must let you know. Your book is a great read.

Linda . B

Alex,

I would like to order 10 of your third book. And do you have any of your first book left? I would like 5 more of that one.

I read out excerpts from you book in a very large class that I have once a month. They love them!

Let me know.

Thanks
Ellen

Arlington Texas.

From: Subject: High Streets and Hedgerows

Alex! Another great book!
High Streets and Hedgerows it's wonderful. The word pictures you paint of Sussex make one want to go there for a holiday! The stories are a delight to read

Joan C

Alex's reading your book is an enchanting experience.
Thank you, Alex, for another wonderful collection of stories and images!
You and your books have been a huge bonus to me.
Gayle

C



Alex my copy of "High Streets & Hedgerows" is as wonderful
as the first two. Good job,

I know it will be another sellout!

Cindy
Phoenix, AZ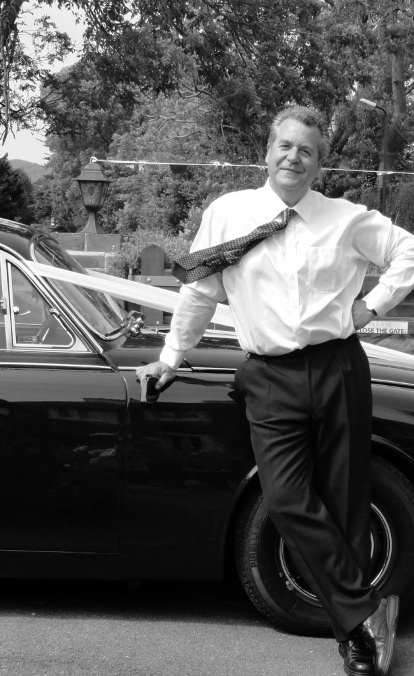 Alex Askaroff 2012

Alex
We got our copy of your book yesterday, "High Streets and Hedgerows"
and I could not wait to have time to sit down to start reading it, so I just did, it was that engrossing.

I am an enthralled reader of your trilogy of sewing stories.

Ed T
Canada
Subject: Alex's book

Alex, you outdid yourself with every volume they are all wonderful. What next, indeed!
Surely you won't stop with this one even though the planned trilogy is complete.

Ellen Lee


Alex – I have been unable to put your book down, except for tending to basic chores. It is your best yet!
I will try to read slower so it will last longer. Thanks for writing all your books, you make Sussex sound truly beautiful.

Barbara Parker


Hi,
I've read the third book and enjoyed it. I laughed and
thought about the stories quite a bit.

Thanks.

Sandra Atkinson
Hello Alex
We received your books nothing would do but we had to start
reading. We got 2 so each one of us would have one to read without complaining. Great book. We enjoyed it immensely.
J & C
From: "Diane

Hi Alex
Thank you for a delightful book. You've left me
wishing for more and yearning for another round of cream teas! Now where
did I hide those recipes for cream scones and lemon curd....?

Looking forward to the next one.

Diane


Alex,
Received your excellent book. It is as wonderful as the other two.
Thanks for brightening up our world!!

Dianne
Alex
I am so excited! I got my book....the third of the trilogy!
Now I have all 3 and all are signed. YIPPEE! But what is
more wonderful....I flipped the book over and read the short
story on the back cover.....and almost spit coffee across the
room. My daughter read it and again thinks she will get the
joy of reading your book prior to me.

Thanks Alex. I hope you will consider sharing more joy again in the future.
Vicki in Raleigh, NC

Alex,
I received my copy of your book last week and am almost half way
through. Alex you have a way with words that makes me feel like I am really
there in your stories. Thanks for putting all this down on paper for us.
I will reread them many times in the coming years.


Sharon


Alex
Your book arrived on Saturday and I have read the first three stories and
laughed out loud. You have a great way of writing that makes the reader feel they are right there with you.

I am looking forward to learning more about you as I read the rest of the
book! I would recommend it to anyone.

Shelly


Alex
You have written another great book "High Streets & Hedgerows."

Alex, the book is another winner. Thanks for the time, effort and great
stories that have made it such a pleasure.

Sandra A
Eastern Washington State USA
Hi Alex,

I rec'd both books this week and absolutely can't put them down. I keep one
in the bathroom (heh heh) and one in the living room. One for obvious
reasons and the other for when my husband turns something on the television
that I can't stand to watch (like football, basketball, hockey, golf...you
name it!)...I sit there and read and laugh and giggle....he thinks I am
nuts. Anyway, thank you for two wonderful books The beautiful descriptions of your little corner of the world and the funny stories brighten an otherwise bleak day.
Wow! now I have all three! I
never have much time to read, but I have made time to read these! Good work
Alex! Thanks for sharing your life with us!

thanks again Alex!

Sharon


Alex
Your stories are told in a way that only you can tell. They kept me laughing all the way through and wishing there were more when I had completed reading them!

Alex! They are a delight!

Anne R
From: PAT

Alex, I must say that your continuing story or rather biography of your daily life is wonderful.
My non-sewing, non-mechanical husband even enjoys reading them.

Pat
Hi Alex,
Thanks so much for the books they are Great! Hope that you will keep writing.
I have never been to England,but would love to see some of the places you write about they sound so beautiful! And I love the last page ...It's Beautiful! Again thanks so much, I'm really enjoying them.
So best wishes for Happy Holidays and God Bless You and Yours.
Linda


Alex,
Your book arrived safely and I had to read it cover to cover.
I LOVED IT!
We live near Lake Superior so we have a little idea about the water. I
like the word pictures describing the English Channel. Your comments about
historical events are so interesting in our part of the country there is
nothing older than 125 years old. No old heroes either. Alex, I really enjoyed all
three books.
LaVerne


Alex:
THANKS SO MUCH FOR A WONDERFUL BOOK!!
I loved it!
Shelvy


Alex,
Your books are unique, rare and, desired.

D W




Alex, I am really enjoying your latest book. I love the descriptive
passages.

J M
Hi Alex,

I bought Volume III last Thursday. I curled up by the fireplace and lost myself in your world. What a joy.

Thanks again,

Lynn O
Hi Alex

Just to tell you that my friend was admitted to hospital on Friday with acute pancreatitis and his only request, under heavy sedation, was 'bring me in Alex's books' - on visiting the poor sick fellow what is keeping his spirits up - no I can't believe it - your book!

Thanks Alex

Anne C
Dear Alex,
A couple of months ago, I purchased a copy of your first book. But then, took a part time job, and with the holiday preparations, just didn't get around to reading it. When I started reading it I thoroughly enjoyed it!
Thank you
Marie A


Dear Alex,

What a wonderful book - once again Ann has not put it down until she read it from cover to cover! Ann wonders when the next book will be.
Many congratulations on another masterpiece.
Stan in Brighton
Alex,

I just wanted to tell you how much I enjoy reading what you have written. Your prose style is absolutely wonderful -- "enchanting" is probably the right word because I feel like I have been carried away to someone else's kitchen, or back road.
Thanks so much.
Margo N
Great storytelling and great sense of time and place.
Sharon W USA
Alex,
Just great reading!

Marie in Park Ridge, IL
Alex,

As always, I very much enjoy your stories. Thank you for sharing.

Cheryl in central Illinois
Alex,

Your stories are wonderful! You have a gift. Thanks so much for sharing.
Take care.

Emily
In the Northwest Georgia Mountains
Loved every word, Alex. You are indeed a master story-teller. Thanks for sharing
with us.
Marilyn S.
SE TX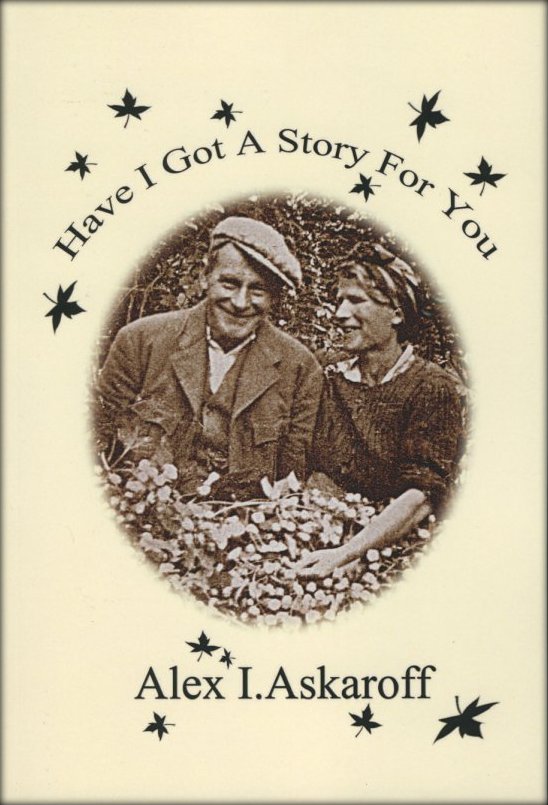 Well that's it for now! Believe it or not I have around 30 pages more but I bet you are all fed up now so I won't go on. Thank you all once again for so much great feedback.
Alex I Askaroff Biography
Main site index: Index
Fancy a free funny read: Ena Wilf & The One-Armed Machinist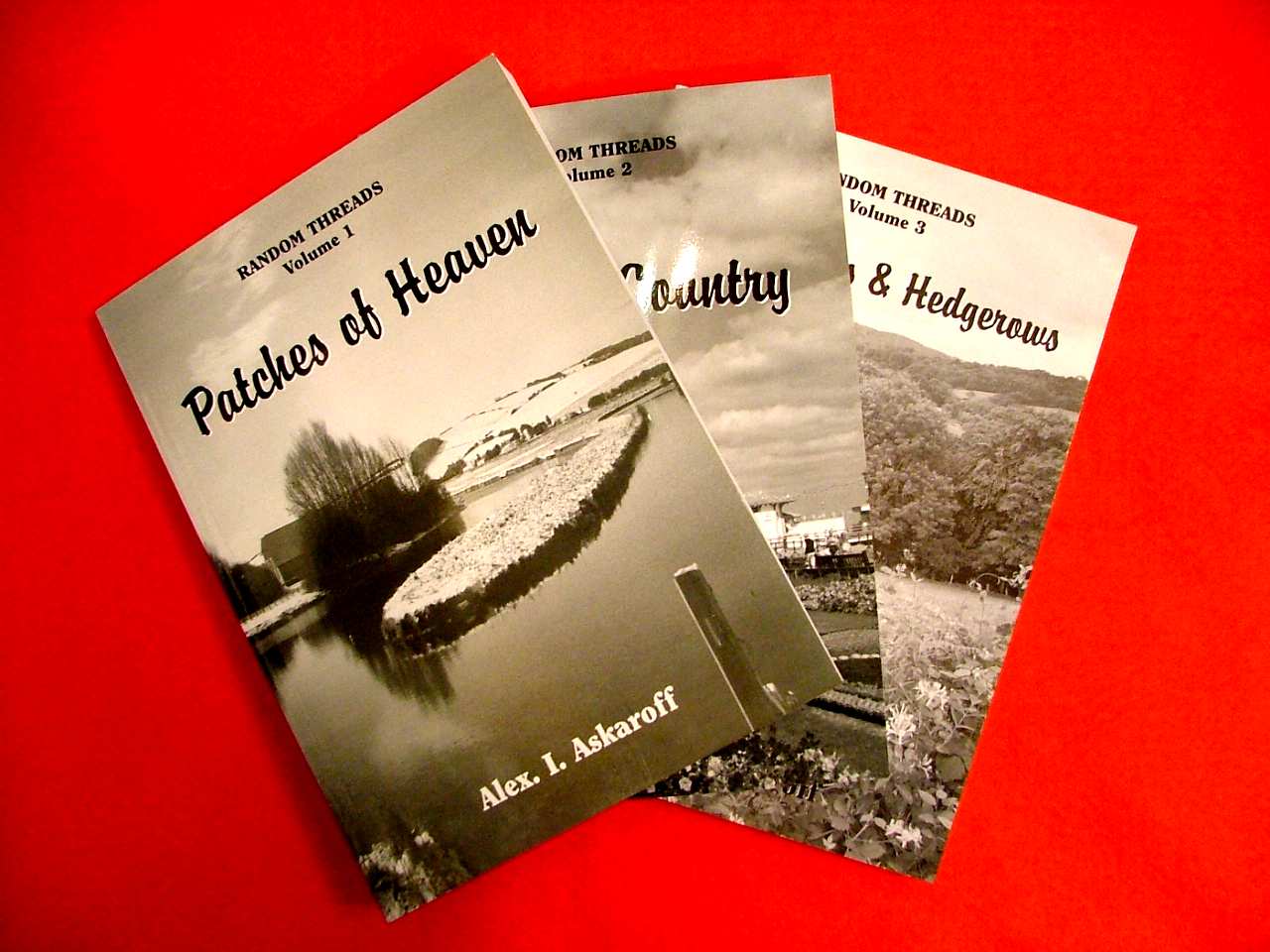 Alex's stories are now available to keep. Click on the picture for more information.
Alex has spent a lifetime in the sewing industry and is considered one of the foremost experts of pioneering machines and their inventors. He has written extensively for trade magazines, radio, television, books and publications world wide.