High Streets & Hedgerows ISBN: 0-9539410-3-5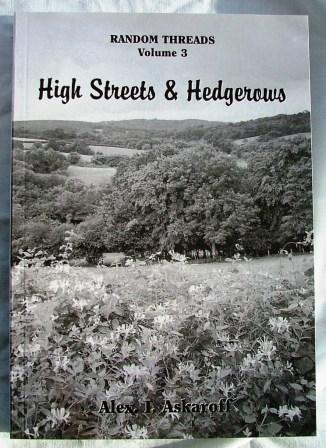 High Streets & Hedgerows is Alex Askaroff's third and final part of his popular Random Threads Trilogy. Alex's books are available in over 40 countries world wide.
England often summons up images of cricket on the green, afternoon teas, salmon and cucumber sandwiches, church bells ringing on Saturday afternoon for the parish wedding, choir boys singing Christmas carols and of baked potatoes on bonfire night, gymkhanas and village fayres. Of bowlers in pristine white on bowling greens that are so perfect they look like they have been manicured and each blade of grass trimmed with nail clippers.
England brings visions of Boy Scouts, of fish and chips eaten out of yesterday's newspapers smothered in salt & vinegar and of rainy days. Mental pictures burst forth of locals gossiping in village pubs that have served strange sounding brews like Speckled Hen or Indian Ale for a hundred years.
Today there is still nowhere in the world where you could find a landscape more ravishing and traditions as rich than in East Sussex. I know that there are places of such beauty here that my words lay heavy upon their splendour. East Sussex represents much of the real beauty of rural England with its wonderful downland, large areas of ancient woodlands and wetlands.
In my work I have travelled the high streets and hedgerows of the towns and countryside in my area. This book, the last in the Random Threads trilogy, is another snippet from my daily life. A peek into the world in which I live and the place in which I grew. Alex Askaroff
Sample story from High Streets & Hedgerows:
Nelly and her Daffs
Spring was in the air and Easter just around the corner. The year was spinning out of control and Christmas was just a distant blur. The bright, tough little daffodils were out and braving the high winds that were bashing England. Plants that had lain dormant in the cold soil and silently monitored the passing of winter, were awakening. When the time was right they would rush forward with a surge of energy. Like a young teenager with a rash of hormones...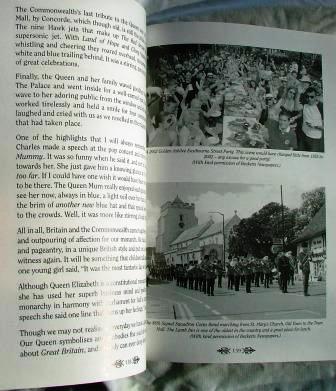 If you love Sussex you will love Alex's books
Sample story from High Streets & Hedgerows:
Storm Clouds
"It will be another stormy day out at sea," Bella announced in a statement-like fashion as I was leaning over her Singer 514. She was gazing out towards the coast with a lost look on her face. "Wouldn't like to be a sailor today," she added under her breath, shaking her head slightly, "No not today."
Introduction
Meet my good friend Alex through the medium of his books and you will be refreshed by his enthusiasm and great affection for all that is described between the covers.
You will find that he repairs sewing machines in East Sussex — a mundane daily routine you might think but the owners of many are often in the remotest and beautiful corners of our beloved county. He traverses hills and marshes, lanes and tracks, through woodlands, along valleys; he soaks up the views of seascapes, estuaries, harbours and rivers, around the glorious Downs and the Sussex Weald. His journeys are presented to you with fulsome description of the great pleasure he derives from travelling through our lovely countryside and with much humour in his anecdotal references to his visits.
You may feel that you know East Sussex but I will guarantee that Alex provokes you into wanting to look again and just in case you cannot manage it physically he will fill your minds with the happiest of thoughts which will be refreshed every time you turn a page.
Alex loves his life, his family, his animals, his environment, his vocation and, as you read on, be certain that you will share the warmth with which his books are written.
Frank Scutt OBE
I retired to my bed, and let your book give me a glimpse of somewhere else, through the eyes of someone else. By the time I turned off my reading light, I was at peace with the world. Not convinced it is either safe or sane, but the edge softened by your beautiful words
Pat Bergman USA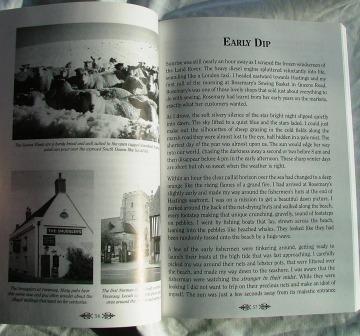 Alex's books are crammed with stories and pictures of Sussex.
Alex's writing has deservedly won him a strong following that has spread far beyond his home county and this, his latest work, is a worthy and welcome addition. Principally set in Sussex, Tales from the Coast is an enjoyable read that gives an excellent flavour of the area and its inhabitants. These are vibrant stories, told with skill and humour that provide a valuable insight into a magical part of England. Alaric Bond, Author.
Alex was encouraged to write High Streets & Hedgerows after the sell-out success of his first book Patches of Heaven and Book 2, Skylark Country. Once again the book is crammed with stories and pictures of South East England.
If you would like to read some of the stories before you decide if you would like to buy, here is the link to Sample stories.
All Alex's books are available on most sites like Amazon and Play.com but you can also get a personal copy directly from Alex:alexsussex@aol.com
To purchase a copy of High Streets & Hedgerows on Amazon UK click here.
Fancy something special!
For a signed copy at no extra charge and free postage in the UK contact Alex: alexsussex@aol.com
More Sample stories.