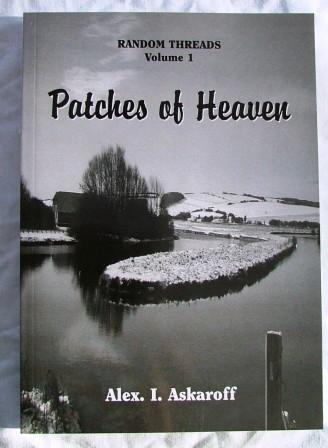 Random Threads Vol 1
Patches of Heaven
Alex Askaroff
ISBN:0-9539410-4-3
In the Victorian era many an intrepid traveller would set off, notebook in hand and travel. They would move around the country describing the places and people they met, the local accents and countryside they saw. Then once home they would put all their experiences down on paper and publish.
My books are really a modern version of those travels. Unlike Cobb my trusty steed is a Land Rover which over many years has never let me down. Together we have travelled the highways and byways of my beloved county. We have visited homes and farms up dusty trails, and unseen paths meandering through some of the most glorious places on this planet. During my daily work I have met old Sussex folk that time has forgotten and rambled along my way taking notes as I went.
Patches of Heaven is the start of my travels.
Extract from Random Threads BK1,
Patches of Heaven by Alex Askaroff
Remember these are true tales told by my customers
"What?" I said, "You remember Rudyard Kipling?"
"Oh yes! I remember him as if it were yesterday. He used to play with me out the back of the kitchen."
I was so intrigued. "At Bateman's?" I asked.
"Of course! Mind you I was no more than a child but, as I remember it, he made me a cart of sorts out of a treadle sewing-machine lid and some wheels. He would push me around for hours as my mother cooked in the kitchen."
"My father worked as a gardener so the Kiplings employed them both. Mind you, it was her that wore the pants in that house!"
"What do you mean?" I replied hating to break her flow.
"She wore the pants all right, the mistus (lady of the house). It was a big mistake to cross her. Even Mr Kipling took to hiding sometimes."
"Go on! You're kidding me."
"Oh no! I have seen him, more than once, go and hide in the outside lavvy, down the garden. He would be in there for ages. Mrs Kipling would give up hunting for him after a while. Then out he would creep with handfuls of paper, toilet paper, full of scribbling."
"You mean he wrote some of his stories in the outside toilet? Hiding from his wife!" I said in astonishment.
"I think that's about the long and short of it," she smiled. "She made my dad cut holes in the Yew hedges so that she could peek at the prisoners working in the gardens. Just in case they were being lapsy (lazy)."
"Get away! You're pulling my leg," I laughed.
"No! God's truth. When they had German prisoners to do the gardening she would creep about spying on them. Making sure they weren't up to no good. When the yew flowered, we called the red fruit berries that held the green seeds 'snotty-gogs' as they were all slimy. Now that's an old Sussex word for you..." A Perfect Day
Patches of Heaven was my first book and no longer available new online.
I have a few original copies, just mail Alex: alexsussex@aol.com