Bradbury & Co Ltd
Sewing Machines
Bassinette & Cycle Manufacturers,
Wellington Works
Oldham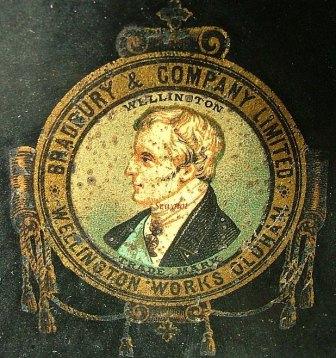 The Iron Duke. Trademark of Bradbury projected quality and strength.
Bradbury & Co Limited claimed to be Britain and Europeís first sewing machine manufacturer. Not bad eh! Bradbury were certainly Britain's first and in their glorious history they were awarded over 200 medals including 14 gold ones for excellence, beating all competition. This is their story.
George Francis Bradbury was born at the Hanging Gate Inn, 217 Huddersfield Road, Diggle, Saddleworth, Lancashire, in 1827.The Inn was run by his parents and his humble start in life would hardly predict his impressive future.
Bradbury Sewing Machines were fist established late in 1851 as general tool makers and jobbing engineers. They would make to order parts or build whole contraptions and as the business grew they took on mores staff and bigger orders. Sewing machines were a few years away but they did start to repair them and make replacement parts long before they actually started making complete sewing machines.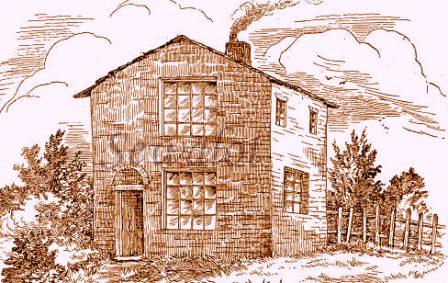 This is an image of the first works at Primrose Bank in Oldham where Sugden's, Firth and George Bradbury worked from in 1852. Little more than a farm building with the steam boiler providing power out in the yard in a separate building or boiler room. This was often the way as the steam boiler was dirty and noisy burning wood and coal. The power was delivered into the workshop via drive shafts, belts and pulleys. Little did they know that one day Bradbury would have the largest factory in Oldham employing hundreds of men women and children.
Originally the business was started by two brothers, Fred and Tom Sugden in partnership with Joseph Firth and George F Bradbury. By 1852 company articles were registered and the birth of the Bradbury partnership had begun.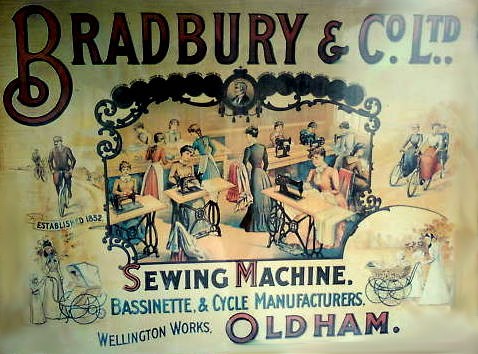 An old advert for Bradbury Sewing Machines established in 1852. I really love the Bradbury bassinette or pram they are so plush, you would not get one of those on a bus though!
Sugden, Bradbury and Firth were jobbing engineers. They moved into wood planning machines and then iron planning machines. Soon they were making hand and slide lathes.
By 1853 Sugden Bradbury and Firth were undertaking a multitude of projects in there expanding workshops from general repairs to just about any machinery.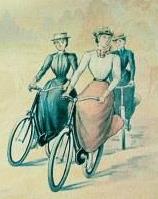 Oh how the image an reality differ. With no means of stopping the first bicycles must have terrified all but those with no fear.
Before long they were involved in the specialised manufacture of gas regulators, copying presses, embossing machines, brick presses and much more. Also, if you turned up on their doorstep with one of the new fangled velocipedes, Sugden, Bradbury and Firth would repair it for you.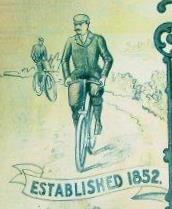 Look mum no brakes! Look mum no teeth...
The more projects the company undertook the more their abilities grew and more space was needed.
The business was still jammed into the small foundry in Primrose Bank, Oldham, hardly a stones throw from George's dad's pub.
The premises was so cramped that the steam engine that drove the pulleys and belts for the various lathes and machine tools was outside the building so one of the lads had to keep going out to shovel fuel into it each time the pressure dropped and the belts inside slowed down.
But in 1854, needing larger premises, the business moved to Rhodes Bank Foundry in Oldham. However they were not called Bradbury Sewing Machines at that point, they were still Sugden, Bradbury and Firth.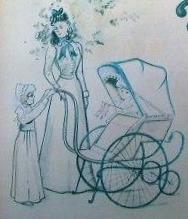 The pushchairs proved popular but not as popular as the sewing machines. Note the baby waving the British flag ah sweet.
A day in the life of a sewing machine engineer
Bradbury Sewing Machines did not actually Specialise in sewing machines for several years after their business was started up. However after the installation of a japanning plant, Sugden, Bradbury and Firth were ideally set up to start manufacturing sewing machines.

Sewing machines were flooding in from America, they were the new big thing besides bicycles.
It was not long before Sugden, Bradbury and Firth were making all sorts of things. As the company started to specialise in Bikes and sewing machines changes also took place to the structure of the company.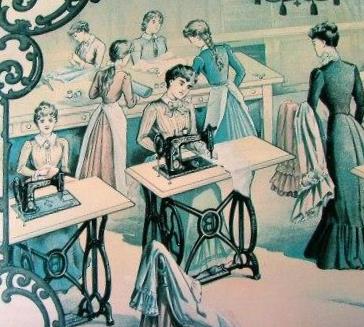 There is a rumour that the engineers got their first break into the sewing machine world because of a strike at Platt Brothers in nearby Oldham. A local business man, keen to capitalise on the new fangled sewing machines, was about to place an order with Platt Brothers but switched to the eager team of Sugden, Bradbury and Firth who were willing to go into manufacture.
However all partnerships come to an end and I can only guess that the partners wanted different things and to go in different directions, so common amongst expanding businesses.
The solution was a break up of Sugden, Bradbury and Firth around 1861.
Whatever the real reasons for starting to make complete sewing machines rather than just parts by 1864 the uniquely named Bradbury sewing machine came into existence.
By 1865 so many Bradbury machines were being ordered that bigger premises were once more needed.

By 1866 the birth of the Wellington Works Factory was taking place. A factory grew and grew eventually taking over a whole block of Oldham around the Wellington Street area. As a little point of interest today Pentagon Citroen is on part of the old works on the corner of wellington and Park Road in Oldham.
From this point we see the real birth of Bradbury Sewing Machines as an individual company and Bradbury and Co formed in 1864 becoming Limited 10 years later in 1874.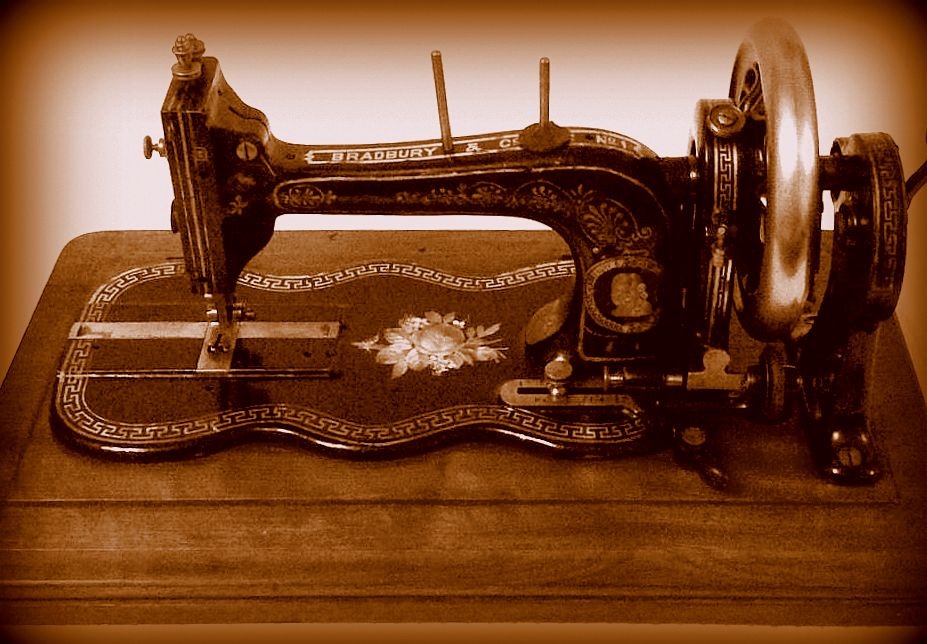 The Bradbury No1 and No2 were very similar fiddle base machines.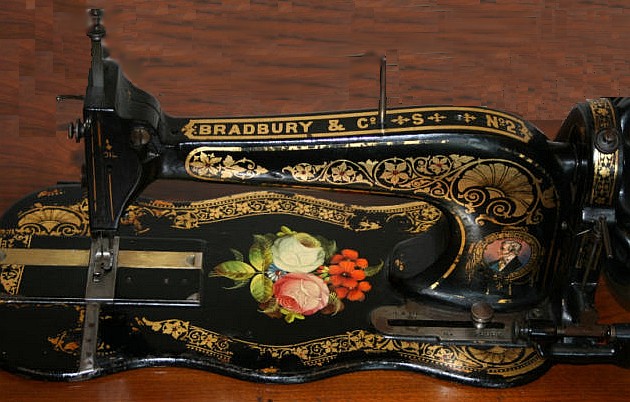 The beautiful fiddle base Bradbury No2
Originally the company manufactured sewing machines under licence from Wheeler & Wilson, Singer, Howe and Grover & Baker. Look at any early models from these makers and you will see very similar Bradbury machines.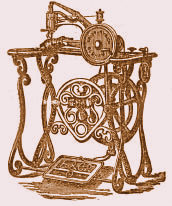 The Bradbury Boot-patcher industrial. It was capable of going through thick boot and harness leather and forming a perfect stitch.
The Wheeler & Wilson or rather the Bradbury Belgravia was marketed as silent, the simplest, cheapest and best machine for the family only £7. 7 shillings in 1865. The Howe principle machines were sold for less at only £7. Several months wages in 1870!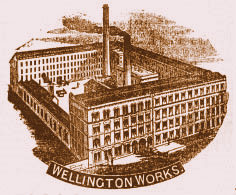 The Wellington works employed hundreds of men, women and children in its Victorian heyday.
In 1875 the Duke of Wellington was placed on Bradbury Sewing Machines which became the company trade mark for decades.
"The Iron Duke was never beaten
Bradbury Sewing Machines are second to none."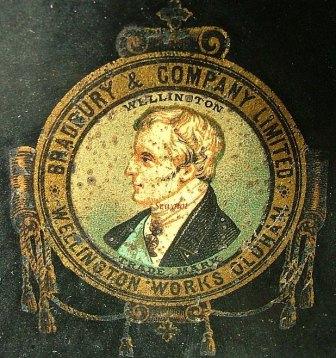 Bradbury high-arm Sewing Machine circa 1920 one of the last Bradbury Sewing Machines along side the Bradbury Vibrating Shuttle sewing machine (a copy of the Singer model 17).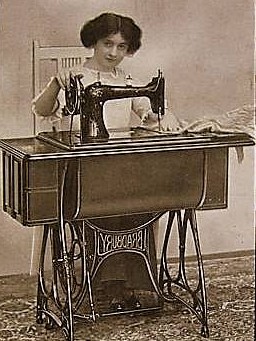 Don't you love the axe head haircut! Who would have ever thought that would come back.

Simple, Strong & Durable
Bradbury Sewing Machines advertising motto.
Bradbury Sewing Machines advertised themselves as Europe's oldest sewing machine manufacturer established just a year after Isaac Singer's 1851 model.
This was not strictly true as the business did not start making sewing machines until later and they were not really Bradbury & Co specialising in Sewing Machines until after 1864 but who's complaining.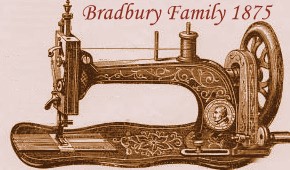 The stunning Bradbury Family made to compete with the bestselling Singer model 12.
Husqvarna Sewing Machines were in business long before Bradbury but, like them, did not turn their attention to sewing machines until after 1852.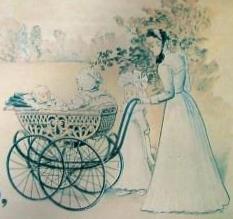 What beautiful and ornate prams. They must have looked a sight in Victorian England.
Bradbury sewing machines were top quality machines and won many awards. I have slowly been constructing a list and so far I have come up with these awards. However I believe there are at least 30 medals an honours.
Bradbury exhibition medals
Lyons 1872
Paris 1872
London 1874
Paris again 1875
Vienna 1875
Manchester 1875
Paris again in 1878 and 1879
Adelaide, Australia 1881
Perth, Australia 1881
Huddersfield 1883
London 1885
Alex Askaroff holding the Bradbury B2 Rotary Shuttle sewing machine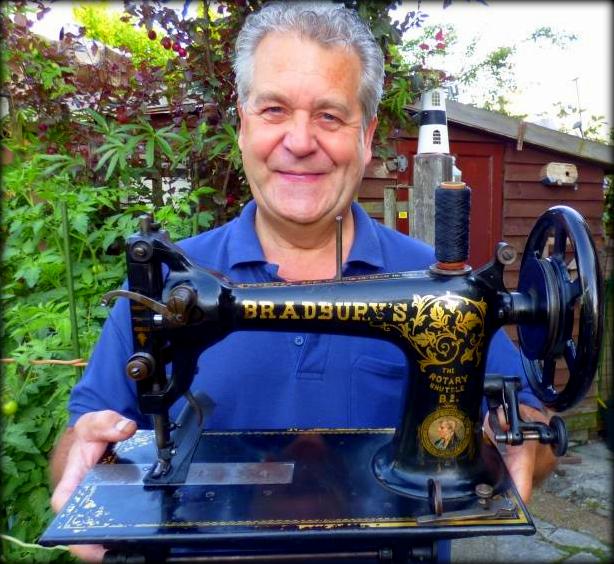 I can just about hold up this cast iron monster, made around 1890 it has a full horizontal rotary hook and can sew most materials from canvas to leather. This picture was taken late summer 2017 and amazingly one of my customers is still using this machine. I can't believe that there are many things made back in the Victoria Era that are still being used on a regular basis. Not bad for 130 yrs old (no not me).
A day in the life of a sewing machine engineer
Although Bradbury were one of the first sewing machine businesses in the country by 1920's they were being undercut by loads of competitors and the crash of 1929 was looming fast.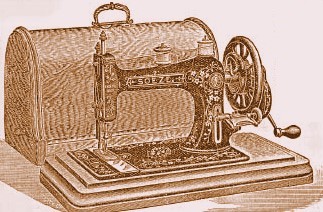 The Bradbury model B, Soeze. The perfect machine in 1890.
Bradbury's final sewing machine was the Bradbury VS or Vibrating Shuttle sewing machine.
The Bradbury machines became famous for their reliability and endurance and won over 30 gold medals at exhibitions all around the world plus loads of silver and bronze.
Bradbury Sewing Machine, The Wellington sewing machine.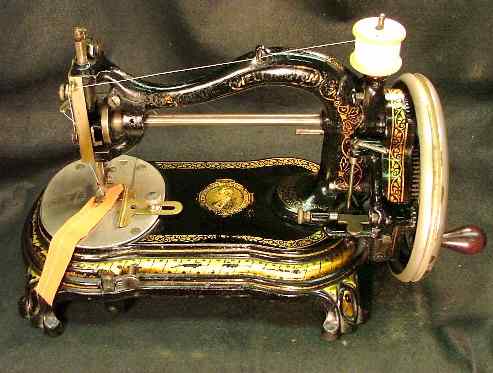 A beautiful Bradbury Wellington sewing machine
circa 1890
The huge Wellington Works in Oldham employed around 500 workers at its peak. Their later machines were marked with the Duke of Wellington badge. His profile sits proudly on the bed of this machine as if still waiting for Napoleon at Waterloo .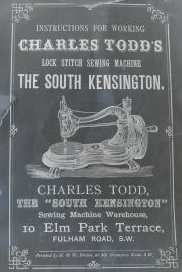 Similar to the Jones Cat Back but this Bradbury was sold as a Chas Todd
Bradbury Sewing Machines also sold machines to other dealers who, if they bought enough, could have their own name on the machine and market them as their own product.
This changed a bit with the Trade Description Act of the 1890's. Before this period there were fewer laws to protect the consumer.

The last Bradbury machines were well made as sewed a treat but like this Vibrating Shuttle model they were boring to look at.
The early Bradbury sewing machines were hand built and were made up of individually numbered pieces that were uniquely made and finished for each machine, they would fit no other.
All Bradbury sewing machines are collected today and represent superb British engineering.
Bradbury were also pioneers in British motorcycles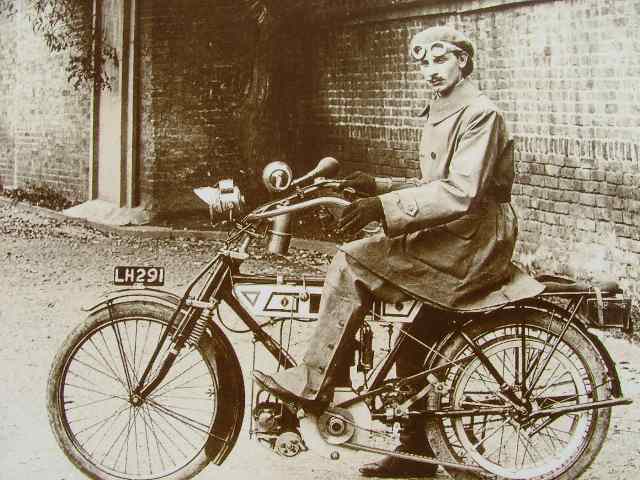 Well Hello can you wax my moustache while I wait? A rare early Bradbury single seat with Sturmey Archer gears, now more common on bicycles.
Firmly established by 1852, Bradbury Sewing Machines produced sewing machines right up until its collapse in 1924 then stumbled on before finally disappearing just before the great Wall Street Crash of 1929.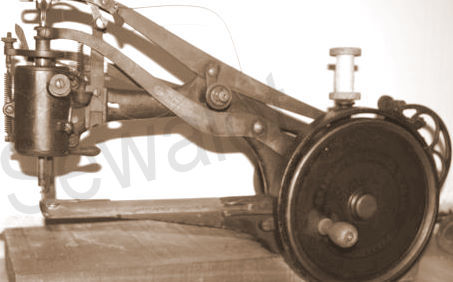 The Bradbury leather workers sewing machine would make anything from shoes to gloves and could sew in any direction by revolving the circular sewing head.
As well as sewing machines, Bradbury produced endless other items from prams, bicycles and later even motorcycles. In fact they were also one of the pioneers of the British motorcycle industry.
Today only a plaque marks the spot in Oldham where once the air was turned black with their enormous manufacturing.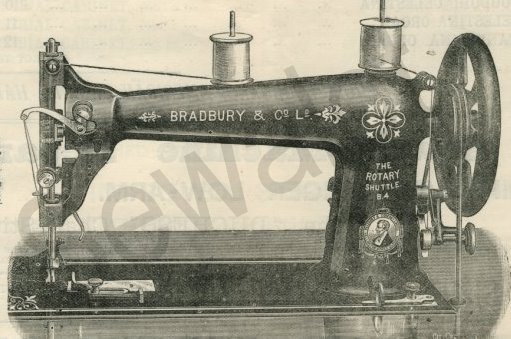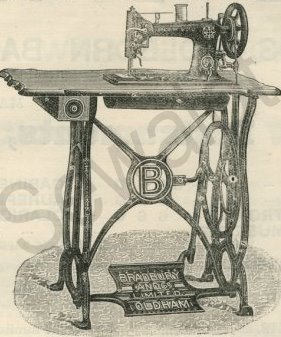 The Bradbury Rotary Shuttle sewing machine of 1888.
The Bradbury rotary shuttle machine of 1888 was a superb piece of engineering and many factories ran on these type of machines. As you can see above the Bradbury Rotary Shuttle sewing machine looks amazingly modern compared to other machines of the period. It also used a rotary hook assembly probably a Wheeler & Wilson design but as the copyrights had long since run out they were able to use the best ideas available to bring to the market a fabulous sewing machine.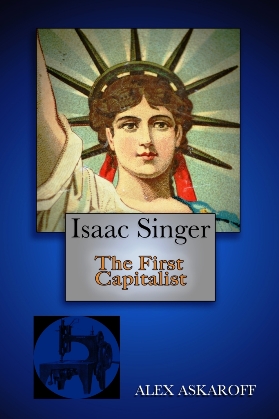 Most of us know the name Singer but few are aware of his amazing life story, his rags to riches journey from a little runaway to one of the richest men of his age. The story of Isaac Merritt Singer will blow your mind, his wives and lovers his castles and palaces all built on the back of one of the greatest inventions of the 19th century. For the first time the most complete story of a forgotten giant is brought to you by Alex Askaroff.
Well that's it, I do hope you enjoyed my work. I spend hours accumulating, researching and writing these pages and I love to hear from people so drop me a line and let me know what you thought: alexsussex@aol.com
Fancy a funny true story:
Ena Wilf & The One-Armed Machinist
A day in the life of a sewing machine engineer