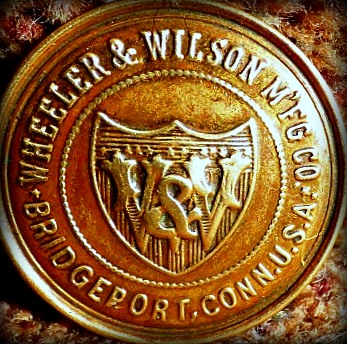 The Wheeler & Wilson Sewing Machine Company of Bridgeport, Connecticut,
Manufacturers of the finest sewing machines in the world.
Nathaniel Wheeler and Allen Benjamin Wilson were once giants amongst the sewing machine pioneers. For a time they were known in the periodicals of the day as the Sewing Machine Kings and were the largest sewing machine manufacturers in the world! They battled with the other giants of the day including Elias Howe and the formidable Isaac Merritt Singer. At one point they were involved in the largest legal cases in American History.
Here for the first time is their remarkable history that shaped, not only sewing machines but American History. Brought to you by world renowned expert Alex Askaroff. The Sewing Machine Pioneer Series are not to be missed. Alex Askaroff has had six No1 New releases on Amazon and included many unseen images, family history, and sewing machines.
**Amazon certified No1 New Release November 2019**
Available in Paperback and on all digital media with the FREE Amazon Kindle reading app.
Free to those for you with Amazon Kindle Unlimited!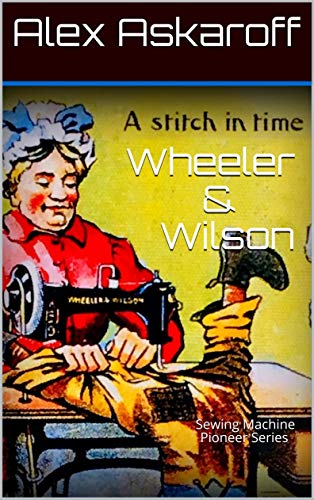 Wheeler & Wilson A Stitch In Time By Alex Askaroff Kindle version cover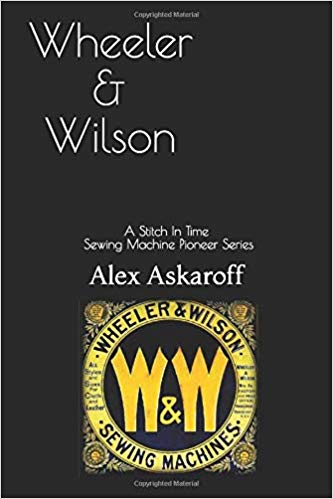 Wheeler & Wilson A Stitch In Time Paperback Version
Available on Amazon now!
Reviews
Alex
I just read your work on Wheeler and Wilson and I enjoyed it very
much. It is interesting to see how things we take for granted in
everyday life really got started. Thanks for all the hard work.

James Darsey USA
Hi Alex
I really enjoyed your history of Wheeler & Wilson Sewing Machines and you did a wonderful job in creating it.

Have a great day.

Mark Simmons
North Carolina
Dear Alex,
I have learned more about WW's from you than anywhere else. No one else seems to know much of anything about them.
Jan Smith
Texas
Hi Alex,

I am the proud owner of a Wheeler and Wilson treadle sewing machine. I am enjoying learning about its history. You provided me with wonderful information about the machine. Thanks so much for helping me in my quest!

Janette Norris
Hello Alex,

Your absolutely amazing! Thanks so much for your help, and also for your fascinating and
beautifully presented book.

Sincerely,
Margaret Ruhl
Hi Alex
What a beautifully written and illustrated history of the Wheeler & Wilson Company. My 87 year-old friend, James, recently bought the #9 and asked me to see what I could find out. Neither of us had ever heard of Wheeler & Wilson. You have educated us. Thank you so much!
Becky Mays North Carolina.
Alex,
I love the info you gathered.
Thank You
Diane in Maine
Alex,
I was fascinated with the history and applaud your efforts to share that information.
Thanks for a truly great history of Wheeler & Wilson,
Cordially,
Tom Field

Hi Alex
I want to thank you for explaining the history of this machine. For me its lots more interesting when you know the history of something.
Sincerely,
juan a. garcia
Hi Alex,
I've just completed reading your terrific work about the Wheeler and Wilson company.
Thanks for working so hard to put so much info out there for us.
Best wishes,
Helen DeFoe
Hello ,
I have just come across your very informative book on Wheeler and Wilson. Thank you so much for your time and effort.
J H.
Hello Mr. Askaroff
My wife and I are metal detecting enthusiasts and enjoy recovering artifacts from old sites here in Florida. We have used your amazing, and incredibly comprehensive research on Wheeler and Wilson Manufacturing.
Thanks
Chris Striby Florida USA
Alex,
Your writings on Wheeler & Wilson have been invaluable to me.
I operate a small-scale bespoke leather artisan shop in Upstate New York State and recently acquired a Wheeler and Wilson No. 8 which I use mostly for elk and deerskin garment work.
Thank you very much!
Geoffrey Hopkins
See Alex Askaroff on Youtube: http://www.youtube.com/watch?v=3mJYS44Vc8c&list=UL
Alex,
Just read your fascinating book on the history of Wheeler and Wilson sewing machines. My wife and I have proudly displayed her Great Grandmother's No. 9 machine in our living room for many years. Thanks to your work we now have an even deeper appreciation for this wonderful piece.
Thanks so very much,
Mike W. Pennsylvania
Hi Alex
I recently acquired a Wheeler & Wilson No. 9 and knew nothing about it. Thank you for providing a great history of the Wheeler & Wilson company. I learned so much.

Kara Beihn
Hi Alex
I loved your work on W&W machines. Thanks for all the great info.
Nancy Lea
Hi Alex,

I never enjoyed learning history as a child but the information you wrote on Wheeler & Wilson was an AWESOME job!

Tanya
Wow, the best Wheeler & Wilson info ever!
Louise B M, Canada
Alex, Your write up about
Wheeler & Wilson sewing machines is amazing.
best wishes,
Dorothy (Hollamby)
Hello Alex,
My name is Jennifer and I wanted to send you an email to say THANK YOU!!!! I loved, loved, loved reading your work on Wheeler and Wilson's sewing machine dynasty!!! Fascinating story with so much history and relevant information!!!

Your article helped me narrow down my model. I appreciate all your efforts in researching and composing a collection of photos and information.

Jennifer
Palmdale, California