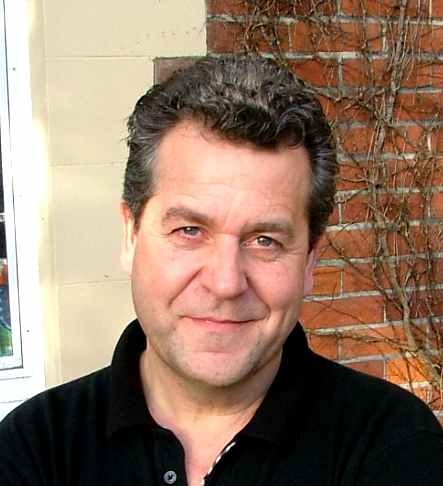 Writer and master craftsman Alex Askaroff is considered one of the foremost experts of pioneering machines and their inventors. He has written extensively for trade magazines, radio, television, consulted on films, books and publications worldwide.
Elias Howe

"As I speak in court today

over one million men in the field,

in our great struggle, our Civil War,

are clothed, kitted and covered by fabric

sewn on machines using my inventions."
Elias Howe 1863

Spending a lifetime in the sewing trade it would become a passion of mine to find out about the inventor that made my profession possible. For over 30 years I have keenly collected every anecdote and piece of information that I could uncover to bring you one of the most complete works to date on Elias Howe, inventive genius, and sewing machine pioneer.
From the clothes you are wearing to the sofa you watch TV on, they are all made on the humble sewing machine which properly started with Elias Howe and his patents. Now you can read about the amazing man who changed our world.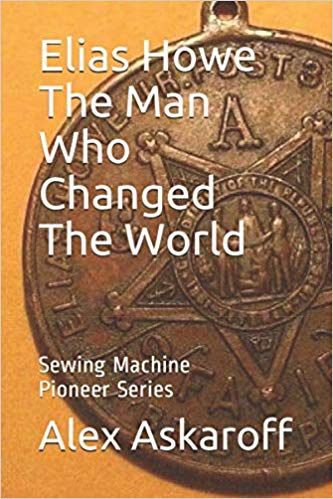 Paperback version available worldwide through Amazon. Click on your local Amazon.
Elias Howe
The Man Who Changed The World
By
Alex Askaroff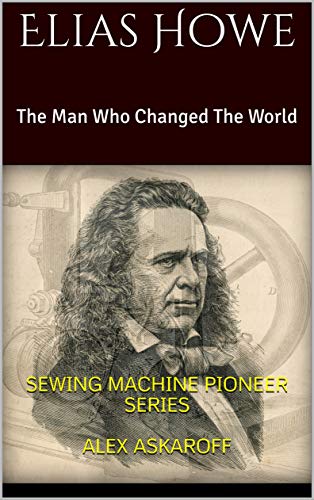 Digital e-book version available worldwide. Click on your local Amazon.
FREE WITH KINDLE UNLIMITED!

Note: Available to view on all computers, laptops, iPads

and phones using the free Kindle Reading App.
Reviews
My name is Deborah Bassett--I am the daughter of Mary Elizabeth HOWE Carson and wanted to reach out to you regarding your in depth research on my great, great, great Grandfather---the great Elias Howe!
Wow, I was really impressed and thoroughly enjoyed reading up on Elias. Members of our family, myself included, have done personal research in the past and visited the monument in Spencer, Mass, however this is by far the most thorough that I have come across. Thank you.
DB USA
Alex

WOW! Your information on Elias Howe and his sewing machine is fabulous! A few years ago I purchased an 'old' sewing machine at a flea market. It looks very much like your 'Howe Model A 1865'. I fell in love with it instantly! Since that time I've been trying to find any information I can.. Thank you for all the great work.
Susan

I am a professor of costume design.
Wonderful research and insight.
Thanks.
Best,
Howard Vincent Kurtz
Professor of Design
George Mason University
Dear Alex

I would just like to say thank you for providing me with the information on my great great great grandfather Elias Howe. Knowing all the things he did just makes me happy and I wish I could have met him back then. He truly was a great man and I believe he still is even today. So again I say thank you.
T. Howe
Good afternoon Alex
Wow what a fantastic amount of information
on the Howe Machines.
Thank you.
Best regards
John Brownell USA
Alex,
I have enjoyed this wonderfully detailed and well researched book on Elias Howe.
Thank you,
George Olinger.
Hi
I
enjoyed reading your biography of Elias Howe.
Family lore has it that one of our ancestors, James Allen Lowe, assisted Elias in the design/patent struggle. Lowe was an inventor himself. Supposedly there is some sort of bowl with all the parts of the sewing machine cast into it stashed somewhere in the Smithsonian.
Jay Canzonier
Henderson, NY
Hello Alex,
My grandmother's name was Beaulah Hazel Howe Luke. I heard all my life that a relative of ours invented the sewing machine. Thanks for the great work.
Linda C R
Guthrie,
USA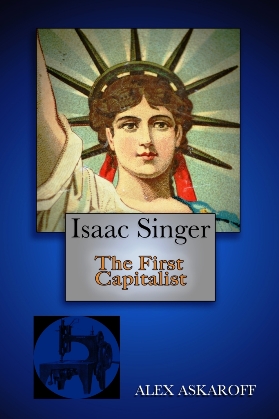 Most of us know the name Singer but few are aware of his amazing life story, his rags to riches journey from a little runaway to one of the richest men of his age. The story of Isaac Merritt Singer will blow your mind, his wives and lovers his castles and palaces all built on the back of one of the greatest inventions of the 19th century. For the first time the most complete story of a forgotten giant is brought to you by Alex Askaroff
See Alex Askaroff on Youtube: http://www.youtube.com/watch?v=3mJYS44Vc8c&list=UL