The Jones Sewing Machine Company
A brief history of Jones sewing machines and William Jones

By Alex Askaroff
Sewing machine Tension Problems SORTED!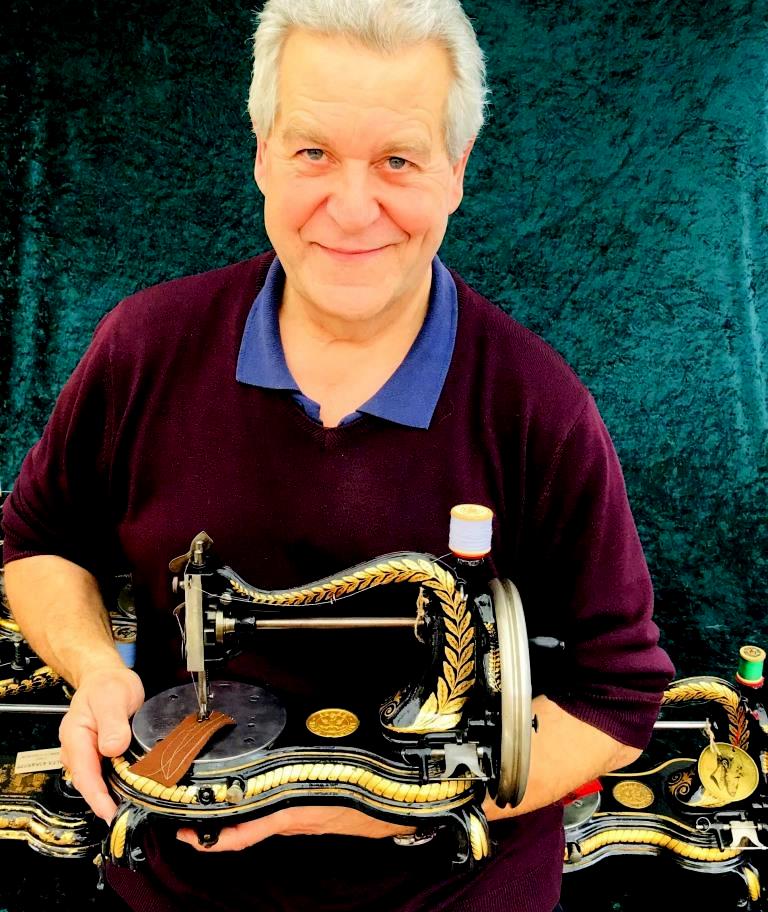 I adore the Serpentine British hand cranks, they epitomise 19th Century sewing perfection.
For decades the finest sewing machines in England came from the Jones Sewing Machine Company in Guide Bridge near Manchester. Their machines were found in homes from the working classes all the way up to Buckingham Palace. No other sewing machine makers in the world can claim to have such a royal patronage. Starting with Princess Alexandra during the lifetime of Queen Victoria, Jones sewing machines were approved not only by the princess (later to become Queen Alexandra) but her successor, Queen Mary, wife of King George V. Their workmanship epitomised British engineering at its finest. The story of Jones Sewing Machines is one of opportunity, positive action and a little luck thrown in. Come with me on a journey and learn about these magnificent men and one of the oldest sewing machine makers in the world.
William Jones
1835-1911
Somewhere around the middle of the 1850s a young jobbing engineer named William Jones became fascinated in the new sewing machines that were coming across from America. At the time William and his brother John Jones were already well established running a small engineering plant that specialised in steam engines to power factory equipment such as pumps, lathes, jigs and other machinery of the period.
William was a skilled specialist engineer looking to expand.
Even though William Jones was only in his early 20's he had already served his apprentice with the W. Heap & Company in Ashton-under-Lyne, a small suburb, a few miles from the centre of Manchester. His father, Thomas Jones was forge manager at Park Bridge Foundry, a boiler and steam engine makers (one of his brothers also worked there).
William Jones must have been a little like many of us for he was spellbound by any new fangled contraptions. He would visit the latest shows and exhibitions buying up weird and wonderful contraptions. He would take them apart, find their weaknesses, then put them back together, often improving on them.
He knew from all the new adverts appearing in the press that there was big money to be made in sewing machines and Britain was ready. It was the manufacturing heartland of Europe and all the latest equipment was at his fingertips. He also knew he could undercut the expensive imports of the time being shipped all the way from America.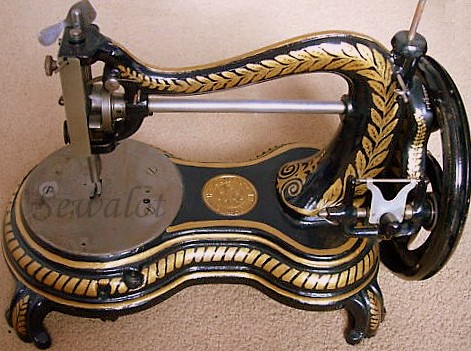 This beautiful Jones was called, Cat Back, Serpentine or Swan Neck. Actually the original name for this model when sold by Jones (under their own badge) was Empress of India. It went through countless minor improvements but it was all really one and the same sewing machine circa 1875-1909. The early models have no take-up lever and a central tension post along the top arm of the machine (see images further down the page). Also later models had the centre Jones decals replaced with a hard wearing brass medallion like the one above.

The serpentine Jones is one of the most sought after British machines made in the Victorian period and it ticks all the boxes for collectors, it is pretty, beautifully engineered, and made a great stitch. It had a RS, reciprocating shuttle (similar to the Singer 12 transverse TS shuttle but moving to and away from the operator rather that sideways across the bed). The earlier models had metal gears and the later fibre ones.

William Jones was in the centre of England, close to where the Industrial Revolution had all kicked off. New ideas and businesses were everywhere, springing up like mushrooms on a warm autumn evening.

All William had to do was find the right thing to make and he would be away. Boilers and steam engines were fine but it was heavy, slow, engineering. William wanted something small, fast and profitable. The item that ticked all the boxes was the sewing engine later to be called the sewing machine. All he had to do was figure out how to make them! William spent hours taking sewing machines apart and repairing them. Such was his skill at making improvements to the early sewing machines around Manchester his reputation grew quickly. There were very few sewing machine experts over this side of the world but plenty of sewing machines that were failing and needing repair. Enter into our story Thomas Chadwick.

Chadwick & Jones
Ashton-Under-Lyne

1859

Strike Strike!

The story of how William Jones and Thomas Chadwick started their first sewing machine business together is fascinating. Elias Howe and Wheeler & Wilson, the American sewing machine inventors and manufacturers, had been looking for engineering firms on this side of the pond to handle their work. Unfortunately for them the first business they picked in 1852, Platt Brothers in Oldham, went on strike! Better working conditions and more pay was the cry outside the factory gates.

Enter Thomas Chadwick into our tale. He had been one of the main strikers at the Platt Brothers Engineering Works in Oldham. The strike was a turning point in British sewing machine history. If the Platt Strike had not happened at so crucial a moment, it is possible that Jones, our oldest English sewing machine company may never have been born. The Platt Brothers Strike was in 1852. Chadwick either left or was sacked from Platt Brothers and for the next few years he tried tried in vain to start up his own sewing machine business. Each attempt ended in failure until he found William Jones.

By 1857, William Jones, now 22, was already well under way with ideas to manufacture sewing machines but he needed some financial help for new specialist machinery. It is hotly debated amongst the old sewing machine enthusiasts of my generation exactly when this partnership first started. Firstly, you have to think that my research is mainly pre-Internet. I know, I'm old school. In the 1980s, sewing machine research was long and arduous. Letters posted to patent offices and factories sometimes got a reply, often not. Information grew slowly. Today it is all done in a flash online and much of it because of all the research that was done before that was then pumped into these new fangled boxes in our homes.

The facts are these. At some point between 1852 and 1858 Thomas Chadwick and William Jones started working together. Their common interest in sewing machinery was the key that joined them. His older brother John Jones had stayed at his firm continuing to make steam engines while William set up shop with Thomas Chadwick. They found a space to rent above an old furniture and cabinet makers in Cavendish Street, Ashton-under-Lyne, Near Manchester. Each month they paid rent to Mr Higham (who worked below them making and repairing furniture). Here the pair worked their lathes making parts and tools for other engineering firms. More importantly, they also repaired sewing machines.

The big step came around 1859 when they rented their first small factory unit, newly built on some open ground along Shepley Street, not far from the cabinet makers in Ashton-under-Lyne. Many years later they bought the factory, enlarged it beyond all imagination and named it Stamford Works. Today Brother Sewing Machines still hold a premises where the original factory once stood, backing onto the River Tame. At the factory, with further investment from Thomas Chadwick (and others, probably family members) they set about building their first complete sewing machine.

Thomas Chadwick & William Jones
Machinists, Tool Makers
&
Sewing Machine Manufacturers

Chadwick & Jones was officially born in 1859. The first machines that Chadwick & Jones produced were Howe and Wheeler & Wilson sewing machines. This was not enough for our young lad, he wanted, not only to make copies, but also improve upon them. Oh! And to make some serious money as well.

From

1859 the partners ran the Chadwick & Jones Company.

Interestingly family history tells us that William Jones (with help from the family again) made his own steam engine and purpose built boiler room (built behind the factory). With the steam engine turning long revolving shafts inside the building they could operate over a dozen machines from presses to drills and lathes. All these were operated from drop down leather belts, running from two main top shafts that ran the entire length of the building. A series of gears and pulleys engaged and disengaged each machine as needed and water was pumped by steam engine from the river.

The heavy engineering was on the ground floor and upstairs was for the finishing, polishing and setting up of the sewing machines and parts before being lowered onto carts for delivery to the railway and agents. I have never discovered if the site of the original factory

in Ashton-under-Lyne just grew and grew into the largest sewing machine factory in England or if they moved into bigger premises close by and started from scratch next to the original site. Certainly the centre of the later main block in later images looks very similar to the original factory.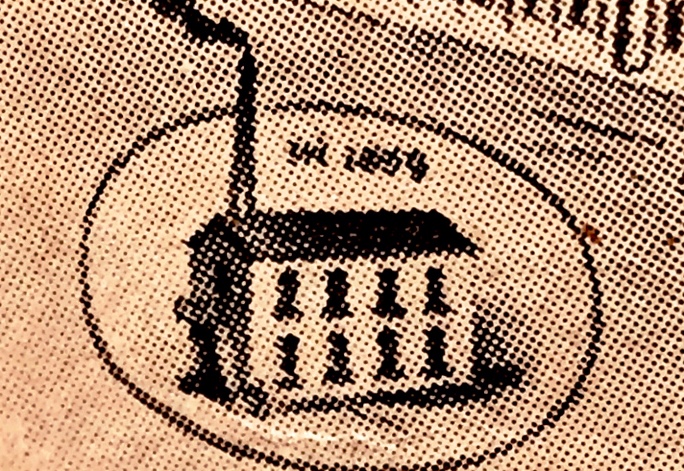 The first Jones-Chadwick workshop-factory circa 1859-60. This image was used in their later advertising to prove that they were one of the first and oldest English sewing machine makers. Bradbury was actually the first in 1851 but was bought out in 1905.
That's a twist in our tale too.
Jones & Co Ltd
Chadwick & Jones carried on expanding the business, making parts, repairing sewing machine and presently making machines. This is where his brother, John Thomas Jones comes back into our story.
John Thomas Jones
For some reason, many of the sewing machine patents that William Jones patented were also in his brother's name, John Thomas Jones (three years older than William). Maybe John was instrumental in their invention? Possibly it was to keep the patents quiet from his big American counterparts and competitors.
Interestingly I've been told that there were two John Jones Brothers, along with William (both with different middle names) one older one six years younger. I've never found out when his older brother officially joined the company but it was possibly when Thomas Chadwick left in 1863. The brothers had initially worked together and there is a possibility that all three, William and John Jones and Thomas Chadwick, for a time, all worked in the business before Chadwick left. Oh I've given the story away! Quick, time for some images.
The first Jones Sewing Machine
Jones Model A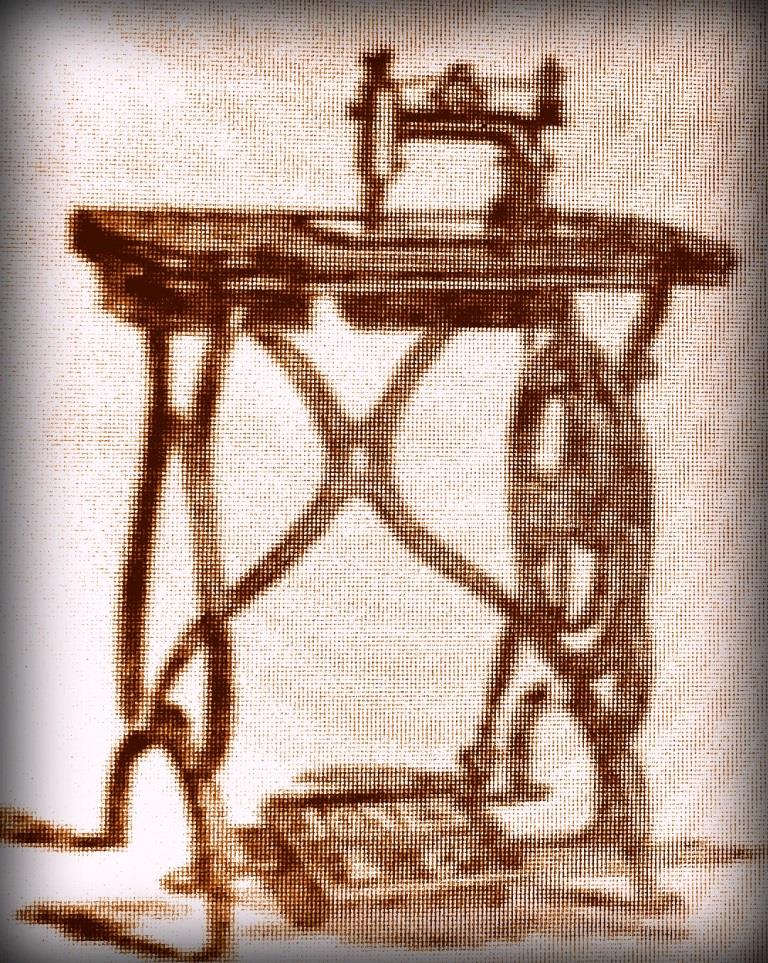 The Jones Model A was a Howe machine made under licence.
.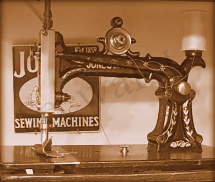 The Jones & Co, Model A sewing machine was made under licence from Howe with an identical treadle casting. This machine was in the Harry Berzack Collection.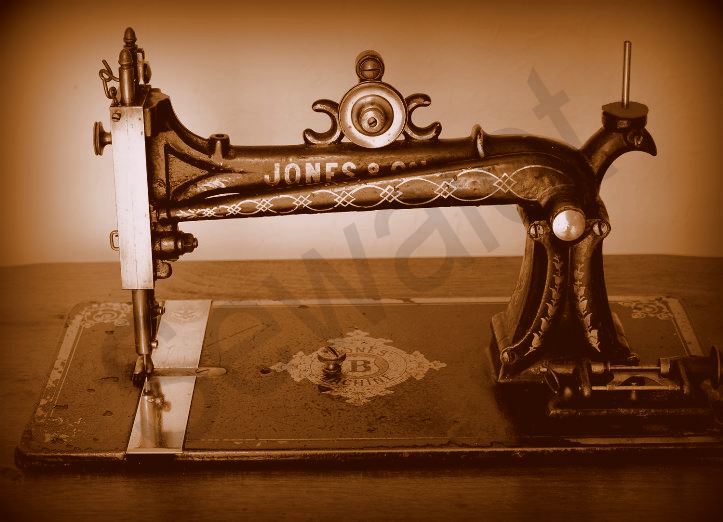 The Jones & Co, Model B sewing machine circa 1868, very rare today with slight improvements over the Model A. Jones made the models A, B & C. William Jones was producing sewing machines by the mid 1860s with the model A. By 1870 they had at least eight different models, from big industrials that replaced elastic in boots, to small family machines. There was a Jones sewing machine in the range for everyone from hat makers to dressmakers. I have never seen a Jones chainstitch sewing machine but I know they advertised machines for hat and cap makers, so they possibly did make one.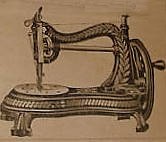 The Jones serpentine sewing machine of 1880. Around London it was also fondly named after the curve of the Serpentine in Hyde Park, London. Its actual name was Empress of India.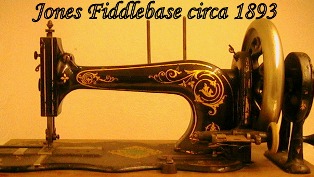 Jones sewing machine fiddlebase sewing machine made to compete with the bestselling machines of the 1870s, the Singer 12k. The name fiddlebase was due to the curving shape of the sewing machine bed.
If you get a second read about Bradbury sewing machines they are fascinating and go hand in hand with Jones until 1905. They were the main competition for Jones besides Singer and like I mentioned there is a real twist at the end of the Bradbury tale. For now we are still hot on the heels of William Jones and Thomas Chadwick.

The Jones Family Sewing Machine 1870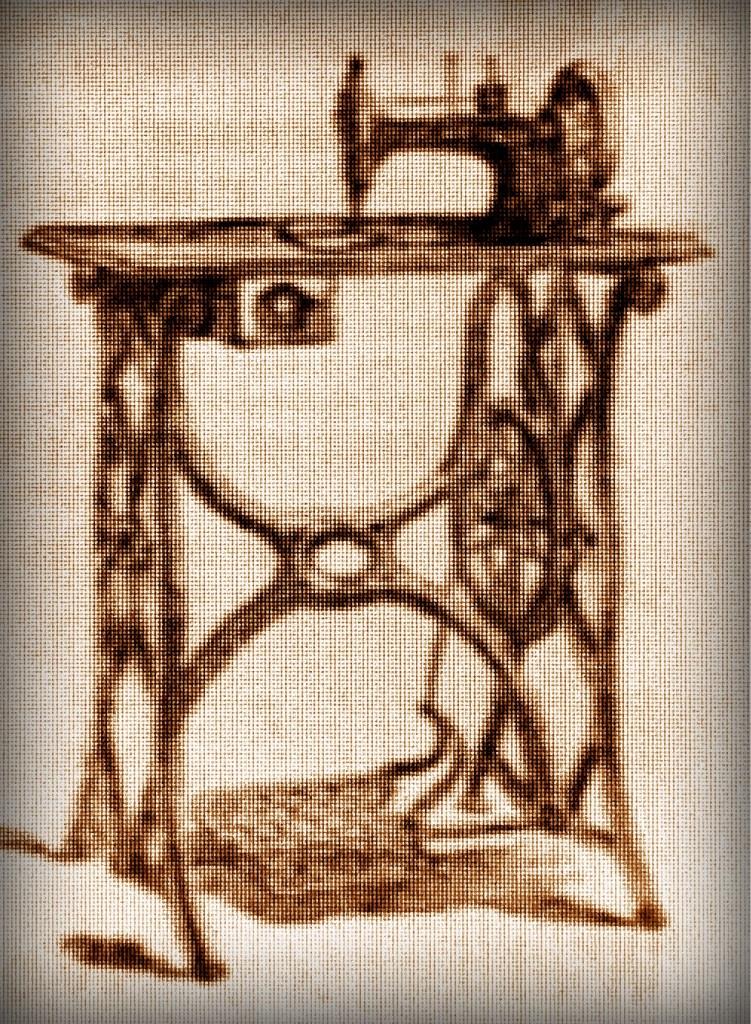 The Jones Family sewing machine was sold as hand or treadle. It is a very close copy of the Singer 12 but was surprisingly short lived. They are very rare today.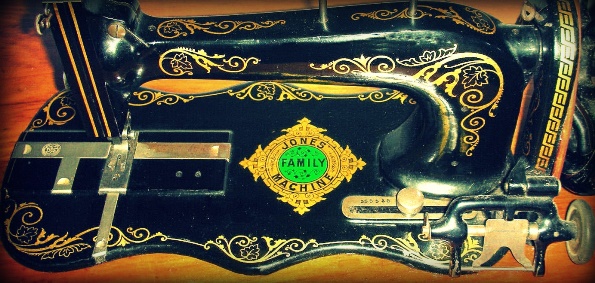 This was a copy of the bestselling Singer model 12 transverse shuttle. It had several unique Jones features and made a great stitch. They are unusual today and were sold as hand or treadle.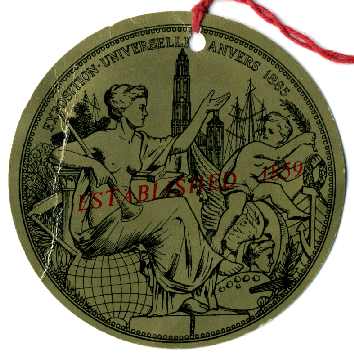 Gold medals were hard to come by but in 1885 the Jones Sewing Machine Company won one!
Chadwick & Jones dissolve!
Things could not have gone too smoothly between partners Chadwick and Jones for within three years the partnership was dissolved. William bought out Thomas, lock, stock and barrel. Thomas Chadwick was still not a happy bunny. He even took out adverts to publically announce his split from William Jones. Chadwick, had the bitter taste of failure before, from former partnerships that had come to nothing. Now it happened again. A flurry of adverts announced that he would be trading in sewing machines and everything else to do with them, from needles to reels of thread. He started a wholesale premises, running out of 255 Stamford Street, Ashton-under-Lyne, but that did not last long either.
What he eventually did was go off to Bradbury Sewing Machines, Jones' greatest English rival. I bet that was a sore point in the Jones household in Park Bridge, Ashton-under-Lyne, around the supper table! Bradbury had set up in 1851 and were well established by the time Chadwick made his move to them. Chadwick had known Bradbury from days of old. In fact they had both been locked out of Platt Brothers together and had stood on the the picket line arm in arm, blocking other workers from getting into the factory during the 1852 strike. And this is where Thomas Chadwick leaves our story and his part in setting up Jones Sewing Machines.
Incidentally, William Jones had two children, a daughter Emma Jones and a son Albert Jones. Albert remained childless. Emma (born in 1862) left her deep industrial roots and spent much of her inheritance trying to distance herself from her working class upbringing. I've been informed that she lived off her inheritance and trusts in London and Sussex. I'm sure much more of her will come to light with the Internet.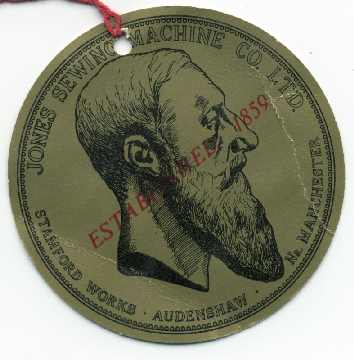 William Jones. A very solemn looking man in later life.

Back to our story. Whilst the old workmates, Chadwick & Bradbury had got back together, it left William Jones and his brother John, free to operate without restrictions from their former partner.

William and his brother were eager beavers and took Chadwick's departure as a real bonus, it smoothed the way for their expansion and the sewing machine game was afoot. For the next few decades Jones and Bradbury battled it out as England's best sewing machine makers. By 1863 William & John Jones were making the Jones Long Shuttle sewing machine, which actually was a Howe copy built under licence.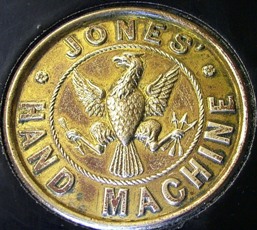 The Jones Trademark, a phoenix rising from the furnaces clutching the arrows of industry.
By 1869, Jones had patented their own machines and managed to get a large contract for Burtons the tailors to supply heavy duty industrial machines to some of their factories. The successes of their industrial and domestic machines lead to their small business growing beyond all imagination.
Soon agents were covering the land and shops added Jones machines to their stock. Ironmongers were a favourite with sewing machine manufacturers like Jones. Now, Singer had their own exclusive shops but Jones would sell to anyone who would hold stock and provide back up for their machines. It could be a small back street haberdashery or a high street ironmongers. This meant that Jones was supplying thousands of shops with their machines. They started to dominate the British market so well that thoughts of expansion abroad never came into question. They had enough trouble keeping up with demand as it was. Jones did sell in Europe but it was small potatoes compared to their home market. John Jones was a real worker. He opened the factory gates each morning and locked them as the last man out at night. It was no doubt that his endless enthusiasm and industry in the business made it the success it became.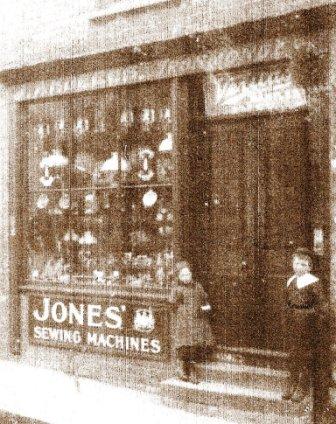 J. Andrews the Ironmongers in Tarrant Street, Arundel, England. Under the shadow of Arundel Castle, the ancestral home of the Duke of Norfolk. The shop sold mainly candles, fuel, oil lamps and Jones sewing machines.

Interestingly, although Jones made heavy duty 'boot closing' machines, with roller wheel feed and walking feet (which they called 'step feed') in all my years in the sewing industry, I have only come across one Victorian Jones industrial machine. That was in a ship chandlers that had the machine from new in Latimer Road, Eastbourne. My dad was involved with the chandlers and I carried on servicing the machine many years later. The industrial Jones sewing machines could be quite rare today. Please don't phone me if you have just found a dozen!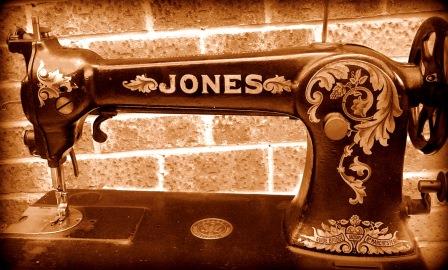 One of the few Jones Industrial sewing machines that I have seen. The industrial was also known as the Boot Closing or Spool Machine and its smaller brother the Medium Spool Machine. They both used a round bobbin. The industrial ones came with assorted feed mechanisms, depending on what work you undertook. There is a striking similarity between the smaller Jones spool machine and the Wheeler & Wilson model No9. There is a big possibility that the Jones Spool sewing machine, with its rotary bobbin, was a copy of the American machine. Once again Jones would take a great machine and make improvements.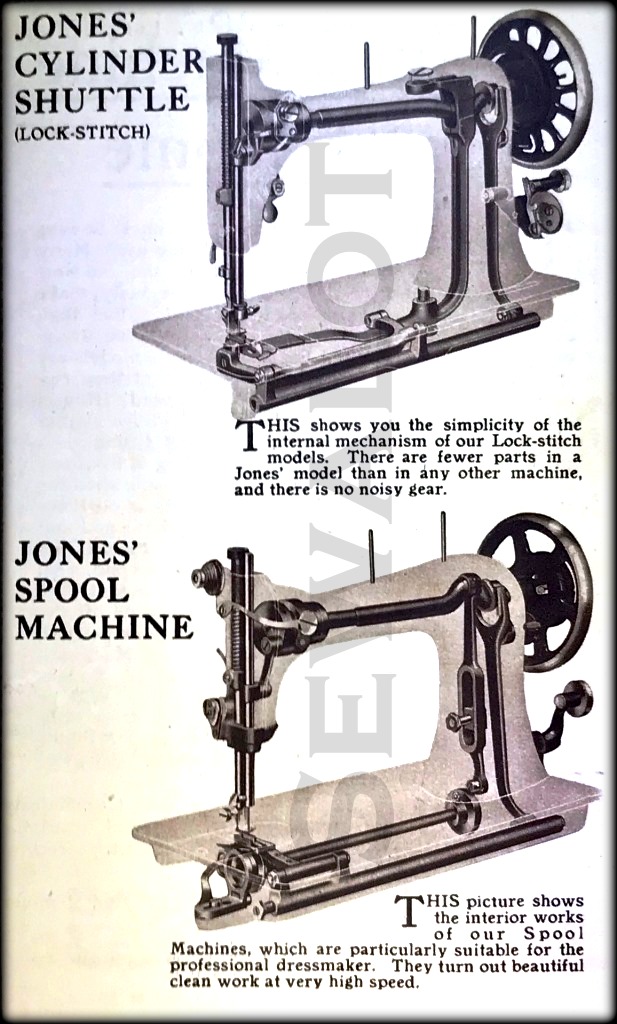 Here you can see how the internal mechanism works. It is one of the main reasons why the Jones sewing machines are so whisper quiet when sewing. No cogs and gears to rattle or jam.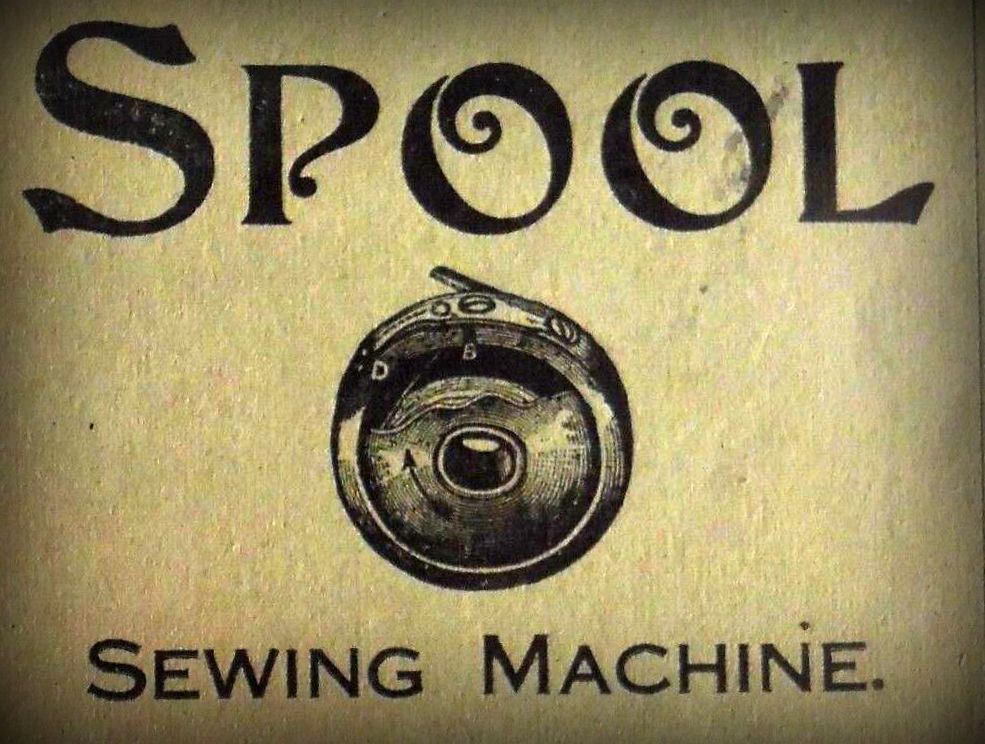 Here you can see the Jones spool in its case above and the Wheeler & Wilson spool below. Once again Jones took an existing product, copied it and improved on it. This is still common practice today. You cannot legally do it if there is still protection on the product. In the case of round bobbins, they had been on the market for decades and little or no protection was on them. The Jones Companies ability to copy and improve on products made some of the finest sewing machines of the age.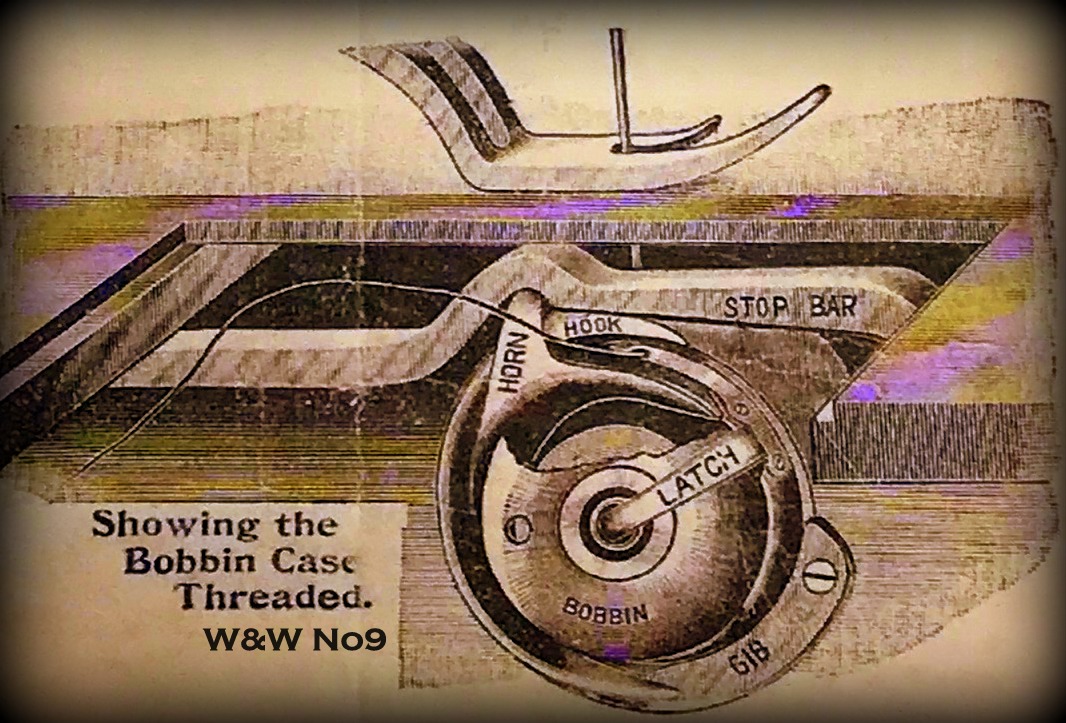 Jones Sewing Machine Company,
Stamford Works, Shepley Street
Guide Bridge, Audenshaw,
Nr Manchester.
Tel: Ashton-Under-Lyne 2274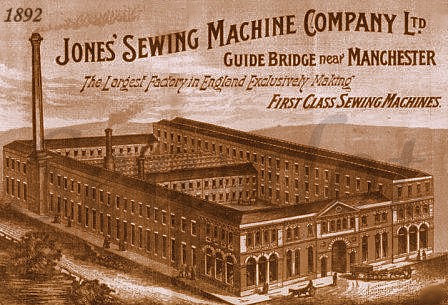 The largest sewing machine factory in England at Guide Bridge, Manchester.
Jones Sewing Machines District Depots
3 Castle Street, Sheffield,
&
47 Effingham Square, Rotherham,
South Yorkshire.
By the 1880s a great factory started to grow in Shepley Street, Guide Bridge, near Audenshaw, on the outskirts of Manchester. A three storey building stood on the site for a 100 years. If you read the stories at the end of this piece you will meet some of the people who knew the factory. At the 'Stamford Works' site they eventually employed thousands of workmen and the machines became a household name in Britain, much like Jaguar, BSA or Marmite! Don't tell me you've never heard of Marmite! It's part of our British constitution.
In its heyday the Jones, Stamford Works, factory at Audenshaw employed thousands of skilled workmen.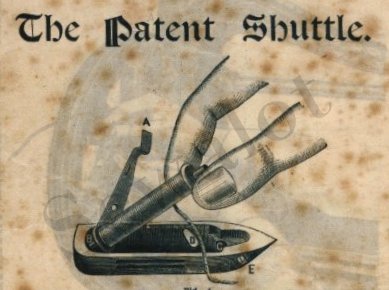 The Jones patent shuttle March 11, 1876. Patent No 1055. The wide covering patent was to improvements in sewing machines and apparatus. Interestingly, this was the easiest of the shuttles of the period to thread and adjust. E is the tension adjusting screw.
1889
Jones Sewing Machine Company is Registered
The Jones saga was a true story of a small acorn becoming a giant oak. In July of 1889, 30 years after the first business started, the Jones Sewing Machine Company was formerly registered. This allowed for directors, multiple ownership and allotment of shares. This is when a business has grown to such an extent that it will probably outlive its original makers. On the death or departure of one or more of the directors or shareholders, the company will continue to trade. The business raised £108,500 and £50,000 in shares for William and John Jones. In today's money many millions. John Jones became managing director and William oversaw the factory as Company Director of the Jones Sewing Machine Company.
In 1890 they released their first share dividend which was coming in at a healthy 10% per annum.
As the years rolled by William took a back seat and became the Chairman of the Board overseeing important matters and his brother John stayed as Managing Director. William and his brother went on to make some superb sewing machines, many of which still survive to this day. They copied popular machines of the day like the Singers New Family machine and the German 'high arm' transverse shuttle machines and added their own unique models like the Cat Back.
In 1905 the Jones Sewing Machine Company took control of Bradbury Sewing Machines (that was the twist in the tale). Interestingly the same year that Singer acquired Wheeler & Wilson in America. William had only outlived his wife by a few months when he died in 1911 (he was 77 and living in Birkdale). The Jones Sewing machine Company continued under the supervision of his two nephews.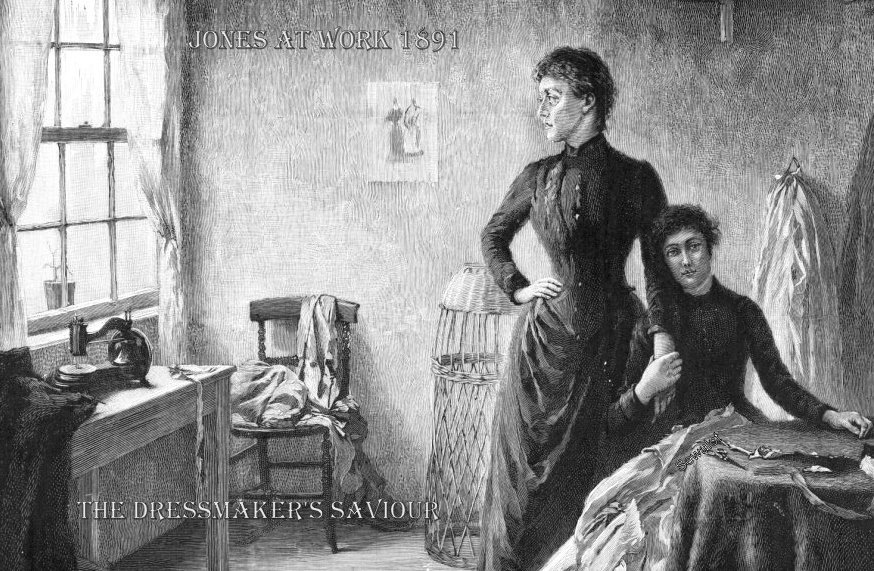 This is a unique picture I purchased some years ago. It is full of sadness and titled Adversity. I've never discovered the story behind the image.
Along with the British arm of Singer, Bradbury and Jones were the most successful British sewing machine makers of the Victorian era. Today there is hardly a British collection that does not contain a Jones and Bradbury in its collection. Now collectors from all around the world are seeking out these beauties, made by the companies right at the birth of the sewing machine industry in Britain.
'Elegant in design, superior in workmanship
The Jones Sewing Machines beats all'
Thompson's Sewing Machines
Lowther Street
Kendal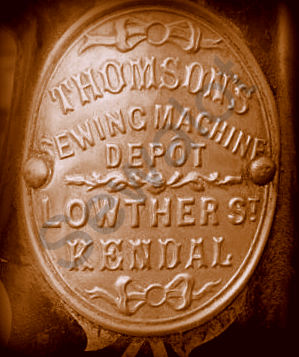 Now, Jones were not fussy who's name they put on their machines, business was business. Unlike Singer, who only sold under their own name. If you ordered enough sewing machines they would put any name you wanted on their Jones sewing machines. Above you can see the badge for Thompson's sewing machines which were Jones machines sold under their own Thompson badge.
Joseph Watson & Sons Ltd
Sewing Machine Agents
White Hall Soap Works
Leeds
1904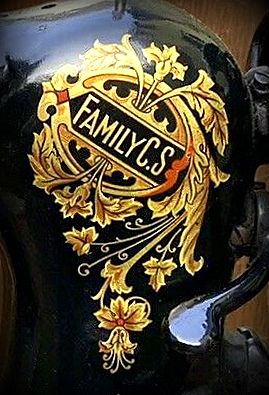 The Jones Cylinder Shuttle sewing machine had beautiful decoration. Note the reverse lever. Singer failed to put a reverse on many of their early models.
World War One
During World War One, the Jones Sewing Machine Company produced (under order) munitions for the War Effort. Profits were drastically reduced during the next few years as sewing machine fell to a very low output. Net profit in 1913 was £14,109 and by 1917 it was down to £10,260. However the company still paid dividends to shareholder from their reserves. This kept the shareholders happy and stopped a flood of shares hitting the stock market. This difficult period saw the downturn of several traditional sewing machine makers around Europe. Many in Germany collapsed altogether.
The Jones Company went on to produce many different models for over 120 years. If you ordered more than 100 machines you could have your own name put on the machine. This is something that Singers never did. This is why so many Jones machines turn up in different dresses today.
Eclipse sewing machine, sorry about the crooked picture, the paper I scanned was in bits.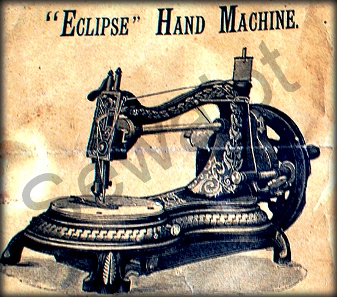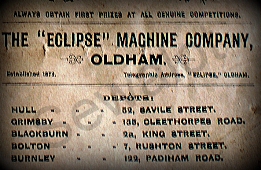 The Eclipse sewing machine, like the Rushby sewing machine below, were both produced by Jones sewing machines and sold by the individual agents under their own brand names.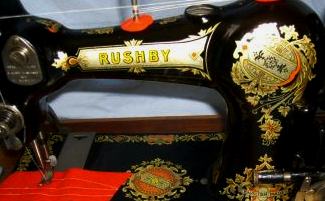 This standard Jones sewing machine was sold by
W. Rushby & Co, Louth, Lincolnshire, England. Any company ordering more than 100 machines could have their own name on the Jones machine.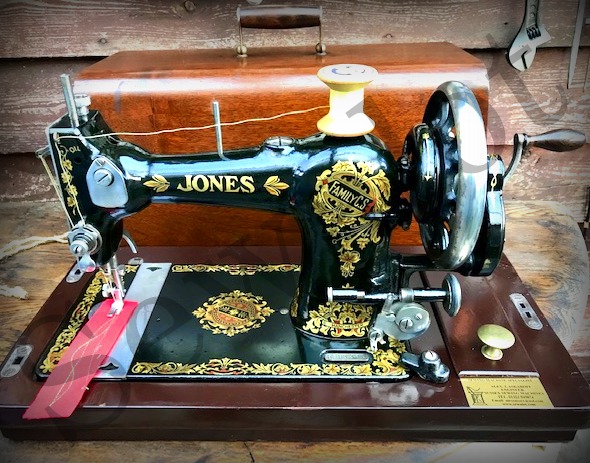 The Jones Cylinder Shuttle sewing machine. The Jones Family CS was their bestselling model. It ran for about 40 years from the mid 1890s to the mid 1930s. The last ones having a B and C serial number prefix with a less flamboyant JONES decal on the arm. It was originally a copy of the bestselling singer vibrating shuttle with added improvements (such as reverse). The super quality of Jones sewing machines kept sales strong in the United Kingdom. This model is totally original and over 100 years old already. Attention to detail is what made the early Jones machines so spectacular (and they made a great stitch too). This model, like many Jones CS sewing machines, runs beautifully on modern 16x231 needles.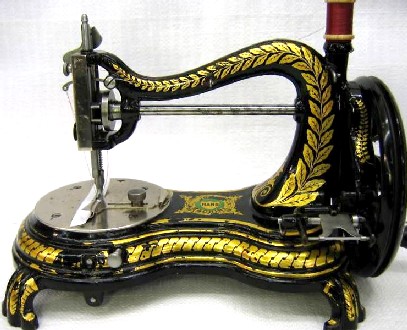 The Jones Cat Back, Swan Neck or Serpentine. One of the prettiest of all Victorian hand machines and very collectable today. The shuttle sweeps in a straight line back and forth and is known as a 'reciprocating shuttle' or RS shuttle. The machine also came after 1890 with royal approval from HRH Princess (and later Queen) Alexandra. You cannot get a much higher recommendation than that! This model was sold under many names by countless retailers in the United Kingdom.
Henry Webster,
Harrow Road,
London.
Supplier of the Jones Perfection sewing machine
(Serpentine model)
Queen Alexandra & the connection to Jones Sewing Machines
When The Princess of Wales used Jones machines at one of her technical schools for a year at Sandringham, a testimonial to its reliability came from Marlborough House in London praising Jones sewing machines. the Jones Company was quick to act. They marked their machines with Princess Alexandra from then on.
On the 9th of August 1902, with great pomp and circumstance, Prince Edward was crowned King Edward VII of England. Princess Alexandra, King Edward's wife, became Alexandra, Queen Consort. Jones machines were then marked — as supplied to HRH Queen Alexandra.
A testimonial from Princess Alexandra was used to promote the Jones Serpentine machines and later put on the CS model though it was the Serpentine that she actually approved.
Princess Alexandra Caroline Marie Charlotte Louise Julia, Alex, was born at the Yellow Palace, an 18th-century town house next to the Amalienborg Palace in Copenhagen, Denmark. At the age of sixteen she was chosen as the future wife of Albert Edward, Prince of Wales and heir to Queen Victoria. She won the hearts of the British people as the Princess of Wales from 1863 to 1901, the longest anyone has ever held that title. Alexandra was Queen of the United Kingdom and the British Dominions and Empress of India from 1901 to 1910 as the consort of King Edward VII.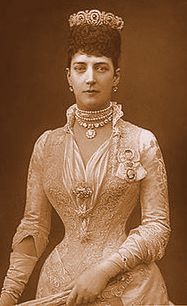 1 December 1844 – 20 November 1925 Queen Alexandra
The Testimonial March 5th 1890
Marlborough House,
Pall Mall,
London
To the Jones Sewing Machine Company. "Sirs, both your treadle and hand sewing machines have been used in HRH, The Princess of Wales' technical schools, Sandringham, for more than a year. They have given every satisfaction both in dressmaking and sewing of undergarments. They are easy to work and in everyway superior to other makes I know."
The testimonial from Marlborough house came with consent from Princess Alexandra and with her approval. This was to be a huge boon to Jones for decades. All machines were marked with her Royal Approval and when she became Queen (after Victoria's death) the machines were marked with Royal Approval Queen Alexandra.
After the death of her husband, Alexandra the queen empress consort to King Edward VII, became the Dowager Queen and Queen Mother to the new King George V. She moved out of Buckingham Palace and lived at Sandringham. Alexandra died in November of 1925 at the age of 81. She was buried with her husband at St George's Chapel in Windsor.
While King George V, and later George VI ruled, the Jones Company still held government contracts and cleverly altered their advertising. They had not lost the Royal Warrant with the death of Alexandra. Mary of Teck, Queen of the United Kingdom and British Dominions from 1910 to 1936, with her husband King George V, also approve the Jones Sewing Machine Company.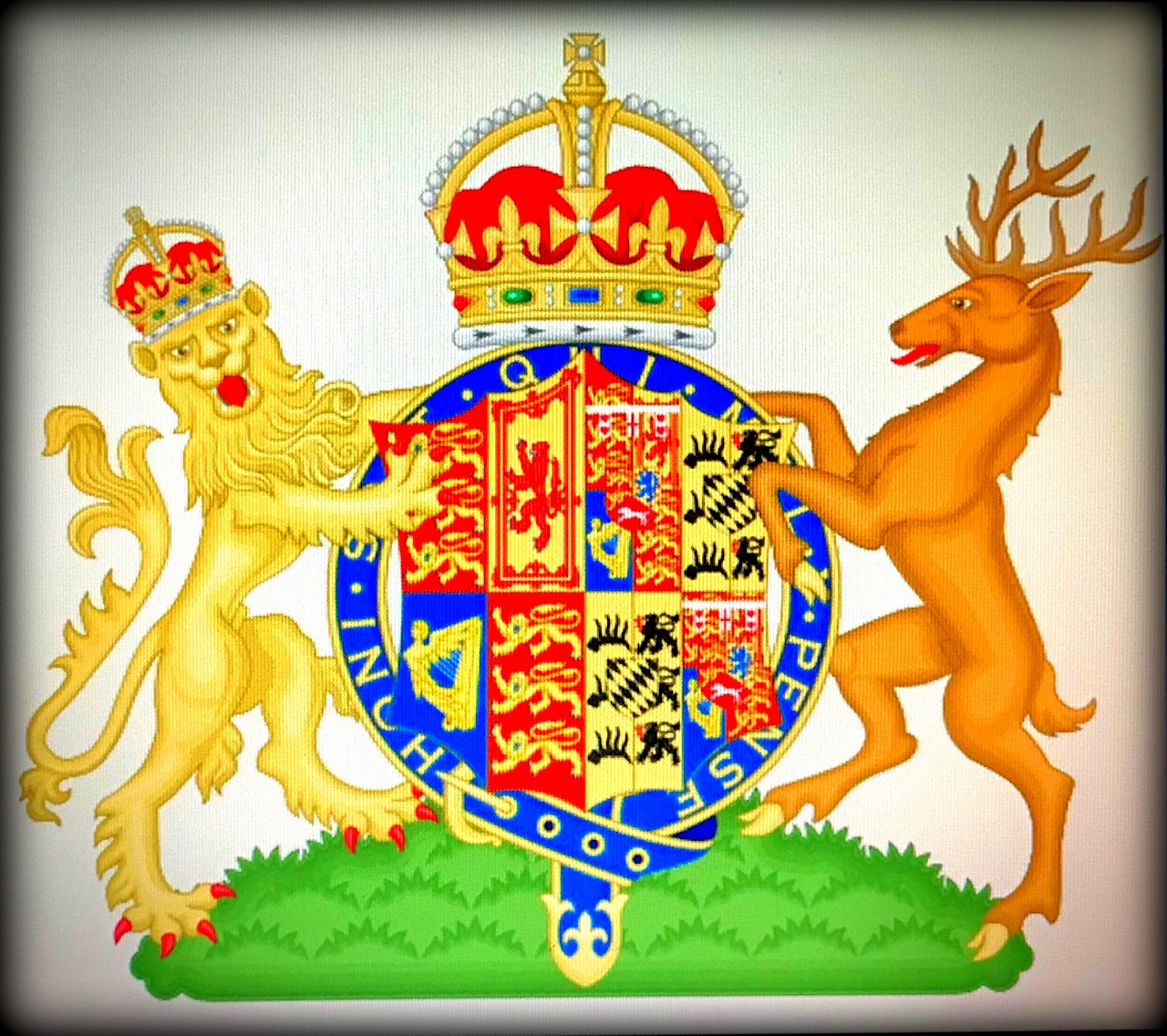 Mary of Teck Coat of Arms.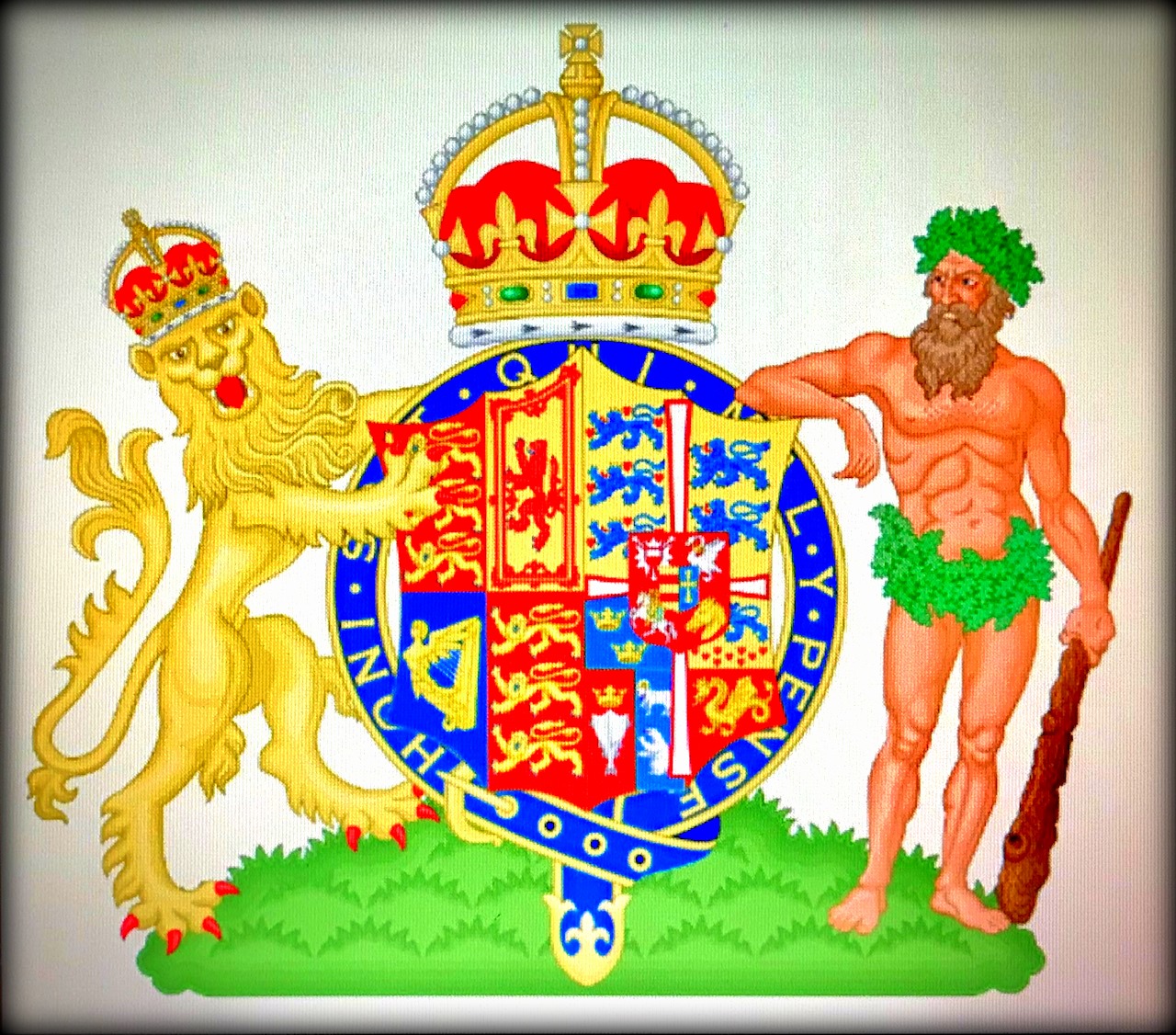 Alexandra of Denmark, Coat of Arms.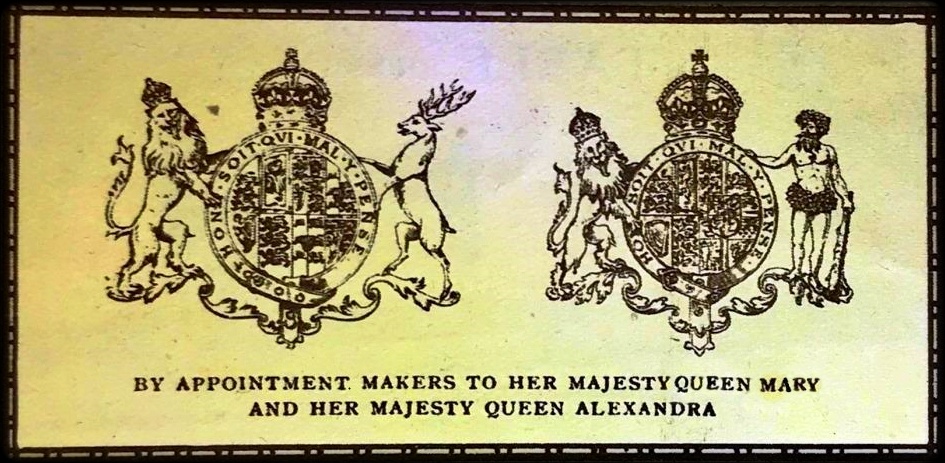 Jones Sewing Machines have been supplied to
Her Majesty the Queen, Her Majesty Queen Alexandra,
and to all the principle Educational Authorities in the country.
Jones cleverly combined their advertising with new and old Royal Warrants and the ongoing government contracts. To my knowledge only Jones Sewing Machines had this extensive longevity of Royal Patronage.
This brilliant image turned up in the side box of an old Jones CS sewing machine which had arrived on my doorstep for a repair and service. It was an envelope with a 1938 King George VI stamp, showing that the Jones Company were still using their old 'royal connections' many years after Alexandra and Mary. Jones sewing machines were once indeed proud makers by 'Royal Warrant'.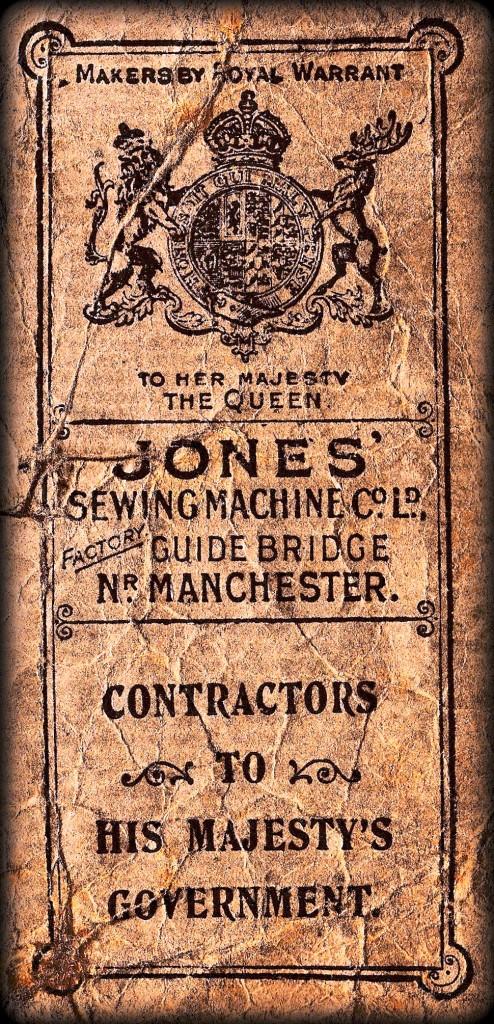 1938
Harrods Sewing machine, British Harrodia sewing machine by Jones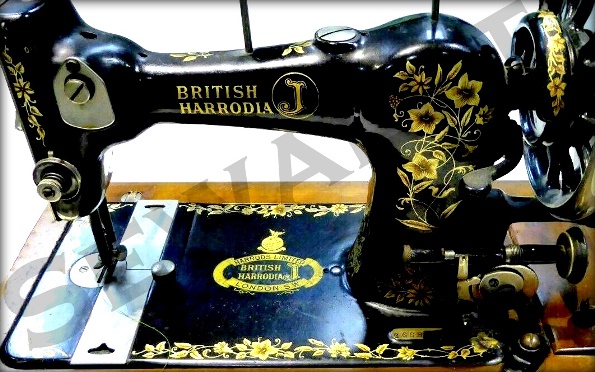 It was not only the royal family that Jones proudly supplied. They also sold machine to the most prestigious shop in the world, Harrods in Knightsbridge, London. Sold under the Harrodia brand name, once again their quality shone through above all others. Incidentally, Harrods had the first customer escalator in London in 1898. Customers who risked their lives on the 'moving staircase' were offered brandy at the top! How times have changed. Notice the large J on the front arm for Jones.
More Serpentine sewing machines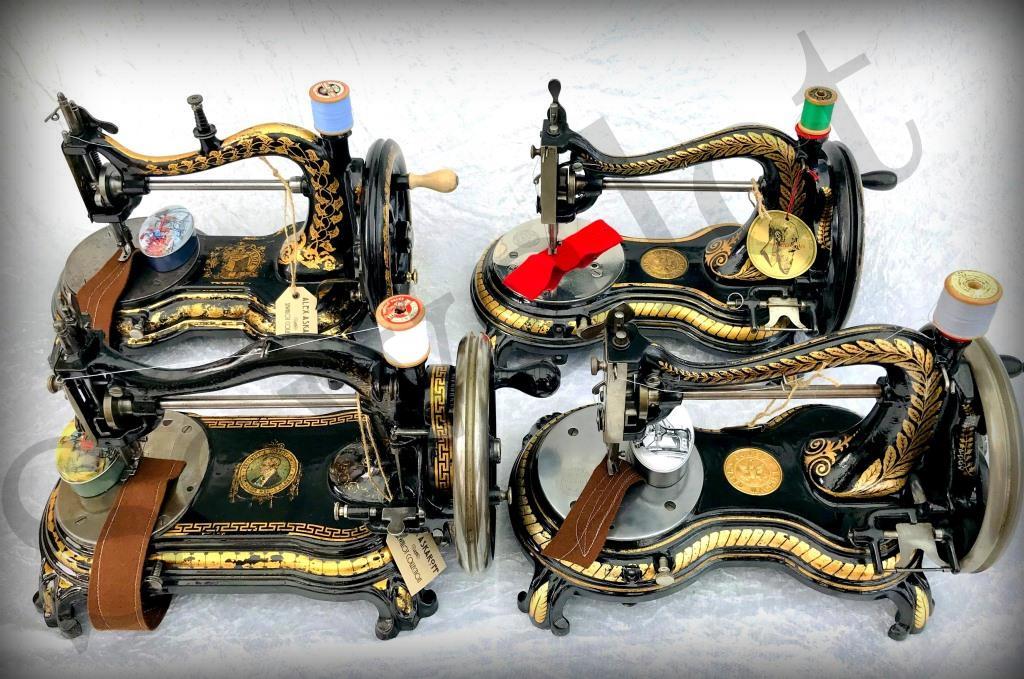 The Jones and Bradbury Serpentine sewing machines are a joy to look at. They ooze quality engineering. It is no wonder that they had 'Royal Approval'. Notice the central tension stud on the top arm of the early Empress of India (top left). The first early Serpentine Models had no take up lever and used the needlebar to act as the lever to 'take up' the slack thread. This was altered on the later models and the tension was moved to the side of the machine just like the Singer 12. The early Empress of India model was to honour Queen Victoria, the later model to honour Queen Alexandra. As queens they were both Empress of India.
By the outbreak of WW2, I can find little mention of Royal Warrants in the company advertising. I presume that after WW2 and the 'new age of manufacturing' it was simply put to bed after the death of the King George VI in 1952. Royal Warrants have to be applied for and approved every five years until the death of the royal. You can use the warrant for an additional two years after the death of the 'royal' that approved the warrant but then it becomes void unless a new royal approves it.
Interestingly, after 1925 no Jones machines I have ever come across carried any sign of Royal Warrants on their decals (although, as we now know, their paperwork and adverts did). This is a good way to date your Jones sewing machine if you have one. I find most serial number dating for Jones sewing machines only roughly accurate. Certainly no records from the factory survive for Jones sewing machine serial numbers. It seems to boil down to low serial numbers are early machines and late serial number, later models. Models with letter prefix, later still.
The earliest machine with the Alexandra, Princess of Wales paperwork that I have come across for the Empress of India, Serpentine Jones, dates to 1875. The last model marked with Queen Alexandra decals, that I have come across, was a 1911 CS Jones. However you may have an identical CS Jones made as late as the 1930s that had no machine decals with Alexandra but still some paperwork referring to its old Royal patronage. Tricky but fascinating.
The Empress of India sewing machine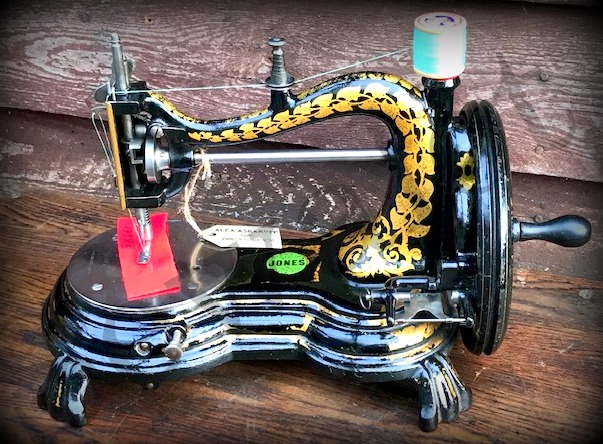 The early Empress of India (Sewalot Collection) was a stunning machine and highly collectible today. Notice on the early model the central tension stud on the top arm. It was moved to the side on later models. HOWEVER when buying any Jones 'Serpentine' style machine (whatever name of supplier that it bears) BEWARE of the gears. Jones experimented on quieter fibre gears on some of their models. If the fibre gear breaks you will have a problem. A skilled gear cutter can make replacements and 3-D printing can also help today if you have a pattern or original gear.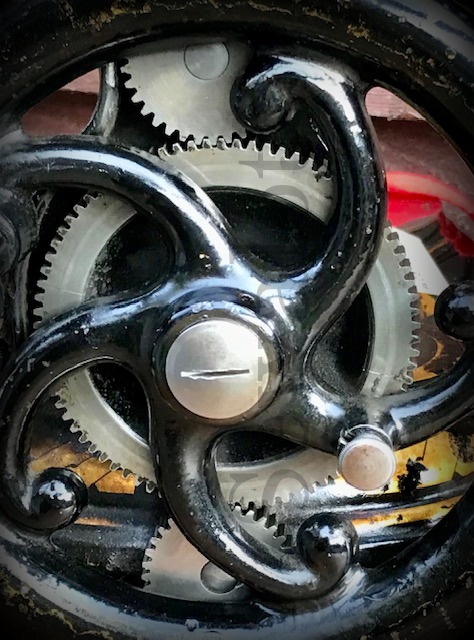 It is essential when buying a Serpentine Jones that you check the gears are steel. Fibre ones perish and are hard to replace.
Now, back to Princess Alexandra (no it wasn't my nickname at school). The first machines that she actually approved were the early Jones machines of the late 1870s commonly known as the Serpentine model but actually called the Empress of India after Queen Victoria and Queen Alexandra who were both Empress of India.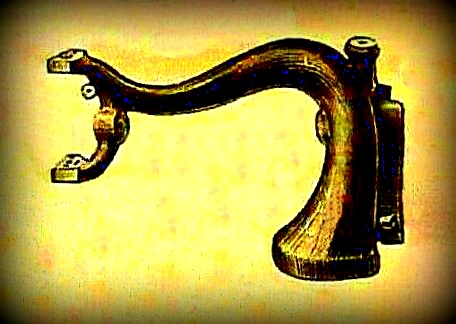 From this Jones parts diagram you can see the neck of the Jones Serpentine sewing machine and how it got its popular name. Its a bit like the Gherkin tower block at 30 St Mary's Axe in London. It doesn't matter what the real name of the skyscraper is, everyone calls it the Gherkin because it resembles a pickled cucumber! Such is life. I can imagine the architect-designer is still fuming over that one.
The name Swan Neck was also used for the Serpentine model. The name that stuck was Cat Back, as it does have a familiar curve along the top arm to a cat's back when its sitting. Although production of the Serpentine Jones was reduced dramatically by the 1890s the popular model ran for 30 years from around 1875 to around 1909
. When sewing well it is a superb machine. It will be a star of the future as it ticks all the collectors boxes and is still obtainable. There can be fewer more stunning machines.
The perfect hand sewing machine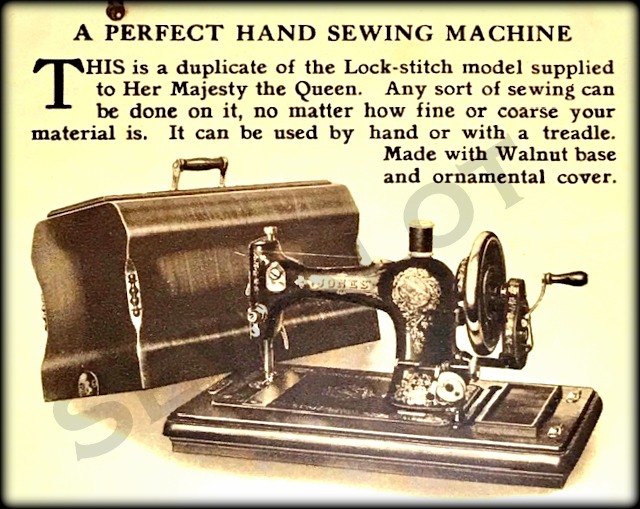 The Jones cylinder shuttle was smooth, quiet and super reliable. It had hardly any improvements throughout its 40 year life span.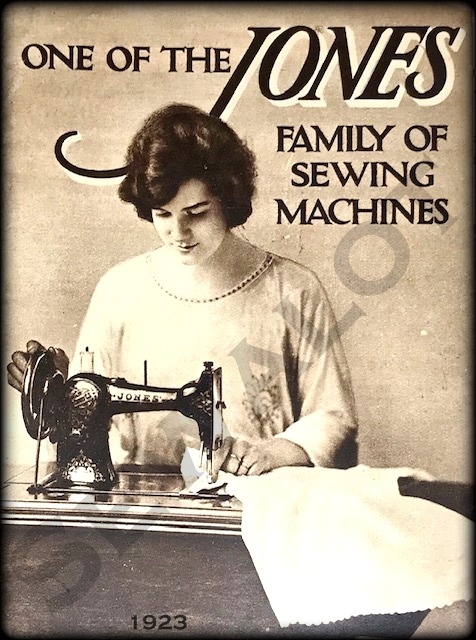 Jones sewing machines spent huge amounts on advertising, not only to the public but to the trade as well. Because they supplied any retailer they needed to constantly remind wholesalers and retailers (as well as consumers) about their product.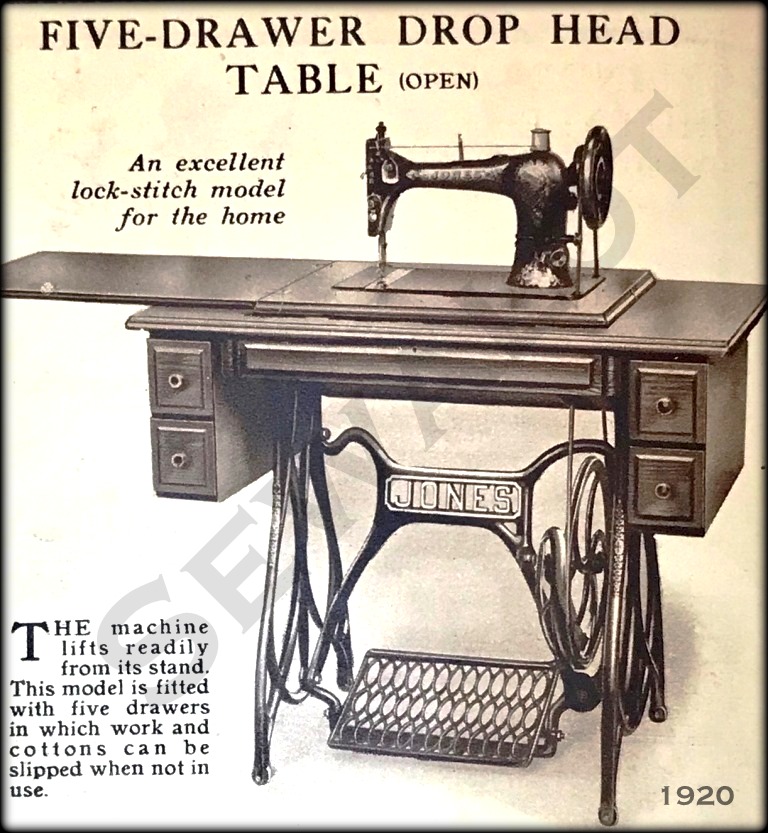 One of the secrets of the Jones treadle was to use ball bearings along the main crank. This made them light and easy to use.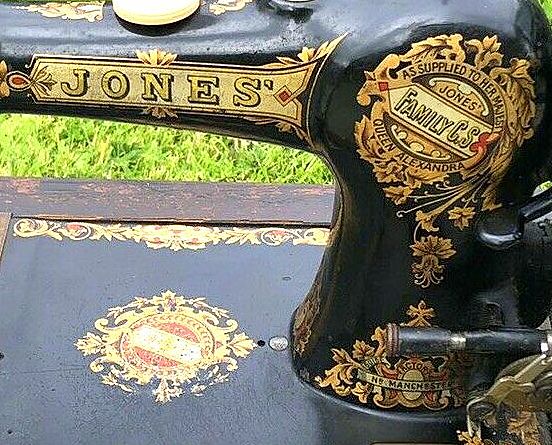 A worn Jones VS, known as the Jones Family Cylinder Shuttle or CS. Due to their excellent sewing performance the Jones machines were often hammered.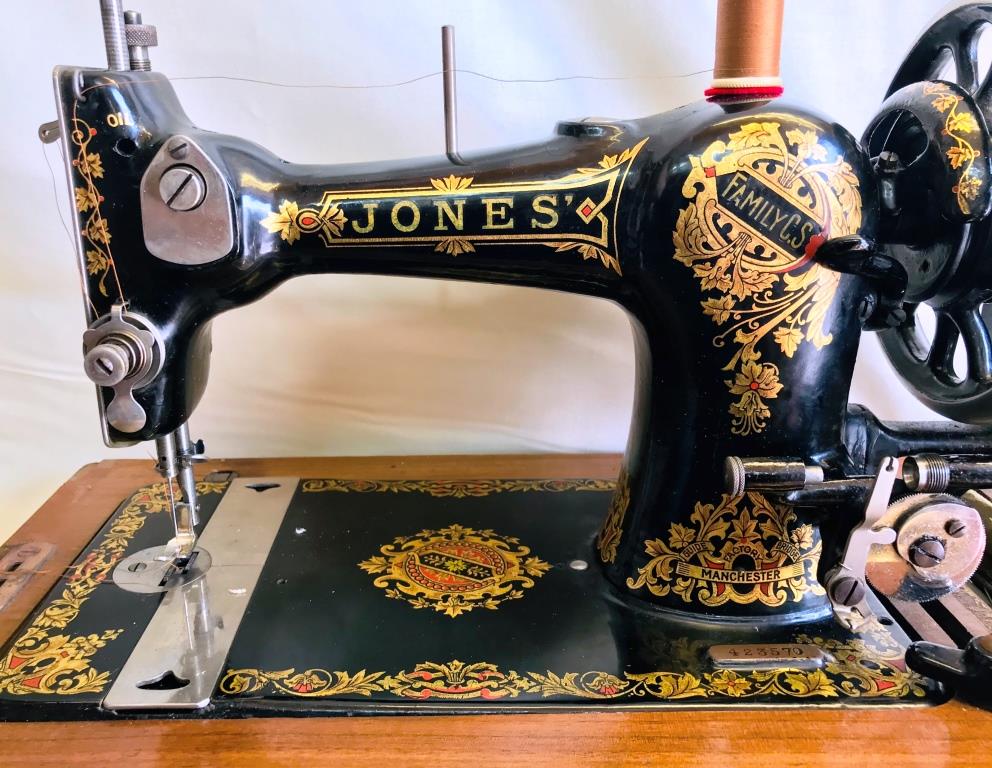 Here you can see two Jones Family cylinder shuttle CS sewing machines, one with royal patronage decals and a later identical model without them. The Jones Family CS was their bestselling model. It ran for about 40 years from the mid 1890s to the mid 1930s.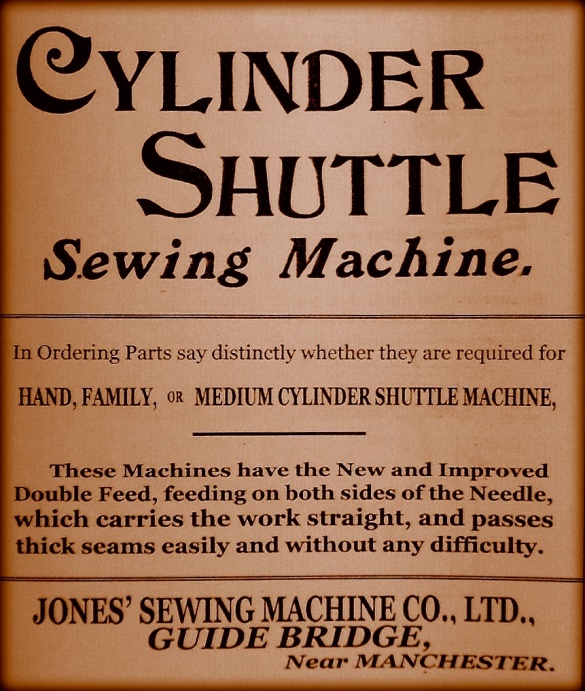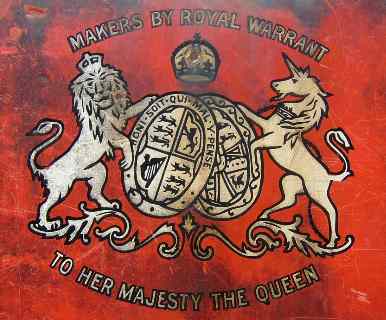 Royal Appointment was a big deal and lead to many orders from Jones Sewing Machines.
I spotted this sign at Blist Hill in Ironbridge outside the seamstress' shop.
Having Royal Approval was a big money spinner as well as a pat on the back. Customers obviously thought if it was fit for the Queen it must be good.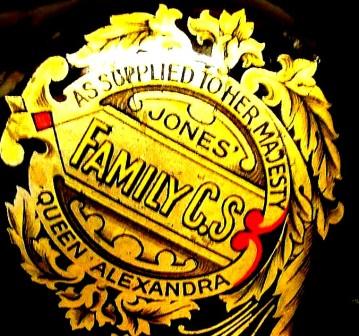 Royal Approval meant more sales, as with this Jones Family Cylinder Shuttle or Central Shuttle CS machine. It was actually a vibrating shuttle like Singers 27, 28, 127, 128 models.
The Jones Serpentine Sewing Machine
(as advertised by Jones)
The prettiest stitch of any sewing machine in existence.
1875-1909

Note: Some had fibre gears and are not as collectable as the steel geared machines. Check before you buy!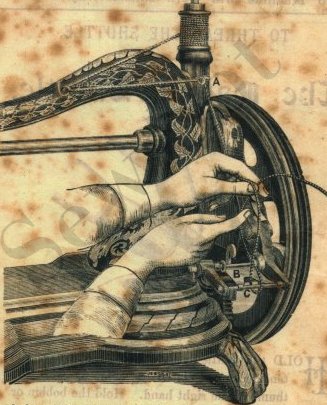 The patented winder unit on the Jones Cat-Back or Serpentine or Swan-Neck model advertised as 'No other machine uses our patented technology'. Bobbin winder patent. Patent No 2854, 13th July 1876.
During WWII the Jones factory carried on producing sewing machines for the war effort but also produced uniforms and parachutes. The silk parachutes were dearly sought after by the servicemen for their sweethearts back home. You could be fined if caught with one, though they rarely did.
This was unlike the great Singer factory in Scotland where production of sewing machines almost ceased for the duration. Bren guns were made and ammunition in massive quantities, some 20 million bullets per week rolled off the production lines.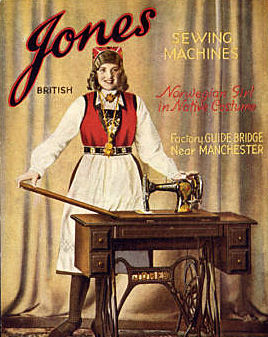 Jones sewing machines were sold all over Europe. This is a Norwegian advert circa 1930
1952 British Sewing Machines BSM & Jones
By the austere 1950s, with rationing still biting hard in Britain, Jones was suffering. Poor basic models were being sold from one of the oldest sewing machine companies in the world. In 1952 the Jones Sewing Machine Company became part of BSM, British Sewing Machines which were part of Imperial Gas. With more investment, by 1963 they were updating and expanding their factory with a brand new purpose built administration block. However, cheap imports were hitting trade and hitting it hard.
The downturn in British manufacturing was unstoppable and many huge old companies were in decline. Jones, like so many greats (including Singer at Kilbowie in Scotland) had just a few years manufacturing left in Great Britain. Out of my 35 books on Amazon I have written extensively on the downfall of the original Singer Company. Alex Askaroff books.
Jas Steel
Agents for
Jones Sewing Machines
Cheltenham 1887
Jones Sewing Machines and Brother Sewing Machines
A takeover by Brother industries saw the Jones name continue on imported models. The Jones name eventually disappeared from sewing machines in the late 1980s. Machines went from being badged as Jones to being badged as Jones-Brother. This became JB and eventually just Brother. A perfectly smooth transition from British to Japanese had seamlessly taken place. The ghost of the great Jones company still survives today as part of the Brother Industries.

A factory still stands today where the huge original 1880 factory once darkened the Audenshaw skyline.
Now it is occupied by Brother Industries.
Brother Industries own the Jones name though it is no longer used. Brother were originally famous for their superb hand built pianos and now make a huge range of domestic and industrial machinery, everything from computers to keyboards.
They used the Jones name to successfully launch their own Brother machines into Europe before morphing into Brother.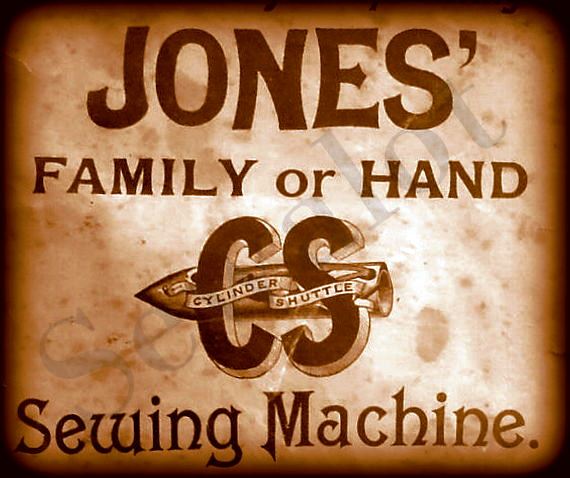 Amongst others, Jones had the Central Shuttle, Central Cylinder and Central Bobbin sewing machines.
One final point worth repeating is that the Jones Sewing Machine Company would mark their machines with many names such as 'The Lightning' or 'The Favourite'. If a large haberdasheries or iron mongers came to Jones with a order for over 100 machines they could have any name they wished upon the machine like 'Victoria', 'Eclipse' or 'Harrods Own'. It is one reason we see so many Jones machines in different skirts - so to speak.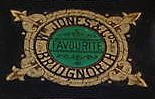 Here is an unusual badge on a Cat Back model of 1890 marked as the Jones "Favourite" sewing machine, Bridgnorth. Jones used countless names on their machines and often marked them to the customers preference if enough quantity was ordered.
1959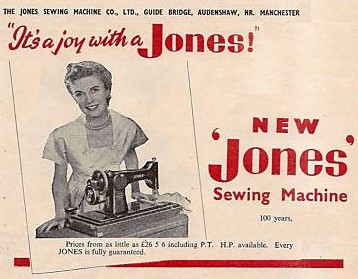 After WW2 Jones machines were plain and often weighed a ton. Things later improved with imported lighter multi-stitch models from Brother.
Well that's almost it for Jones sewing machines folks, most of what I know and have collected over these last few decades. Read some of the real stories below. I have spent a lifetime researching and writing these pages and

I love to hear from people so drop me a line and let me know what you thought

or if you would like to add anything

: alexsussex@aol.com

Most of us know the name Singer but few are aware of his amazing life story, his rags to riches journey from a little runaway to one of the richest men of his age. The story of Isaac Merritt Singer will blow your mind, his wives and lovers his castles and palaces all built on the back of one of the greatest inventions of the 19th century. For the first time the most complete story of a forgotten giant is brought to you by Alex Askaroff.


The Magic Sewing Machine by Alex Askaroff


Blacklock's Sewing Machine depot, 252 Tottenham Court Road, London. Agents for Jones sewing machines.

Oiling a Jones sewing machine (serpentine model)

News Flash! All Alex's books are now on Amazon

Sussex Born and Bred, Corner of the Kingdom, Glory Days
and many more are now available in America and instantly on Kindle and iPad.

Alex's stories are now available to keep. Click on the picture for more information.

Antique & Vintage sewing machines for sale

Tales From The factory Floor

Dear Alex


My daughter showed me your article about Jones Sewing Machine Company in Audenshaw, Manchester.

I found it to be a great source of information about the origin of the Company.

Having been employed there as a 15 year old young women in the office during the war years of 1941. I worked for the Managing Director Mr Percy Jefferson, Mr Norman Edwards and Mr Marshall in the order and despatch department. To deliver the order paperwork I had to encounter the walk through the factory and shop floors and remember the noises of the drilling shop.

I met my future husband who had worked in the fitting dept and later joined the Merchant Navy.

I have fond memories of my work colleagues at the time although long since passed.

I am 92 years old and your article has brought back those earlier times to me

.




Kind regards

Thanks for the memories


Marian Oakes


On 1st. February 1974 I purchased by Jones sewing machine from Woolco, store in Castle Lane, Bournemouth,

I have made my children's clothes, my clothes, numerous

curtains, chair covers etc.
I always maintained the machine my self and have just handed it on to My 21 year old grand-daughter, who has started to make her own clothes.
I was thrilled to find your history of Jones.
Julia Bradley


Hi Alex

I was telling my partner about my first job after leaving school at 15 in 1962.

Left school on the Friday and started work the following Tuesday at Jones Sewing Machines Guide Bridge

as an apprentice engineer.

Lots of fond memories working there. I started in the machine shop, a massive cavernous building

divided into sections, drilling, milling, grinding, turning plus the bar automatic lathe shop.

After six months I was moved into the foundry where the machine castings were made, arms and beds they were called.

I was put on making cores, the moulded sand chunks that made a casting hollow.


After six more months I was moved into the auto shop. Bar automatic lathes that once set going only needed to be fed

by long bars of steel or whatever the material the item being made required.

A new bar in, chuck locked, green button pressed and the machine set to work cutting, chamfering, drilling and parting off

like a demented robot whilst the product repeatedly dropped into the basket.

A great but very noisy environment, no ear protection them days

!

Loved the job

.

Great site Alex well done.

Hello Alex
I was fascinated to read your article on the history of the Jones sewing machine. I just love the beauty of those old machines and still use a hand-operated one myself.
Cheers
Gill

Dear Alex,

I want to tell you that your SEWALOT website is absolutely
magnificent! Any time I want to learn about a particular antique
sewing machine, your site is the one I go to first. Thank you for all
you have put into it for the benefit of everyone.


Judy


Gladstone Lockwood, Dewsbury circa 1910. Jones sewing machine agent and sperm whale oil supplier.

Antique & Vintage sewing machines for sale

Dear Alex.
What a fascinating web site, especially as I have family connections with Jones.
As I understand it, my Grandfather Percy Jefferson, was Chairman of Jones, I think just before and during the second world war. Two of his three sons also worked at Jones in managerial capacities (Uncle Fred, Stanley and Jefferson)
Kind regards
David Jefferson.

Hi Alex,

Just want to say that is a great summary of the Jones history you have done! I enjoyed reading it very much.

I have a Jones Family C.S sewing machine and your expertise is greatly appreciated.

Thank you for taking the time.

Kind regards,

Emma.

Alex
Your website has a fascinating history of the Jones Company. I could not resist writing to you before preparing our evening meal !
Best Wishes,
Jennifer H

Hi Alex

Your site is just the best ever.

SJ California

A brief history of the Jones Sewing Machine Company and William Jones,

See Alex Askaroff on Youtube: http://www.youtube.com/watch?v=8-NVWFkm0sA&list=UL

CONTACT: alexsussex@aol.com
©
Dear Mr. Askaroff,

Just wanted to thank you for your fascinating article on Jones sewing machines. I thoroughly enjoyed it! Amazing leaps in technology and industry that are still functional today! Bet they won't be able to say that about today's latest gadgets in a hundred years.
Thank you!

Blessings!
Rhonda
Sewing machine Tension problems sorted in a heartbeat!
Antique & Vintage sewing machines for sale