William Taylor 1840-1917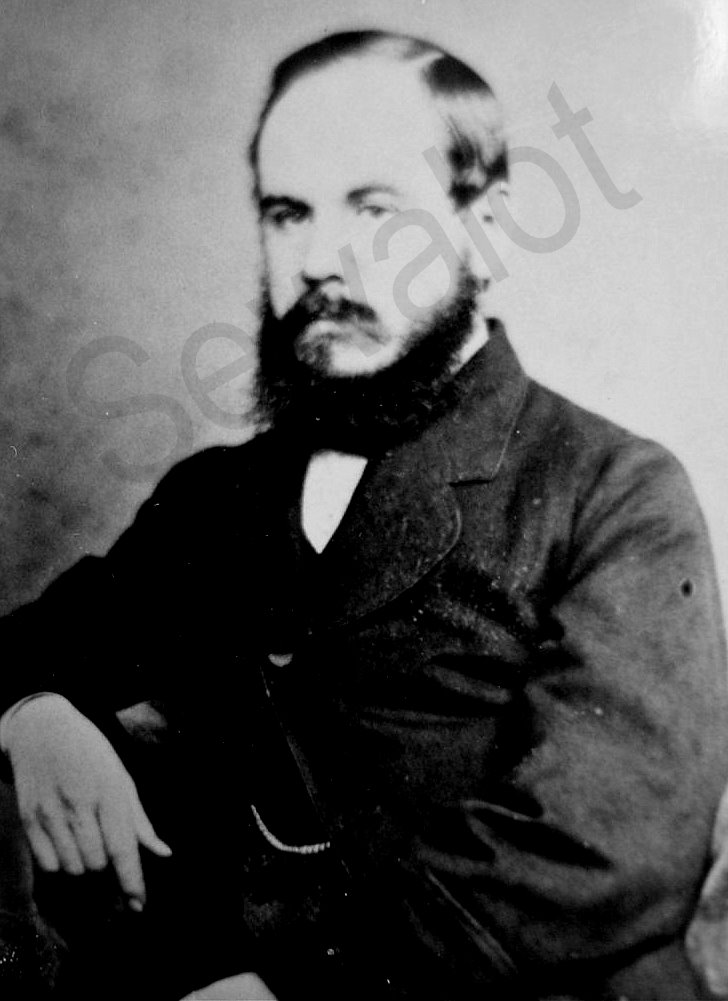 The William Taylor Sewing Machine of 1874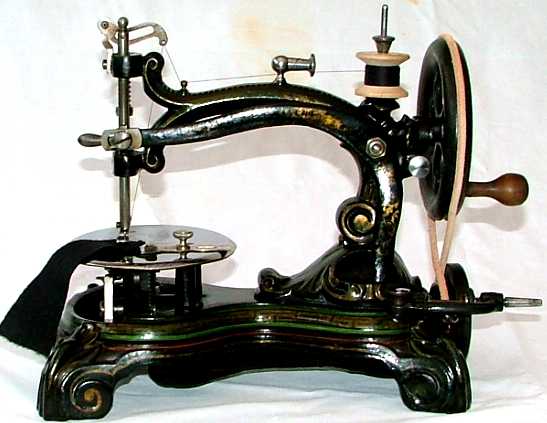 Taylor sewing machine circa 1874, part of the Alex Askaroff, Sewalot collection. William Taylor's machines won no less than 12 gold and silver medals around the world, for their superb engineering, style and smoothness. Today they are rarer than hen's teeth. Note the high bed of the sewing machine. This was to incorporate Taylor's special Elliptical shuttle movement, more of that later.
I must start by saying a big thank you to everyone that has contributed, from patent offices to distant relatives of William Taylor. Very little was once known about the beautiful machines that William Taylor made during the Victorian period. Let me tell you what I have discovered through 25 years of collecting snippets of information on the man, William Taylor. I am delighted to say that this page is now possibly the most complete history of William Taylor and his magnificent sewing machines.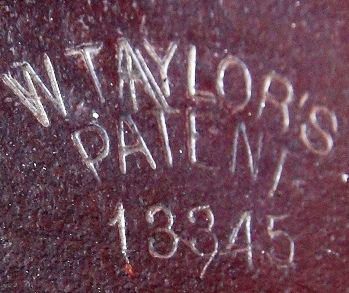 Patent 44417 and 19014/19419 are also stamped on some plates.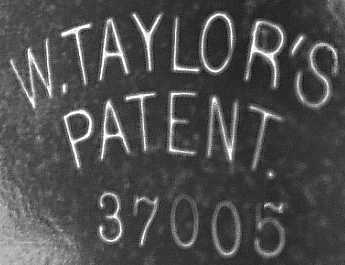 William Taylor was from East Gate, Driffield, East Riding, East Yorkshire. in 1866, by the time William was only 26, he had applied for his first sewing machine patents. 1866 was a bad year as William's father died, (followed by his mother, Mary Taylor, the following year).
We do know that William was selling sewing machines even before this date and it is possible that William Taylor's involvement in the sewing machine business was as early as 1864 and carried on, at least until his companies collapse in 1879.
The beginnings
William Taylor went into the family trade and became a banker's clerk, but behind the counter was a superb designer with an inventive mind. He was granted patent No's 13345, 1156 & 37005 for sewing machine improvements. He must have been delighted to have patents on a sewing machine with a unique shuttle movement as late as the 1870's.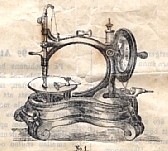 His elliptical shuttle did not go back and forth, in a vibrating way, it moved smoothly in a never-ending elliptical circle. Imagine tracing the outline of a rugby ball with your finger. That is the movement of his shuttle. This made his machine extremely quiet as it did not have the 'rattling shuttle' that beset so many early sewing machines.
To this date there are less than 30 known examples of the William Cross-Belt sewing machines!
One of his machines is in the Victoria & Albert Museum in London. There's flash.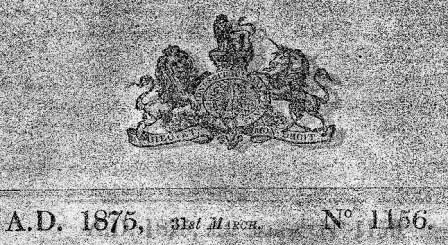 A later 1875 patent application by William Taylor for improvements to his Taylor sewing machine.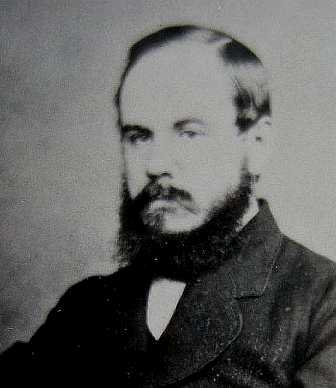 William Taylor was considered a genius of his age, no small feat! Although he was a prolific inventor, when he died he was still an actuary at his local savings bank.
William was born on April Fools day 1840 and died aged 77 in 1917. However being born on April Fools day did not stop him earning the reputation as the smartest man in Driffield.
Poor William suffered from infant paralysis. William lived with his parents at Middle Street and then moved to Bridge Street. His father, Richard Taylor, was manager of the York Union Bank, and bought him a donkey to get around on as his paralysis left him with a permanent limp. He used to try and hide his limp with a heavy cork insert in his left sole.
Bridge Street Chapel Driffield
William Taylor's father, Richard Taylor, was deeply religious and was one of the 12 men who broke from the Wesleyan Church over the use of lay preachers in Driffield.
William's religious upbringing saw him heavily involved in local church matters in Driffield, at the United Methodists Free Church.
While William lived in Bridge Street, Driffield, he oversaw the new Bridge Street Chapel which his brother Charles E Taylor had designed.
In 1863 land was purchased on Bridge Street by James Wilson and Peter Cowen, both also originally Wesleyan Reformers before moving to the United Methodist Free Church.
The Taylor family were huge supporters of the Bridge Street Chapel. William Taylor was the Sunday School Superintendent as well as a lay preacher at the chapel. In 1931 the chapel records it shows that his daughter, Hilda Taylor was still the chapel treasurer and trustee.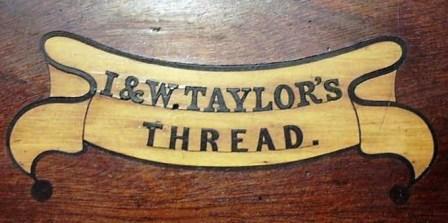 I W Taylor thread was made in Leicester. William Taylor did have relatives there and the thread manufacturing may have a family connection as William Taylor also produced his own thread.
William may have had an unlucky start in life but, with his God-fearing parents, Richard and Mary Taylor, he became an inspired genius of his time. William Taylor was not going to let his frail body get in the way of his stamp on the world. I may even go as far to say that his early difficulties made him more enthusiastic to make a success of his life.
Today, families from all over the world try and trace his early life and inventions. That's lucky for me as they keep giving me little snippets of information, which I add to his page.
William Taylor is remembered for his sewing machines but he invented many things such as the cot with a drop-side, and an automatic pole for lamp-lighting and adjusting gas lamps (which similar patented models from other manufacturers later swept the country). William also made washing machines, yes the future was here, printing machines and kilter's, desks and inter-sliding ladders that converted from step ladders, via a pivot hinge, into one long ladder (patent 15722 Nov 1888). Okay I have to admit that I don't know what a kilter is, but William Taylor produced them right up to his bankruptcy in 1879. Did they pleat kilts? Someone help me...It turns out that the word 'kilt' is from Danish origin and means 'to pleat'. So William was producing a series of fabric pleaters.
1866

William also made early bicycles and was a well known sight bombing around Driffield on one of his early velocipede contraptions. William may have been born with a disability but he made up with it with enormous amounts of energy and inspiration. He could never sit still when he was young. His mother used to say he had stinging nettles in his pants which stung him every time he sat down!
Inspired at a young age by the new fangled gadgets that were the wonder of the modern Victorian world, by the time William was a teenager he had his eye upon the humble sewing machine.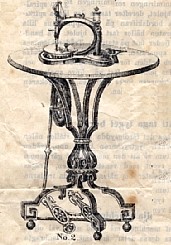 The William Taylor No 2 Treadle base that could also be used as a flower pot stand!
Now, this may be gossip and needs conformation, but family rumour have it that he was already producing sewing machines as early as 1860-1 and one was exhibited at the Great Exhibition at Crystal Palace where he apparently won a bronze medal in the amateur section! Wow how I wish that's true. Oh how I need my time machine... This model could only have been his Willcox & Gibbs chainstitch copy later know as the Taylor Twisted Loop.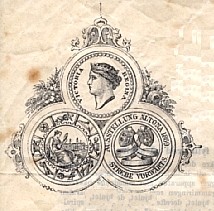 Was this medal won by William Taylor at the 1861 Great Exhibition? In 1866 William Taylor won a silver medal at the London Agricultural Hall, but he was still classed as an amateur.
This would also give some credence to the tale that he actually took over a sewing machine business in Driffield run by Berriman and Aaron Sawdon. Now let us stop a minute. If he, and his father, were in banking and a local firm was up for grabs, it is possible that William was in the right place at the right time to jump in with both feet. It is also feasible that, as a young lad, he knew the business and would have been passed it many times, perhaps peering into the workshops, fascinated by the furnaces and machinery.
If this is true it means that William Taylor was really one of the earlier pioneers of the British sewing machine industry. This could also explain why the Victorian sewing machine pioneer and inventor William Newton-Wilson was so harsh on his comments about William Taylor's sewing machines. Did he see William Taylor as early competition for his crown. His negative comments were in the complete opposite of the facts, as we see, William's machines won loads of medals.
When I started to research William Taylor I often hit a brick wall, but persistence pays off and an encounter with Amy from the Patent Office proved beneficial.
On a search of the patents it did turn out that William Taylor was into sewing machines at a much earlier date than was previously thought. Don't forget patents come after ideas and if William Taylor was already producing a small sewing machine which had no patent protection on part of it, he would naturally want to produce and protect something that no one else could copy.


One of William Taylors earlier patents
By the age of 26 William Taylor, still living in Bridge Street, Driffield, had already filed for several sewing machine patents. One was a clever idea of tensioning the shuttle by wrapping the thread around a small polished bar several times. It was similar principle to the top tension he later used on his large lock-stitch machines. The main underneath movement of the machine was the Elias Howe cam principle.

His first sewing machine was almost definitely the chain-stitch, twisted loop model, and by 1866 he was already working on his first lockstitch. William Taylor also later produced what we call Friction Drives that he patented in 1870 and improved in 1875. Basically eliminating the belt and just having the hand wheel rub against the sewing machine pulley.
These friction drive machines were irregular in their movement and were eventually done away with. When you hit a heavy seam the machine friction drive would just spin or slip on the hand wheel rather than push through the work. A few models still survive. Lippmann & Lind, who William Taylor was in business with (I'll get to them presently) had patented the friction drive. Later, Henry Lippmann and Lind added patents to an almost identical machine to the William Taylor Cross Belt but with a friction drive.
In 1868 William applied for another patent this time for a super idea of an attachable hand crank system to be added to any sewing machine. It would mean you could convert any treadle machine to a table top portable with his simple attachment.
His unique shuttle motion patent was already being used by several other manufacturers including the Leeds manufacturers, Nussey & Pilling.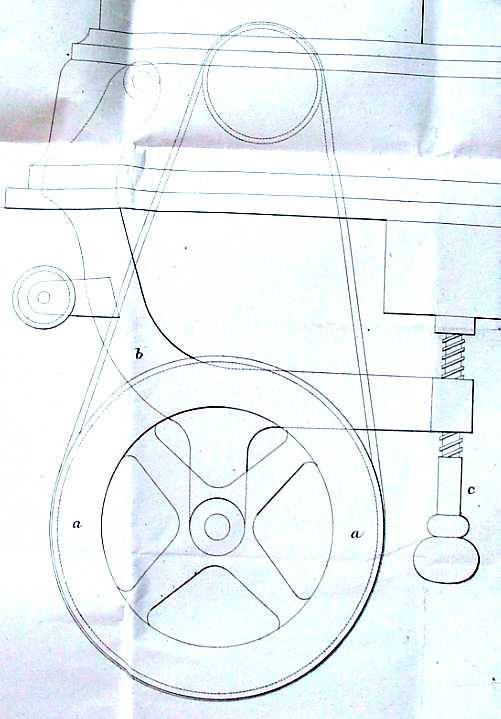 The William Taylor portable hand operated mechanism for clamping to treadle sewing machines to make them portable.

It is interesting to note that the 1868 patent was with his brother, Charles Edward Taylor of Bradfield, and concerned tables and treadles for sewing machines, some in stunning castings.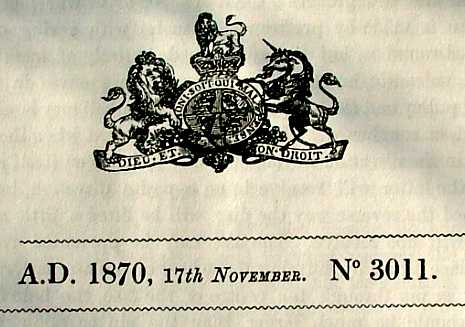 Then again in 1870 William Taylor was applying for more treadle table patents and drive wheel assemblies for turning the humble sewing machine.
In 1874 he was at it again with another patent to improvements in his lockstitch machine shuttle and shuttle holder. With the expansion of his sewing machine range, William Taylor had opened London premises at Holborn Viaduct in 1871 and later by 1874 at 97 Cheapside and 4 Lawrence Lane, London.

Now that we have established what a busy boy our William was we can get onto some really interesting stuff. William Taylor offered part-payment on his machines just like Isaac Singer. This meant that people on low earnings could still afford to use one of William Taylor's machines.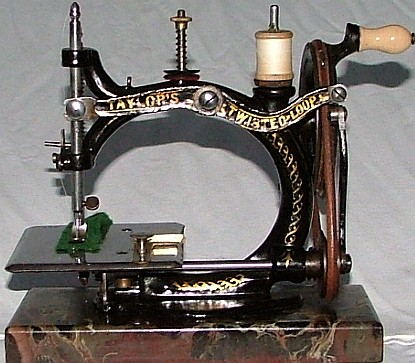 One of the few William Taylor Twisted Loop sewing machines, part of my, Sewalot collection. It is small and sweet, light and easy to use. Part of it was also protected by his 1871 patent.
With this stunning machine William Taylor launched his bid on the sewing machine industry and the Taylor Sewing Machine Company was formed.
By 1876 the company had become the Taylor Sewing Machine Company limited.
The company that made this superb machine had several shareholders and just a few rumours have survived of how it all collapsed.
William Taylor Machines
The quietest sewing machines
in the World
William's casting foundry in Driffield started with all the usual castings, lamp posts, pillars, even drain covers. Today in Driffield there are amazingly still cast iron manhole covers clearly marked Taylor's of Driffield on them. If you fancy searching Driffield, try the bottom of Eastgate near the river on Crosshill where William had his foundry. Apparently part of it is now a pub and car park!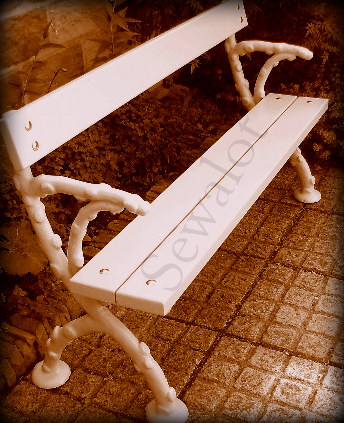 A rare William Taylor cast iron bench which turned up recently in Haworth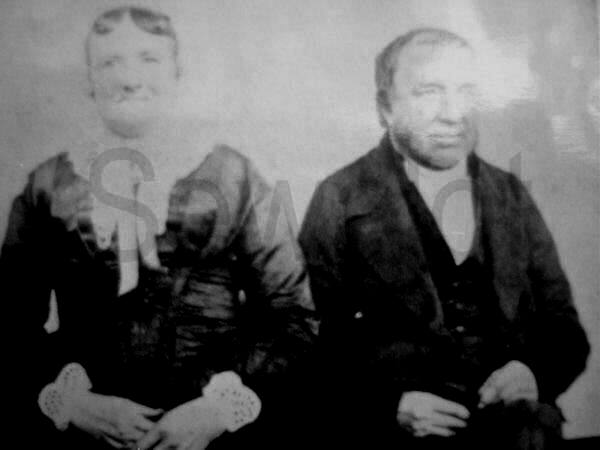 A very early picture of William Taylor's parents. The painful looks are because in early photography you had to sit still for ages.
William Taylor's first machines are very rare today. I have only ever seen a dozen and two are now in my collection. The Taylors Twisted Loop Sewing Machine had a sneaky drive belt adjustment that was done by a sliding bolt on the rear of the machine hand wheel, a great benefit for the stretching leather belts.
The early heavy-cast base model cross-belt Taylor lockstitch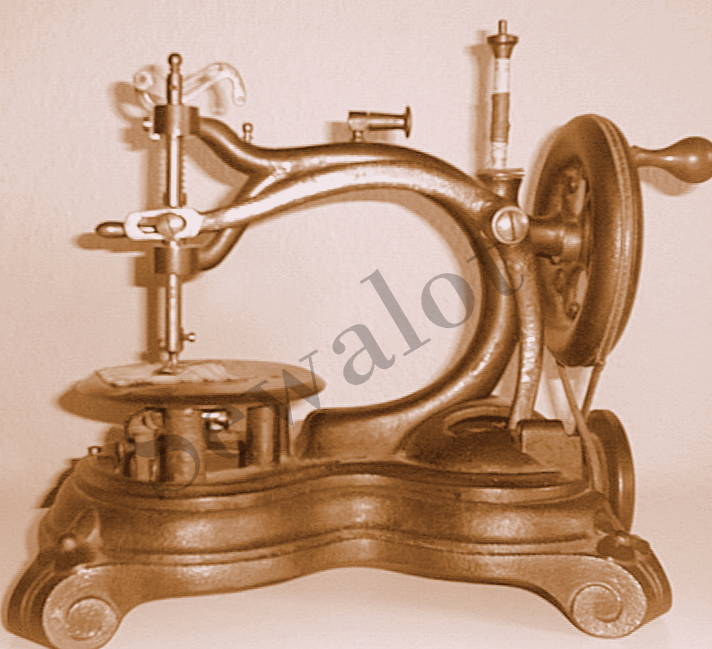 The Improved Taylor Sewing Machine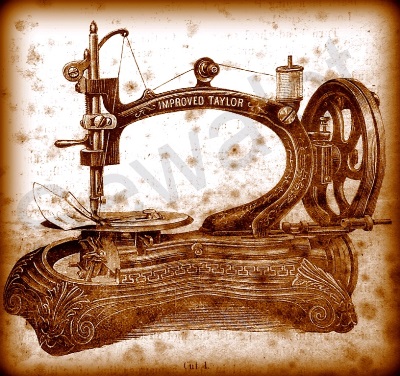 Notice how the Improved Taylor really was a far prettier model with sweeping scroll feet and elegant lines. Note the patented 'friction drive' between the large hand wheel and the small lower drive wheel. The friction drive was adjustable in width to obtain the perfect 'friction' between the two revolving wheels.
And here is the real deal a super rare Improved Taylor, one of only a handful known to exist,
immaculately restored by specialist Wayne Schmidt in 2020. What a beauty.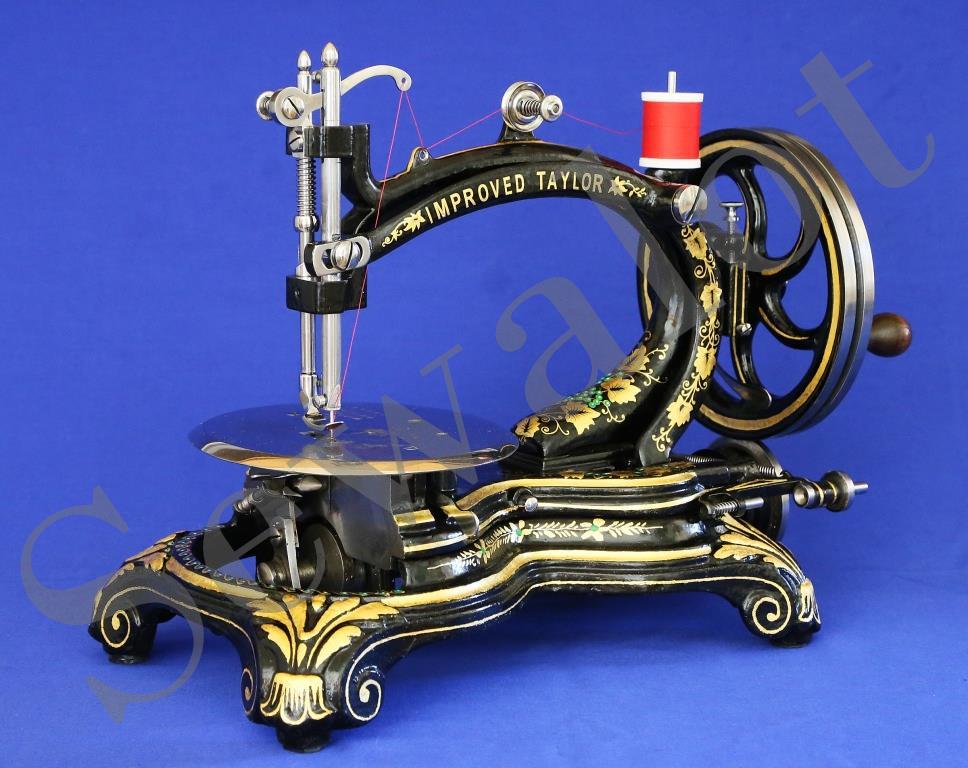 The Improved Taylor sewing machine was also called The Patent Friction Drive across the top arm. There is some speculation that this may have been the final Taylor made by Henry Lippmann & Henry William Lind who had patented the clever friction drive (between the hand wheel and lower shaft wheel in 1870). The Hamburg factory probably made this stunner around 1873.
William Taylor was perfectly situated in East Driffiled for manufacturing, as the small Yorkshire town was bristling with engineering and foundry expertise including Peter Sibree, William Taylor's brother-in-law, who ran the River Head Foundry in Driffield.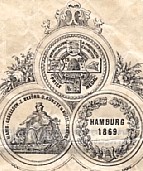 Medal winners at the 1869 Hamburg Exhibition, (27th Sept).
William Taylor was well thought of even by his loyal staff. Once, he did fall out with his works manager, Bentley Brierley, who was a fierce character and had to be fired. Once dismissed from William Taylor's business Brierley started his own sewing machine business which failed almost immediately as apparently none of the skilled staff would leave William's business to work for him.
William Taylor often took the entire factory on day trips to the beach and parks. The New Road factory Cricket Team made up entirely of William's workforce was renowned in the area.
Please note the picture below is very rare, do ask if you would like a copy.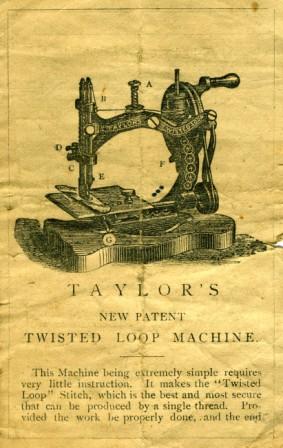 The Taylor Twisted Loop Sewing Machine, 30s including case.
There is little information that I can find on this loop-stitch model but he did give sewing lessons to some of his customers on it and there were at least three different bases. It made a simple chain stitch or twisted loop. Studying the mechanism there is no doubt that much of the mechanics owe their originality to the Willcox & Gibbs chainstitch mechanism.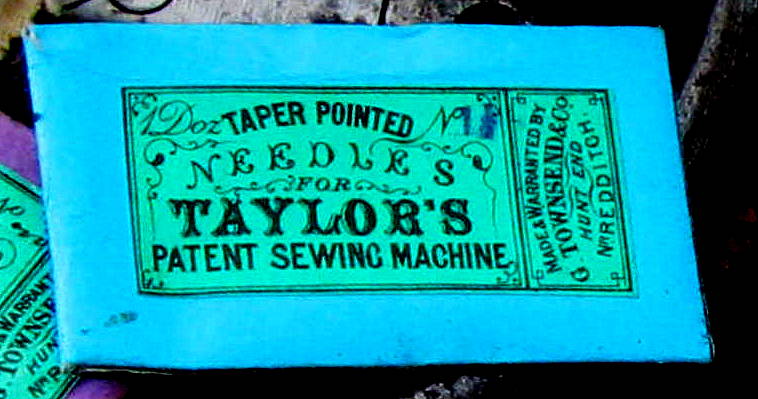 The company Townsend &Co of Hunt End Near Redditch made the special needles for Taylor sewing machines
However the machine was smaller, cheaper and lighter with many individualities. You can see why he did not patent much from his Twisted Loop machine, it was really just a copy of machines on the market at the time.
At 30 shillings it was far cheaper than his later cross-belt lockstitch and cheaper than the W&G and other machines on the market at the time like the Raymond/Weir 55s sewing machine.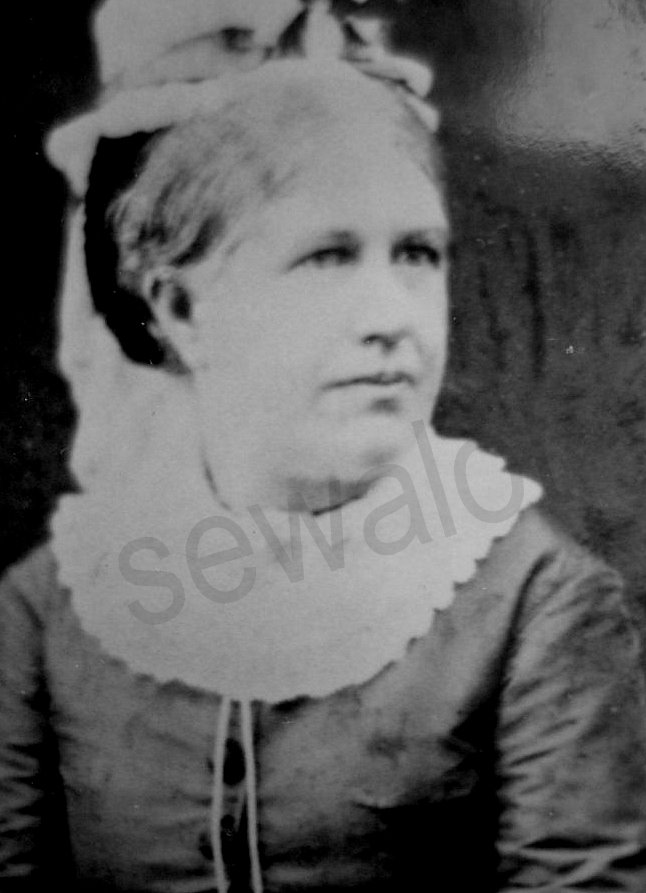 Martha Taylor nee Sibree, William's wife who he wed in 1873. Martha's father was Rev James Sibree from Hull. They had a son, Gilbert Sibree Taylor and two daughters, Hilda Taylor and Ethel Taylor.
In 1875 he did apply for his final patent on his well established twisted loop model but this was for stamping out the parts from sheet metal, an even cheaper alternative to his cast model. I do not know if this was ever made. It sounds more like it would have been a toy sewing machine.
Branch depot's 22 Silver Street, Hull & 132 Kirkgate, Wakefield.
Although I could find no early records at the Patent Office for patents on William Taylor's Twisted Loop machine (I probably missed them) his advertising clearly implied that he held some sort of patent on part of it, or was this just clever advertising?

William Taylor had a small furniture workshop premises adjoining 13 New Road in Eastgate where he made adjustable patented height school desks and other furniture. This property was later bought by the local gasworks.
William Taylor best lockstitch machines, available on fortnightly payments. A one shilling down-payment allows you to acquire the award winning machine direct from the Taylor's Patent Sewing Machine Company of Great Driffield.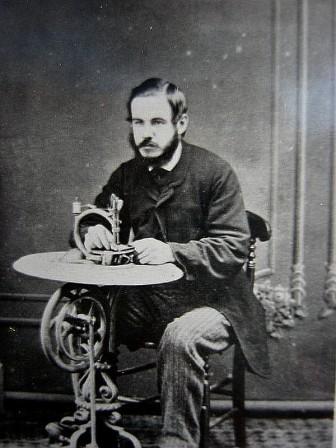 A young William Taylor working his Twisted Loop machine circa 1866. He often held workshops for women to instruct on the use of his machines. William Taylor also gave lectures and talks to the town of Driffield and beyond. He advertised his early machine above as the loop stitch although it was a clear copy of the Wilcox & Gibbs mechanism.
1 Jan 1876 William Taylor establishes a limited company,
Taylor's Sewing Machine Company Ltd.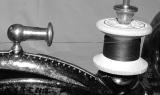 Now onto his full-size lock stitch machine that proudly boasts, W. Taylor Patent, across the top arm and patents on the needleplate. It has the wonderful bar-tensioning device for perfect stitching. In Denmark the patent was filed by Petersen in Jutland.

Exhibition medal winners, African International Exhibition, Cape Town, South Africa, July 1877.
W Taylor, Patents in Austria, France & England.
The stunning looks, engineering and unique features of the William Taylor Cross-stitch sewing machine stood out from the crowd and in 1877 at the first African International Exhibition in Cape Town, South Africa, it took the prestigious Exhibition Gold Medal for outstanding performance and design. There is also a possibility of another medal in 1879, (the same year that the company collapsed and went into liquidation).
Amazingly there are still regular textile and machinery exhibitions near the same site today. The South African International Trade Exhibition or SAITEX is said to be the best trade exhibition in Africa.
Another piece of wonderful family trivia is that a 'Queen of Madagascar' was said to have bought one of his machines! Why not, if you wanted the best and William Taylor's machine was, you would buy it. William was also selling kilting machines , washers and mangles, general haberdashery and even printing machines.
The cross belt was one of William Taylor's ideas to allow the machine to turn in the correct direction. This, along with his elliptical shuttle movement, led to another unusual adaptation allowing the needle to be inserted the wrong way to normal. Threading of the machine is right to left instead of the normal way.
The lock stitch machine was expensive to produce and heavy compared to some of its poorer counterparts like James Weir's 55 shilling machine. You have to remember that William Taylor's lock stitch machines were nearly five guineas, ten times the price of some rivals. We have seen this many times before, cheaper machines undercut and destroy high quality models.
By the time of the companies collapse and stock sale you could pick up William's best machine for just £1...Then 10 shillings. All the chain stitch models were manufactured in Driffield.
Just the fine mahogany box and range of silver plated attachments, hemmers, binders and folders, that came as standard with the machine, cost as much as a cheaper, complete, machines.
We need to step back a little because everything looked rosy but it was not...
Unlike so many machines of the era, William's machine made a superb smooth and high quality stitch with an elliptical moving shuttle. It was the Rolls Royce of its day but it came at a cost.
That caused problems, there were loads of cheaper sewing machines on the market and William's business was quietly suffering. In public he was doing well in private his overheads were dragging down his business. His working experience in a bank allowed William to see the writing on the wall.
He needed to cut his manufacturing costs and by 1874, though his sewing machines were well received behind the scenes, his business was faltering. William looked elsewhere for a cheaper more competitive alternative before his dream failed.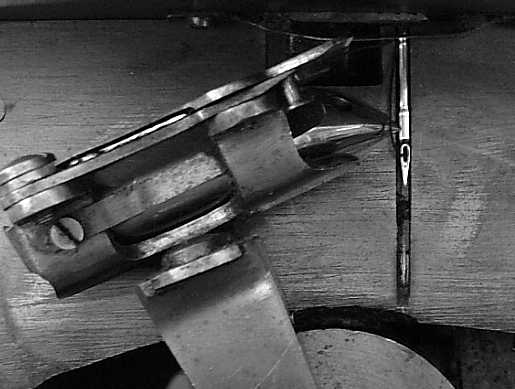 The elliptical shuttle of the Taylor sewing machine.
Note the timing position of the needle and shuttle, this has to be exact for a perfect stitch!
The German Connection!
1870
Henry Lippmann, General Agent.
Before the collapse of the Taylor sewing machine industry, William had a last ditch attempt to save his invention. William Taylor was familiar with Hamburg and some of its factories from his early connections. He had won a silver medal many years earlier at the Hamburg Industrial Exhibition of 1869.
So in a huge effort William Taylor transferred some of his unique machinery to Hamburg in Germany, no small feat in the early 1870's. His plan was simple, cut manufacturing costs in half and make more profit. So we can assume that there may be some Hamburg Taylor sewing machines out there as early as 1870!
His first German connection was probably Henry Lippmann & Henry William Lind who's British agent was the famous Nahum Salamon. H W Lind & H Lippmann had patented the friction drive in 1870. It is possible that they went on to make the friction drive Taylor machines in Hamburg. But hold on to your horses William Taylor has another German manufacturer ready to make his machines!
Hamburg was a centre of manufacturing. Pollack & Schmidt had their American Sewing Machine Factory in Hamburg. One of William Taylor's 1874 patents was in partnership with Johann Heinrich Rudolph Dreyer and Heinrich Schippmann also from Hamburg.
H Schippmann's factory in Hamburg was taken over by Peers & Co which was a collaboration between Schippmann, Peers and Emil Bauermeister. We can assume that they carried on with their useful business connection with William Taylor and his machines. By 1874 Peers was out of the equation and a new partner appears, Dreyer, with whom the patent had been taken out.
So we can assume that the three men were in some form of partnership, from the early 1870's until the Hamburg factories collapse in 1880. The bases on the Hamburg machines, out of the Sternstrasse Factory, were much smoother or 'clumpier' so can be easily distinguished as they had a hinged side cover that swung open to allow access to the shuttle area. However just to confuse matters once again we also know that Henry William Lind & Henry Lippmann were selling a Taylor sewing machine in 1877 which they had made themselves in their Neueburg Factory in Hamburg which had already been set up making early Amasa Howe copies under licence.
So did William have two contracts each supplying slightly different Taylor models! yes he did and funnily both Hamburg factories collapsed in 1880.
Remember that William had already used a German friction drive on his machine and was also showing his machines at the Hamburg shows, winning yet more medals, so you can see how the connection was made with the with the Hamburg businesses.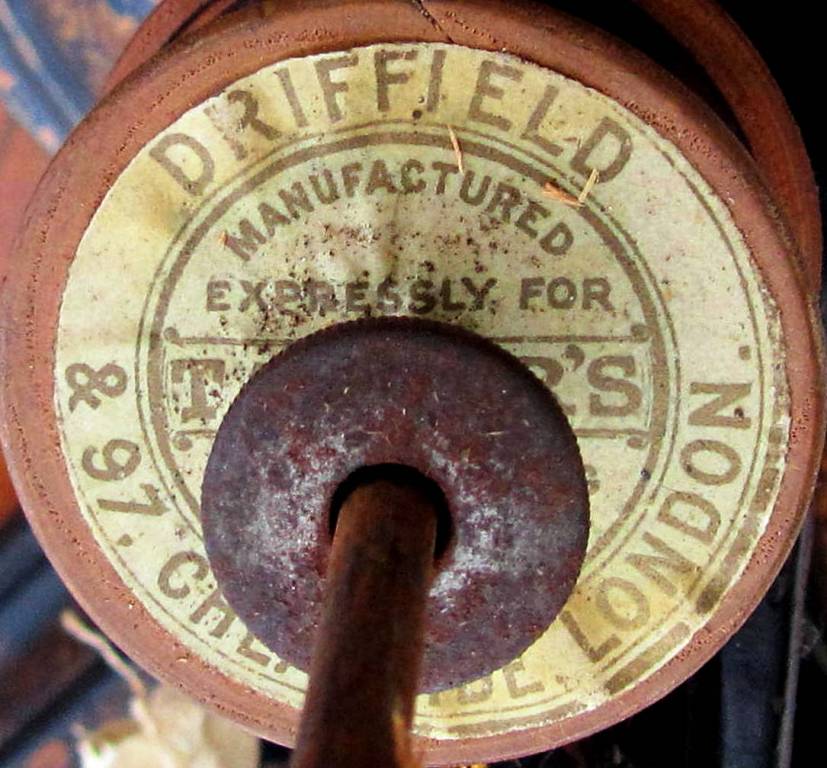 William Taylor even had his own special lion thread manufactured with a reverse twist coated thread for a smooth stitch. You could buy this direct from his New Road factory in Driffield by mail order.
Henry Lippmann was a pioneer in his own right. He had seen a market for tin plating and by 1860 he was already in business in the tinplate and metal trade. Henry was a pioneer in Germany for the import of English Tin from Cornwall and plated things like oil lamps and steel wire. From his factory he produced a number of items from zinc and brass wire to some of the very first tin cans.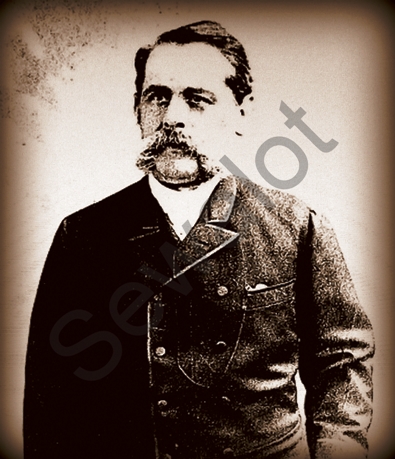 Henry Lippmann 1823-1890
Henry always had his eye on the ball and around 1872 he went into partnership with Henry William Lind to form Lippmann & Lind sewing machines. They set up their St George Foundry business on Spaldingstrasse in Hamburg but by 1875 they had their own purpose built factory on Konigstrasse, Wandsbek.
And so William Taylor, in a bid to be competitive, tried to continue manufacturing abroad with Lippmann & Lind in Germany. This would mean cheaper overheads and running costs, much like today when British firms have their goods made abroad.
World Exhibition
Vienna 1873
Stand 282 ,German Pavilion
W Taylors Patent Sewing Machine
For a while the sewing machine export business boomed and William breathed a big sigh of relief. It looked like William Taylor had finally figured it all out, his Driffield plant made the smaller more intricate machines while his German colleagues made the Improved Taylor Lock Stitch. The German factory also made several minor improvements to the Taylor machine and marketed their own model as the Lind's Improved Taylor Sewing Machine.
The Death Knell
However things took a sudden downward turn when an early form of the Trades Description Act came into force (in Britain and its colonies). All manufactures, importers and agents had to have there products clearly marked as to their true origins. Once the machines were clearly marked Made in Germany, sales took a nose dive.
Also the TDA was vigorously enforced by the British, Any product not clearly and correctly labelled could be seized and destroyed. It was a sneaky way for the British to protect their huge manufacturing base.
Disaster Strikes
A massive consignment of Taylor sewing machines, made by Lippmann & Lind, were seized at Liverpool Docks. they were bound for Manila in the Philippines. the loss of this shipment was the final straw for both William Taylor and Lippmann & Lind. The heavy cost of setting up the new plant and machinery and the loss of their stock had proved just too much. The loss of this huge shipment possibly sounded the final death knell of both companies.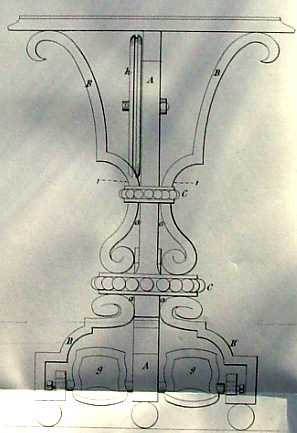 The TDA was also the trigger that caused the collapse of many smaller German firms. And so Lippmann & Lind suddenly ceased trading with Taylor.
Lind's 'Improved Taylor' sewing machines, La Precieuse, & La Silencieuse.
Agent for France,
Ms Richbourg, Paris.
However, Henry William Lind had one final fling up his sleeve and teamed up with a Portuguese man, Roberto Fernando Castro, to try and continue selling his version of the Taylor machines to the ripe Portuguese and South American markets.
And so, a few more models came onto the market, marked as Lind's Improved Taylor sewing machine, La Precieuse, and La Silencieuse sewing machines.
I have not yet discovered what happened to their attempts and maybe there are loads of Taylor sewing machines floating around South America to this day! That would be such a laugh. I do know several were imported and sold into Great Britain so they must have traded for a while with a clever two-reel sewing machine that R F Castro had improved from Taylors machine. You can see a two-reel machine working as the high bed gives ample clearance for a second reel underneath.
La Precieuse (The Precious)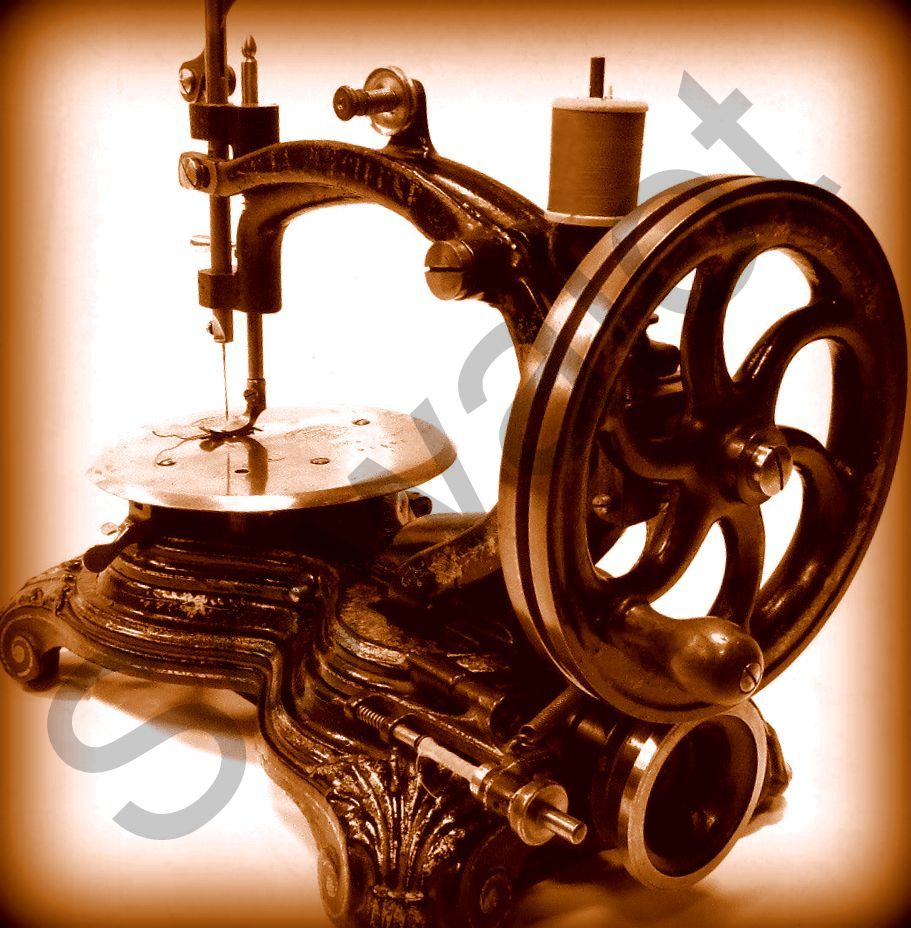 La Precieuse was a machine made for and sold into the French market by Paris Agents. It is a modified Improved Taylor with a slightly different drive system, castings and other minor cosmetic changes. They are extremely rare today.
A Soudan Sewing Machines
20 Boulevard Sebastopol
Paris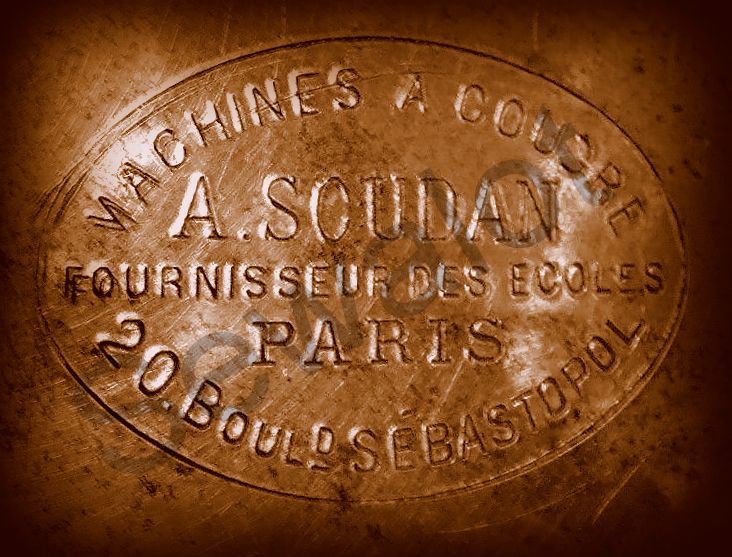 When you think about it, the new partners of Castro & Lind had a great machine with near perfect stitching, through almost any material. They also had the rights to at least eight British and foreign patents, and a name that was well know in the market place. Why not have a go at selling the machines themselves. Crazy no to really.
I have been told that in the end Lind finally used all his excellent sewing machine skills and experience to produce a technical magazine for the sewing trade.
Pollack , Schmidt & Co
Hamburg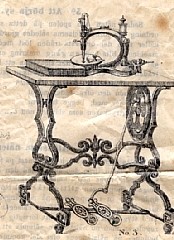 I am not sure if there was a definite connection with Pollack, Schmidt & Co. They made Wheeler & Wilson clones including one that fetched the amazing sum of £23,500 at Christies in London in 1997.
My old mate, Ray Rushton, bought the machine for his London Sewing Machine Museum (featured on The Great British Sewing Bee for the BBC) which I also did a little turn for. I remember drooling over the machine when he showed it to me the first time at his fabulous museum in Wimbledon. Nothing that a wet rag wouldn't clean off! Up until 2017 it was the highest price ever paid for a sewing machine to date. Oh did I mention that the machine was made for the daughter of Queen Victoria, her eldest daughter Vicky, Victoria Adelaide Mary Louisa.
Taylor Treadle model 3
Ray Rushton of The London Sewing Museum and Wimbledon Sewing Machines (Wimsew) went on to buy one of only a handful of genuine Barthťlemy Thimonnier sewing machines and paid over double the Pollack, Schmidt & Co machine.
Back to William Taylor...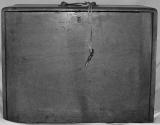 The sudden collapse (or change of course) of Lippmann & Lind must have been unexpected because William Taylor apparently only found out he was in real trouble after supplies and communications dried up from Hamburg. He made a hasty trip to Germany to see what was happening, only to find the factory closed to him! The owners had apparently sold all his stock and Lind had plans of his own to market an improved machine. Was there unpaid debts that led to this split?
This was a disaster, no German machines to fill any orders except from his Schippmann connection (and they were in trouble finally closing only 16 months later in 1880).
Apparently Schippmann made the crossed belt version of the Taylor machines and Lind the friction drive versions.
No extra machines meant William only had one of the three factories (his own Driffield) making machines and no investment money. No money, few machine and increasing debts meant only one thing... bankruptcy.
1878
Taylor's Patented Sewing Machine Company Ltd,
For Sale!
In 1878 William Taylor's Company finally collapsed, it had struggled on for a few months in 1878, looking for a buyer but, with over £10,000 of debts, it finally closed. Liquidators were called in to salvage what they could at the Yorkshire and London offices. A massive clearance sale saw stock, machines, and equipment all discounted to try and clear some of the debts.
1879
In 1879 the company was finally broken up.
William Taylor had returned to Britain a broken man with huge debts. Over the following years he slowly paid of all his debtors (many to friends and family who had invested in his dream) and after inventing a machine for mild-steel riveted belts, he even made some of his money back.
William Taylor's swan song
Back in England a huge clearance sale was announced to clear the Driffield plant and stock.
Enough of the plant, stock and tools were bought up, lock-stock-and-barrel, by James Elvidge. Apparently he stumbled on selling cheap stock and machines under the name of Taylor's Patent Sewing Machine Co selling the Improved Taylor Sewing Machine.
Allegedly, in the early 1880's, Robert Mothersill, (I wonder if his dad was Fathersnotbeenwell) a former agent for Taylor bought up the rights for the Improved Taylor Sewing Machine and sold them from his Cheapside premises in London. Could they have been supplied from Lind?
The Taylor name continued on sewing machines for a few more years, some from another depot in St Martin's le Grand, London and some old stock sold cheaply to dealers.
It seems that the name finally ceased all sewing machine trading around 1891.
The end of a dream
They say William Taylor wept for joy the day he finally paid of all his debts. In later life William Taylor slowed down a little, teaching Sunday School and tinkering in his workshop.
He used a small workshop in Retort Yard in Bridge Street. There he tuned grandfather clocks and made the bells and chimes in a tiny furnace little larger than a fireplace.
William Taylor was a workaholic and one day he even set fire to his beard while tempering some steel. That must have been a funny sight, old William jumping around his workshop with his beard alight!
An inventor to the very last, he made a lathe that would mass produced screw threads at a workshop on the corner of Bridlington Road and Eastergate, not far from one of his original workshops.
The Victorian sewing machine pioneer and inventor William Newton-Wilson of London said that in his opinion the Taylor Cross-belt hand machine was of clumsy appearance! Hey what did he know... Style is a matter of taste. Also he may not have seen the slightly later models which had the better base and beautiful ornate top casting, different hand wheel, winder and tensioner.
Taylor Patent model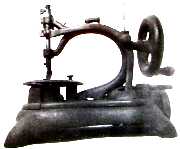 The early Taylor sewing machines had a clumsy harsh base not like the later models. This may have been one of the early Hamburg models made by Dreyer & Schippmann. Dreyer & Schippmann added a swing cover for the shuttle area.
In my opinion I would class William Taylor sewing machines as some of the most impressive machines of the era, and the superb prices the machines realise today, when they do occasionally come up for sale, reflect this. There are only a handful of the William Taylor machines still around in the odd museum and private collection and they rarely surface for sale.
The Taylor Cross-belt sewing machine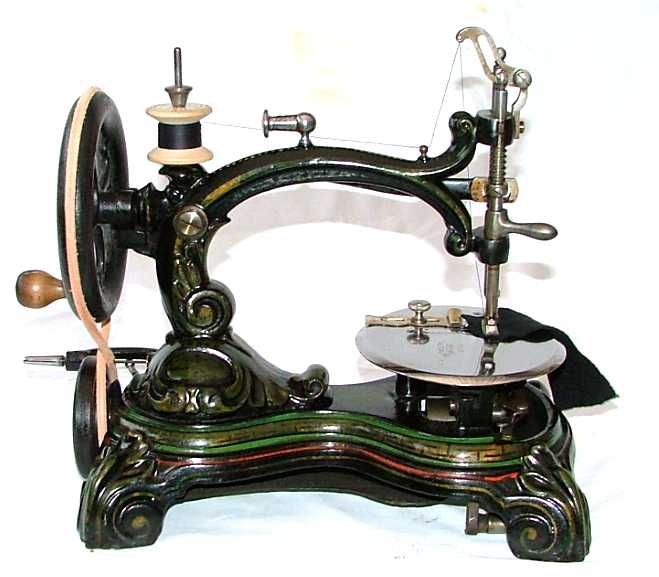 The fabulous and rare W. Taylor cross-belt Improved Taylor Sewing Machine of 1873-4 now in my Sewalot collection.
William Taylor died peacefully in November 1917 after sitting down to write a small piece for his Sunday sermon. A comfortable but not wealthy man. He was still active inventing and designing everything from locking adjustable ladders (patented in 1891) to bell-tuning equipment.
His income in later life came mainly from copper and mild steel riveted belting, and school desks. He was 77 when he popped his clogs from heart failure, which was an amazing age for someone who had been born with a weak heart and other major disabilities.
His funeral was held at the church where he preached and attended of over 60 years, the Bridge Street United Methodist Church. There was a large attendance as he was very well respected in his community.
William Taylor had three surviving children, two girls, Ethel & Hilda and a son Gilbert.
Values
William Taylor sewing machines rarely come up for sale and when they do they command excellent prices. The last one I saw on Ebay in 2012 went for over $2,000 and it was only in fair condition. So if you see one grab it with both hands!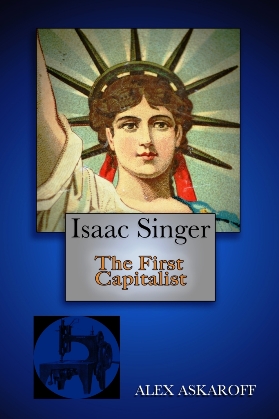 Most of us know the name Singer but few are aware of his amazing life story, his rags to riches journey from a little runaway to one of the richest men of his age. The story of Isaac Merritt Singer will blow your mind, his wives and lovers his castles and palaces all built on the back of one of the greatest inventions of the 19th century. For the first time the most complete story of a forgotten giant is brought to you by Alex Askaroff.
See Alex Askaroff on Youtube: A day in the life of a sewing machine engineer
The End...Almost...
I keep thinking that I have come to the end of William's story but new information comes in on a regular basis so I am delighted to add the following. This is a fantastic addition...
Rod Wise contacted me from Australia to add this wonderful piece:
Thanks
Alex
for the time you have spent on your site and for the article on William Taylor of Driffield.
My mother Olga Taylor lived, in 1922, with William
Taylor's
sister, Hilda, in Driffield. Hilda worked at the bank and on Saturday they went to the workshop and filled the orders for riveted
d
rive belts which had come in during the week. On Sunday they went to church three times.
(William Taylor must have been dead some years).
Ossie Wray worked for William Taylor and I met him outside the workshop, where he showed me the only machine he had. It went on auction at Christies after he died. I bid 600 pounds, but was unsuccessful. His daughter who owned the hairdressers, sold me a broken down machine which had been under the stairs, somewhere. This I still have.
I did discover a machine in Nafferton belonging to an elderly couple. It was in good condition with the original book. They wanted 100 pounds, in 1976 which I had in my coat pocket. They said their children had asked them not to sell it, so I put my money away, respecting their wishes and came away. It must be a bit of old William
Taylor
in me.
I understand the factory was in Hamburg. When William
Taylor
had not heard from his partner for some time, he went there to find the factory empty. He was a fervent Methodist, and repaid the money he had raised in the town. T
h
e family lived frugally for years. He made school desks. His brother in law Peter Sibree had a foundry in Driffield. Hid brother in Leicester made socks and Richard
'
s children William
and Thomas made optical lens. Taylor Taylor and Hobson. William was made an FRS. I have one of his lens in my small collection.
On
ce
again, thanks for the website and for the detail.
Rod Wise
Chemist, Lake Macquarie, NSW, Australia.
News Flash! Alex's books are now all available to download or buy as paperback on Amazon worldwide.
"This may just be the best book I've ever read."
J Vincent Horam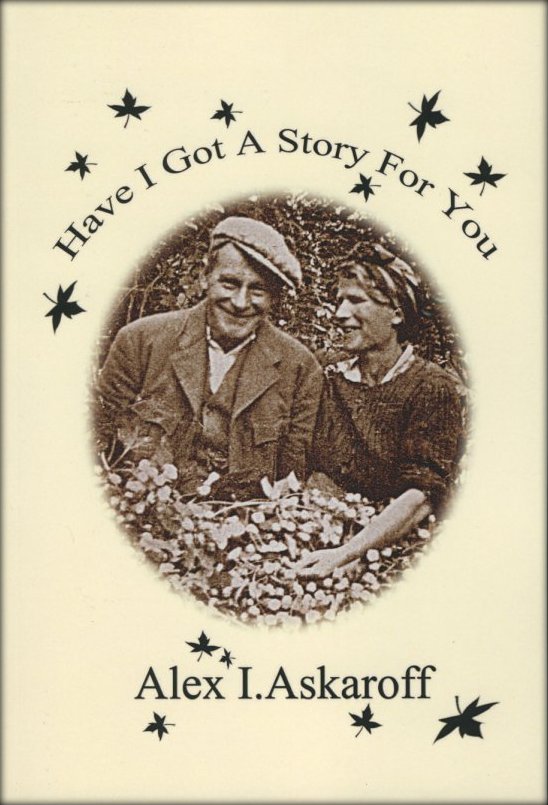 "My five grandchildren are reading this book aloud to each other from my Kindle every Sunday.
The characterization is great; both heart-warming and funny, and the story never lags.
I enjoyed not only the story, but watching my grandchildren's delight in hearing it.
The illustrations are the best I've seen in a very long time.
Anne Lancaster USA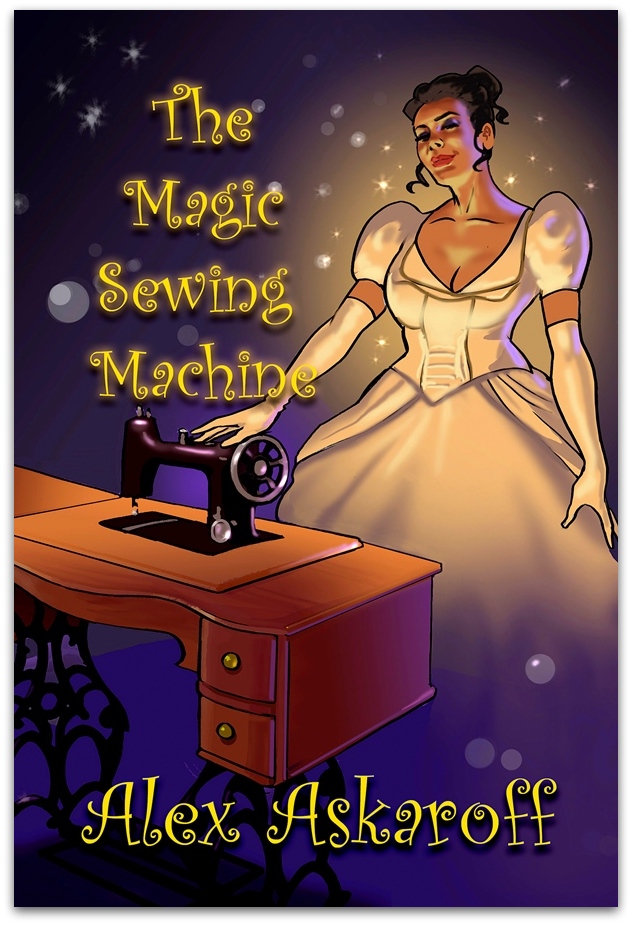 If this isn't the perfect book it's close to it!
I'm on my third run though already.
Love it, love it, love it.
F. Watson USA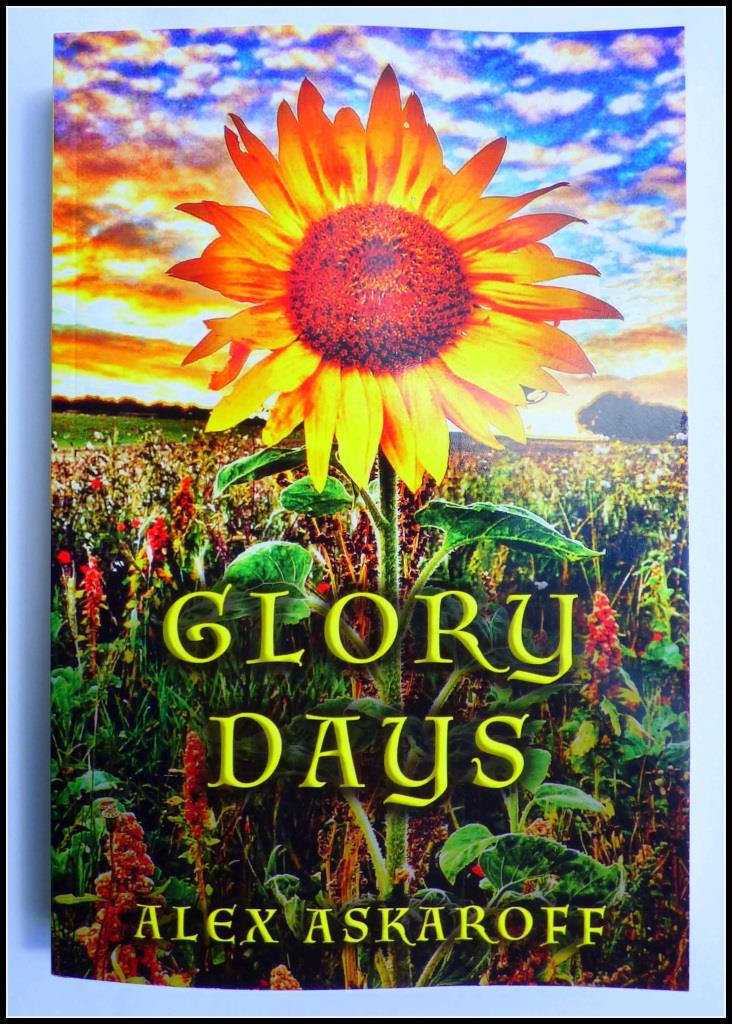 The way it's written you can just imagine walking beside him seeing the things he does.
Definitely look forward to reading more of his adventures.
Amazon FIVE STAR review
News Flash! Alex's books are now all available to download or buy as paperback on Amazon worldwide.
See Alex Askaroff on Youtube: A day in the life of a sewing machine engineer