The Little Worker
Much has been written about the New Home Sewing Machine Co that made the Little Worker but what we are concerned with here is the superb, Little Worker model itself.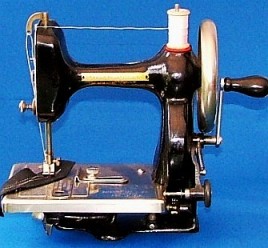 The Little Worker Sewing Machine of 1911
The Little Worker was patented on April 4th 1911 with a slight improvement in February of 1912. The machine was produced by the New Home Sewing Machine Company of Orange Massachusetts. They had their export office on 17th Street, New York and later premises on 4th Avenue and Union Square.


Little Worker sewing machine body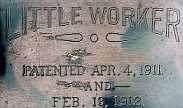 Founded in 1860 as the Gold Medal Sewing Machine Co it was renamed in 1882 to become New Home. Their motto was light running like a greyhound. This is almost true as the New Home machines were light and smooth but did not need dog food, just the occasional drop of oil. Now that's a poor joke so I stop telling them.
Little Worker Sewing Machine patents
This oil was furnished from several sources including the poor old whale which was hunted all over the world for lamp oil and sewing machine oil.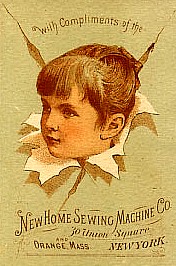 New Home was absorbed by the Japanese Janome Corporation in the 1950ís although the New Home name still continues to decorate some of their models.
New Home was one of the most successful sewing machine companies of the 19th and 20th centuries and produced many different models.
The Little Worker was an ideal machine, small light and practical. New Home even made the needles for it which was very unusual. They were marketed as small practical as well as being portable and appealed to adults and children alike.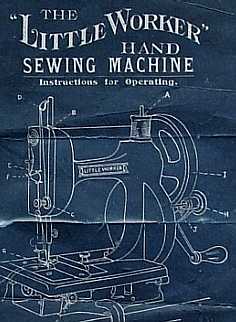 Most machines of this size were chain stitch models but this baby was a proper lock stitch with a vibrating shuttle.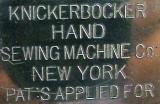 The machine is the same size as the Mother's Helper model and the New Home Midget which was later available as electric. The machine was also called the Knickerbocker.
To add to the confusion New Home would happily put any name on the machine if you ordered enough of them so large department stores could call them what they liked.
They used to advertise their machine as having no rival! The small machine that produced large results.
In 1914 London, England, the Little Worker was sold by the premier Gammages store in Holborn for the huge sum of one guinea or 21 shillings.That does not sound much but the average weekly wage was around that sum. Work that out in today's value. Now you know why it was so well made, it cost a lot of money 100 years ago.
The Little Worker Sewing Machine turns up regularly and are very popular with collectors the world over and was sold under several different names such as the Mothers Helper Sewing Machine and the Midget Sewing Machine.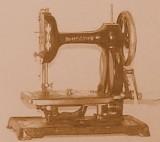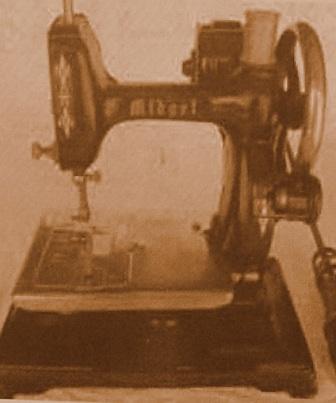 Mothers Helper Sewing Machine and the Midget Sewing Machine, both Little Worker models. The Midget was even sold as electric later on in its life. Patented in 1911 & 1912

Mothers Helper Sewing Machine New Home Midget Sewing Machine
The machine appeals to collectors of toys and full size machines. Values have been rising steadily on these beauties so grab one if you can.