Alex has spent a lifetime in the sewing industry and is considered one of the foremost experts of pioneering machines and their inventors. He has written extensively for trade magazines, radio, television, books and publications world wide.
The Cookson Sewing Machine
1886-1888
A brief but interesting history
By
Alex I Askaroff
See Alex Askaroff on YouTube: A day in the life of a sewing machine engineer
You have to ask yourself just what was Fredrick N Cookson thinking when he patented his amazing machine? Only a handful of these rare and valuable machines survive. let me tell you a little about them.
F N Cookson had already failed as a locksmith at Guardian Works, Great Hampton Street, Wolverhampton and dabbled with typewriters. The London Gazette of 1882 covered his embarrassing bankruptcy while he was lodging at Eva Villa, Waterloo Road, Wolverhampton.
Now, unperturbed, he turned his eye to the sewing machine market.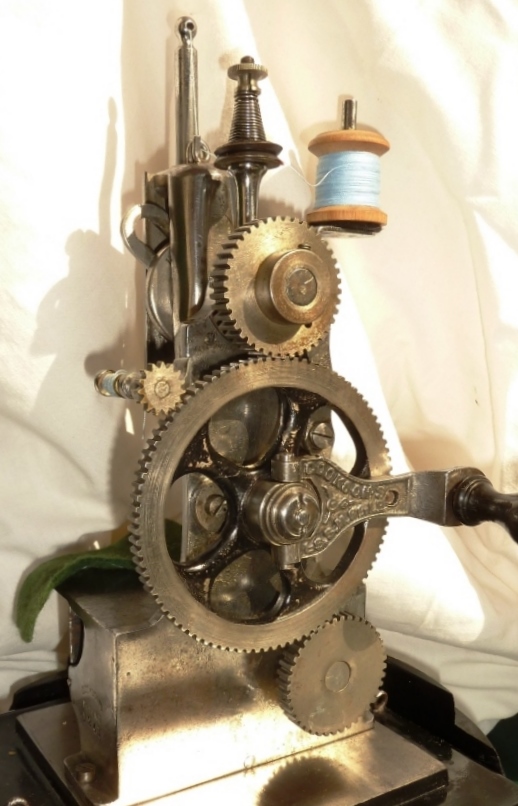 The stunning Cookson, one of two in my collection

Let's look at the situation, the year is 1885. It has been decades since the sewing machine pioneers like Howe and Singer had perfected the basic sewing machine. What does Fred do? Throw it all away and start from scratch.

He spent countless hours hand-building a unique sewing machine that looked like nothing else on this planet. Okay there was the later Doorman from Northampton,

that had similar bits and was

a little smaller and pressed out of sheet-steel

. However, essentially his machine was completely different from anything that was selling well on the market.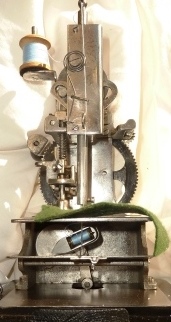 Note the shuttle, awkward to fit and unless you were proficient it kept falling out before you could close the cover.
On August the 11th 1886 he filed his first of four patents. How happy he must have been to have them approved.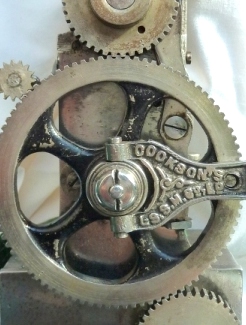 Cookson's Lock Stitch Sewing Machine Co Ltd
L. S. S. M. Co, Ltd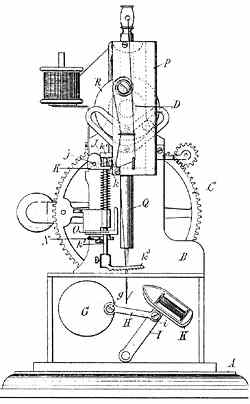 An early patent diagram of the Cookson Sewing Machine
What was stirring the lad on? Maybe he got wind of the success of the share issue down in London from the latest new fangled gadget called the Moldacot. Whatever the reason he bashed away in his workshop at 72 Lozells Road, Birmingham and produced this beauty.


These hand-cut flat, or square-cut, gears made on watch-making machinery were lumpy, rough and difficult to turn. No wonder sales were slow in 1887. Note the 1241 patent. The machine below, kindly sent in by Susie, has the Cookson 297 patent.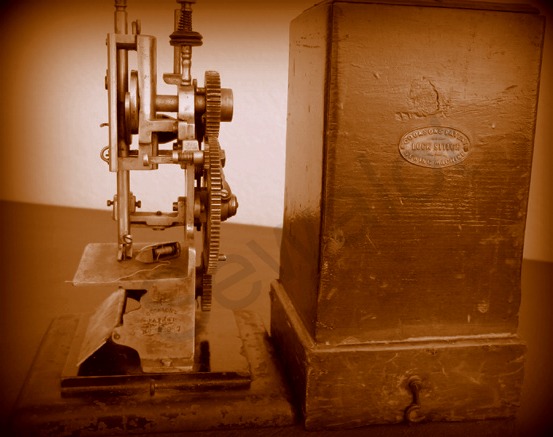 Maybe he was inspired by James Starley just up the road in Coventry who had gone from one success to another and he thought that would suit him as well! We will probably never know. There was no doubt that a small lightweight sewing machine would sell well, James Weir was doing a bomb down in London with his 55-shilling special.

The hand-built walking foot drags the work back and is adjustable but way out of date in 1887.
Whatever the reason for Cookson's machine we are left with is a unique sewing machine so perfect for its period, but in reality hard to sew with. The Victorian period was when anything was possible when Britain was building an empire and all bright ideas would make you millions (well that, snake oil and hair restorer). However, a rough, hard to sew with machine was not going to make anyone anything except trouble.
Poor old Fred patented four ideas, registered his business in by the spring of 1887 was already struggling to raise finances, adding partners and promises as he went.
Come and see a demonstration of a modern miracle,
F N Cookson's amazing sewing machine,
small enough to fit into a shoe and tough enough to make one!
72 Lozells Road, Birmingham.
'Normal hours of trade apply'
His invention was doomed from the start the only person who did not know it was Fred himself. Mind you his other directors including, John Gittols and Bob Jessop must have been great optimists as well. Were they really going to revolutionise the sewing machine industry with their new light and portable miracle!
By 1888 the writing was on the wall, poor marketing led to only a few hundred sales and the company slid down that horrible path to liquidation.
Because it was voluntary liquidation Fred quickly formed a new company with new directors. It must be said that they were either gullible or desperate; Sam Jenkins, James Fairley and Walt Evans put their money into a company that had only one place to go, down.
With the debts from the previous company weighing heavy, court cases pending and few new sales production of the hand-built masterpiece was stopped.
In total only a few hundred Cookson's were ever made and very few remain today.
When you look at the machine you can almost see how Fred's mind worked. His walking foot method is brilliant especially the way it lifts and walks just like the real thing but it is too rough. Square-cut gears cut on old watch making machinery from the English Watch Co were noisy and rough. Even J G Weir had done away with them but Fred stuck with his designs till the bitter end.
The machine had to be clamped to a bench to allow you to even turn it. They just never got it right. Strangely one of Cookson's early patents was for a clamp that was permanently attached to the sewing machine base but, as far as I am aware, it never went into production.
I have owned four Cookson's and although they all stitched it was hard work compared to other machines of the day. There was no way the company was going to survive in such a competitive market with this flawed product. Cookson would have had more luck trying to sell square wheels for bicycles.
Eventually, his business in tatters, he sold his patent rights to his neighbours, laid off his men locked, up his premises and went back to his Waterloo Road home in Wolverhampton to lick his wounds.
The Harpur & Mason manufactory, just over the road from Cookson's old factory, tried to carry on with a machine called The Handy Sewing Machine, using his patents, even taking out adverts in the popular Domestic Appliance Magazine.
The Harpur & Mason Handy Sewing Machine
Circa 1891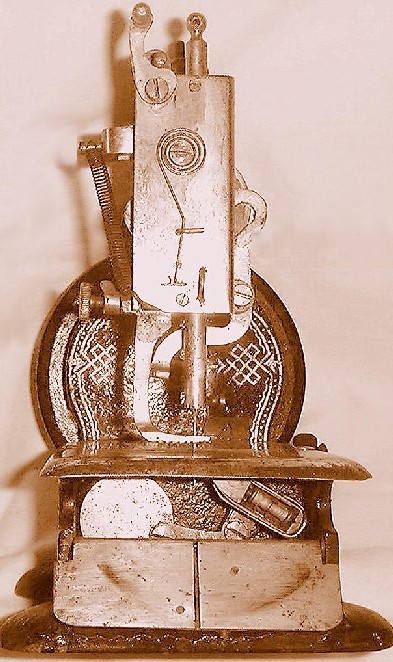 The extremely rare Handy sewing machine. Note the similarity to the Cookson design and mechanics.
Their new machine cost £1. 10s so it was still comparatively expensive, being two weeks wages. The cost of a good flat screen TV today. Still using similar principles to the Cookson it was doomed. It took me ages just to put the shuttle in and try and get a stitch even on a perfect working model. Unfortunately they disappeared shortly after around 1892.
I must say that during my research I came to the conclusion that Fred must have been a charismatic character as he seemed to have ducked and dived, fooling just about everyone who was in business with him and owing money to most of them.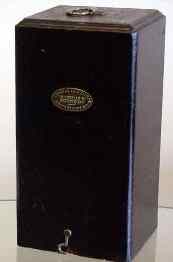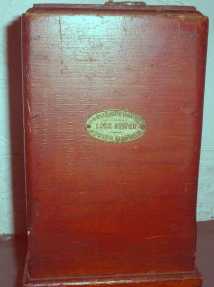 I only know of a few machines complete with original lids, note the two different original colours
The great news is that we are left with a fantastic machine, unique and rare. Some have even turned up with their original lids and all collectors would love one. All the Cookson machines that I have collected have come form the area in which they were made showing that their advertising may have been relatively local.
A short production run, low numbers and great build quality makes the 'Cookson' one of the most collectible of all early sewing machines. With only around 310 ever being made only a handful turn up today. Some say as few as 20 may still exist. However you must count the odd one turning up which has been rusting away in someone's attic for a 130 years!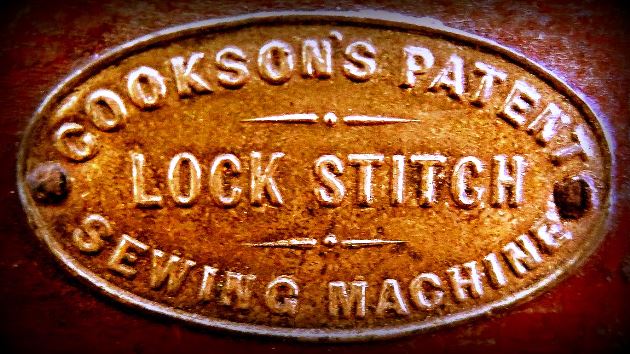 Fredrick Nesfield Cookson 1834-1905
OUT NOW!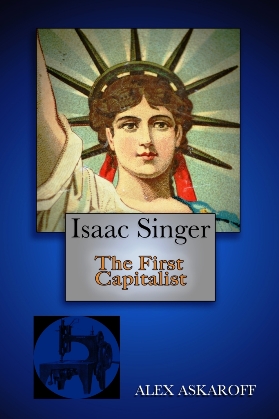 Most of us know the name Singer but few are aware of his amazing life story, his rags to riches journey from a little runaway to one of the richest men of his age. The story of Isaac Merritt Singer will blow your mind, his wives and lovers his castles and palaces all built on the back of one of the greatest inventions of the 19th century. For the first time the most complete story of a forgotten giant is brought to you by Alex Askaroff.
News Flash! Alex's books are now all available to download or buy as paperback on Amazon worldwide.
"This may just be the best book I've ever read."
J Vincent Horam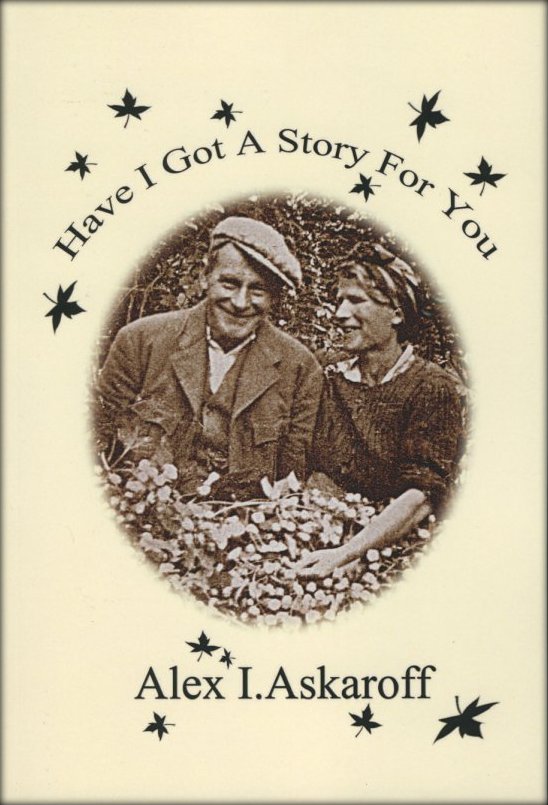 "My five grandchildren are reading this book aloud to each other from my Kindle every Sunday.
The characterization is great; both heart-warming and funny, and the story never lags.
I enjoyed not only the story, but watching my grandchildren's delight in hearing it.
The illustrations are the best I've seen in a very long time.
Anne Lancaster USA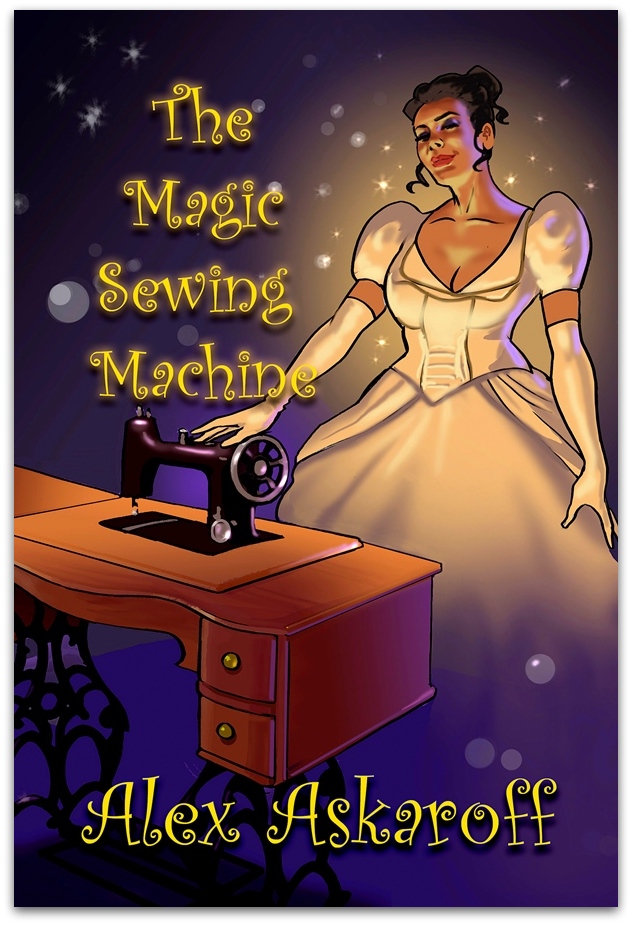 If this isn't the perfect book it's close to it!
I'm on my third run though already.
Love it, love it, love it.
F. Watson USA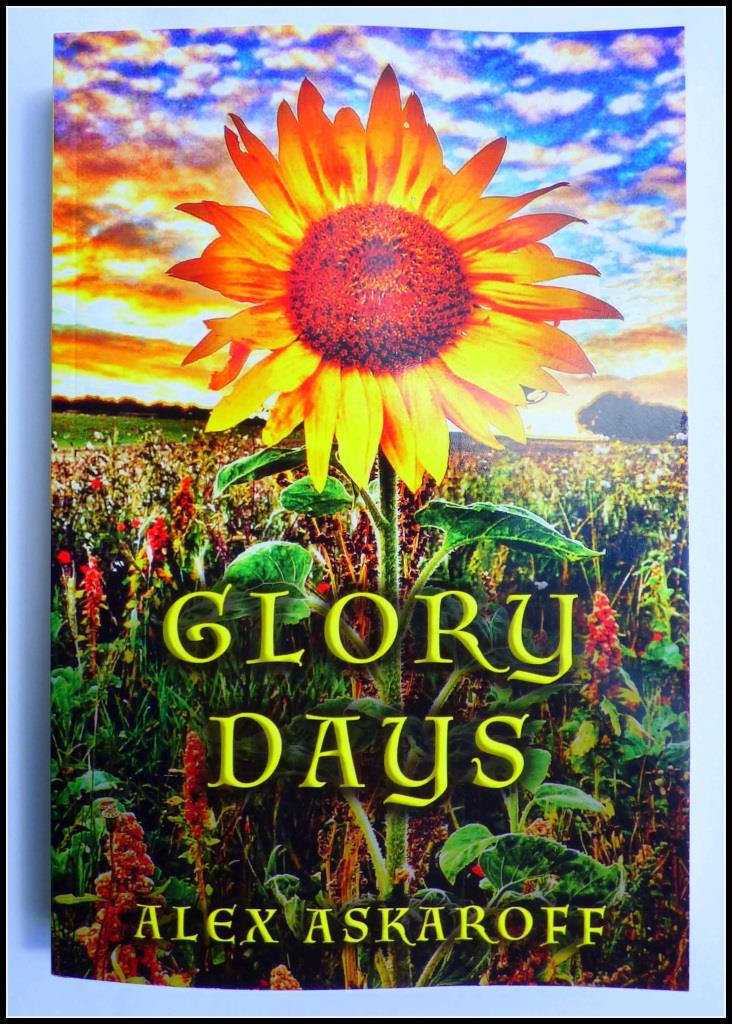 The way it's written you can just imagine walking beside him seeing the things he does.
Definitely look forward to reading more of his adventures.
Amazon FIVE STAR review
News Flash! Alex's books are now all available to download or buy as paperback on Amazon worldwide.
Thank you for such a wonderful website and my, what a great collection of wonderful sewing machines you have.
D W
Kelowna, B C. Canada
Hi Alex,
I started my research and found your site. Your website has amazing facts. Thank you!
Med Vänliga Hälsningar /Best Regards
Carina Thavelin
SVP Nordic
Hi there
I have just found your interesting site whilst researching the Cookson sewing machine past down in our family from my great grand mother in Wales. My 94 year old Dad remembers his old grannie making all sorts of clothing on the machine!
Regards
Frank P