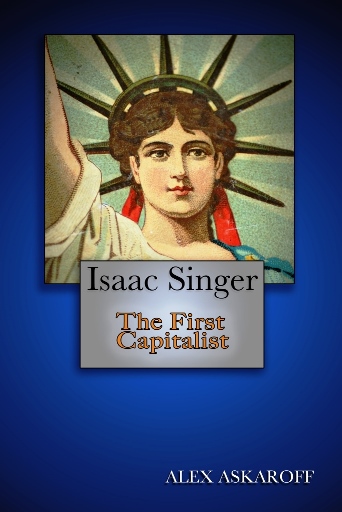 Isaac Singer The First Capitalist
Most of us know the name Singer but few are aware of his amazing life story, his rags to riches journey from a little runaway to one of the richest men of his age. The story of Isaac Merritt Singer will blow your mind, his wives and lovers his castles and palaces all built on the back of one of the greatest inventions of the 19th century. For the first time the most complete story of a forgotten giant is brought to you by Alex Askaroff.
James Starley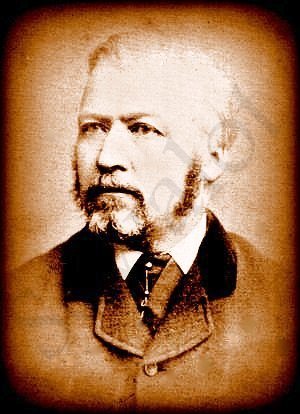 April 21-1830, June 17-1881
James Starley & J K Starley
Fathers of the British Bicycle
And a few sewing machines!
James Starley has fondly been remembered as the father of the British bicycle. However, along side the many inventions including one of the first popular everyday bicycles, were his lesser know inventions. The best of all being his amazing sewing machines.
Now before we start on his amazing adventure I have to thank the many Starley relatives around the world who have contributed to this page, from Australia to America. Hardly anytime seems to go by before I have another piece of information or picture to add to this page. After 30 years it is now possibly one of the most complete stories of our man James.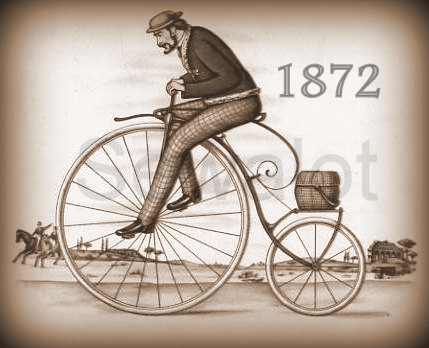 The Starley of 1872. Don't you love the picnic hamper! We are crazy aren't we!
I have little doubt that if James had patented all his ideas he would now be listed amongst the greatest inventors of the world like Edison, Bell and Diesel. However James was constantly plagued by poor finances and many of his ideas were left unprotected with no financial gain to him. What James had was a great inventive mind but a poor financial one and, unlike Isaac Singer who hired the best lawyer in town, James was left to struggle.
Also over the many years that I have researched James I have come to know the man and his character. For instance when James was working as a handyman come gardener for John Penn he invented several things like a musical bassinet. You can just imagine James hearing one of John Penn's babies crying and thinking to himself that he could help. I wonder if Penn's baby was rocked to sleep with James' musical invention. Then there was his self adjusting candle invented at a similar time. Was one of Penn's children afraid of the dark?
James was a workaholic but never got the breaks that he deserved. Had he been born into wealth or patented his differential gearing at the later time of the automobile, he would have been as rich as a Greek shipping magnet, but that was not how the dice rolled for the young farmer.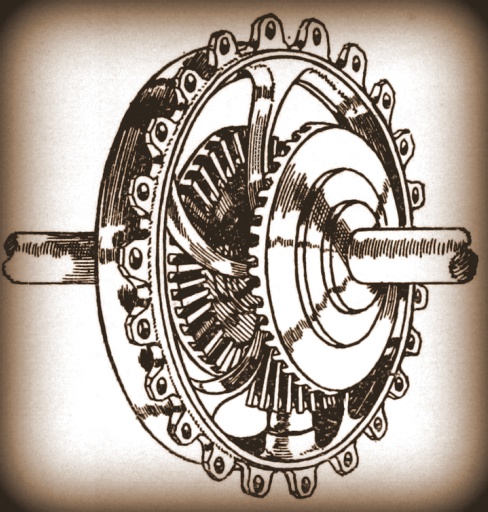 Starley's differential gearing that changed the world. Forms of differential gears had been around since biblical times but it was James Starley who made them in steel and put them into everyday use.
I also have to explain that there were at least two famous Starley's of the period, both with the initials J. There was James Starley and his nephew John Starley. The confusion is easy to see. I guess that John Kemp Starley emphasised the K to make sure there was less confusion.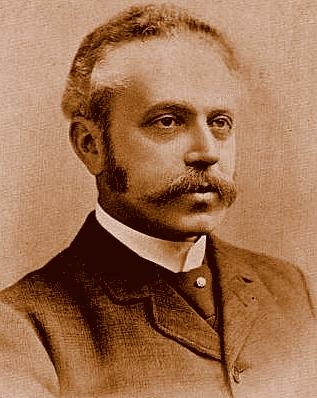 John Kemp Starley bore a strong family resemblance to his uncle James Starley
James Starley is our man and John Starley (above who did work for his uncle James in the 1870's) later helped found the Rover Car industry. His story is for others to tell. John Kemp Starley is an important man especially with his safety cycle of 1875, the first really modern bicycle, so don't let me put you off researching the fine fellow (I do add some details about John, I couldn't help myself).
The James Starley Queen of Hearts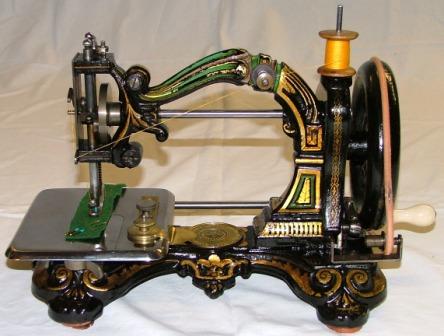 The amazing Starley Queen of Hearts sewing machine, export model now in my Sewalot Collection
James Starley may have had a story almost as grand as Isaac Singer (without the affairs) if he had not died so young. It is a complicated journey over many miles and many businesses, some which failed and some prospered. However throughout it all shines the genius that was James Starley.
James was born on the 21 April 1831 at Albourne, Sussex, England, (Just down the road from me). Or was he! There is a baptism record in Albourne for James Starley on 13 June 1830. So we need to emphasise that we are going with what we hope is right. What we do know is that over his short life he created some of the most spectacular sewing machines in the world, oh and a few bicycles.
The son of a farmer, Daniel Starley, James Starley, as a young boy, had big dreams and a bright star to follow but at the farm he just put his head down and helped dad. From an early age, like all children back then, he helped as soon as he was able, but James found farm life boring. He spent any spare time that he had building contraptions like a self closing gate and vermin traps, but life was dull, he needed to escape.
People will blind you with dates and figures, let me tell you a little about the character of the man.
The Starley Family had originated in Cuckfield, Sussex, but Daniel Starley's father, John Starley, moved down to Albourne around 1775 to work the land. He married Elizabeth Mitchell and they had eight children, Mary Starley, Elizabeth Starley, Luke Starley, Leonard Starley, John Starley, Daniel Starley, Ann Starley (Daniel married another Ann, Ann Stenning) and finally Jemima Starley.
Now, some say that James ran away from home, others that he moved away to family nearer London, so we do not really know how he left the family farm when he was still a teenager. What we do know is that after he finished at his local school he was ready for work. At 15 he was a grown man who had been helping on the farm for over 10 years and was ready for something new. In 1846 James left Woodbine Cottage in the small village of Albourne and hit the road.
I wonder if James Starley's mum, Ann, packed him some fresh clothes and food when he left home, like Dick Whittington, to find his fortune on the streets of London. Did Daniel, Ann, and his siblings watch as he set off on his long journey to fame and fortune? Did they wave one last goodbye as he disappeared out of their lives and into the history books?
You have to remember that the Industrial Revolution was in full swing and a Sussex farm was no place for a budding inventor and entrepreneur!
Can you imagine the first few nights away from home. Away from his family and friends, sleeping where he could. As a young man he was all alone, his only comfort was his own belief in himself and his abilities. There is a chance that he stayed with family along the way, on his journey up to the great city, known as 'The Smoke' because of the pollution from coal fires and industry.
It turned out to be a long trip for James Starley, for although he only lived 40 miles or so away from London it took him five years. By 1851 James was lodging at Mary Mays in Lewes Grove, Lewisham. In Lewisham he met Jane Todd who would stay with James for life. She was possibly from Foots Cray near Sidcup or Eynsford or Wilmington in Kent (they are all in the same area). In September of 1853, aged 22, James & Jane married.
James Starley had many adventures on his long road trip before he found work for John Penn as a gardener. John Penn ran a large engineering works at Greenwich. Although gardening, James was still inventing bits and pieces, fixing watches and clocks and spending more time with his inventions. Six years went by until fate played a hand that would change the history books. You have to wonder if James was also working at Penn's engineering works, as it was his engineering abilities that shone.
Anyway, John Penn bought his wife a new fangled invention that sewed, called a sewing machine, from his friend Josiah Turner. Josiah was in partnership with Newton Wilson (more of him in a mo). Now Penn's sewing machine (well actually it was Penn's wife who had the sewing machine) did not work very well and James not only fixed it, but improved on it. This led John Penn to introduce James to Josiah Turner who was later to become his business partner (in their first sewing machine adventure in Coventry). In turn, Josiah found him work with famous Newton Wilson (who was one of the British sewing machine pioneers).
James Starley soon switched jobs and in 1859 started work at Newton Wilson's factory in Holborn. Here he worked alongside Josiah Turner (who looked after the books at the firm) on early sewing machines. Often coming to Josiah with improvements to Wilson's machines. It was obvious that James had at last found his calling and it is said that several of the sewing machines that Newton Wilson was supplying were improved by James. It was this grounding in the sewing machine industry over the next two years that led James to dream of starting his own business.
Newton Wilson page.
So for now James settled down, living with Jane and kids in Lewisham but he started planning his great escape.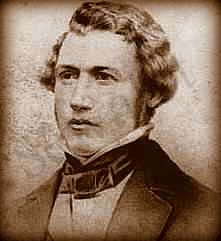 Eventually it became obvious that James could build his own sewing machines and was being stifled working for Newton Wilson. And so, with his star still burning bright James made plans to start his own company. This was a complicated affair. James had to figure out where to start his new venture, preferably far away enough from Newton Wilson to escape his wrath and also raise finance.
I have to say that many years later Newton Wilson did praise Starley's abilities.
In 1860 James had met a comfortably off American gentleman from Westminster, one Silas Covell Salisbury. Silas was already in the sewing machine business and was living off the Strand in London. He probably funded James for his first patent application. In 1861 James Starley and Silas had their first patent granted, number 1045 for sewing machine improvements. Another quickly followed.
With two patents under his belt, and his new 'European' sewing machine designed (and built during his evenings and weekends at home), James was well underway with his escape. But to where?
Around the middle of May 1861, taking several workers from Newton's with him, including his boss, Josiah Turner, and Silas Salisbury, James Starley packed his belongings and family and headed north to Coventry.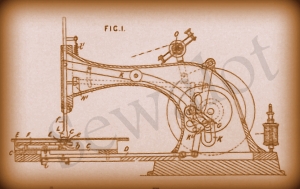 Starley's 1861 sewing machine patent, later to be called The European sewing machine. James had two patents granted that year.
Newton Wilson must have been fuming. How I would have loved to have been in on a few of their arguments as they left Newton Wilson's. Anyway the whole kit and caboodle moved on mass up to Coventry.
At Coventry James knew he could find the skilled labour he needed to make his own sewing machines. James had already started to patent his ideas and had made models. Coincidentally or not, Coventry had been in all the papers as many skilled workers were being laid off. It was probably this that first attracted him to the area.
Coventry was at the centre of a highly skilled and ancient clock and watch manufacturing trade that was suffering from a depression in manufacturing because of cheap imports (sounds familiar). A surplus of highly skilled workmen, made Coventry the perfect place to set up a sewing machine business. Coventry also had a bustling lace and ribbon trade that was in recession.
Now, I may get a little of this mixed up as James Starley was a busy man and his path is difficult to see clearly. James Starley was just what Coventry needed, a bright young man, forward thinking, and with an inventive genius.
But I am jumping ahead. For now James Starley, moved into 67 St John Street in Coventry (just down from the cathedral), and concentrated on sewing machine repairs, employing two men and four boys in a small unit. Those boys went on to become famous in their own rights for they were George Singer, Thomas Bayliss, William Hillman and William H Herbert. Both Herbert & Hillman later went into business together.
James Starley had a wife and children to support. For the next nine years, certainly up until 1870, James Starley seemed to be juggling jobs and partnerships as he sought to find a business and partners with which to make his fortune.
James Starley and Jane Starley had six children (though Joseph died young). They were, James Starley 1854, John Marshall Starley 1856, William Starley 1858, Joseph Henry Starley 1862 (he died just at five years old), Elizabeth Jane Starley 1865, and Ellen Starley 1867.
Initially James and his men rented Swift Works from John Newark and started to set up their sewing machine business. However a falling out with Newark meant that they to move. There was a bankruptcy hearing in 1862 between Silas Salisbury and James Starley, so this could have been the reason. Once again poor old James has to start from scratch.
Setting up another business was a long and involved procedure, moving all the heavy engineering and casting equipment, this time to King Street, Coventry. You have to wonder how James was making a living. There still seems to be little income from production, perhaps he was mending, repairing and altering other equipment while slowly getting to grips with the enormous task of manufacturing for profit.
The European Sewing Machine Company
20 King Street Coventry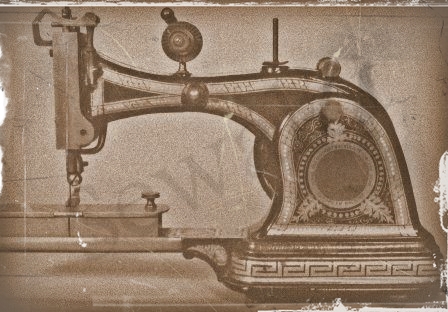 The European sewing machine was a medium weight free-arm sewing machine made to a high quality. I have never seen a real model so they are extremely rare today.
Eventually, by June of 1863, James Starley, with Josiah Turner and the others, had set up the European Sewing Machine Company. The main money had come from John Sutton a wealthy Coventry man who ran a chain of successful tailoring and haberdashery shops. Also his American investor Silas Salisbury was still with him and possibly Nahum Salamon, (who we shall get to later) would have invested. Silas had been in the sewing machine business when he was introduced to James and had already been exhibiting machines at exhibits around the country. He must have been getting impatient for some return on his investment during the first years of their partnership. The company eventually grew to employ 78 staff and workmen, many still at a young age on apprenticeships.
The sewing machines made during the first period of The European Sewing Machine Company, included (some under licence) various Elias Howe, Wheeler & Wilson and Singer patents, as few sewing machines could be made without infringing on their patents and their stranglehold of the Sewing Machine Industry. I wonder how much of Newton Wilson's machines were in James' first European designs?
Anyway, Josiah Turner helped run the The European Sewing Machine Company but things eventually broke down between Silas Salisbury and James Starley as by 1867 the company had floundered. With suitable compensation to the liquidators, Another company was born that September.
The company changed from the European Sewing Machine Company to the Coventry Sewing Machine Company and later it changed again. Blimey O'Riley, this story has more twists than snakes and ladders. You can see why James never had enough spare cash to protect all his amazing ideas.
September 16th 1867,
20 Kings Street, Coventry
The Coventry Sewing Machine Company is born.

What we can say for a fact is that in 1868 J Starley had his patent application 1678 accepted for another sewing machine design.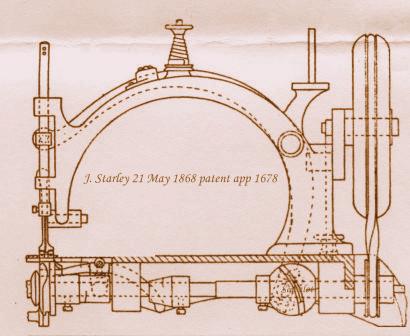 Patent 1678 of 1868 for J Starley
When the business was re-named and resurrected it moved to new larger premises at Cheylesmore, a suburb to the south of Coventry. Silas Salisbury was no longer with James Starley and his partners. At last manufacture of sewing machines was secured and produced in numbers. But...
Oh no, bikes!
To make matters worse, now that we are just sorting out with the sewing machine business, James Starley then became fascinated with another new fangled invention of the age, bicycles and tricycles with assorted wheels, well, they called them velocipedes. Apparently on seeing a French velocipede back in 1866 (which Turner's nephew, Rowley Turner, had brought back from an exhibition in Paris), Starley & Turner were besotted and saw another chance to make their fortune. This steel-rimmed wooden boneshaker, was primitive but left loads of room for improvement.
Starley copied lots of the parts but also improved upon them. So by 1867 they were also manufacturing velocipede parts and inventing lots of other bike bits at their new premises. These they started to sell in France and Europe, so let's look at his velocipedes for a second.
I am not really up on his early models so any help would be much appreciated. His first was, possibly 'The Coventry' around 1869, or was it the 'C Spring' or 'Step Machine'. Anyway whatever his first model was called it was a vast improvement over the French contraption. It had a step-up to aid in the mounting of the machine, a smaller rear wheel and a larger front wheel to aid speed and stability. It sold well and then came his 'Ordinary' and then, 'The Ariel', which was even better with its clever pivot steering. For decades most manufactures copied Starley's basic designs for bicycles.
The Ariel Patent Bicycle by Smith & Starley,
the lightest, strongest and most elegant bicycle made,
improved rudder steering, slip spring and lever tension wheels
& Pure rubber tyres
We need a real nurd here not just a part-time one like me. One day I hope other people will take my work forward and carry it on dotting the I's and crossing the T's. Still, for now we muddle on and come to yet another partner with James.
The first sewing machines around 1867 onward were the free-arm and flat bed treadle machines called the European Sewing Machine which incorporated the Silas Salisbury and James Starley 1861 patents. The great idea of this machine was to hit a niche market for the free-arm use, when stitching cuffs and trouser legs, collars and tubes. They also produced the super-rare Lady Godiva Sewing Machine. Perfect, seeing as it was in Coventry that Lady Godiva stripped naked and paraded through the streets on a white charger to embarrass her husband into reducing taxes.
In 1868 the company produced the rotary hook Express Sewing Machine. In fact the Howe Express is almost identical to parts of the patent of J Starley and will need more investigation.
The Coventry Machinists Co
By May of 1869 the company name had changed again, this time to The Coventry Machinists Co. Now they could make sewing machines and bicycles and tricycles, well pretty much whatever they wanted. They had a strong and established well trained workforce and an expanding market. Also, the young lads that had grown up in the business, like Singer and Hillman could almost run the place.
When the Express Sewing Machine came along it was a combination of Elias Howe and Wheeler & Wilson patents using a reduced size Wheeler & Wilson patented rotary hook and feed.
The James Starley, Elias & Amasa Howe, Express Sewing Machine
The Coventry Sewing Machine Company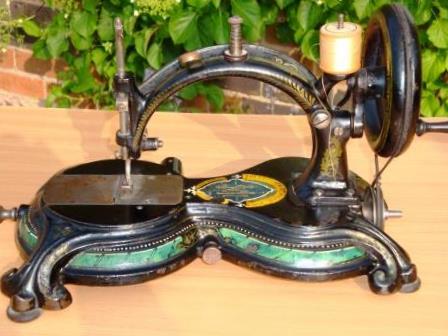 This rare beauty used a Wheeler & Wilson rotary hook and feed to produce a smooth stitch.
The Starley Swift & Sure or Swiftsure circa 1869/1870
The Coventry Sewing Machine Company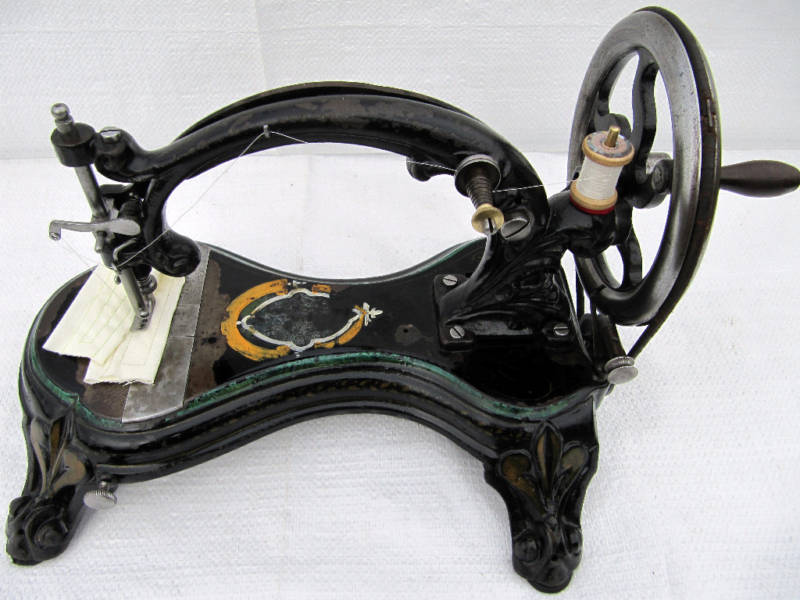 Patented in England possibly using earlier American Howe patents. Note the similarities between the James Starley Swift & Sure and The Elias/Amasa Howe Express machines. Early models also carried the Howe logo. Similar patents were obviously used on both machines. However the Express has the Wheeler & Wilson hook and feed and the Swift & Sure has the Elias Howe shuttle and no crossed-belt. They were mix-and-match machines both of the same period and both extremely rare today. The later models did away with the belt and were standard gear-wheel models. All this has given me a headache! There is more on the Howe sewing machines and the Little Howe Sewing Machine on my Elias Howe page.
1870
Improvements to sewing machines
Patent 1430 awarded to James Starley
of the
Coventry Machinists Co Ltd
County of Warwick
Before long James Starley had not only perfected his small range of sewing machines but invented so many bicycle parts that the sewing machine company was renamed from The Coventry Sewing Machine Company to The Coventry Machinists Co. Now the company name reflected their multi-faceted manufacturing and they had their new London outlet at at Holborn Viaduct.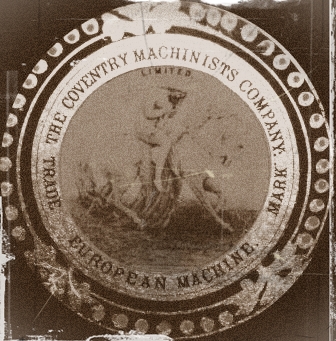 The Coventry Machinists Company used Lady Godiva as their trade mark and were still selling models like the European Sewing Machine in their range.
While at The Coventry Machinists Co, James Starley worked with another pioneer with direct links to Elias Howe, one Nahum Salamon.
Nahum Salamon
Nahum Salamon was a Nottingham man who ran his patent agent business in London and some say the real founder of the British sewing machine industry, for it was he that first shipped Howe sewing machines across from America.
However this is not entirely accurate and you will need to read my bit on Elias Howe to see why.
Nahum Salamon became company director and major shareholder of the Coventry Machinists Company, then managing director and later Chairman.
Let's step back once more. By 1859 Nahum Salamon was the patent agent for Howe sewing machines made by Amasa Howe (not Elias). Did they meet years earlier on Elias and Amasa Howe's ill-fated journey to Britain to sell their new fangled invention?
Nahum Salamon was the British distributor, manager and agent for Amasa Howe sewing machines which he held until 1867. It may have been because of the success of the Howe sewing machine at the 1862 London Exhibition, where the machine won gold, that he decided he was onto a good thing.
In the early days of his fledging company all sales of sewing machines, paid for by cheque, had to have the cheque made out to Nahum Salamon personally.
Nahum Salamon had possibly helped set up the Coventry business to make and sell sewing machines under the Howe licence rather than spend the huge amount of time ordering machines from across the other side of the world. This would make sense. Also in Britain there was a preference to hand machines whereas in America they preferred treadle machines. Making his own machines he could simply do away with the Howe treadle and the expense.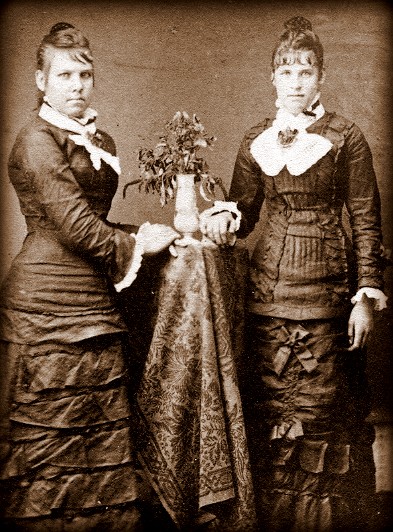 Elizabeth Starley on the left with Sadie Powell. Does her corset look a bit tight to you? I am sure they are both holding their breath.
Nahum Salamon eventually turned his eye to bicycles as well as sewing machines. Actually they used to call them velocipedes which sounds like a prehistoric animal. Nahum Salamon eventually became one of the very first experts on the British sewing machine trade.
In 1863 Nahum Salamon wrote and published a book on the history of the sewing machine, one of the first books on the subject. He went back as far as 1750 and wrote a somewhat glowing and biased testimonial to Elias Howe in it. Of course he would do wouldn't he. I mean, if he upset the great man, he would have upset the apple-cart and his imported machine supplies as well.
By 1873 the Coventry Machinist's Co were doing so well with velocipedes that they had discontinued much of their sewing machine manufacture to concentrated on bikes.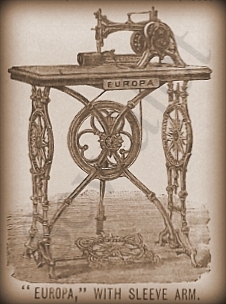 The Europa Sleeve Arm sewing machine, very similar in construction and design to their European Sewing Machine model.
Their popular European sewing machine was then being farmed out and possibly made in Manchester and Nahum Salamon ran his machines and cycles agency from his London business address of 27 Holborn Viaduct. Nahum Salamon lived at that time at Thornton House, Atkins Road, Clapham, South London.
Nahum Salamon Velocipede patent Jan 4 1881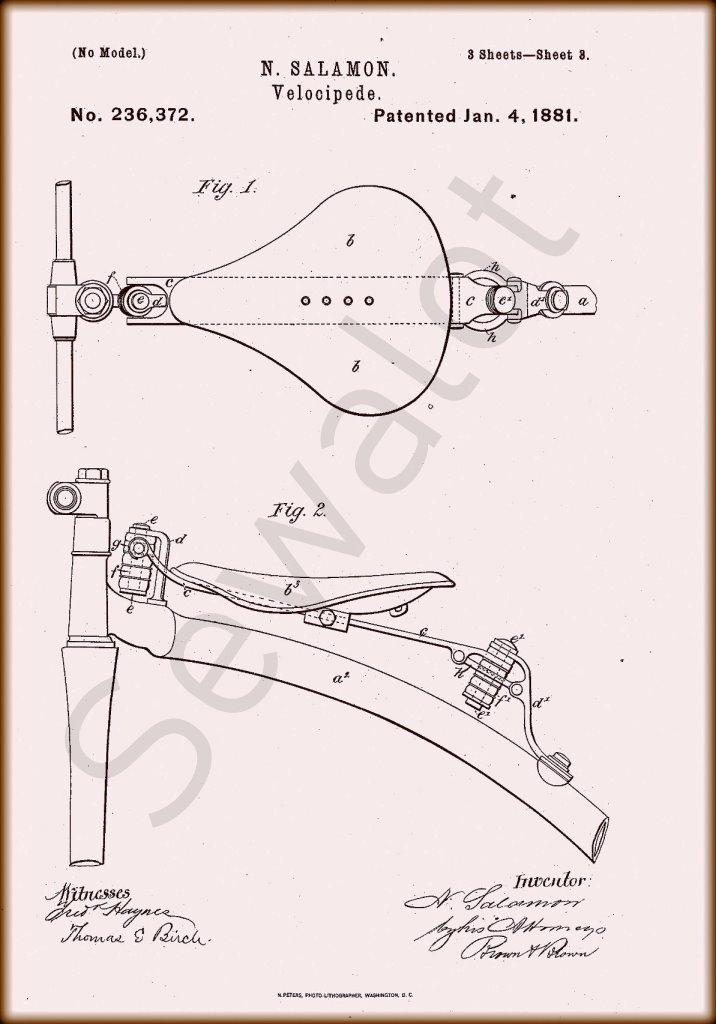 The most famous bicycle he invented was The Matchless Bicycle. It was seen as the best bicycle of its day. It had wheel hubs and even better rubber suspension on the saddle and handlebars. Here is the 1879 patent for Nahum Salamon's vibration absorbing technology.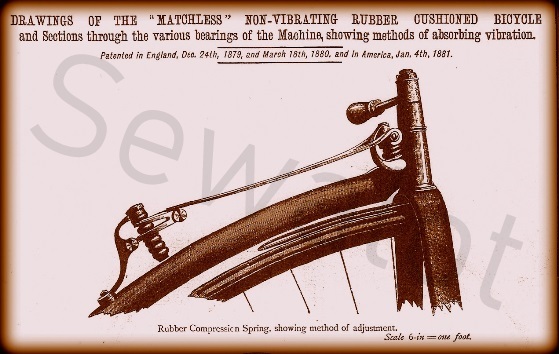 Singer in Coventry made the bicycle for Nahum Salamon using many parts from their own Singer bicycles (even the frame numbers are Singer's). In 1886 Singer took over the patents of this rubber suspension system from Salamon. Nahum Salamon eventually retired from the Coventry business around 1886.
Later Salamon went in a completely different direction investing in the early saccharine trade which had been invented by accident in 1879. His son was a chemist which may have prompted his decision. Nahum Salamon died in November 1900.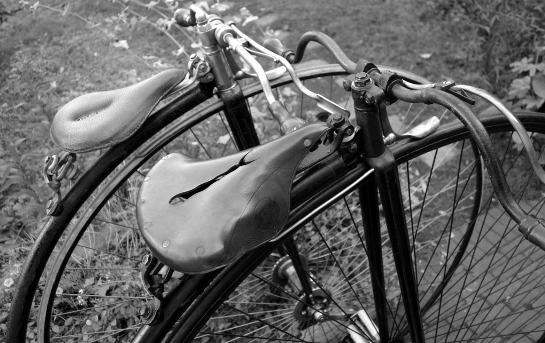 Many thanks to Maarten Waarlé in the Netherlands for some great information about Nahum Salamon and this amazing photo of his 1882 Matchless ordinary (or penny farthing bicycle) designed and sold by Nahum Salamon with the America version by its side.
Now that is done and dusted let's step back again to James Starley and his mates.
James Starley left behind his old machines at the Coventry Machinists Company (and so the Express and Swiftsure sewing machines would no longer have his fingerprint on them, nor any of the Howe makes). The Coventry Machinists Co folded in 1888.
James was off on another adventure in business. I can just imagine him coming home to Jane and telling her, how she must have rolled her eyes, not again!
Starley & Co
William Hill and James Starley had set up Starley & Co at St Agnes Works, Hales Street, Coventry. Here they continued from around 1869 up until 1872 with both bicycle, penny farthing and sewing machine manufacture. In 1871 James Starley had his patent granted for improvements to his Europa Sewing Machine. He continued to expand his range of machines in a more modest way, with only a handful of workers. It was to be his next meeting and successful business partnership that produced the most famous Starley sewing machines of all.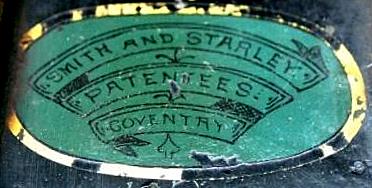 The Smith & Starley logo on the super-rare Little Europa sewing machine
Smith & Starley
After his successful patent for the Starley Queen of Hearts, James found yet another partner, William Borthwick Smith. Smith was a watchmaker in Coventry and was branching out looking for new ideas and investments. Around February of 1872 the partnership between Hillman and Starley seems to have broken up and Smith & Starley start in business as machinists and mechanical engineers at their St Agnes Works, (around 1874 James & Jane moved home to his last house at 18 Upper Well Street, Coventry).
Smith & Starley Sewing Machines
Supplied to Her Majesty's Army
Patent No 3090
20th September 1873
In 1873, while at St Agnes Works in Coventry, Smith & Starley patented the smaller, Little Europa, and on the 20th of September 1873 Smith & Starley had patent 3090 granted for the fabulous Queen of Hearts sewing machine. Interestingly the Queen of Hearts had already been advertised by Smith & Starley as early as 1871. The patent showed various improvements to the mechanism and was often stamped on the side plate. the patent also included improvements to 'tuck markers'.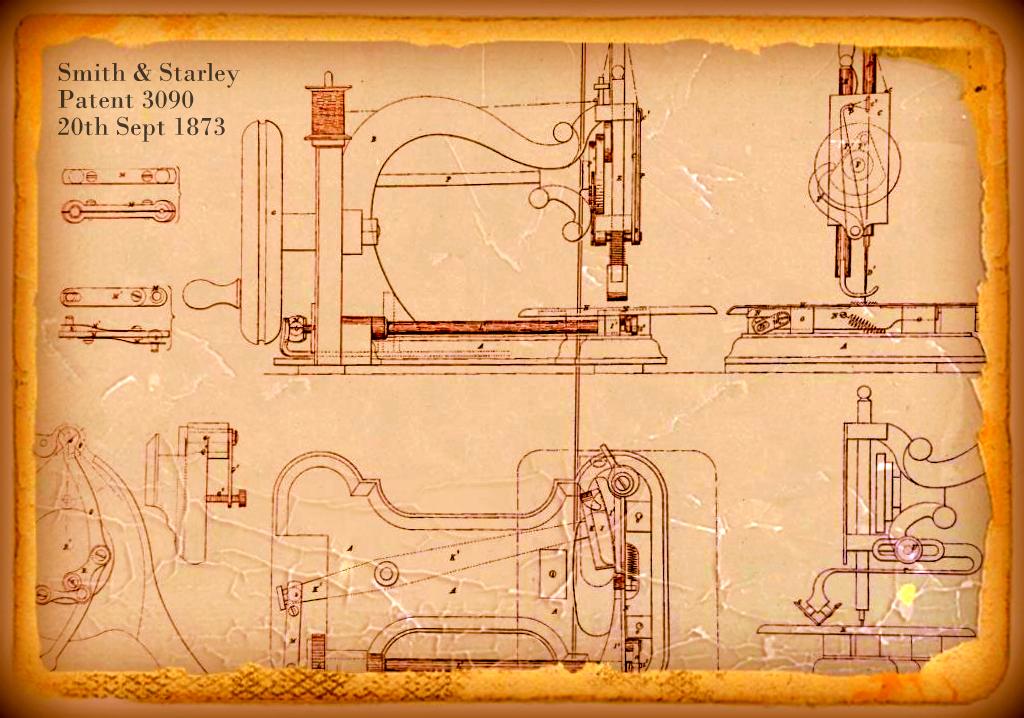 Patent with kind permission of the British Library
Time The True Test
Time The True Test was Starley's motto that he put on a few of his exported machines in a central brass plaque. They are so rare that I have only ever seen one of these models (which I now own, yeah baby).
Smith & Starley Medal winners
Lyons 1872
Vienna 1873
London 1874
Manchester 1875
James Starley incorporated into his partnership with Smith, sewing machines, bicycles and other inventions like roller skates, that were also selling well. Within a very short time shop windows were full of more bicycles than sewing machines, which were easier and faster to produce. The company had a few glory years winning awards and medals for both bicycles and sewing machines.
In May of 1875 the business moved to Trafalgar Works, in Crow Lane, Coventry.
By 1876 the Trafalgar Works in Crow Lane was bustling but things took a sudden downturn. Somewhere between January of 1877 and February of 1879 the firm of Smith & Starley went into voluntary liquidation, including their business at 11 Bridge End, Leeds.
Smith & Starley Depot
New Broad Street,
East Centre, London.
The company tried to resurrect itself again as Smith Starley & Company Ltd but by the beginning of 1879 that company had also gone to the dogs. Several of the better selling machines and stock was sold off, like the Europa to Kelsey & Co in Coventry. It was almost the end of an era.
The End of an Era
Agents and dealers quickly snapped up the liquidated stock from the factory at a hugely discounted price. Machines like the Smith & Starley Little Europa Sewing Machine were sold cheap to shops, which is ironic as they are worth a small fortune today.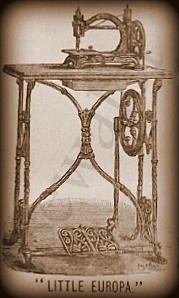 The Little Europa Sewing Machine
James was living at 18 Upper Well Street and soon set up another small business with his sons in 1880. The business grew rapidly and by 1881 was employing a workforce of 25. However on the evening of 21June 1881 James Starley died at home. He was only just over 50. It must have been sudden but as yet I have not discovered what he died from, possibly a stroke or heart attack.
The Smith & Starley friendship had lasted until Starley's death in June of 1881. Smith moved down to London and carried on as a broker. Interestingly a few very unusual Smith & Starley machines have turned up like this Everlasting sewing machine by J. Hubbard, below.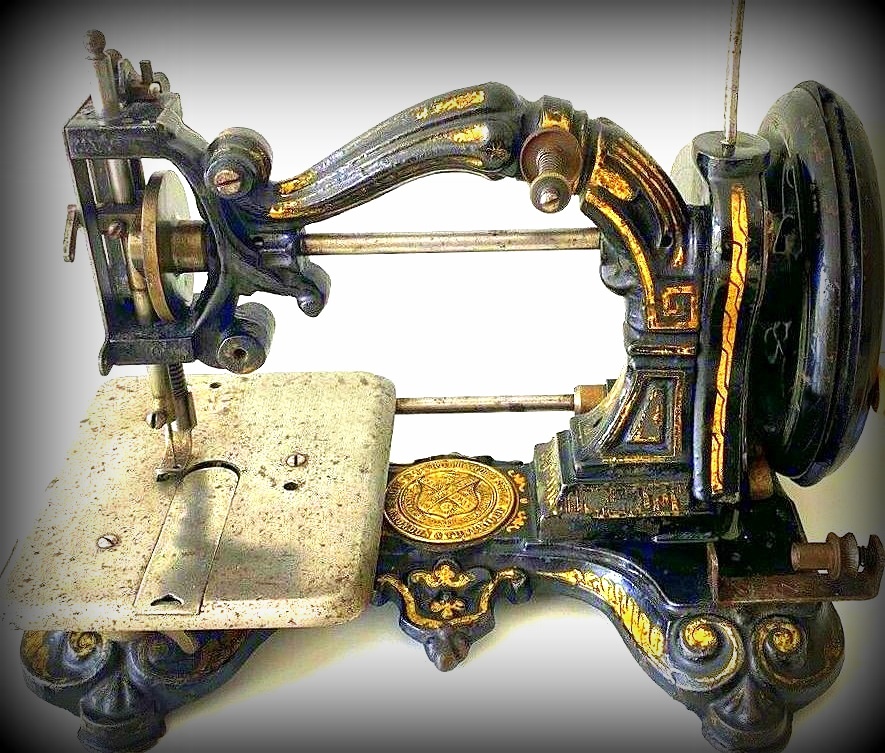 This beauty surfaced awhile back. She is clearly marked as a machine registered by J. Hubbard who had shops in Croydon and Tunbridge Wells. The needleplate has the 20th of September 1873 Starley patent, granted for the fabulous Queen of Hearts sewing machine, patent No 3090. These are super rare machines and fetch a great price when they do surface. Below you can see the registered Trade Mark brass plate that sits on the bed of the machine. Sans Egal also means everlasting. This is turning out to be true as, now in their third century they are still here, and look like they will last forever if cared for. How and why Hubbard had the rights to possibly make and sell this model may remain a mystery. I'll let you know if I find anything out.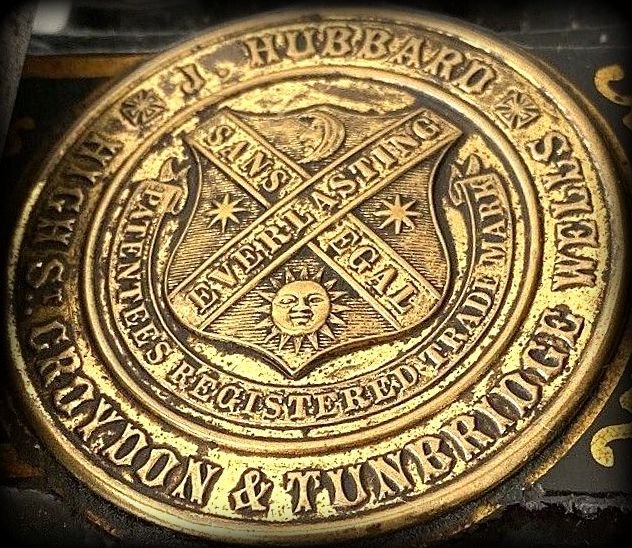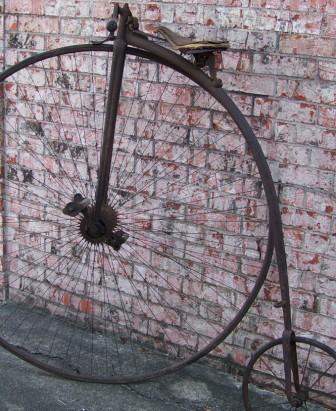 A Rare Starley Penny Farthing from The Coventry Machinists Co. Picture courtesy of Paul USA.
James Starley had produced the Salvo which was a variation on the Sociable a two-seater four-wheeled contraption which in turn was a descendant of the Lever Tricycle. The Salvo had the historically all-important differential gearing that was to become so famous. It was Starley's final masterpiece.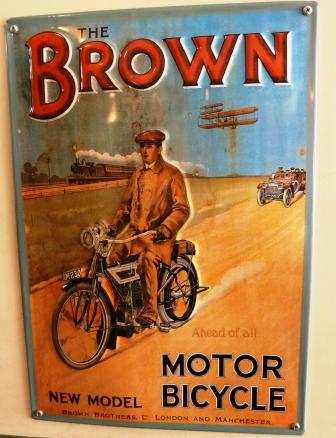 The Brown Motor-Bicycle Don't you love all the means of modern transport in 1910. No horses in sight!
The Salvo had royal connections because Queen Victoria was so impressed on seeing one that she ordered two for her family home, Osborne, on the Isle of Wight. The Salvo then became known as the Royal Salvo.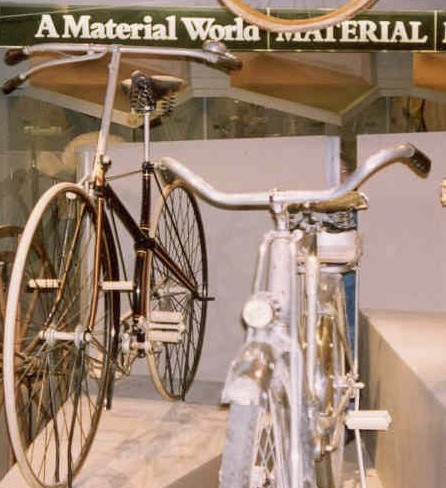 A Starley bicycle in the Smithsonian Institute. Thanks Kathy.
John Kemp Starley
However, it was not James Starley who invented the first modern looking bicycle but his nephew John Kemp Starley. So, although I said I wasn't going to talk about John Starley I just had to add this...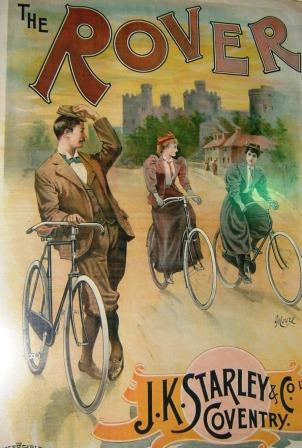 John Starley had the brainwave of a chain-drive gearing to the rear wheel instead of the front-wheel drive of James' penny farthing.
That new bicycle first appeared, as a Rover, in 1885, 4 years after James' death. J K Starley went on to produce the Rover which became synonymous with the famous car company that recently folded (the name is currently owned by Ford). Below I have a few pictures I have taken around the country over the years. J K Starley's second son, Frank, married Edith Marguerite Player whose family were well known Coventry watchmakers.

J K Starley not to be confused with J Starley!
The first modern bicycle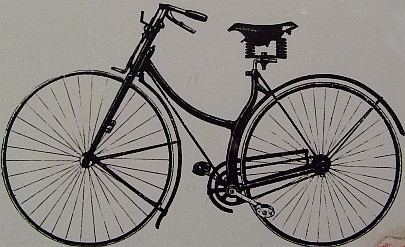 The John Starley Rover Safety Cycle was called Rover as it had great roving potential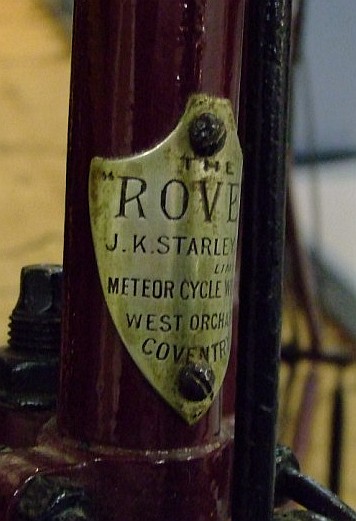 J K Starley Rover Safety Cycle made at the Meteor Cycle Works Coventry.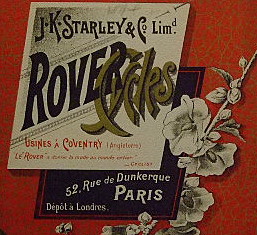 At the time the Rover was made, John's factory was called Sutton & Starley but after the astounding success of the Rover Safety Cycle it became the Rover Cycle Company and lasted until its closure in the 1930's.
The Safety Cycle was really the first modern Bicycle.
James and his bicycles
We have skipped ahead a bit. So let us slip back to 1868 and look at James Starley's bikes. While James was busy earning a living making sewing machines he found a growing business repairing the boneshaker bicycles of the era. I have mentioned earlier about his partners nephew bringing one back from Paris.
More and more bicycles came to his business for repair and it became obvious to the inventor that he could make and supply a better bike than what was on the market.
He began building his own bicycles, namely the Penny Farthing called the Ariel and a tricycle. His novel development of differential gearing for his tricycles was a huge improvement when cornering and still used by most vehicles today!
At his Trafalgar Works, for a short period, bicycles went hand in hand with sewing machines. This is where William Borthwick Smith & James Starley produced their amazing Queen of Hearts sewing machine, one of the rarest sewing machines in the world today. Each of these hand-built machines were built to last. The company motto was, Time the True Test.
Said to be a young Princess Alexandra and her daughter, Maud, on the bed of Starley's best machine, the Queen of Hearts.
The 1870's saw James in his prime. Inventions boomed, as did his workforce. Sewing machines took a back seat to his bicycle business.

The small range of sewing machines he had produced were as unique as the man himself. They were...
Europa sewing machine No1, 2 & 3,
The Little Europa sewing machine No1,2 &3,
The Little Dorrit sewing machine, 1875-1877,
The amazing Queen of Hearts sewing machine, 1871-1878,
The Silent Star,
The Little Howe,
The Swiftsure,
The European,
The Express,
The Little O,
The lady Godiva,
So few of these machines remain that they are the most sought after of all collectible machines.
Also Starley had something to do with the Godiva sewing machine, based on Lady Godiva, a Coventry legend. Her naked statue is still to be seen riding bare-back through the city shopping centre. This machine was in partnership with a Mr Sutton of whom I know absolutely nothing except he was also possibly in partnership with James' son!
S. Peake manager
Smith & Starley
11 Princess Street,
Leicester Square,
London
James' machines were advertised as everlasting and won medals in Britain, Austria, France and elsewhere. They were reliable and light but above all beautiful to look at. The castings alone were works of art. Influenced no doubt by his connections with France and Belgium where his main bicycle markets were. It was these complicated castings, that were so time consuming, that made James lean towards bicycle manufacture.
Starley had agents all over Europe. London agents were G. E. Wright of New Broad Street. In Brussels there were two agents I am aware of L.DELAYGUE & R. B Turner of 82 Rue De Midi and 11 RUE FRACART.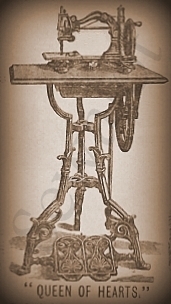 The machines that Turner sold had his brass badge where the Princess Alexandra motif was (in the centre). There was also a retail premises in Bassinghall Street, London in 1875, which apparently sold the first Queen of Hearts sewing machine.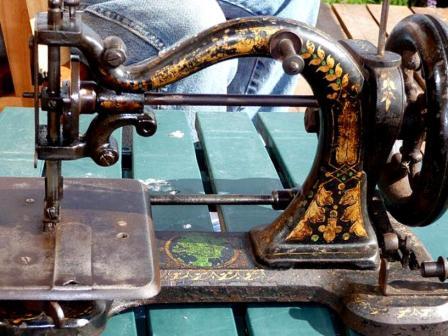 This Little Europa (patented in September of 1873) owned by Bonnie Petroski in America is one of the few surviving machines. The machine is marked with a centre medallion showing a woman on a horse holding a trident... Possibly Britannia or more likely Lady Godiva from Coventry.
On the arm is the lettering "The Europa" with Smith & Starley Patentees, Coventry," on the faceplate. Thanks for the picture Bonnie.
Little Europa/Godiva Sewing Machine
As I have said it was James' nephew, John K Starley, went on to found the Rover Car Company and even Hillman, Singer and Swallow Cars were started by associates who worked with James. He seemed to encourage inventive genius in others.
They say that in total fewer than 20,000 sewing machines were ever produced by James Starley, making them exceedingly rare today. Even the British Museum and Coventry Museum do not have one.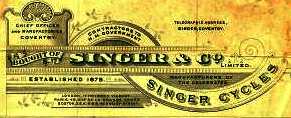 Singer Bicycle receipt circa 1887, George Singer (not Isaac) was another of Starley's employees who went on to great success in the cycle industry, employing hundreds of men at his factories, which he first founded a year after leaving James in 1878.
At the Coventry Transport Museum, and Gaydon Car Museum there are fine collection of Starley Bicycles, vehicles and other machines on view, and a monument to James stands in Coventry City, refurbished after years of vandalism. At Gaydon there is the very last Rover car that came of the assembly line.
The Coventry Transport Museum has a wealth of information on James Starley and is a great way to spend a day if you are in the area. Also it is free entry!
James Starley, although only 51, died a wealthy and respected man in the early summer of 1881. His children carried on with bicycle development and his son William worked with John Kemp Starley, later the Rover Car business.
James Starley's inventions are still in use today from the differential gearing, used in almost every moving vehicle, to hollow bicycle tubing and adjustable, alternating, spoked wheels.
Not bad for the little farm boy from Sussex who had a dream and followed his star.
Below you are looking at a beautiful work of art, the Starley Queen of Hearts. James Starley would be proud of his everlasting machine, it really did stand up to his motto and stood the true test of time.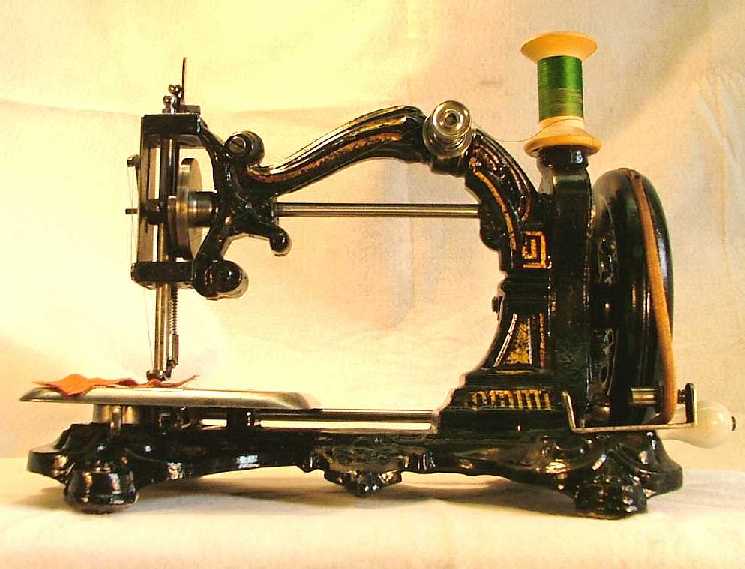 The stunning Queen of Hearts, Coventry British Model, by James Starley, Circa 1873. Only around a dozen of these are know to exist today! This one from my collection, is now owned by a member of the Starley family in America.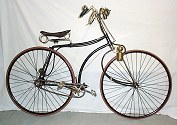 Starley posthumously became famous for his inventions and fondly became known as the Father of the British Bicycle.
One of his son's continued in the bicycle business for many years after his demise, at the Meteor Works in West Orchard. Hey, that business had nothing to do with our sewing machines, so now we leave our great inventor for others to continue his story!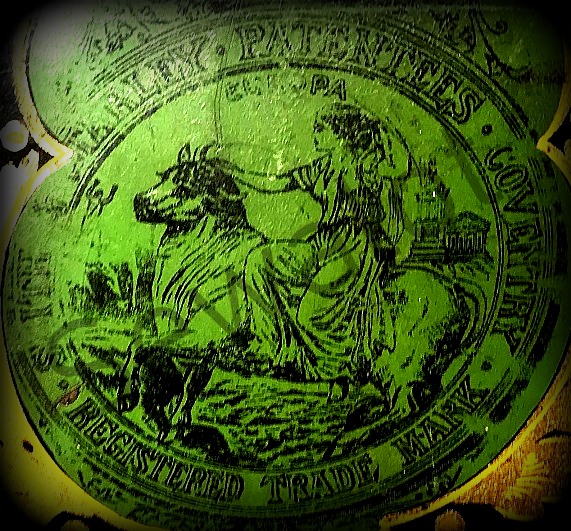 The Starley Europa sewing machine. It was a free-arm model to compete with the Singer model 29 and other similar heavier sewing machines. Super rare today. The machine was named after Europa who is seen here riding a bull on the Starley Trademark. The God Zeus became besotted with a beautiful maiden called Europa. Their son would become Minos, King of Crete.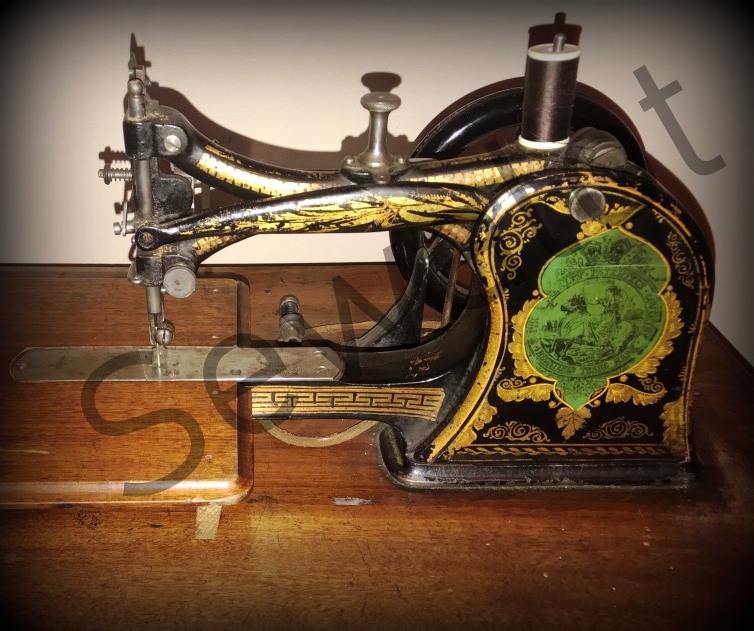 One funny fact!
In Poland, Rover had such an important hold on the bicycle industry that even today bicycles are still know as rovers! How cool is that!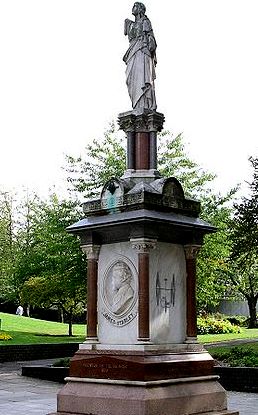 The James Starley Memorial in Coventry
***FREE WITH KINDLE UNLIMITED***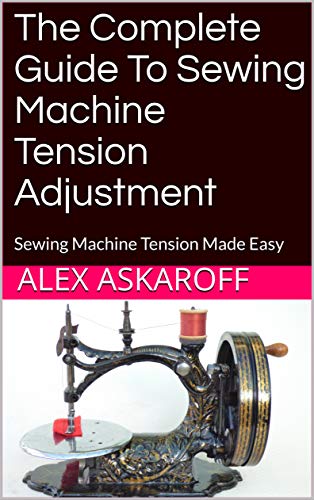 Available in all countries with Amazon
With the FREE Kindle reading app below you can now read it on ANY device, PC, iphone or tablet. https://www.amazon.co.uk/kindle-dbs/fd/kcp
Available for the first time
FREE WITH KINDLE UNLIMITED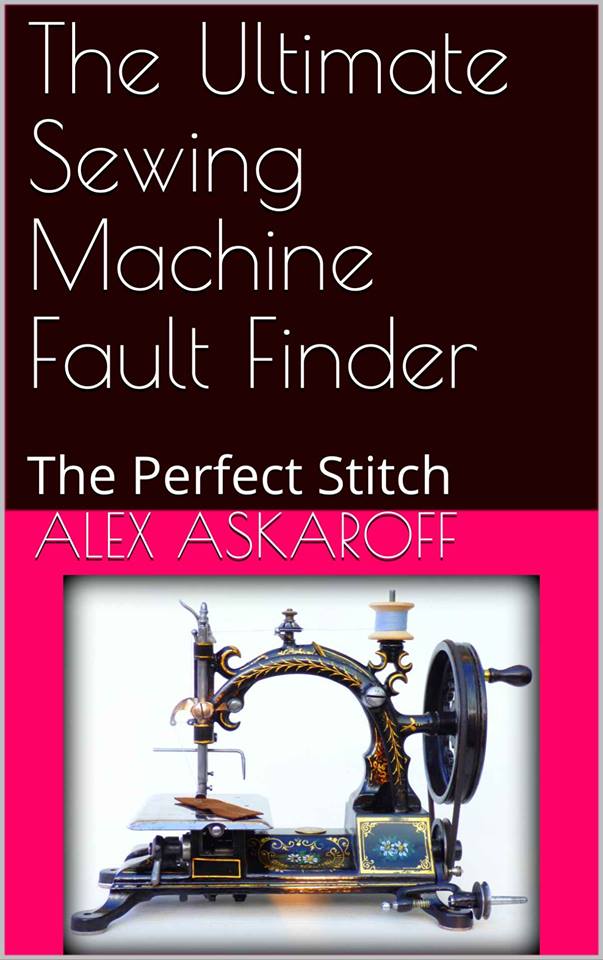 The Ultimate Sewing Machine fault Finder No1 NEW RELEASE AMAZON.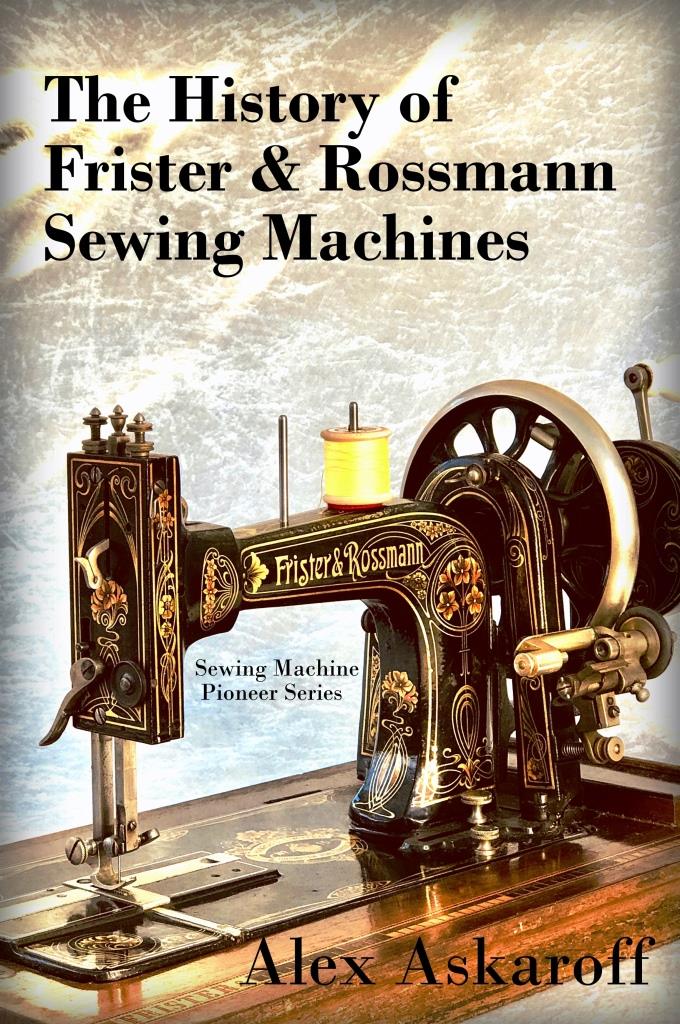 Often free with Amazon Kindle Unlimited.
Available to download on all electronic devices
(with the free Kindle Reading App)
or as a paperback, Amazon worldwide.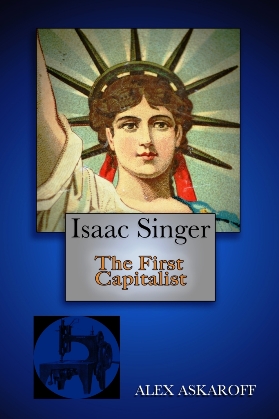 Most of us know the name Singer but few are aware of his amazing life story, his rags to riches journey from a little runaway to one of the richest men of his age. The story of Isaac Merritt Singer will blow your mind, his wives and lovers his castles and palaces all built on the back of one of the greatest inventions of the 19th century. For the first time the most complete story of a forgotten giant is brought to you by Alex Askaroff.
News Flash!
Alex's books are now
available on Amazon worldwide.
"This may just be the best book I've ever read."
J Vincent Horam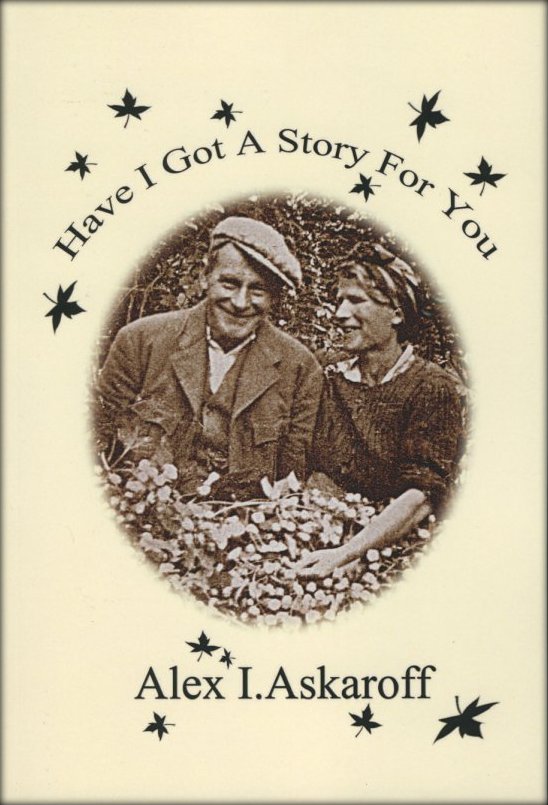 "My five grandchildren are reading this book aloud to each other from my Kindle every Sunday.
The characterization is great; both heart-warming and funny, and the story never lags.
I enjoyed not only the story, but watching my grandchildren's delight in hearing it.
The illustrations are the best I've seen in a very long time.
Anne Lancaster USA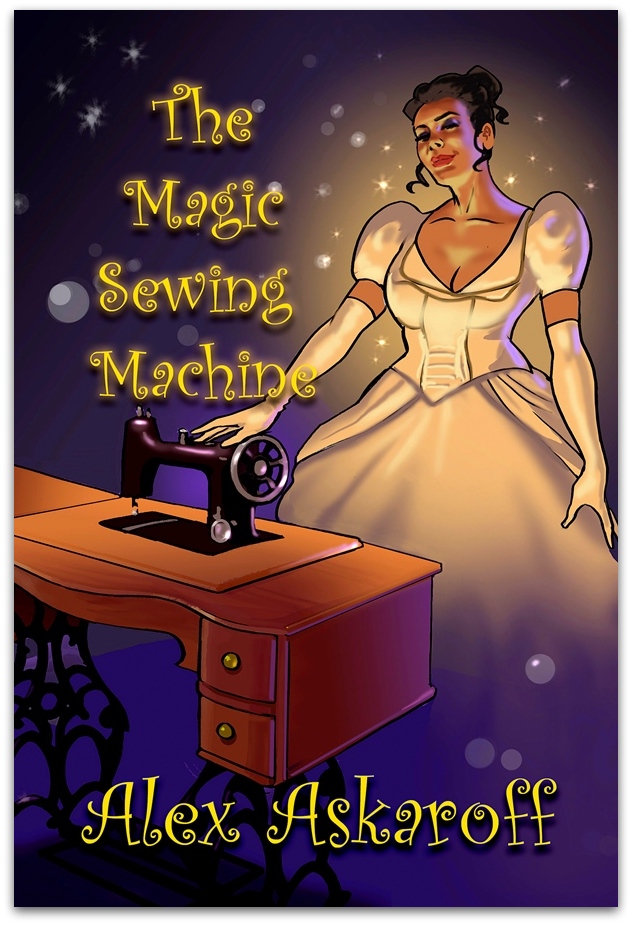 If this isn't the perfect book it's close to it!
I'm on my third run though already.
Love it, love it, love it.
F. Watson USA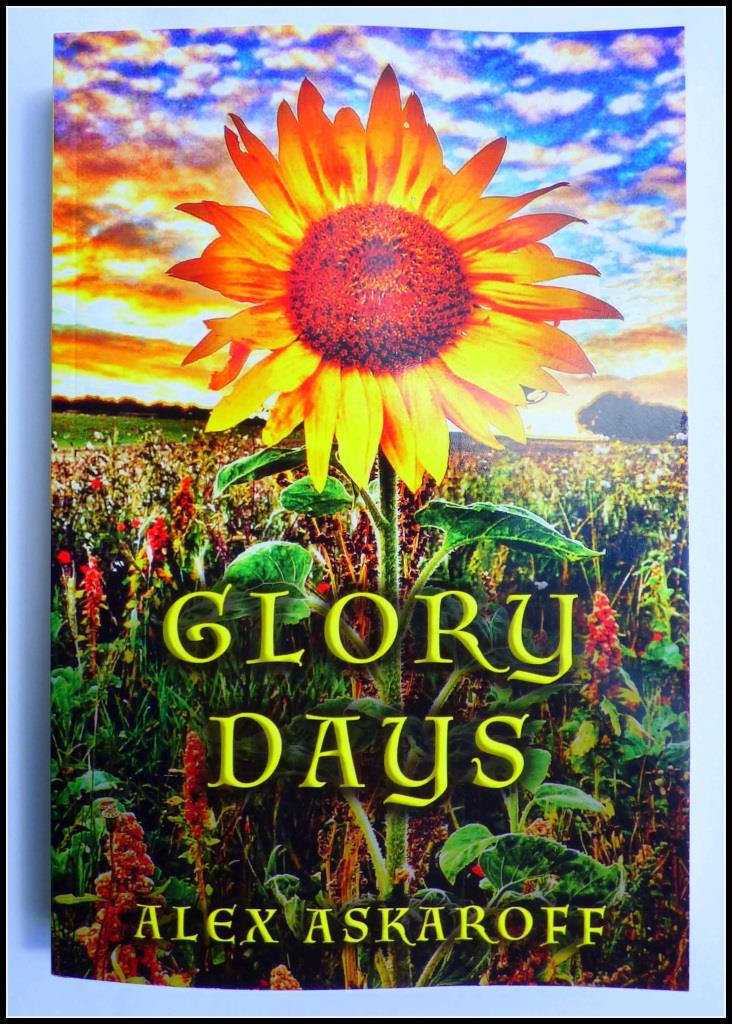 The way it's written you can just imagine walking beside him seeing the things he does.
Definitely look forward to reading more of his adventures.
Amazon FIVE STAR review.
I love all of Alex Askaroff's books. They are all so human and so heartfelt and fun at the same time, and guess what? You learn a lot from reading them without even meaning to!! Anne lancaster, FIVE STARS.
Well that's it, I do hope you enjoyed my work. I spend countless hours researching and writing these pages and I love to hear from people so drop me a line and let me know what you thought: alexsussex@aol.com
Fancy a Funny Free read: Ena Wilf & The One-Armed Machinist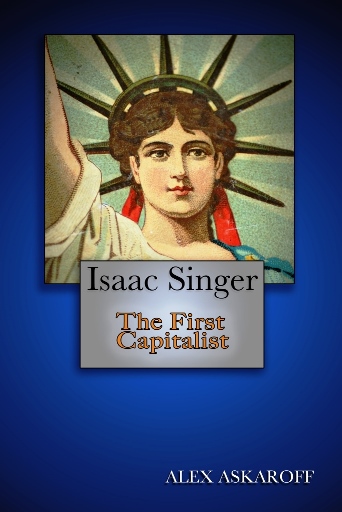 Isaac Singer The First Capitalist
Most of us know the name Singer but few are aware of his amazing life story, his rags to riches journey from a little runaway to one of the richest men of his age. The story of Isaac Merritt Singer will blow your mind, his wives and lovers his castles and palaces all built on the back of one of the greatest inventions of the 19th century. For the first time the most complete story of a forgotten giant is brought to you by Alex Askaroff.
Dear Alex
My name is K T Starley and the founding father of my family is Sir James Kemp Starley. I very much enjoyed reading your story on the Sewalot site. Thank you for establishing a creative and well-addressed timeline of my family's earliest years.

I was wondering if you would care to include the attached images on your site? My father would be so honored to have these included in your body of work.

Thank you for writing such a lovely accounting of my family's history.
K Starley

Dear Alex
Thank you for your most amazing article. John Kemp Starley was first cousin to my Great Grandfather Thomas Coppen who was born in 1864.
John Kemp Starley is a descendant of the Packer Family who along with the Coppen family were basket makers with shops in Sittingbourne and Faversham, Kent.
Eleanor Roberts nee Coppen
Dear Mr Askaroff
Thank you for such a wonderful job, you make collecting sewing machines a joy.
B J Pearce.
Hi Alex
I've begun researching the Starley family and have just seen your
fascinating account of James Starley.

I thought you might be interested to know that I am the great great
grand-daughter of John Kemp Starley, making James Starley my great
great great Uncle! JK Starley's 2nd son Frank was my great grandfather and he married
Edith Marguerite Player whose family were well known for watch making
in Coventry. Their eldest daughter Edith Marguerite was my father's
mother.

Thank you once again

Rachel (Kenning)
Hi Alex,
I very much enjoy your fine work on the history and the personalities.
Thanks again for all the good work you put into your site. It's a pleasure reading.
Sincerely,
Dave Zeiger Alaska
News Flash!
Alex's books are now available
all over the world on Amazon