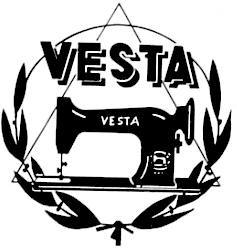 The German company that made Vesta was called LOD, short for L.O. Dietrich, and was one of the oldest German
sewing machine companies.
The Vesta mark went onto their machines in the late Victorian period and lasted up until the Second World War when
the company became involved in arms manufacture. The factory was finally closed by the Russians around 1946.
Originally LOD was formed around 1869, by 1871 they were well established in Altenburg, Germany. For the first
20 years the machines were basically Singer copies with a big S as one of their badge marks and sold under the
Dietrich, LOD banner.
The company was a mixture of three giants in the German sewing machine industry all eventually selling machines
under their own names. They were L O Dietrich, G Winselmann, of the Titan mark, and H Kohler.
The three men had all worked together at the giant Clemens Muller Sewing Machine Factory in Dresden. It was there
that they came up with the idea of their own business. It did not last long as by 1880 all three men had parted and
built up their own businesses making machines.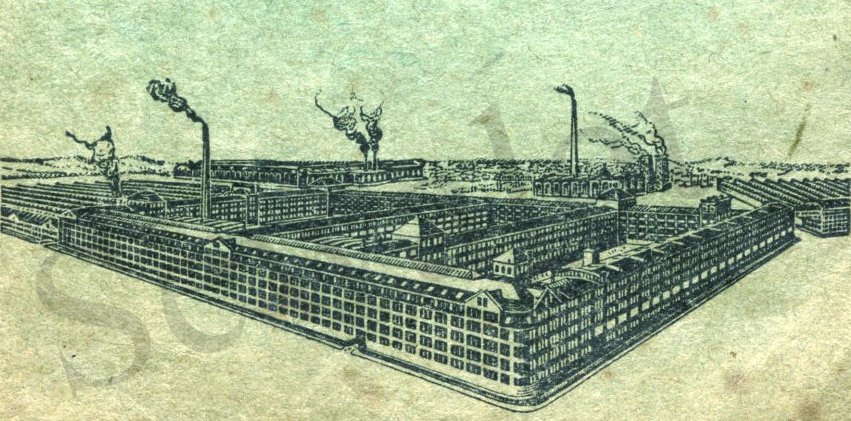 By 1871 The Company had a vast factory employing hundreds of workers and at its peak in 1890 it was employing over
1,500 workmen.
The name Vesta comes from the Roman goddess of fire and the hearth, which is perfect for a machine that was forged from the great German furnaces. As a very important Roman Goddess her prayers were uttered daily in worship and of course we have all heard of the Vestal Virgins, but I digress.
There were originally two sizes of Vesta and many other models from LOD such as the Universal No 1 with its lovely
open cut gears and lightweight, The Family A and Family B. The Saxonia range which included two smaller machines
and a medium semi-industrial model. As well as the vibrating shuttle models mentioned they also produced oscillating
bobbin machines model E, F and G with a barrel or cylindrical arm. Then there were central bobbin machines such as
the model CE and CF. All were available with the super-smooth ball-bearing treadle base.
All Vesta sewing machines guaranteed for a period of five years.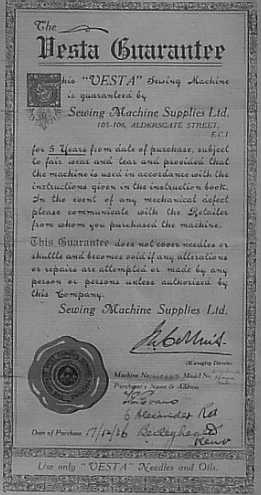 The machines became an instant success in England and soon offices were opened in London at 16 South Street,
Finsbury. Vesta machine was sold to shops like Collier & Sons of Clapham road South West London. Colliers were a
large ironmongers that sold just about everything you could think of. They were also sold through other retailers
such as J. D. Williams & Co Ltd, Manchester and Sewing Machine Supplies of Aldergate Street London.
If you look carefully at your machine you may have a Winselmann model. You may see the Titan mark on several
pieces of the machine if you have an early Winselmann model.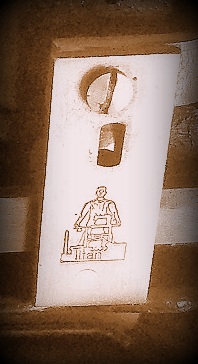 There was a beautiful mother of pearl inlay fiddlebase model, basically a smaller 3/4 size copy of
the Singer New Family transverse shuttle that was around in the 1880's. Mother of pearl became
so expensive that by the late Victorian period it had become un-commercial. Having to hand
polish 15 layers of japanning to find the inlaid mother of pearl took endless hours of work, but
how wonderful it looked.
Mother of Pearl on sewing machines died away towards the end of the
19th Century.
The beautiful small Titan fiddlebase, so similar to many Vesta machines, was made by Gustav Winselmann, also in Altenburg, Germany. The machine is marked with the makers details stamped
on the slide plate and also Made in Saxony is on the machine (an old reference to 19th century Germany). The badge has the great Titan standing over the factory holding a sewing machine.
The case often has the gold awards that this small machine had won during its impressive reign
from Milano in Italy, Bremen, Bodenbach and Leipzig.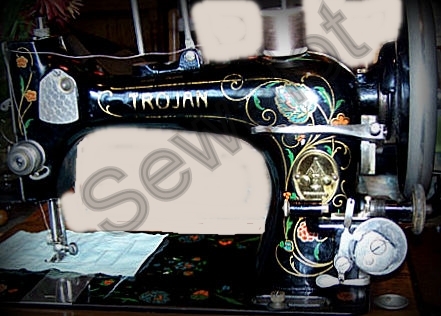 Vesta Trojan Sewing Machine
Dietrich passed away in September of 1904 and his son took over the reigns of their empire. Seventy years after the factory came to life it was ended as part of the Russian war reparations.
And so LOD and Vesta are no more. Often the factories were stripped of their machinery and the assets were
taken back to Russia.
Vesta Titan Sewing Machine, the Titan name was used on several Vesta models.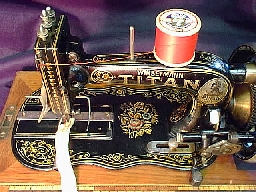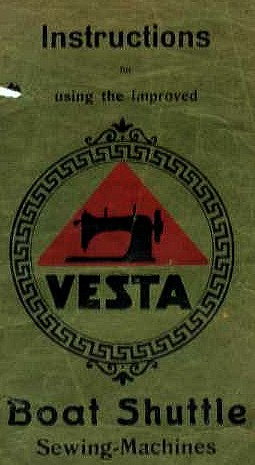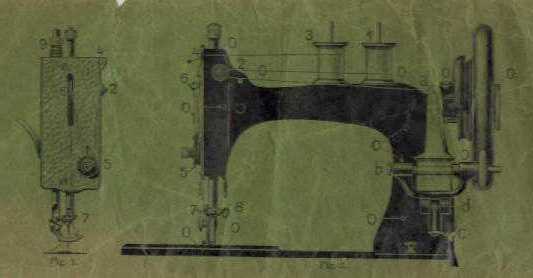 By 1910 most of the machines started to look much the same as patents ran out and everybody used them.
The most famous sewing machines in the world!
By 1936 the Vesta machines were so admired for quality that they advertised their machines as the most famous sewing machines in the world! That was a bit rich but they were superb machines. The fact that so many are still sewing today goes to show how well made they were.

Open cut gears and porcelain handle all added to the charm and appeal to the smaller than average Winselmann sewing machine,
identical to the Vesta, made by an old business partner.

See Alex Askaroff on YouTube demonstrating antique sewing machines
http://www.youtube.com/watch?v=8-NVWFkm0sA&list=UL
The Winselmann Court Maker Titan Sewing Machine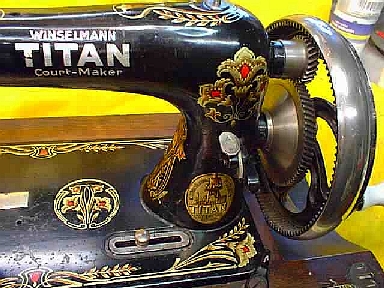 The Vesta Vibrating Shuttle sewing machine. Post First World War, the 'Made in Germany' was removed and the word 'Foreign' added...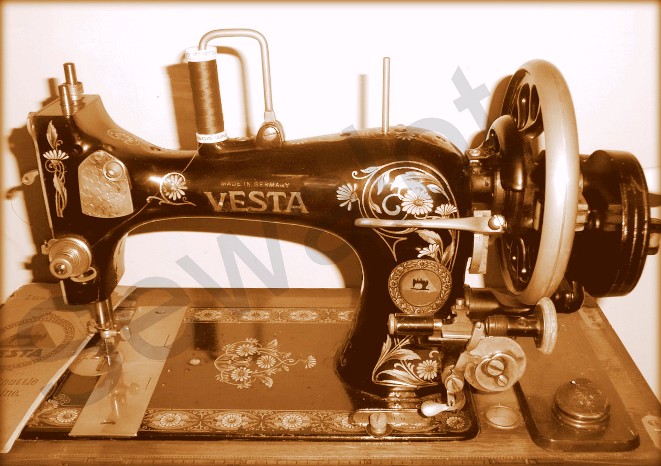 A late Vesta vibrating shuttle, a great machine to sew with.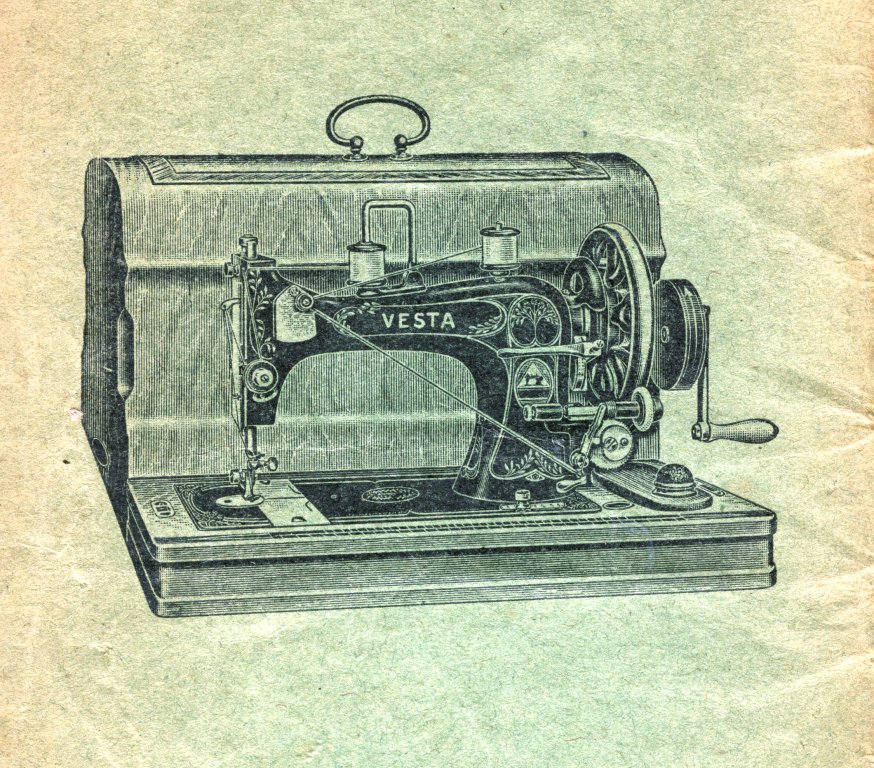 The Vesta VS Vibrating Shuttle sewing machine circa 1914
A Vesta transverse shuttle below, another great machine to sew with but it created a little tight stitch and did not allow for stretch.
You can see the double threads in action, one for sewing, one for winding as you sew. The Vest model no 5 sewing machine took
the same needle as the Singer 12 and used a boat shuttle.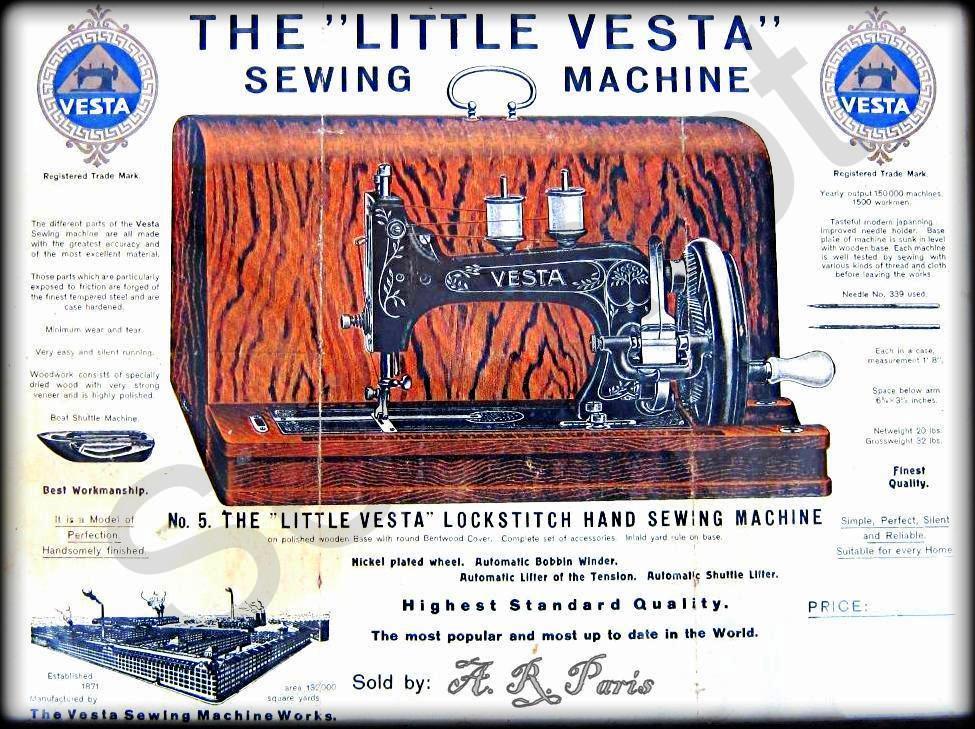 Here is a great advert from the 1890's advertising the Little Vesta Sewing Machine model No5. Alfred Paris was a London agent
for Vesta and several other German makers.
Values
The German quality engineering has meant that many Vesta and Dietrich machines still survive. When working well
they make a superb stitch and cope with modern fabrics with ease. The value of the machines depends on condition
and age. The older machines are far more ornate and fetch good prices at auction. There is a keen collectors market
for the best ones. The most expensive I have seen so far fetched over $1,000 in 2009. Strangely though this price is
still nowhere near what these machine cost new in comparative terms. They say nothing lasts like quality and
certainly Vesta sewing machines prove that point.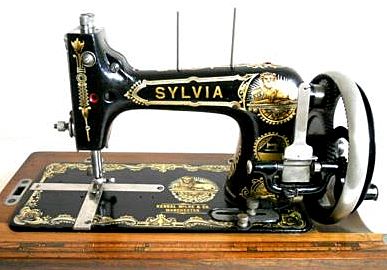 The Vesta Sylvia circa 1900
If you have any information to add please do contact me: alexsussex@aol.com it is really useful for research and helps others. Also there is a little email at the bottom of the page which is very interesting.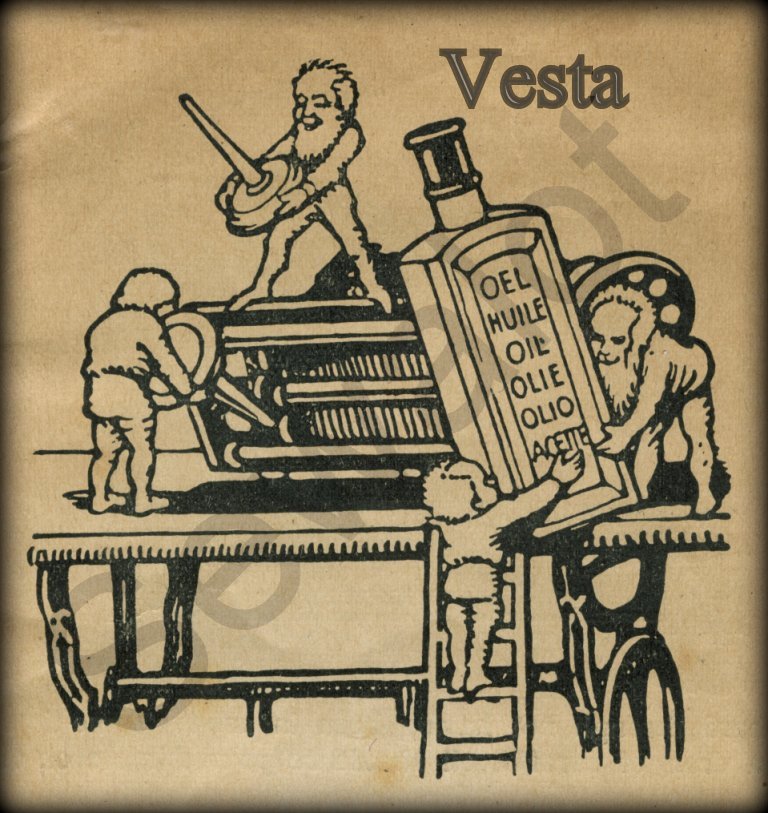 Don't you love this picture of the oiling of the Vesta sewing machine. I need some staff like that!