Josef Wertheim & Co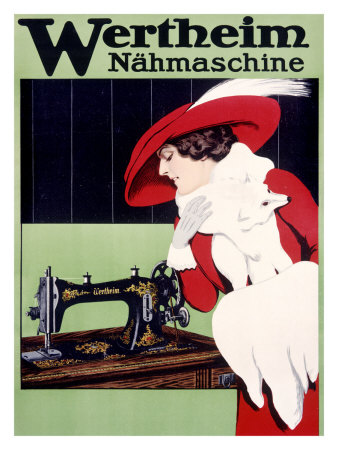 The classic Wertheim Sewing Machine advert. I love her white fox fur. I wonder why people thought that a bleached dead fox around your neck would enhance your beauty and attract admirers! Dogs maybe!
The Wertheim Superba Sewing Machine
Our problems starts with the name. No one can protect, trademark, patent or copyright a word which just means beautiful or any other commonly used word. Wouldn't that be awkward if it could! Imagine if the word beautiful could only be allotted to one actress at one time. Sweet Lord that would cause a cat fight we would all pay to watch.

The Superba name was put onto many machines from many makers, Adler, Opel, Haid & Neu, Junker & Ruh, Wertheim, Gritzner, Hengtenberg, Seidel & Naumann and others may all have used the Superba name on their machines at some point. Also Davies Sewing Machine Co of America used the Superba name on one of their early models. It also gives credence to why the Superba name on many models rubs away so easily, almost as if it was put on at a later date by agents to fill demand.
Seidel & Naumann in Dresden were sneaky at selling. They sold their own Superba model B under their own name, and blank with no name and also sold the same machine to the Wanzer agency in Oxford Circus, London, as the Wanzer CM Family sewing machine. CM may have been Central Movement as it was a transverse shuttle made in the 1890's.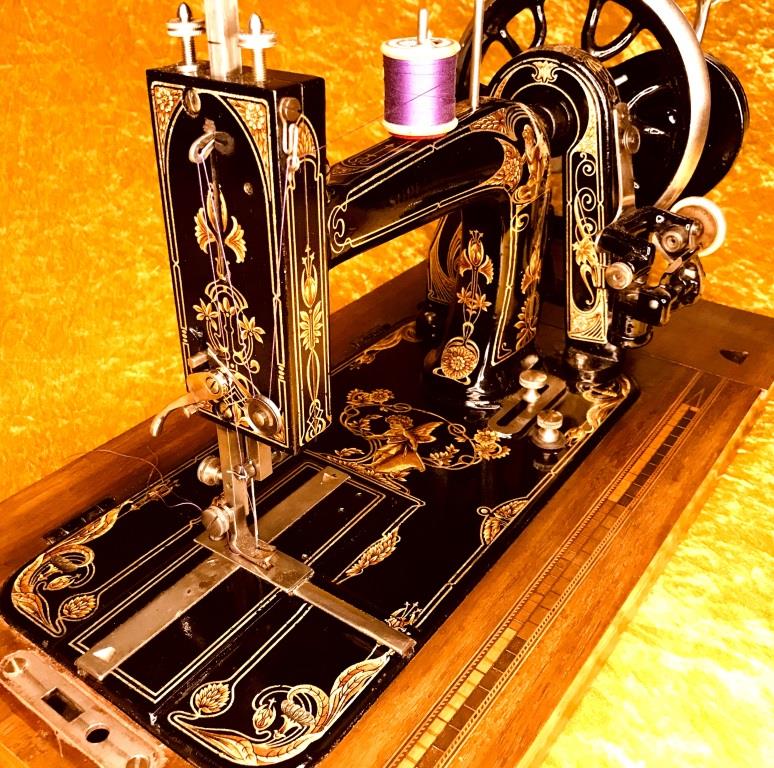 The Seidel & Naumann Model B Superba made in Dresden circa 1890. Currently in my Sewalot Collection.
Confusing or what!
One name (Superba) covered all makers. The name could not be protected or the makers prosecuted for using it. Basically it was perfect. Also it was great for the dealers trying to compete with the big boys like Frister & Rossmann, Pfaff & Singer. A dozen or more makers could be supplying a similar machine, mainly throughout Germany and Europe, all with one name emblazoned across the front. "I have a Superba". "So do I!" What the customers never twigged was that they were made by different makers. Some say at the peak of German sewing machine manufacturing in the 1890's, there were over 300 sewing machine makers!
With
hundreds of German sewing machine makers
d
eliberately
keeping
the models looking almost identical, no makers marks, not even badges
, identify a machine can be extremely difficult
.
Great for the
salesman
who
could sell to any wholesaler or agent or shop. The replacement machine that went in the window looked just like the one that was sold. Things got a little easier after many of the German makers collapsed or closed due to recessions and wars. This left just a handful of makers who
then
clearly marked their machines.
However, the most common (if that's fair as they are all rare today) Superba machines that you may come across were probably made by either, Seidel & Naumann, Junker & Ruh or Wertheim. Karl Junker and August Ruh started their company in 1870 in Karlsruhe, Baden. Josef Wertheim of Frankfurt, Germany produced a series of 'beautiful machines' the Superba models A, B, C, D and E.
I have a page on Seidel & Naumann which is an interesting read. Emil Seidel and Karl Robert Bruno Naumann made loads of stuff, best of all their fabulous sewing machines, starting around 1868. However as they have their own page, you can read their story at your leisure by clicking on them.
Because I know little about Junker & Ruh, we are going to talk about our most prolific Superba maker, Wertheim. I will tell you what I know about the fabulous Wertheim sewing machines, possibly the finest German machines of the late 19th Century.
Wertheim
Now let's get down to the fascinating sewing machine firm of Wertheim. The company was founded in 1868 by Joseph Wertheim. Joseph was the Frankfurt city delegate for the Democratic Party and, as a business man, was looking to invest in the future. Sewing machines were the latest technology and selling like ice cream at the beach on a hot summers day.
Interestingly some people saw sewing machines, the marvel of the age, as almost magical. Shows were set up where you could pay to see a sewing machine work its magic, joining two or more pieces of fabric together before your very eyes, simply by turning a handle!
The Wertheim Dwarfs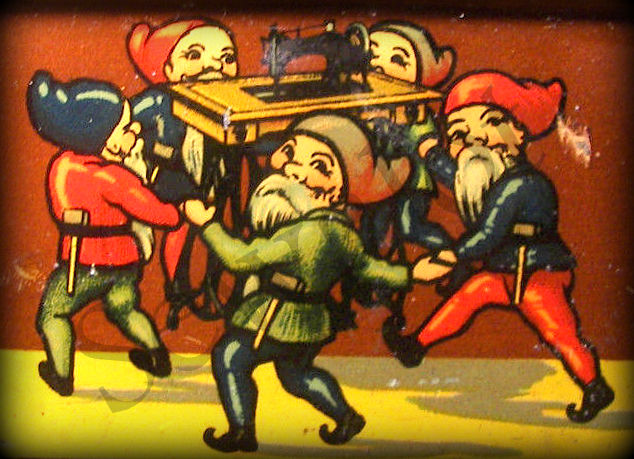 The Joseph's factory was a great success and grew quickly. Within a few short years, Wertheim sewing machines gained a reputation for being among the best quality sewing machines available. At its height, the factory employed around 650 people. They also made baby carriages, mail carts and wringer/manglers.
The firm's logo originally had a dwarf with a hammer; however this was replaced much later by a Star of David.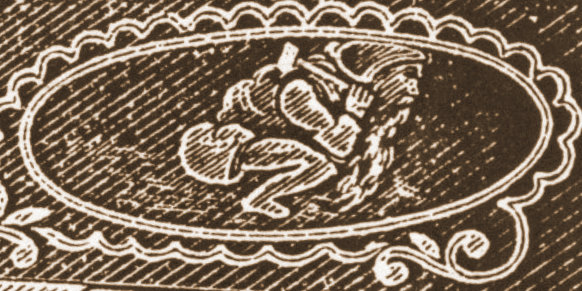 The original Wertheim trademark on the bed of their machines up until around the 1920's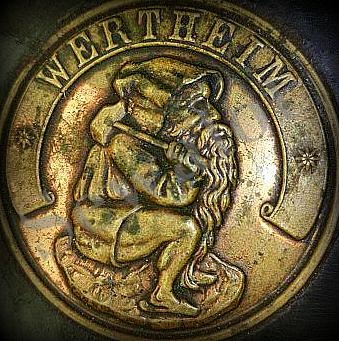 The German plant produced their first model around 1869. It was Model A, a direct Elias Howe copy, (probably under licence from America).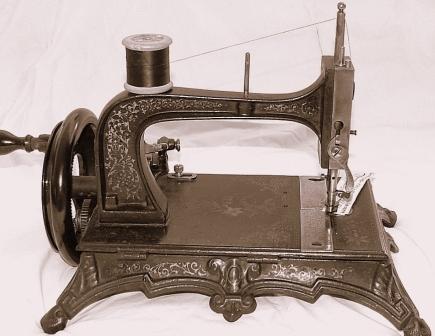 The Wertheim Model A sewing machine circa 1870, now in my Sewalot collection. Similar to the Haid & Neu model.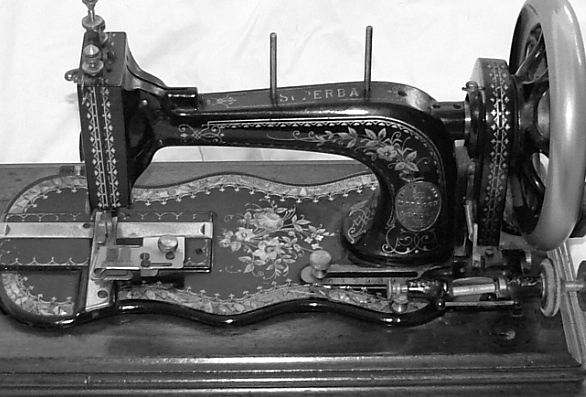 The Superba Sewing Machine Model B made by Wertheim circa 1870-90 now in my Sewalot Collection. It is smothered in Mother of Pearl and gold work. The Wertheim Superba models came as fiddlebase (above) but also later as standard High-Arm machines in the same period. Both models are highly collectible today due to their amazing quality.
My favourite Wertheim is the model B which was a beautiful fiddlebase model almost identical to the Singer New Family model 12 of 1865 but made by Wertheim between 1870-90. I have one in my collection from the Glyndeborne Opera House in East Sussex. The base was riddled with woodworm when they phoned me. As you can imagine I was delighted to take it of their hands and save their stage from rot.
The Superba Factory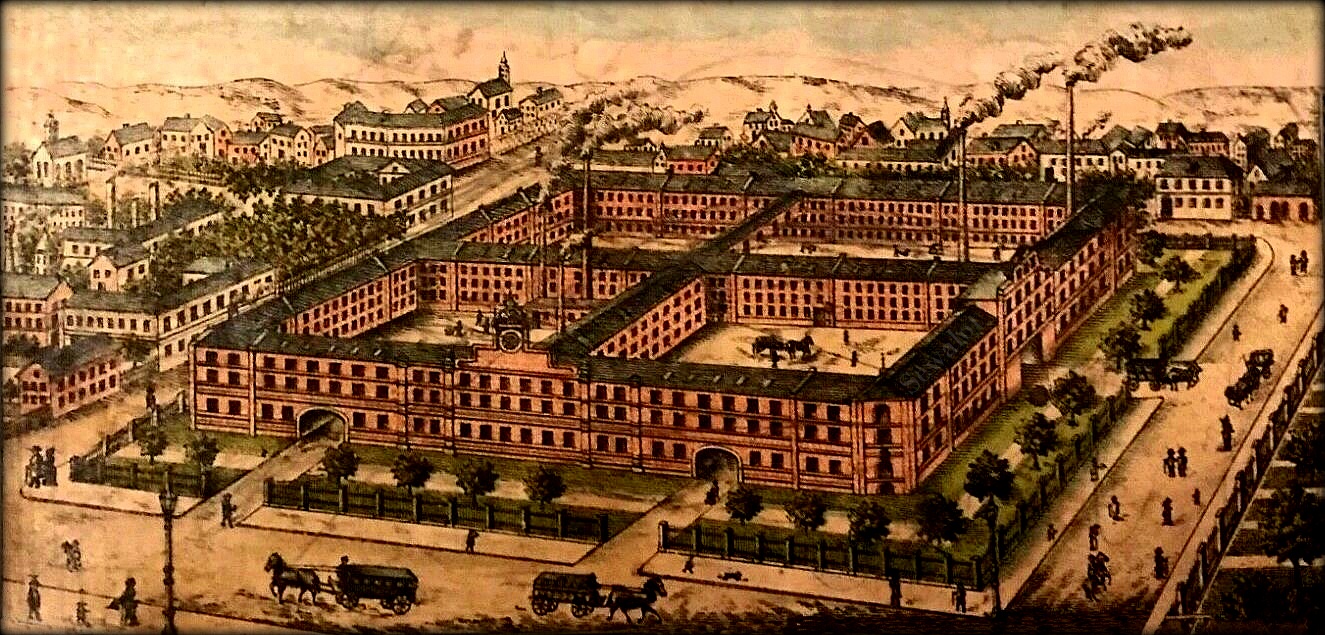 Wertheim Spain
Around 1870, Karl, the son of Joseph Wertheim created a subsidiary in Barcelona. This was a smart move as Jewish companies were already having trouble in Germany. A slow move to Spain was a clever way to escape possible future persecution. Initially in Spain Karl imported and built furniture.
However by 1892 Wertheim opened the Wertheim Advanced Sewing Machine Stores depósito general en España on 18 bis Avinyó Street. In 1897, Wertheim moved the shop to 9 Avinyó Street, where, in addition to selling, furniture, pianos and sewing machines, even bicycles and small engineering items were repaired.
With the manufacture of sewing machine accessories in 1900, the Spanish side was all set to start making sewing machines besides just importing the German models. In 1920, Karl Wertheim set up La Rápida in Barcelona. By 1929 it operated its own iron foundry. Karl Wertheim was using the name Carlos in Spain and remained as president until 1945.
During World War II, the Wertheim factory in Germany finally disappeared and so Wertheim in Spain or Wertheim-Rapida became the sole manufacturer of Wertheim sewing machines in Europe. In 1943 Rapida joined the Hispano Olivetti group.
From around 1949, Wertheim started manufacturing parts for Singer sewing machines. Rápida S.A. also manufactured domestic machines in Spain under the Hexagon brand. Hexagon sewing machines often turn up today.
In 1960 at its peak, Wertheim Rápida obtained the prestigious official title of 'National Spanish Producer'. It was now exporting sewing machines to over 40 countries around the world and employed thousands of workers in its Spanish factories.
During the period 1968-1970 the high costs of labour and foreign cheap imports caused a slow restructuring of the industry as it tried to compete and survive. It was of no use. By 1970 the foundry, lumber mill and woodworking side all closed. Many of the staff were absorbed by Hispano Olivetti.
The unbeatable performance of Wertheim sewing machines is their absolute guarantee of the finest materials produced by the finest workforce. Each machine is micro-engineered to give the fastest and highest performance of any sewing machine on the market today. Wertheim, Spain 1920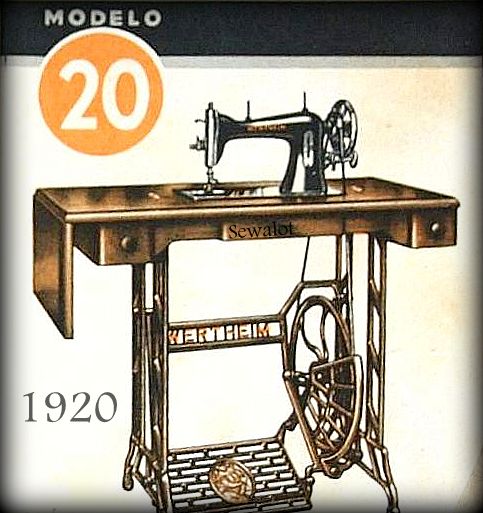 This is the Spanish Wertheim sewing machine model 20. Most of the Wertheim models in 1920 were similar except the cases and stands so a model 22 may have had a slightly different base or extra drawers but the machine was the same.
Wertheim 20 sewing machine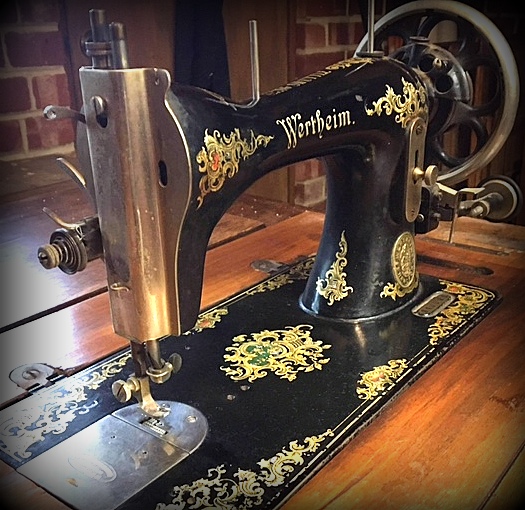 This Wertheim Model 20 was kindly sent in to me by Rod & Andy Kaehne in Australia. The model 20 uses what is known as a ring shuttle. The ring shuttle was actually a small round bobbin used on the first Singer model 15-1 machines before their major improvements in the 1890's. It is a rare machine today.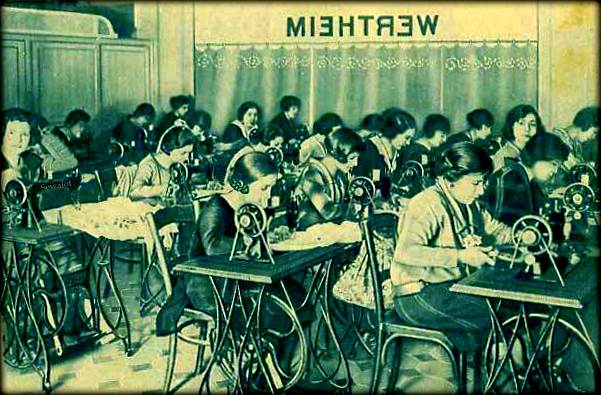 Wertheim Barcelona

The Wertheim Models C-D were high-arm transverse shuttle models much like the Singer 48k produced around 1890-1910. Wertheim also produced the stunning Wertheim Premier Sewing Machine. It was a fiddlebase again and layered in Mother of Pearl. Very rare today.
Mother of Pearl sewing machines
&
Japanning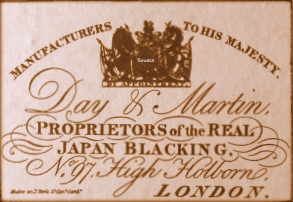 Many sewing machines were covered in a tough black gloss, a process known as japanning. A black liquid is applied to all the surfaces of the sewing machine from a mixture of turpentine oil and gum ashphaltum. Then the machines are baked in an oven to harden the surface. Japanning has proved to be one of the best ways of protecting the cast iron sewing machines with a luxurious and hard wearing surface.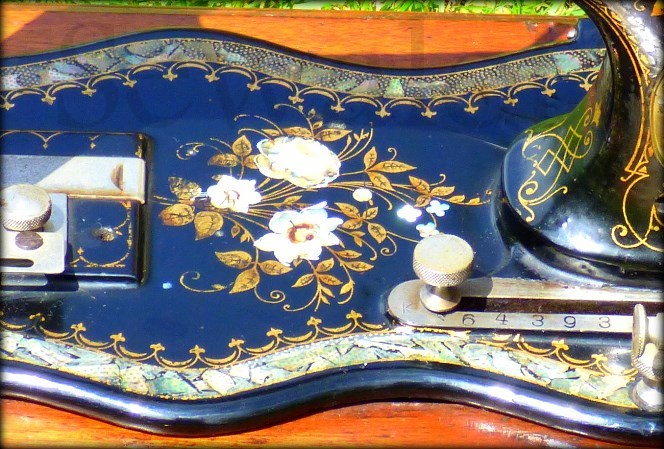 Even on this worn bed you can get an idea of how the Mother of Pearl shines through lifting the black of the Japanning
Now, after japanning the machines were decorated, some with gold leaf, some hand-painted, some with transfers and decals. But also some very special ones had Mother of Pearl, which was hard wearing and looks beautiful. It made the few sewing machines that were chosen for 'pearling' more a thing of beauty than just an object of work.
The Mother of Pearl was mainly made from several natural shells such as Abalone, edible sea snails, oyster shells, Nautilus shells, nacre and many more. They have a similar makeup to oyster pearls and shimmer with an iridescent light. Mother of Pearl, although brittle, is extremely hard wearing.
The Superba High Arm circa 1890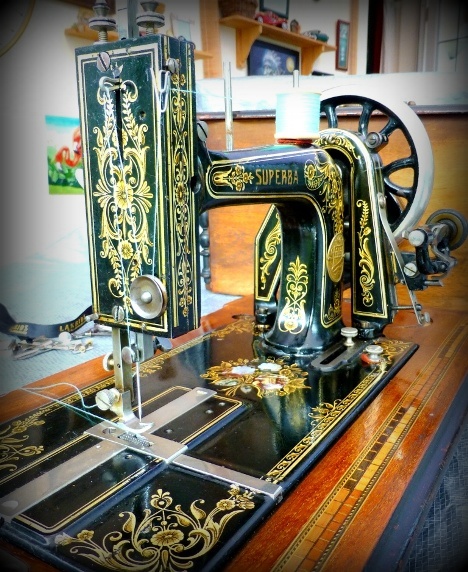 This beautiful machine set a new record at auction in Nov 2013. It is easy to see why. Note how the sewing machines have taken on the Art Nouveau style, sweeping elegant lines flowing seamlessly in endless beautiful scrolls. The High Arm German models were the perfect Art Nouveau time pieces of the late 19th Century. This style finally disappeared after Art Deco took the style crown in the middle 1920's.
A handful of specialist artisans would cut delicate shapes in the pearl shells and place them, in many designs, onto the sewing machines. Then several coats of japanning were added, completely covering the Mother of Pearl. These were only done in limited numbers for special orders as it was hugely time consuming and incredibly difficult work. They say the Scottish Singer plant in Kilbowie may have had just one specialist mother of pearl expert!
After baking and cooling several times the laborious task of scraping and polishing down the japanning takes place, until the Mother of Pearl is revealed. This task can take up to 20 hours of polishing but leaves the Mother of Pearl and the black japanning perfectly level. The Mother of Pearl shines out of the blackness like stars in the night sky.
The whole machine is then decorated around the Mother of Pearl with gold. The result is a stunning piece of work looking more like jewellery than a sewing machine.
Only the most expensive sewing machines had Mother of Pearl added as the time, work and cost was enormous. Today you get plastic. What a difference.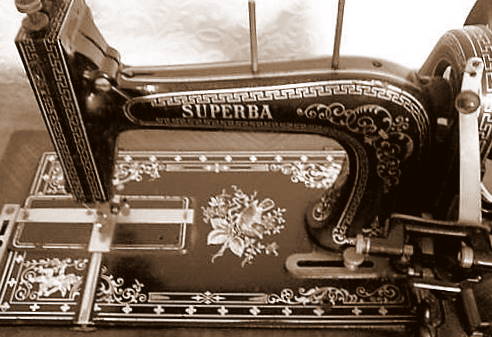 The Superba Sewing Machine high-arm transverse-shuttle model of 1890 Wertheim model D. There is some question as to who made this Superba, Hengstenberg may have produced this model for Wertheim as it has their winder and decoration on the right side of the hand wheel cover.
The early models B-D machines uses the same needle as the Singer 12. The main agent and exporter in England for some time was John G Murdoch of Farringdon Road, London.
John G. Murdoch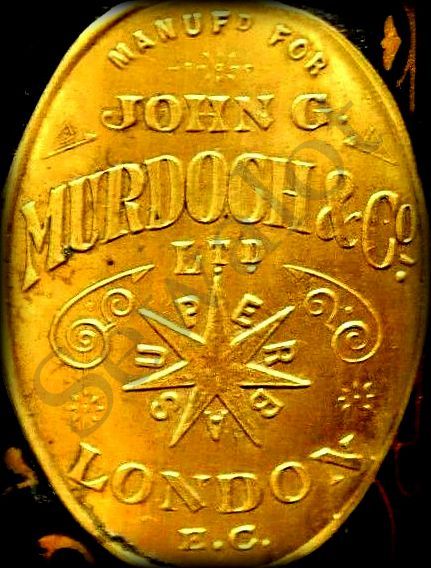 Murdoch sold the Wertheim Superba
John G Murdoch originally had premises at 41 Castle Street before moving to larger premises with showrooms at 91-93 Farringdon Road, London. Just north of the River Thames in East Central London. The building sold not only sewing machines but everything including prams, violins and bibles. In fact their Family Bible which sold for over £4 in 1900, a small fortune, was their best seller, selling over 30,000 bibles a year! WOW.
With his enormous wealth John G Murdoch went on to collect one of the finest collections of British coins in the world which, in 1903, sold for the equivalent of over 100 million pounds in today's money.
After John G Murdoch died his family carried on with their cheap violins and went into the record business founding the Beltona record Label.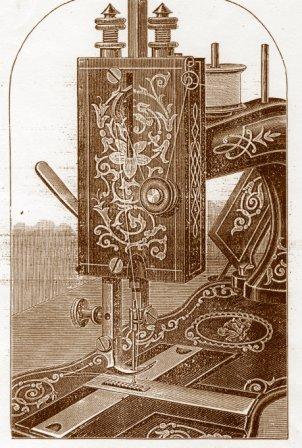 The Superba sewing machine model B made by Wertheim Frankfurt Germany circa 1880
T. Simister
Wertheim Agents
Colquitt & Bold Streets
Liverpool
One little point to mention is that I have came across a few much later Superba machines possibly made around 1920-30's that looked very much like the Singer model 17/27 but with the same shuttle as the Singer 12 and an even later model E using the Singer 15 system and 705 needle.
J. Silberg of Hamburg agents badge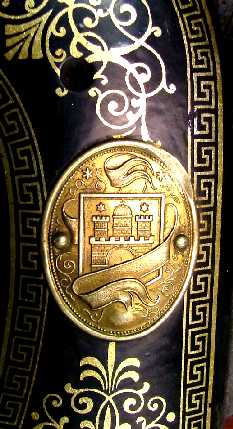 Now to make things a little more awkward distributors like J. Silberg of Hamburg above would put their badges on imported machines that they supplied across Europe. The Silberg badge appears on many early Superba sewing machines from various suppliers. Imagine you were a sewing machine shop. You have many happy customers using the new 'Beautiful' or 'Superba' sewing machines. You order more from your stockists and when they arrive they are truly beautiful and superb. The only slight difference was... they came from the same wholesaler but a different German maker. Who knew and who cared? Same bobbins, same shuttle, same needle and same great quality. It would only be when you compared the models side by side that minor differences would appear. It was a wholesalers dream and very clever marketing by the Germans who by this time had come to dominate European sewing machine manufacturing. But what's going on down under?
Wertheim Australia

The Wertheim Piano Factory Richmond 1910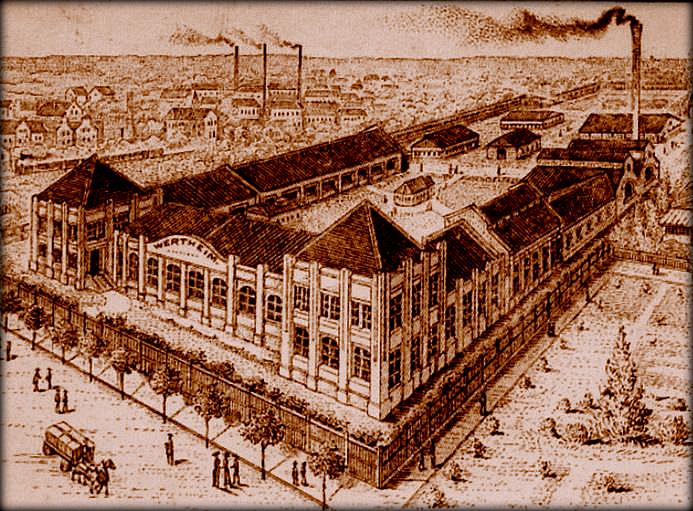 Now Murdoch & Co, the importers and agents, were a British company with an Australian subsidiary with premises in Melbourne and Canberra, Australia. They also sold musical instruments which is a funny mix but it makes sense and I will explain why. I would love to have walked into their shop in London to hear music and see sewing machines.

Later on in Australia Josef Wertheim machines were also distributed by Hugo Wertheim (Josef's nephew) who emigrated there in 1875 aged 21.
Hugo was born on 12 July 1854 at Lispenhausen, in the German electorate of Hesse-Kassel, son of Meyer Wertheim and his wife Minna, née.
Hugo was born into wealth and had travelled extensively before deciding that Australia had everything he would ever need. In 1874 Hugo married his cousin Sophie Emilie and brought his new wife to Melbourne aboard the SS Great Britain.
Sole Agents for
Wertheim Sewing Machines
H. Oscar Hewett & Company
Wellington
New Zealand
Initially he set about advertising and selling German Wertheim machines across Australia from premises at 39 Flinders Lane East. I am not sure if both John Murdoch and Hugo were both selling Wertheim machines in Australia at the same time or if the agency was handed to Hugo as part of the family! Well blood is thicker than water unless you have drunk a bottle of gin!
Hugo Wertheim originally was just an agent for Josef Wertheim and initially he imported harmoniums, pianos, bicycles and sewing machines and also began to import Electra bicycles, Hapsburg Pianos, described in his brochures as Sweet Hapsburg Pianos and organs.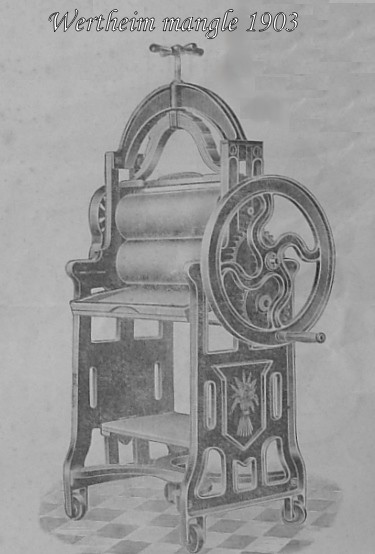 Hugo also displayed in his showrooms the latest 'Patented Wertheim Home Wringer and Mangle'. Just the perfect way to spend an afternoon wringing out clothes! Ah how they lived then. The good old days. The mangle was also advertised as the Stirling Wringer & Mangler.
From what I can ascertain most of Hugo's goods that he later had made in Australia were direct copies of his European counterparts. Of course few manufacturers from America an Europe bothered to take out patent protection in Australia so copying would be no problem.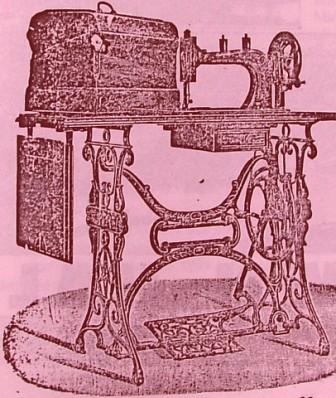 Early woodcut of the Josef Wertheim High-Arm model of 1890-910
Hugo opened showrooms in Bourke Street and Collins Streets. Wertheim initially re-badged his imported pianos as "The Planet sewing machine" and "Habsburg sewing machine."
Hugo also opened premises at 173 William Street, Melbourne and he was certainly there in 1881. There was also a sales outlet at 107 Rundle Street, Adelaide. He soon established a successful business and was apparently an excellent salesman. While researching Wertheim I have come across seven addresses so he moved around!
Wertheim sewing machines
New Zealand distributor
Robert Lochhead
Dunedin, NZ.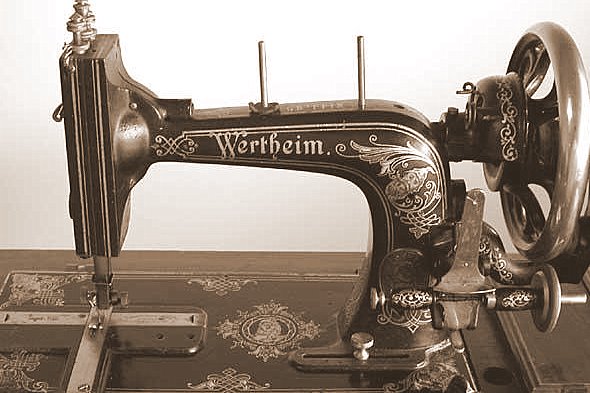 The Wertheim Art Nouveau High-Arm Transverse Shuttle sewing machine of 1890-1910 is almost identical in every way to the Superba made by Junker & Ruh of the same period. The addition of a needle chart on a small metal rectangular plaque on the right hand side, above the maker or agents brass badge, was often a pointer to Junker & Ruh of Baden, German.
It became obvious that importing machines from across the world was no easy task. Communications were slow and laborious and stock was impossible to get right. Can you imagine with Victorian communications trying to get the correct stock from one side of the world to another. When the supply ship arrived it was probably carrying too much of some stuff and not enough of others. Hugo would have to wait months for more replacements. Something had to be done.
Wertheim Mangle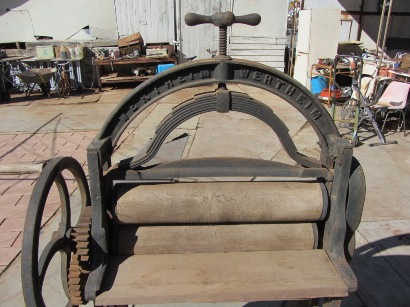 The real deal sent in from Chantelle in Australia.
Octavius Charles Beale (1850-1930), was, for a time, a business partner of Hugo and worked with him in Melbourne. Beale moved to Sydney and started his own piano and sewing machine factory. They produced a small range of sewing machines such as the 'Beale Torpedo' and some beautiful pianos.
Beale had an agreement with Hugo to distribute sewing machines under the Beale name in New South Wales.
To make or not to make that is the question?
The answer was to manufacture the goods that he was importing. Now some say that Wertheim sewing machines were not made in Australia and some say of course they were, the 400 plus workers at the factory could not just have been making pianos and prams or could they?
I don't know the real answer yet. It may seem obvious that they were manufacturing sewing machines but as yet I have no positive proof. If you have any evidence please mail me: alexsussex@aol.com
Barbara in Australia kindly sent me some information in December of 2015. The paperwork with her 1902 Wertheim Griffin has a receipt in it from Hugo Wertheim, Adelaide. The receipt and the machine clearly say Made In Frankfurt, Germany. SO we can say that at least in 1902 the machines were still being imported from the fatherland.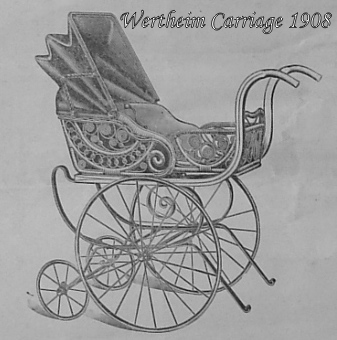 Wertheim carriages, steel sprung with India rubber tyres, were also sold under the Minerva brand as Minerva Baby Carriages and could hold up to three kids.
About the same time around, the turn of the century, Wertheim sent his eldest son, Herbert, to learn the piano manufacturing trade in the United States and tour the continent before returning to run the new Melbourne enterprise. His newly gained knowledge would have been a terrific boost to the designs of their own goods.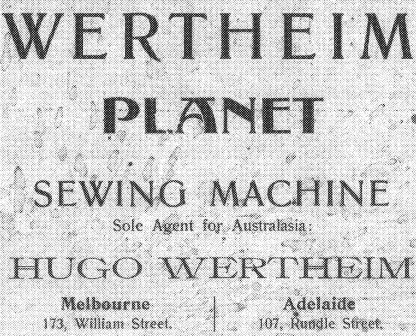 The Wertheim Planet was a a vibrating shuttle machine circa 1920. Note how it clearly states Agent, not manufacturer.
In 1903 Hugo opened new retail depots at 296 Bourke Street, Melbourne, and 175 Chapel Street, Prahran. The Wertheim Piano Factory was built in Bendigo Street, Richmond in 1908 and became an enduring landmark in the area. For the last 50 years part of the old factory had been used by Heinz and part by GTV9 TV studios but in 2013 the building was sold for redevelopment into flats.
The new factory cost some £75,000, intending to produce 2000 pianos a year. There must be a fair number of them still playing away today.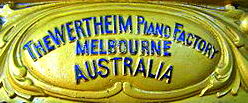 It is said that Dame Nellie Melba would not perform on stage unless she was accompanied on a Wertheim piano! WOW. Fussy or what! Legend goes that the Australian pianos had a richer quality sound to them. A Model 5 inlaid with cherubs and a sailing ship was sold at Young's Auctions in Hawthorn in the 1980's for $5,000.
In Brisbane, the Wertheim Company set up a showroom in Queen Street near the Customs House. They sold and serviced pianos and sewing machines there until the late 1920s.
The factory and business was a huge success and at its height his factory in Richmond employed over 400 people. Many Wertheim pianos and sewing machines survive to this day in Australia and there is a lot of information on him and his machines available online so I won't bore you here.
I believe Hugo Wertheim died in 1919 and was buried in Brighton Cemetery. The piano factory finally closed in 1935.
After the First World War any German name was frowned upon and few people bought German products. The solution for the Wertheim sewing machines were to be renamed The American National. There is some talk that the Wertheim Company did import sewing machines from America for a short period possibly from National.
Wertheim Germany
Back to Superba and the German Wertheim factory. All the Superba sewing machines made by Wertheim in Germany were of top quality and the name Superba survived for decades.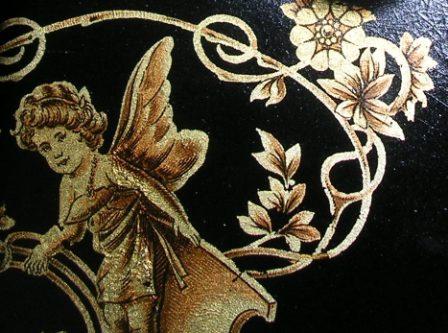 This little cherub is on the Superba Sewing Machine of 1890. Attention to detail was a strong point of Wertheim (and most of the German manufacturers) their machines were built to last a lifetime.
Wertheim also produced many models with there own brand name across the arm and carried on with model numbers relating to the alphabet A-M. production slowing down like many German manufacturers after the slump in sales post World War One (no one wanted to buy anything from Germany) but carrying on with minor exports, especially to South America.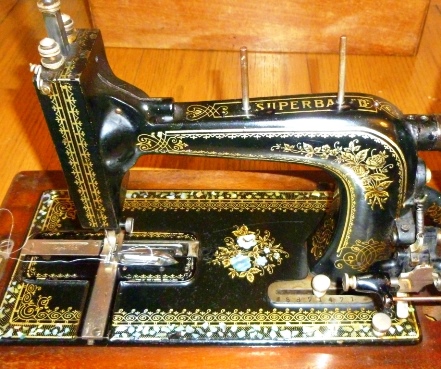 The beautiful Art Nouveau Superba Model D sewing machine circa 1890. How breathtaking is that, truly a work of art and engineering combined.
So if you have a Wertheim Superba you are the proud owner of a fabulous piece of early German engineering to the highest of standards. They say in 1900 a Superba would cost six months wages! Work that out today and you see why they have lasted so long.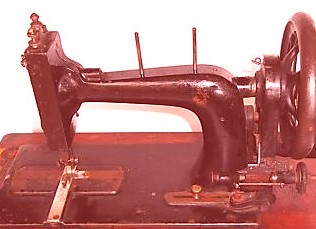 The Wertheim Griffin Sewing Machine circa 1900 still using the obsolete transverse shuttle and 12k needle from 1865.
The Planet 'M' Model Wertheim sewing machine and the Central Bobbin or CB model were introduced prior to the first world war and the Planet sewing machine was equivalent to the Singer Model 27 vibrating shuttle machine.
Wertheim also produced other models such as, Electra, Planet, Griffin (above) and Hapsburg. In Australia there were names like Triplex, Family, Saturn and Electra sewing machines.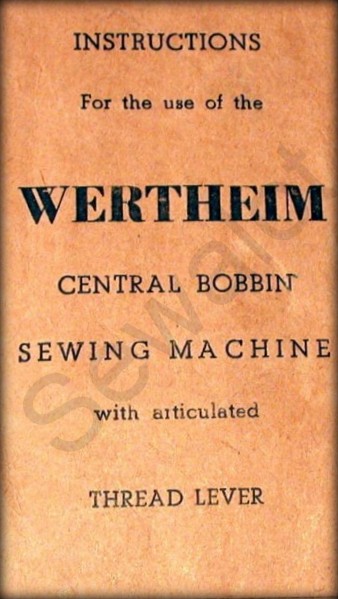 The last Wertheim sewing machines were excellent copies of the Singer model 15.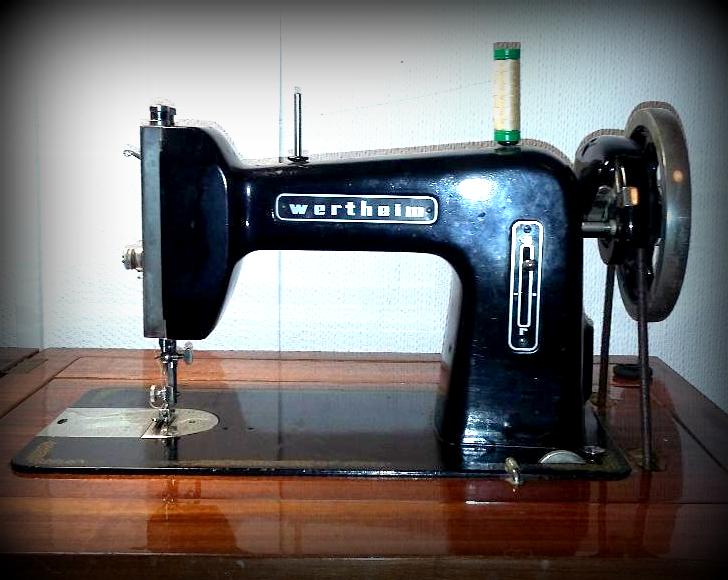 Later Wertheim models may have lost the wonderful style and decoration but they were reliable sewing machines. Here is the copy of the Singer 15 circa 1930.
Learn about the giant of the sewing industry
No1 New Release No1 Bestseller Amazon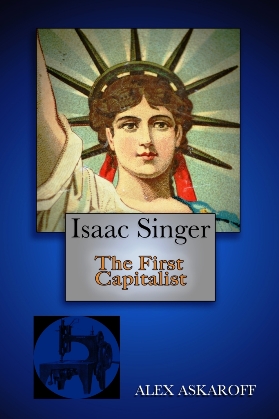 Most of us know the name Singer but few are aware of his amazing life story, his rags to riches journey from a little runaway to one of the richest men of his age. The story of Isaac Merritt Singer will blow your mind, his wives and lovers his castles and palaces all built on the back of one of the greatest inventions of the 19th century. For the first time the most complete story of a forgotten giant is brought to you by Alex Askaroff.