A very brief summary of the Hengstenberg Sewing Machine Company of Bielefeld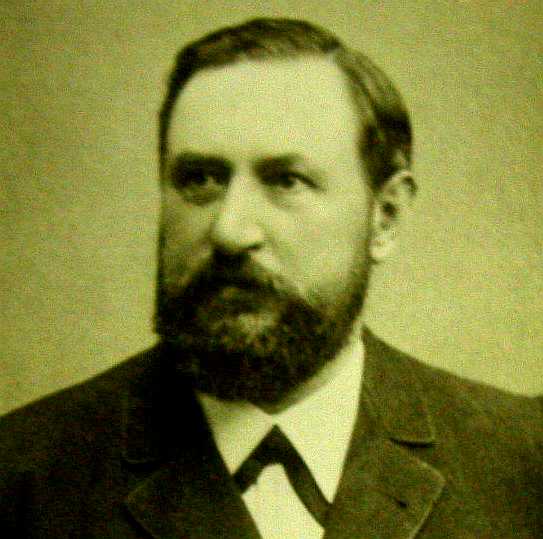 Hugo Hengstenberg of Bielefeld
Born 7.9.1845 in Claswipper. Died 07. 1911, Bad Neuenahr.
Carl Schmidt & Hengstenberg Sewing Machine Company
Carl Schmidt had set up a factory making sewing machines in Bielefeld, Germany around 1876. Schmidt had already been in business since 1867 with Nickolaus Durkopp and had considerable experience in the sewing machine field but he had split away to form his own company. In 1878, aged 33, Hugo Hengstenberg joined forces with Carl Schmidt.
Hugo followed the same path as countless other manufactures of the period and copied the best selling machine of the day which was the Singer model 12 New Family Machine of 1865.
Now what set Hugo Hengstenberg apart from other suppliers was his speciality of decorating his machines with spectacular mother of pear inlay. This time consuming art form brought his machines into a different market. Hugo used the designs of Heinrich Wittler on several of his machines.
The Regina Sewing Machine by Hugo Hengstenberg was a glorious work of art that also sewed.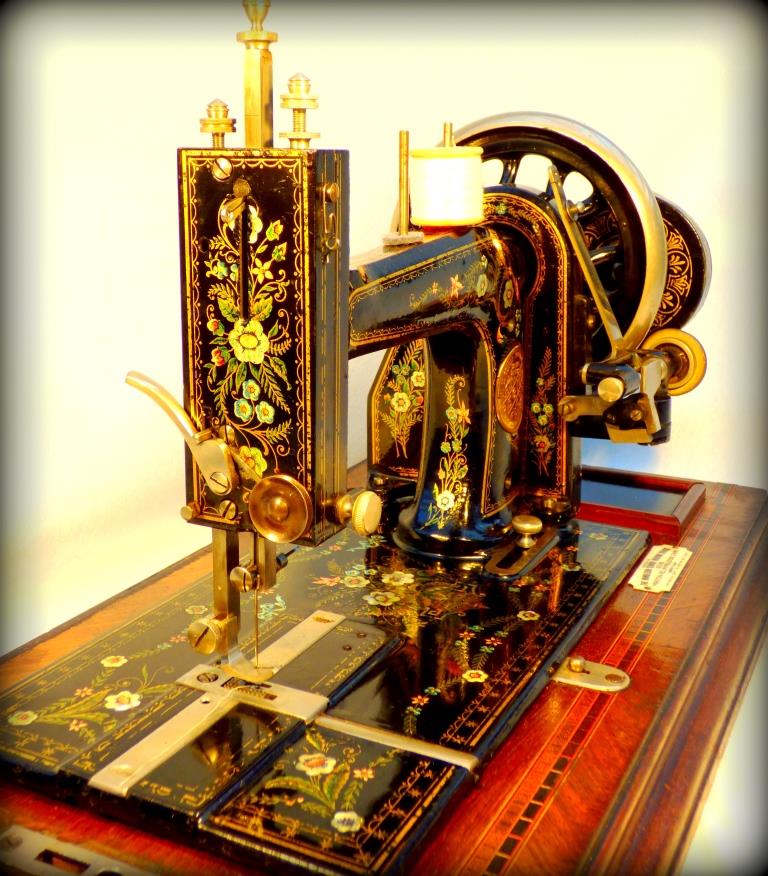 Inlayed with luscious mother of pearl the machine must have literally shone out of the showroom windows.
The High Arm Transverse Shuttle machines they produced that were sold by distributors such as J. Silberg of Hamburg, carried the company badge of a three-towered castle. The centre tower was a church dome-which was above an open gate to the city. The castle was wrapped in a band-like a silk flag.
Bielefeld Sewing Machine Company
Within five years Schmidt had left the company and in 1884 the company was renamed the Bielefeld Sewing Machine Company. These were now the boom years for Hengstenberg sewing machine production with numbers rising yearly. By the early 1890's the huge factory was producing over 700,000 sewing machines a year.
Hugo also had a free range and his machines proved very popular. They were made extremely well to the highest German manufacturing standards. The engineering of these hand built machines was so good that all these years later many of his machines are still sewing perfectly.
Regina Sewing Machine
Exclusively for
The London & P.M. Company
33 Battersea Rise
London
However, Hugo was a busy boy and found that there was an expanding market not only in sewing machines but also bicycles and so the company was renamed once again to reflect this. In 1895 the company changed its name to incorporate these supplies.
Hengstenberg Sewing Machine and Bicycle Manufacturing Company
Now one of Hugo's' great strengths was that he would sell to almost any agent in any country so many Hengstenberg machines turn up in different guises and with different importers badges. How do you spot a Hengstenberg?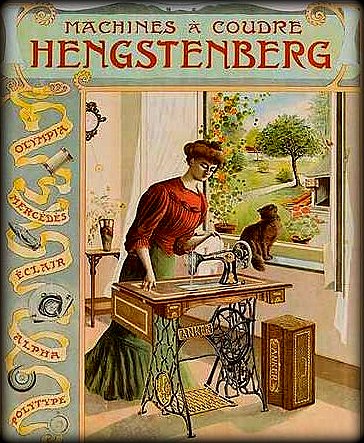 Here you can see the later Anker-Hengstenberg sewing machine circa 1906
There are several unique features of the Hengstenberg machines besides the company badge. They used several names that I have tracked down.
The Westfalia Sewing Machine.
The Saxonia Sewing Machine.
The Anker Westfalia Sewing Machine.
The Robina Sewing Machine.
The Regina Sewing Machine. This was sold over a long period in several guises.
The Mercedes Sewing Machine' (not the later Chinese copy of the 1970's).
The Olymppia Sewing Machine.
The Eclair Sewing Machine.
The Alpha Sewing Machine.
The Housewives Delight Sewing Machine.
They often used the Greek style-interlocking pattern on many of their models and often a spring loaded catch on the base of the machine to secure the machine to the wood base. On the hand-crank cover-wheel there is a small lump at the top that houses the upper gear case screw, this is a unique feature on his machines.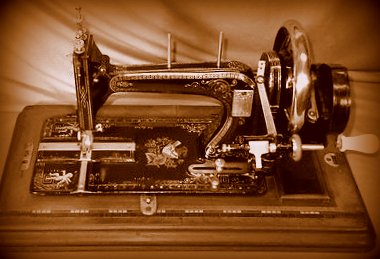 The Robina sewing machine was beautifully decorated with a central robin and cupids at each corner. Notice the central catch to release the bed.
After religious persecution some families fled from Germany to many parts of the world. These machines often turn up in Australia where German immigrants moved, taking there precious machines with them.
Hengstenberg & Co
By 1900 the company was making a large range of machinery including cash registers. The company decided to expand once again, this time into office machinery and carried on successfully producing multiple items.
Anker Werke AG
In 1906 the company became Anker Werke AG and became better known for its cash machines, registers and typewriters. From this point on the brass emblem or badge showing the trademark incorporated and anchor and several of their machines were decorated in nautical themes, boats and birds.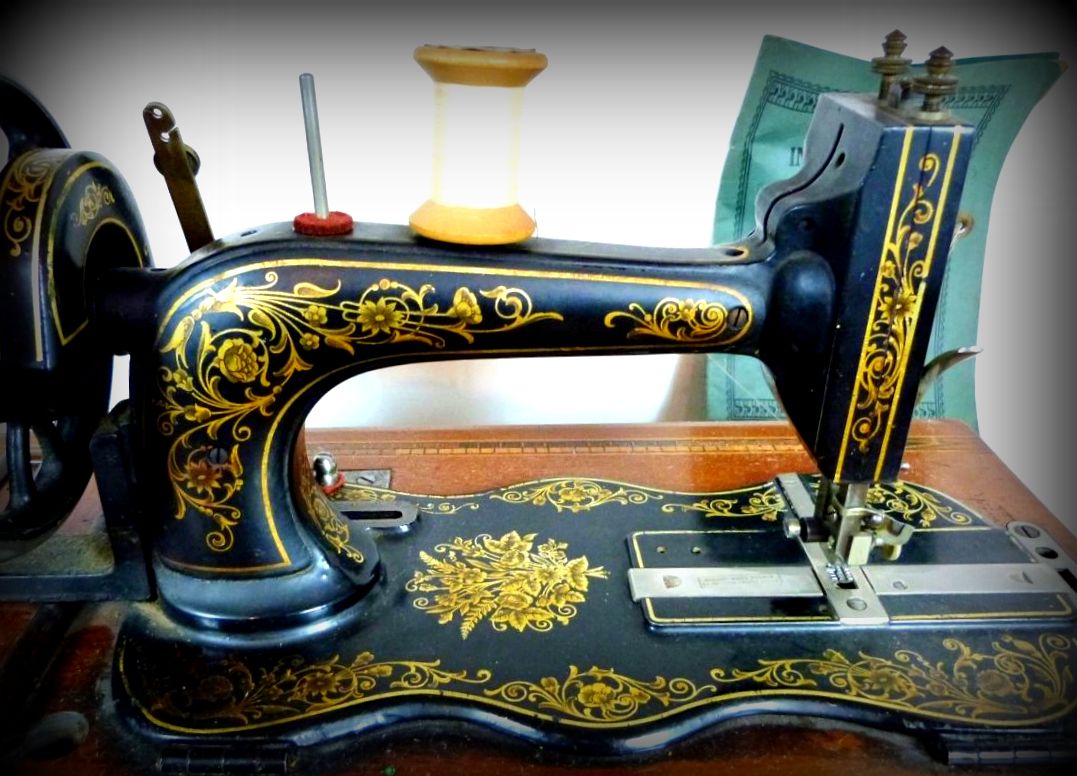 This beautiful Hengstenberg Fiddlebase went for over $1,000 with postage on an Internet auction a few years back. Beautiful machines have always been a sound investment.
By the end of the 1940ís the company concentrated its production capabilities to just office machinery.
Hengstenberg Sewing Machines were beautifully engineered and are sought after by collectors worldwide. When set properly they still sew better than many modern machines.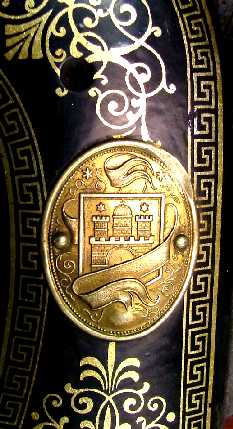 Company badge of J. Silberg of Hamburg. One the distributors of Hengstenberg Sewing Machines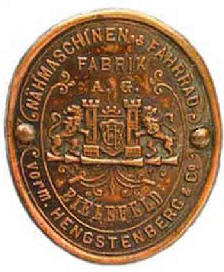 Hengstenberg Sewing Machine badge
OUT NOW!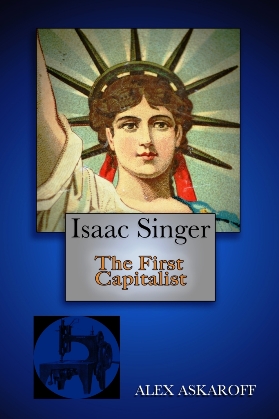 Most of us know the name Singer but few are aware of his amazing life story, his rags to riches journey from a little runaway to one of the richest men of his age. The story of Isaac Merritt Singer will blow your mind, his wives and lovers his castles and palaces all built on the back of one of the greatest inventions of the 19th century. For the first time the most complete story of a forgotten giant is brought to you by Alex Askaroff.
News Flash! Alex's books are now all available to download or buy as paperback on Amazon worldwide.
"This may just be the best book I've ever read."
J Vincent Horam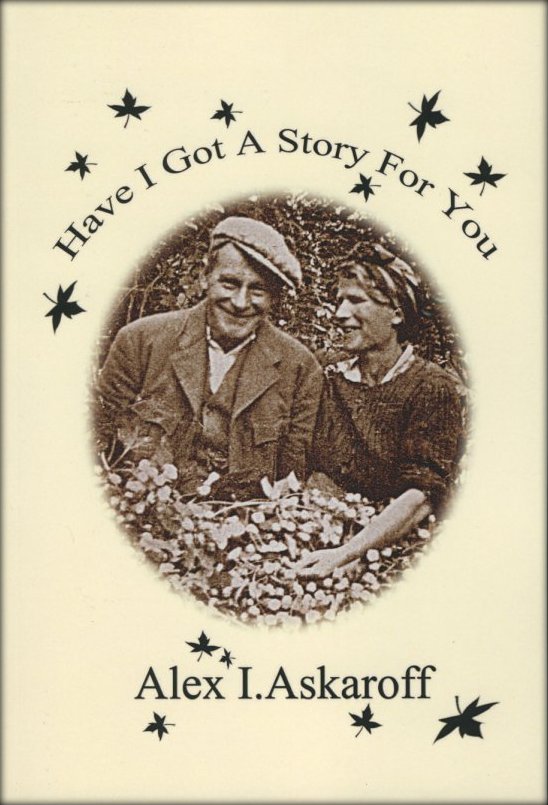 "My five grandchildren are reading this book aloud to each other from my Kindle every Sunday.
The characterization is great; both heart-warming and funny, and the story never lags.
I enjoyed not only the story, but watching my grandchildren's delight in hearing it.
The illustrations are the best I've seen in a very long time.
Anne Lancaster USA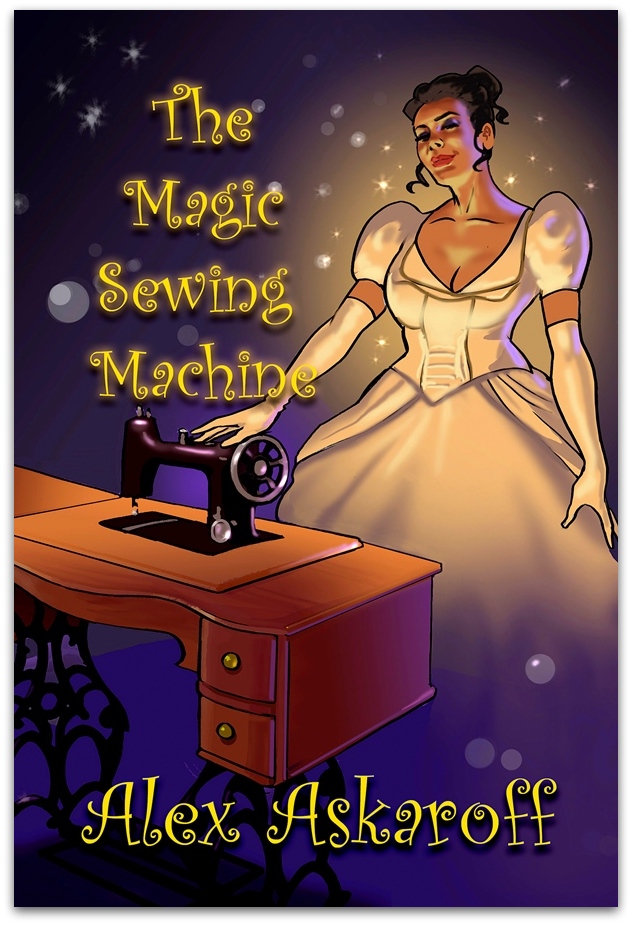 If this isn't the perfect book it's close to it!
I'm on my third run though already.
Love it, love it, love it.
F. Watson USA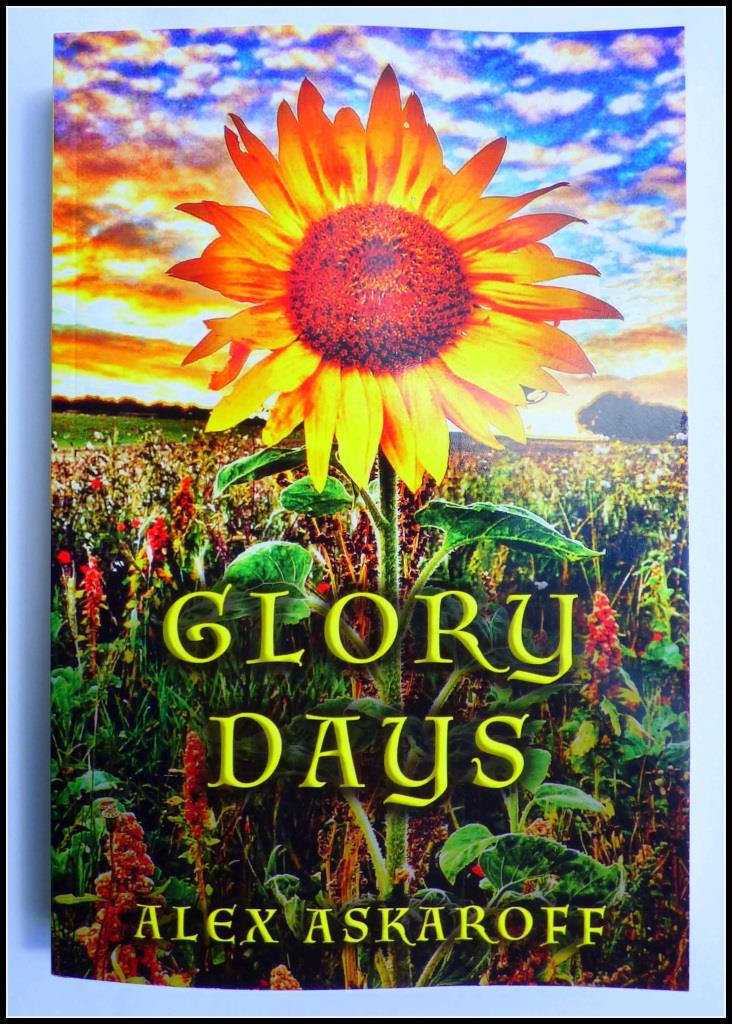 The way it's written you can just imagine walking beside him seeing the things he does.
Definitely look forward to reading more of his adventures.
Amazon FIVE STAR review
News Flash! Alex's books are now all available to download or buy as paperback on Amazon worldwide.