Mother of Pearl sewing machines
Japanning
Many early sewing machines were covered in a tough black gloss, a process known as japanning. A black liquid was applied to all the surfaces of the sewing machine then baked in an oven to harden. Japanning has proved to be one of the best ways of protecting the cast iron sewing machines with a luxurious and hard wearing surface.
Guess where Japanning originated? If you did not guess Japan go and sit in the back of the class for a hour! Actually although the Japanese perfected the black shiny coating it was popular in Asia and China for centuries, basically as decoration for pots and other objects. Even the Egyptians used a form of japanning for preservation of bodies.
Recipe for Japanning
Originally Japanning was a mixture of naturally occurring substances such as turpentine oil and Ashphaltum but a petroleum based coating soon took over in the sewing industry.
Early mixtures were not all the same but here is one recipe, Naples Asphaltum, Gum Anime (from the Jatoba tree) and linseed oil. Basically you boil the lot up for a few hours then dip the item (you want covered in it) and allow it to dry. Sometimes the mixture was darkened with finely ground charcoal or something similar. Sewing machines needed several coats of Japanning to give them hardwearing protection and each coat was baked in an oven for hours before repeating.
Mother of Pearl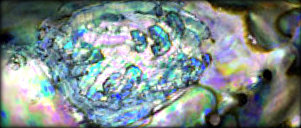 Mother of Pearl decoration has been used since Stone Age times.
Now, after japanning sewing machines were decorated, some with gold leaf, some hand-painted, some with transfers and decals. But also some had Mother of Pearl, which was hard wearing and looks beautiful.
It made the few sewing machines that were chosen for 'pearling' more a thing of beauty than just an object of work. These machines were advertised and sold as 'pearled'. Nearly all the major sewing machine manufacturers attempted some mother of pearl sewing machines during its late 19th Century heyday.
The Mother of Pearl was mainly made from several natural shells such as Abalone, edible sea snails, common oyster shells, Nautilus shells, nacre and many more.
The most commonly used decoration is Abalone or Sea Ears. They are widespread in coastal waters. They cling to rocky surfaces with a strong foot and filter out algae from the tides. As they grow they develop a beautiful inner shell varying in colour from shiny pink to silvery white but purples, greens and blues are also often found. They have a similar makeup to oyster pearls and shimmer with an iridescent light.
Mother of Pearl is also extremely hard wearing making it popular in jewellery.
The Superba High Arm sewing machine circa 1890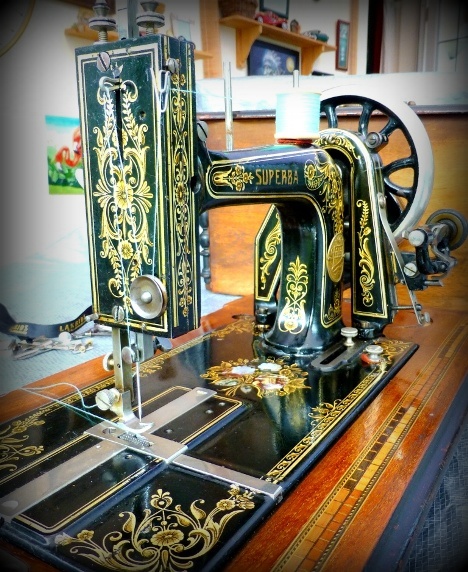 The main bed display was Mother of Pear and gold decoration. Nearly all the early sewing machine manufacturers used MOP for their best machines.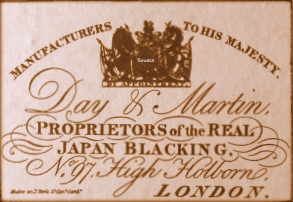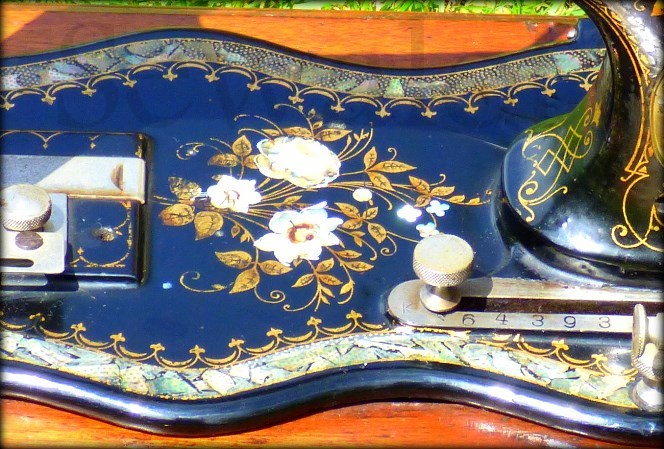 Even on this worn bed you can get an idea of how the Mother of Pearl shines through lifting the black of the Japanning
Initially broken shaped were placed in the japanning but as the craft blossomed complex mother of pearl shapes were crafted onto the finest sewing machines. Craftsmen cut out delicate shapes in the pearl shells and stuck them, in many designs, onto the sewing machines. Then several coats of japanning are added, completely covering the Mother of Pearl.
After baking and cooling several times the laborious task of scraping and polishing down the japanning took place, until the Mother of Pearl was revealed. This task can take up to 20 hours of polishing but leaves the Mother of Pearl and the black japanning perfectly level. The Mother of Pearl shines out of the blackness like stars in the night sky.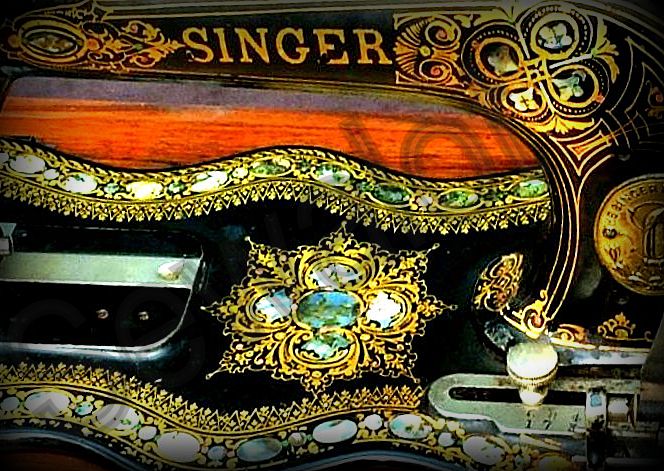 Singer did not get left behind with Mother of Pearl and if you paid the price you could have one of their model 12 machines beautifully decorated.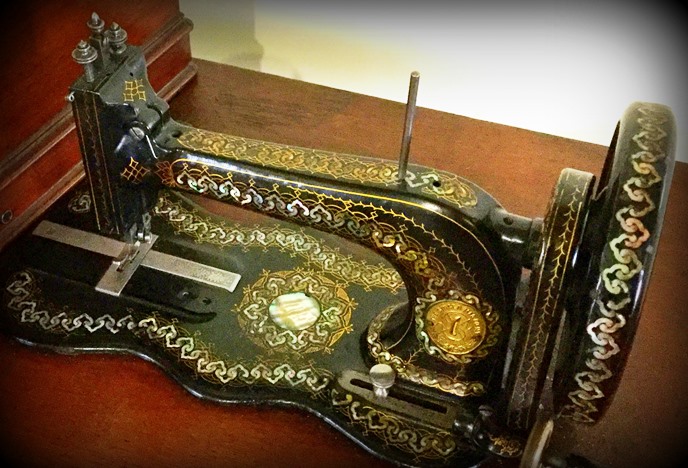 A pearled Singer sewing machine. Look at the amazing craftsmanship that has gone into cutting and setting the mother of pearl.
The whole machine was then decorated with gold, (around and over the Mother of Pearl). The result is a stunning piece of work looking more like jewellery than a machine meant for use. Only the most expensive sewing machines had Mother of Pearl added as the time, work and cost was enormous.
By 1900 with labour costs rising it became uneconomical to add MOP to sewing machines and the decoration slowly faded out in the sewing machine industry. The heyday was 1870-1899.
Today you get plastic. What a difference.