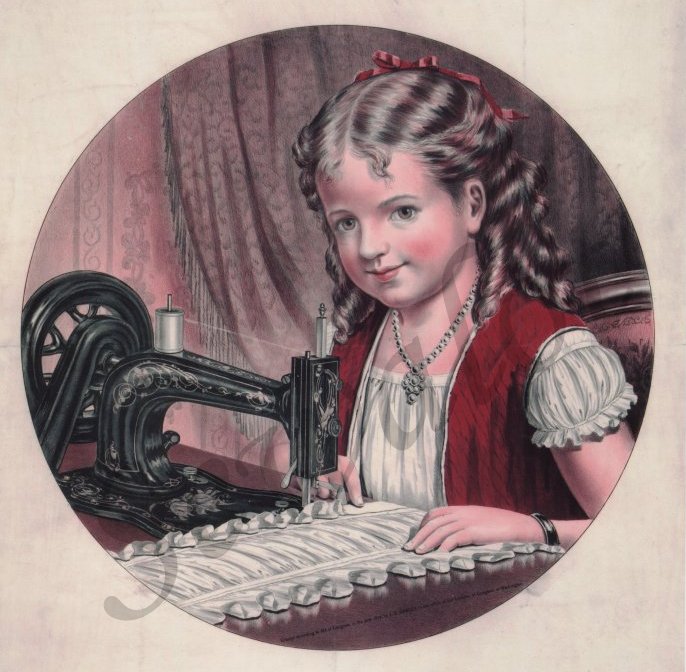 Collier & Sons
Established 1852
London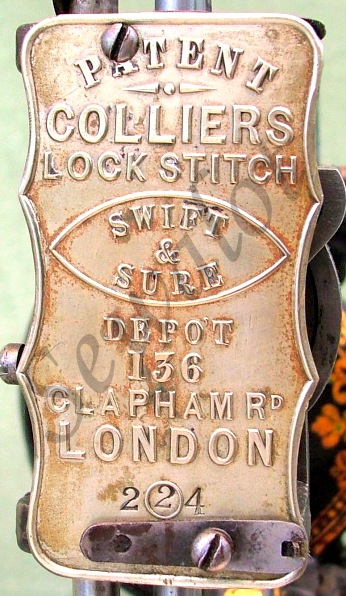 Collier & Sons Chief Offices, 134, 136, 138, 140 & 142 Clapham Road London SW.
Colliers sold sewing machines for decades. Although they regularly turn up, today there is almost no trace of the once famous stores that dotted the outskirts of London from Victorian times. For over 80 years they sold countless numbers of sewing machines.

Job Collier was born in 1817 and by the time he was 35 he was a skilled draper and by 1852 had started Colliers haberdashery and millinery supplies. Job Collier was right at the birth of the sewing machine industry in Britain. I believe that his first premises were at 136 Clapham Road, London. The drapers shop grew into a large hardware and haberdashery supplier which stretched along Clapham Road buying adjacent shops as they expanded they then proceeded to operate from stores all around London.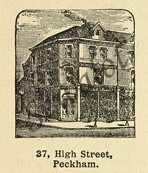 J. Collier & Sons Ltd 53, 55 & 57 High Street Peckham
Today there is no sign of the huge main store in Clapham Road that once must have been a sight to behold. I have to wonder at its complete disappearance. Was it from bomb damage during WWII or simply area redevelopment?
"All our machines have stood the test of time and come with original Willcox & Gibbs or Wheeler & Wilson needles. Full instruction given at residence free of any charges for all sewing machine purchased from Collier & Son's."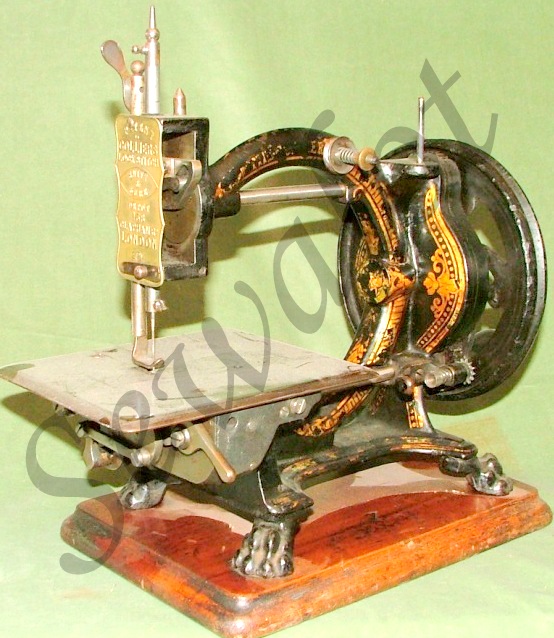 This is the rare Collier Swift & Sure made by the Royal Sewing machine Co of Birmingham. Now part of my Sewalot Collection and rather dusty! I must get the polish out more often.
Royal also supplied the Collier Octagonal sewing machine which Job Collier had helped design and register (similar to several American machines of the period like the Gold Medal sewing machine). The last Collier I saw of this type went for over £1,000 in Feb of 2013. I have an image of the Collier Octagonal sewing machine further down this blog.
By the 1870's, Dad, along with the help of his two sons Joseph Ebenezer Collier and Charles Henry Collier ran at least three stores including one in Putney Road, London. During this period they were expanding at a rapid rate to meet the late Victorian boom in wealth and sewing.
Initially they had bought sewing machines that were being supplied from all the big boys like Singer and Howe, Wheeler & Wilson and Grover & Baker. However with sales booming in the London suburbs they had a captive market and looked for their own badged sewing machines. Their customers could purchase these models without competition from sharp competitive pricing. Both Joseph and Charles became proficient at demonstrating and servicing their sewing machines and regularly delivered, set up and demonstrated the sewing machines in customers houses.
Now, Colliers were supplying the complete package, from needles and thread, to fabric and machines. However they were not stopping there. Basically Colliers eventually supplied just about everything that the area demanded.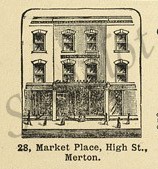 Collier & Sons Ltd 28 Market Place & 190 High Street, Merton.
You must have noticed on the Antiques Road Show how so many items date from the late Victorian period. It was a time of huge prosperity for Britain. Many city houses had running water, electricity was coming in fast and some even had flushing toilets inside the house! There's posh.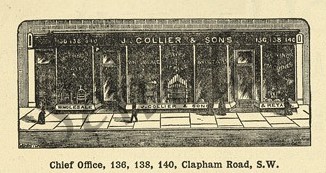 Collier & Sons Wholesale and Retail at their Clapham Road showrooms.
In 1893, aged 76, Job Collier died and the sons later took on J B Keevil as partner. By the turn of the century Colliers had expanded to over nine shops supplying everything from pianos to kitchen sinks, stockings and even horse feed. They had become the one-stop-shops for their areas.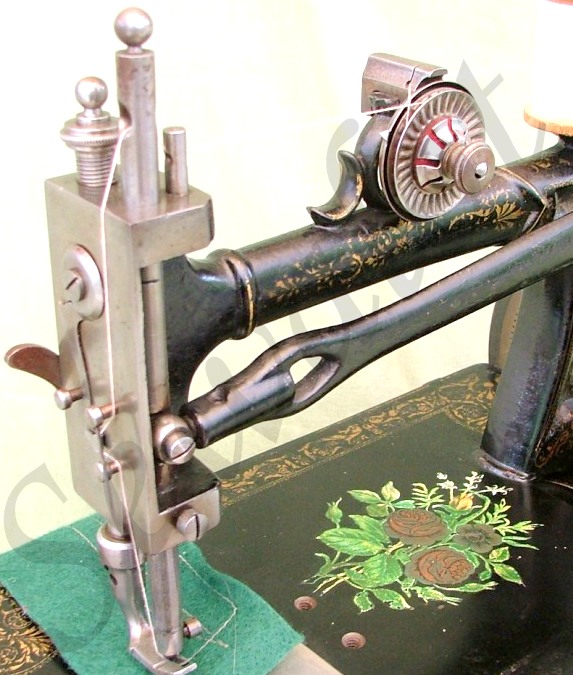 The Collier Advance used several American patents like the tension threading normally seen on an Elias Howe machine. The machine was probably from Howe or a similar German copy.
Before the 1890 Trades Description Act any supplier could clearly mark their items as made by them, which was not the case and misleading. Colliers was one of the countless firms that bought in sewing machines to sell and marked them as 'made by Colliers' but I am unaware of any manufacturing ability from them. The machines were made by sewing machine makers here and abroad and marked with whatever Colliers wanted on them.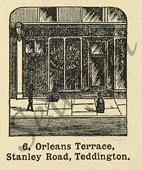 Collier & Sons Ltd 6 Orleans Terrace, Stanley Road, Teddington.
After the Trades Description Act Colliers simply changed the marks on the sewing machines to 'supplied by Colliers' instead of 'made by Colliers'. This way they applied the letter of the law and described their goods correctly.
There were a whole range of Collier sewing machines such as...
The Collier Excelsior, by Wright & Mann
The Collier Pillar sewing machine.
The Collier Hexagonal circa 1870.
The Collier Swift & Sure, circa 1880.
The Collier Alert, chain stitch sewing machine probably made by the Hamburg Guhl & Harbeck factory.
The Collier Advance sewing machine.
The Collier Victory ,sewing machine which sold for two guineas in 1880.
Collier Silent sewing machine.
Collier New Silent A sewing machine.
Collier Rotary Shuttle sewing machine.
The Collier No 4. Made by Jones in Manchester.
Collier Dressmaker sewing machines models 1-7, which came with great testimonials.
Collier Vibrating Shuttle sewing machine. Their VS model, based on the popular 1895 Singer VS was the last of their machines before closure.
"I have had your Collier Dressmaker sewing machine for six years and the machine has never been out of order. Not one fault has presented itself and I would recommend this machine to anyone wishing to work the finest muslin or the stoutest cloth."
Mrs George. No9 Bellenden Road Peckham, London.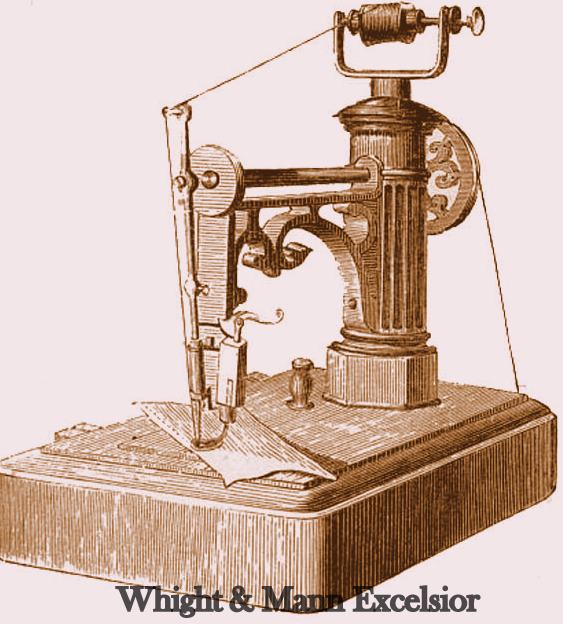 It is Possible that the first sewing machines that Collier's sold under their own name were the Whight & Mann Excelsior followed by the Collier machines from the Royal Sewing Machine Co of Birmingham and then serpentine Princess possibly by Jones. They then started importing and buying from agents selling a whole range of Collier sewing machines from all over the world.
The Collier Advance of 1875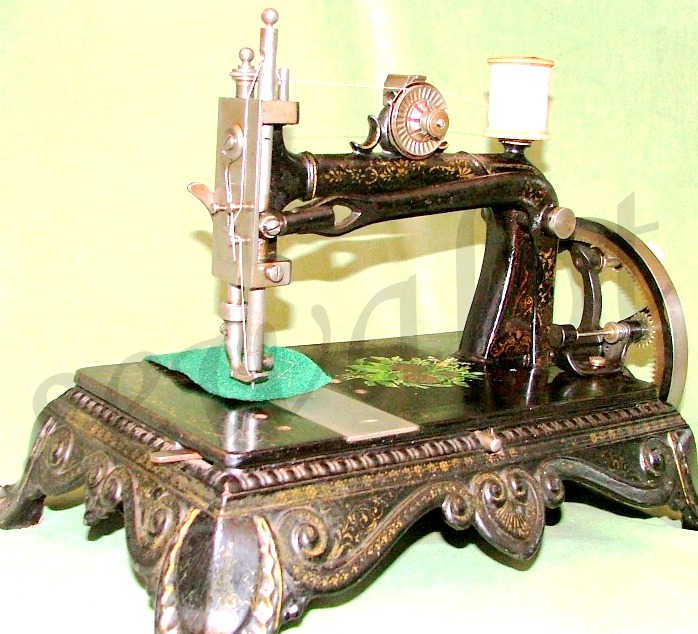 The Collier Advance in my Sewalot Collection, (also sold as the Brunonia Sewing Machine). It was sold around 1870-1880 by Collier & Son's hardware store which had by then expanded to ten shop fronts from 132-142 Clapham Road, London South West Nine, which is the main A3 road into the centre of London.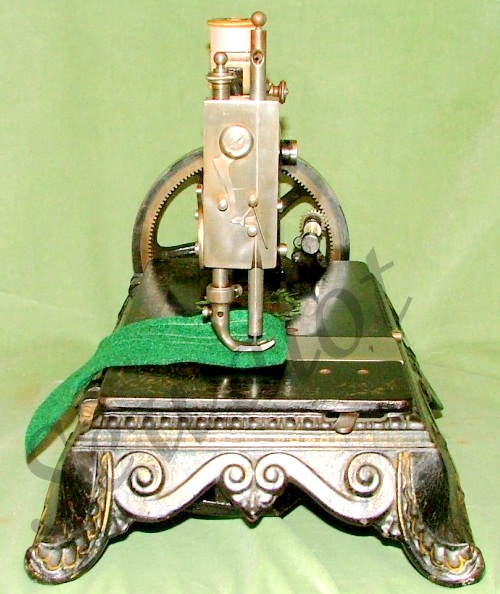 The Collier Advance sewing machine.
"I have owned the Collier Advance sewing machine for over five years and it has been in constant use. The machine has given me unbounded satisfaction."
Mrs Hetty Shrimpton, 80 Hugo Road, Tufnell Park, North West London.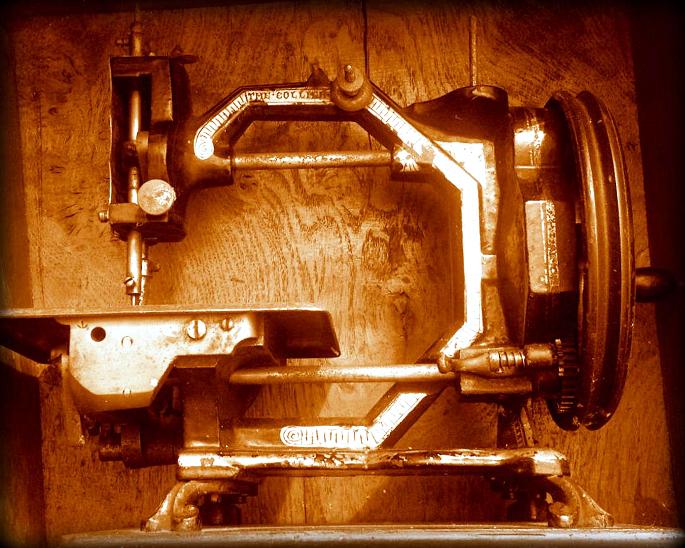 The rare Collier Octagonal Sewing Machine probably made by one of the main middle England manufacturers like the Royal Sewing Machine Co.
Colliers imported and sold machines for many years from the 1860's under their Swift & Sure trademark, buying the best that was available at the time and selling them under their own brand. Their shops sold everything from lead paint to asbestos sheeting, things that today have long been banned but were everyday items back then.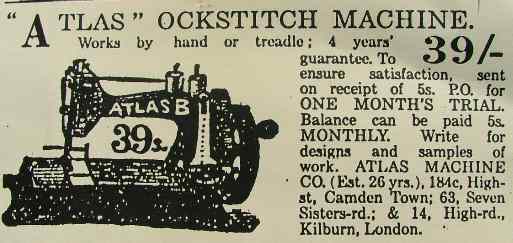 Collier & Sons Ltd, 76 King Street, Hammersmith.
They stocked well known sewing machines from British makes from Middle England like Jones from Manchester and Whight & Mann from Ipswich as well as Wheeler & Wilson, Howe and Willcox & Gibbs from America.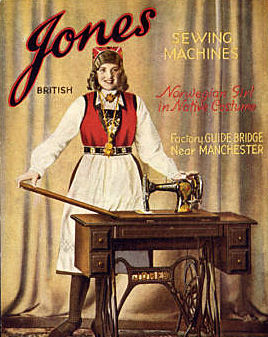 Tracking the manufacturer of the Collier Advance sewing machine has been tricky as it similar to the Brunonia, Co-op, Brunswick Special, Howe and Atlas Model A from the Atlas Sewing Machine Co of 82 High Street Camden, London. Atlas imported from Grimme & Natalis Sewing Machines. G&M was formed in 1871 by Carl Grimme and Kaufmann Natalis. The company produced wide range of sewing machines from their factory in Braunschweig, Germany.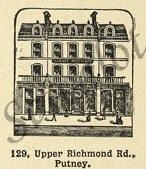 Collier & Sons Ltd, 129 Upper Richmond Road, Putney.
Charles Bradbury of 37 Torrens Road Brixton, South West London was the company's Wholesale Agent in Great Britain from 1883 to 1895.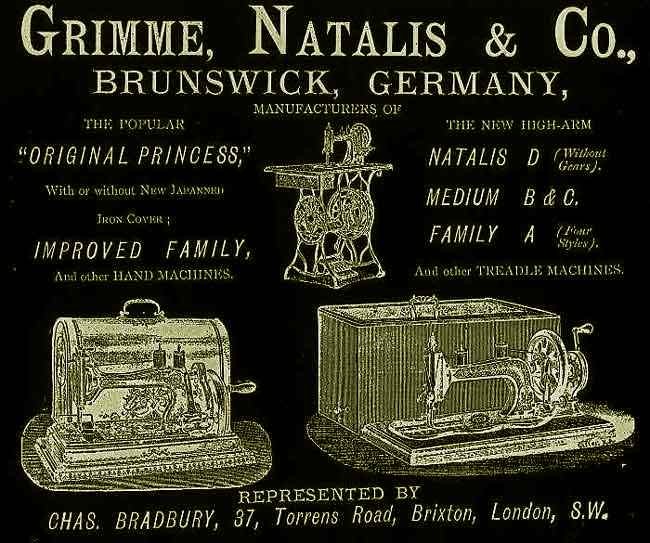 Collier & Sons Ltd, 137 Balham Hill, Balham.

The difference with this early Colliers Advance model is its extremely high quality, ornate castings and early tension device similar to Elias Howe machines.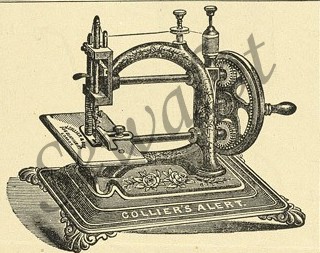 The Collier Alert sewing machine was a chainstitch Original Express model from Guhl & Harbeck, Germany.
Bradbury/Atlas was the most likely supplier of several models. They bought machines from the 300 plus German sewing machine manufacturers like Haid & Neu, Bach & Klie, Seidel & Naumann, Adler, Pfaff, Wertheim, Gritzner, and Frister & Rossmann.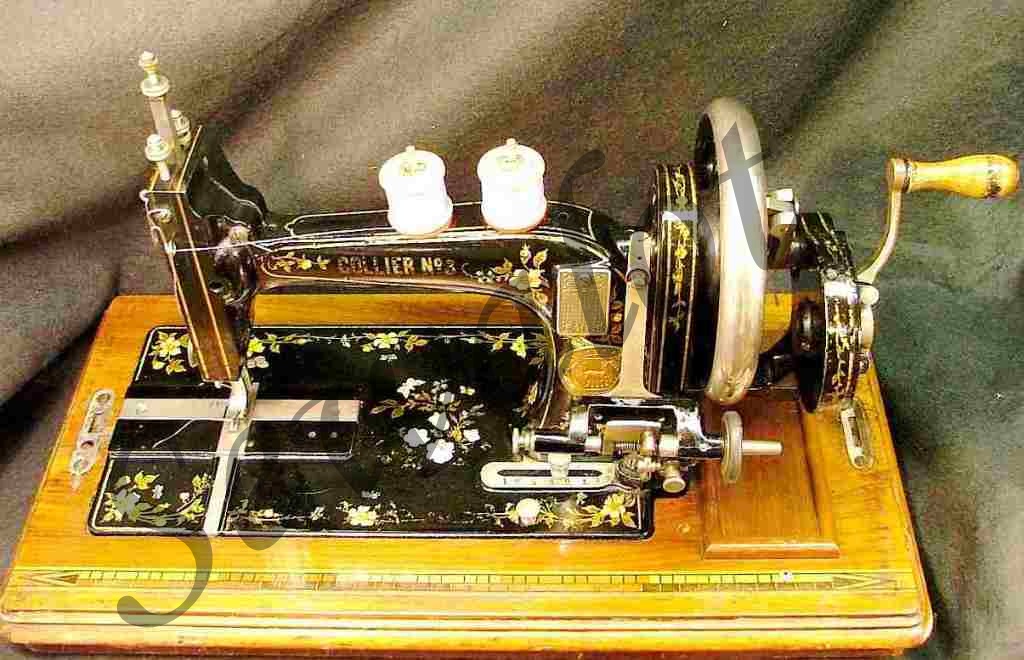 Here is the Collier No3 Sewing Machine circa 1885. A typical German High-Arm model later copied by Singers with their Singer 48k.
Looking at the unique mechanism and superb quality of the Collier Advance sewing machine the most likely manufacturer was Bremer & Brückmann or Grimme & Natalis who were both for a time, prolific German manufacturers of sewing machines.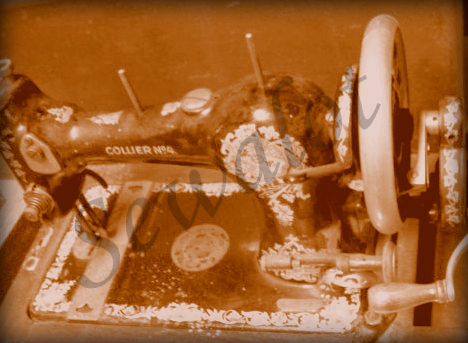 This rough diamond is the Collier No4 which was made by Jones in Manchester and starting to look like all the other late Victorian/Edwardian machines.
Early models incorporated the Howe and Grover & Baker principles which would have been used under licence from the American companies. The brass main gear on the Advance is unusual as they were quickly replaced with less expensive steel gears however it makes the machine beautifully smooth and quiet. The ornate castings and lavish detail was only put onto the best machines and the quality of the workmanship from these Victorian craftsmen is a pure delight.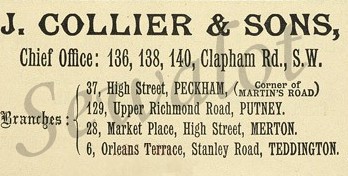 Collier & Sons Ltd 88 Rushey Green, Catford.
After a while with all the new machines Collier's started to number their models No2, 3, 4, 5,etc. By the Model No4, which was a Jones machine from Manchester, the machines started to look like all the other machines on the market, practical but not so exciting.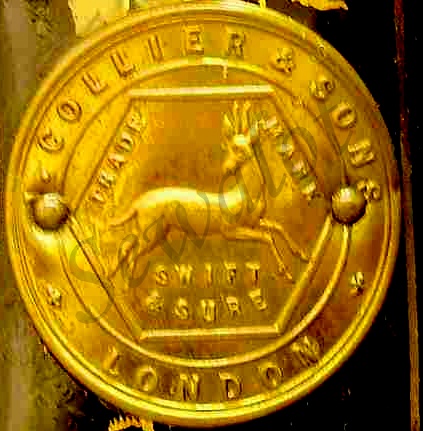 Colliers Swift & Sure trademark
Collier No7 Sewing Machine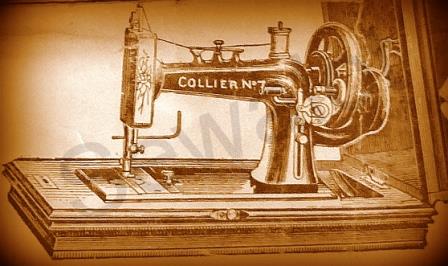 The Collier No7 sewing machine was an American import probably made by New Home around 1900-1910. It was lighter than other sewing machines of the time but that led to cracks in the castings if handled badly. One of the flaws was the machine would crack straight through the cast iron bed. By the time this model was on sale at Collier & Sons they had stores all over London with their Head Office in Clapham Road.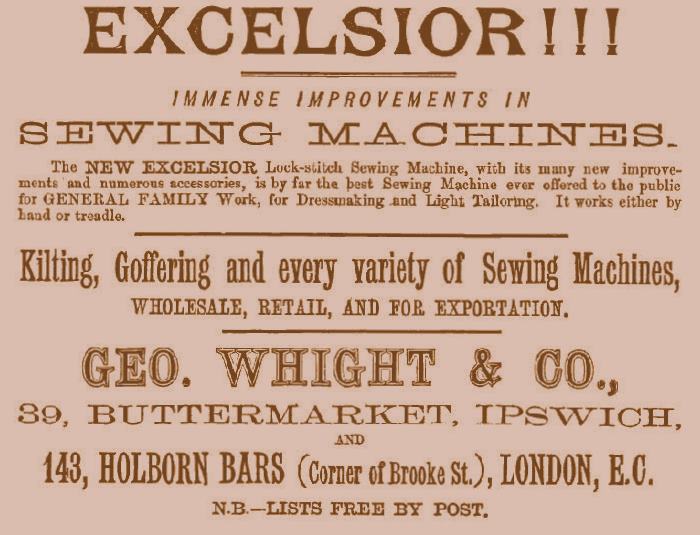 Joseph Collier, one of Cob's sons also had a son, Stanley and a daughter Florence. Florence was a missionary and died without children. I have been told that Stanley was the last of the family in Colliers and at some point he sold it lock stock and barrel. From then on no Colliers were connected with the firm.
Stanley was a fascinating character by all accounts. He retired with his wife to a large house in West Wittering on the South Coast. Stanley loved the sea and in later years would recount tales from his youth, shooting at Nazi Rockets as they came over his post on the north Downs, heading for London in WW2. Gossip was that in his old age he caused such a ruckus with his driving and other colourful activities that allegedly he was even barred from the local yacht club! A real character for sure.
Interestingly Stanley Collier's daughter, Susan Collier is a direct family member from the original Job Collier. She started a successful chain of retail shops called Susie Watson Designs (Watson after her married name). In 2021 there are still at least 10 of her shops in the UK selling everything from fabrics to wallpaper. How funny that it is in the blood to run these complex retail stores. Job Collier would be proud to know that at least one family member is still in retail all these years later.
I am unsure when the Colliers name finally disappeared from the high street. I would love to finish off this page so if anyone out there in Internet Land has any information please do mail me: alexsussex@aol.com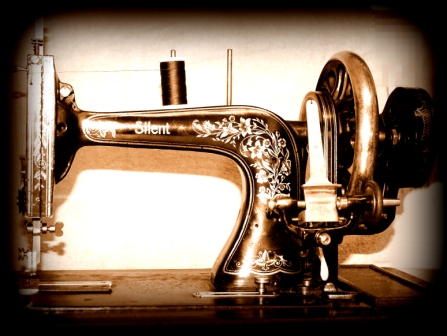 The Collier Silent Sewing Machine circa 1900. High Arm German design.
The Collier 'New Silent A' sewing machine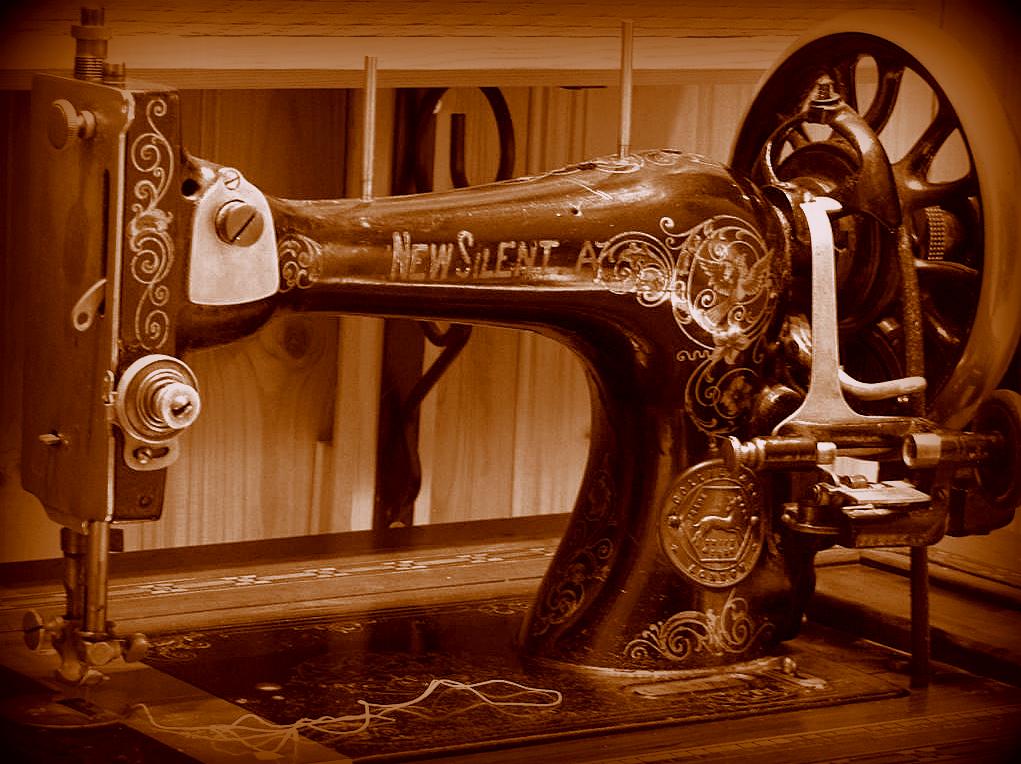 The Collier VS sewing machine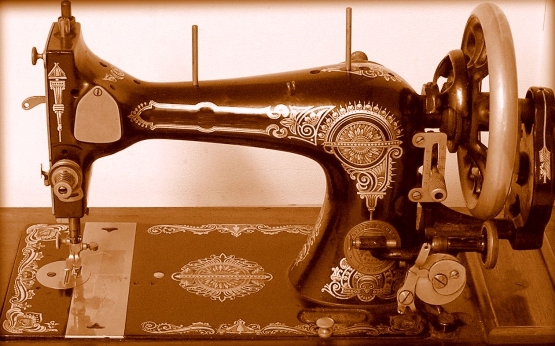 This is the last Collier sewing machine that I have come across, a simple copy of the Singer model 17k. From all the details I would guess it is a German made mid 1920's machine but so far no information has come to light about the final years of Colliers. I keep on searching...If you have any information I would love to hear from you: alexsussex@aol.com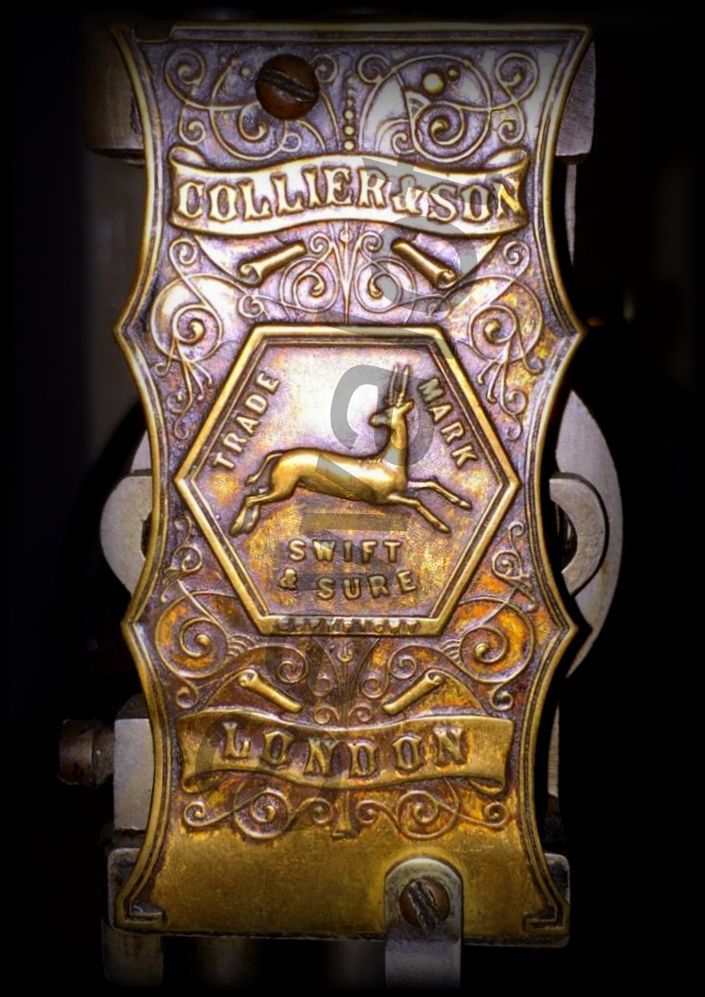 The stunning early trademark for Colliers on the side plate of their Birmingham machines.