The Arm & Platform Sewing Machine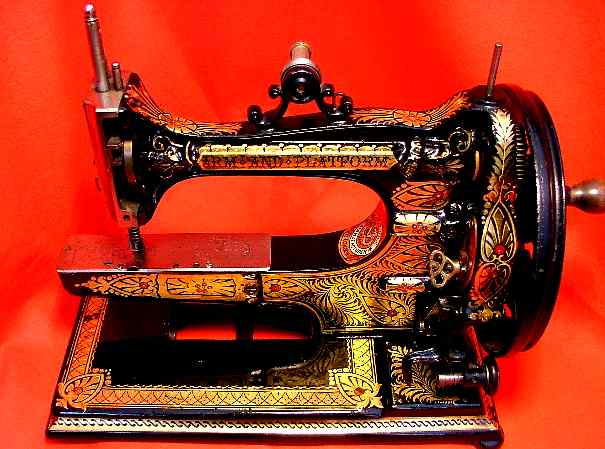 The stunning 1875 Arm & Platform machine by Edward Ward one of the favourite machines in my collection
The finest sewing machine yet made by human hand
London Press 1873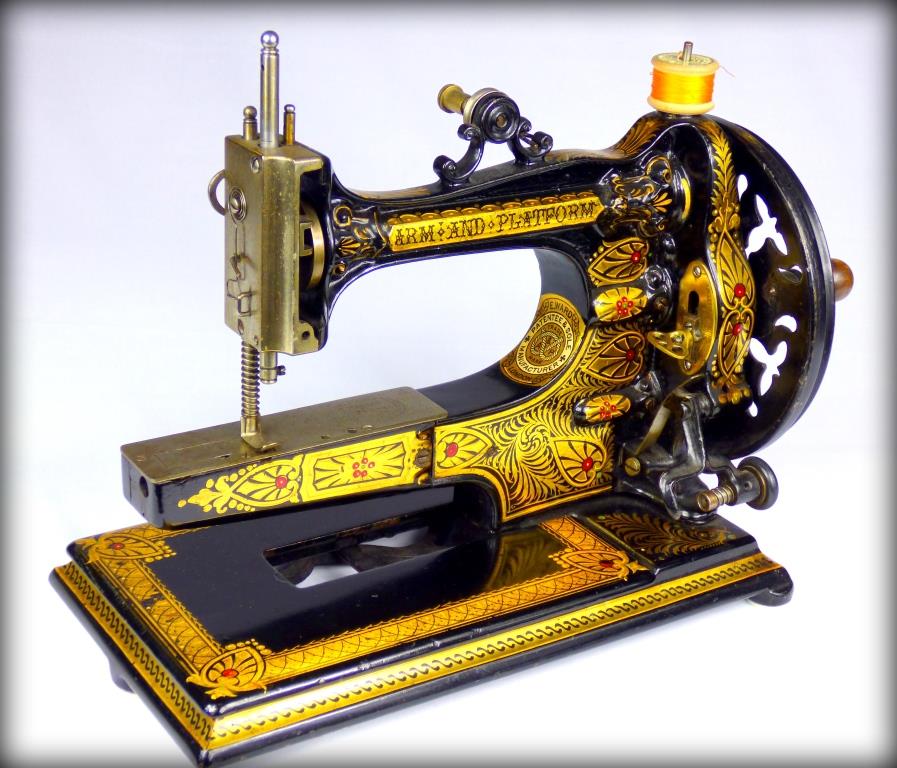 The first time you ever see a Compound Arm & Platform machine it makes your eyes widen. The sheer inventive genius, the beauty and the elegant lines are all inspiring. All of this was the accumulation of years of learning by one young inventor who left us with a legacy of one of the finest machines of the Victorian era.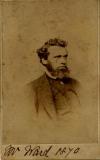 Ward's early years in the sewing machine field are, at present, are shrouded in the mists of time. there are a few scattered bits of information which I shall endeavour to depart. Edward's father was a blacksmith called James Ward and his grandfather was a locksmith.
Being brought up surrounded by the working of metal must have had a strong influence on James. The heat of the forge and the skill of the locksmith could have been instrumental in his development.
Born in Brewood, not Walsall, Staffordshire, in 1829. By the age of 12 he was already a railway apprentice. They sure did start early back then!
At the age of 20 Edward moved to London and carried on his engineering. After a brief departure to Maidstone working on paper-making machinery hew was back in the smelly old capital. They say that London had over 50,000 horses in the Victorian period working the streets. After a dry spell when the manure was wetted by rain the capital stunk like nothing on this earth!
Thomas Ward, pictured, was Edward Ward's brother. He had nine children with Mary Ann! Edward & Thomas' father was James, a blacksmith, and their uncle was Joseph Ward. Edward's grandfather (also James) was a locksmith so you can see that his skills ran in the family.
In 1851 Edward married Fanny Hill and continued in several positions around the Capital eventually working for Julian Bernard. Here he worked on several inventions for other people but it gave him a perfect grounding for his future ventures. He also perfected several of his own inventions there.
E. Ward & Co
There is evidence that he had established his first small factory unit around 1860 at 9 Wells Street, (Oxford Street West) trading as E. Ward & Co.
Edward Ward was well known in the sewing industry as a jobbing engineer with an inventive streak, working with several manufacturers of the day. His first machines, like many competitors were Grover & Baker and Howe copies possibly under license.
Elias Howe became one of the richest men in the world (for a while anyway) by selling the use of his patents and licences but hardly making any machines himself, clever boy!

By the tender age of 31 Edward Ward was expanding his factory and stores now at 4-9 Wells Street London, just off Oxford Street by adding a shop frontage he could catch passing trade from Oxford Street right in the heart of the great City.
Here he built machines from around the 1860's until 1892, when, disillusioned with the trade, he retired. But we are jumping ahead, let's get back to the young lad and his new business.
Ward had already a good founding in the sewing machine business working for a company specializing in inventing new models and products. His father was a Walsall locksmith so Edward would have grown up around small mechanical objects. His first few jobs reflected this, working mainly in engineering and on the railways and other places before starting his own business.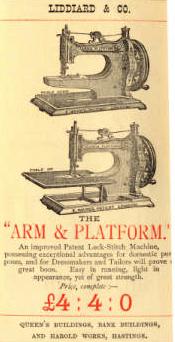 The list of Edward's early machines is somewhat scanty. What we have are his Grover & Bakers and Howe type mechanisms.Mainly for the shoe trade. These made up most of his early business from the 1860's till his first Arm & Platform patent in 1873. At his factory he made machines for customers and worked as a jobbing engineer making whatever would sell or was ordered.
Working for other people, Edward obviously saw how he would make a machine and sell it wholesale only for his customers to make a lot more money then selling it on retail. The writing was on the wall. Edward had to design, make and sell his own machines.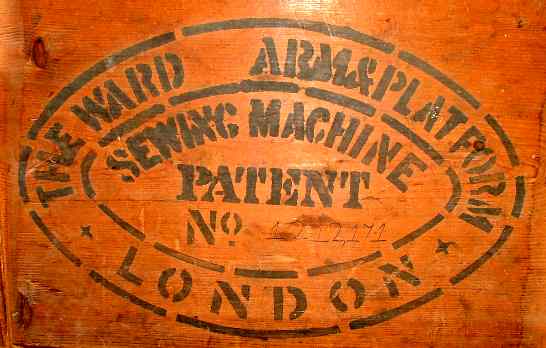 Ward's machines were packed in wooden crates
His machines included a shoe closing machine which he had perfected whilst working for a previous employer, J. Bernard of Pimlico. An elastic sewing machine or elasticator. And a cross arm machine for attaching straps to boots and some sort of embroidery or shoe flowering machine that was apparently popular at the time. His machine won a couple of silver medals so it must have been good.
Edward seemed to concentrate his market on very specialized machines. This must have given him a good niche market in the bustling rag trade of Victorian London but not a large one. Edward was desperate to crack the big boys like Singer, Jones and Frister & Rossmann.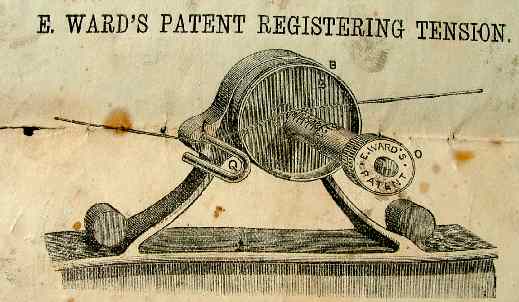 Ward's superb patented tensioner provided a near perfect stitch.
All the time Edward was selling his specialist machines he was working at producing a normal household sewing machine, something that would have mass appeal and make him wealthy. His first attempt was the Lily but proved clumsy, noisy and hard to thread. If the machine was noisy it could mean it would wear quickly and become unreliable. Anyway it did not last long and I never seen one so I have no idea of what it looked like.
Flowering, or embroidery, which one of Edward's machines did, was disappearing as a fashion on shoes but he still picked up one gold medal and two silvers at the London Agricultural Fair.
Edward also made special machines for making jockey boots as well as huntsmen's and coachmen's boots. He also perfected a chain-stitch machine which I have never seen but proved popular because of its stretch thread ability.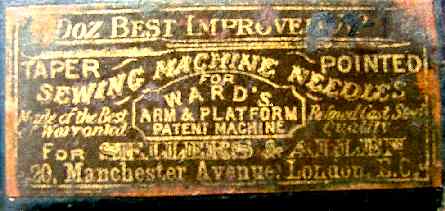 Special needles for a special machine
Edward went to work on something very special. Learning from his early mistakes and using his wealth of engineering knowledge he crafted a beautiful, practical and elegant design with a narrow free arm and a swinging platform for normal sewing. The narrow free arm would be perfect for more specialised work but once the platform is lifted normal garment could be sewn with ease, the best of both worlds.
A little know fact that came to light recently was that his brother, Thomas Ward, also made or sold sewing machines at Kings Lynn. Thomas and Edward were sons from their fathers second marriage. They also had a half-brother, William, who was also an engineer and lived next door to Thomas. Their father was a locksmith so you can see where they all got their skills from. For a period Thomas Ward was a blacksmith, engineer, machinist, shop owner, sewing machine agent and labourer.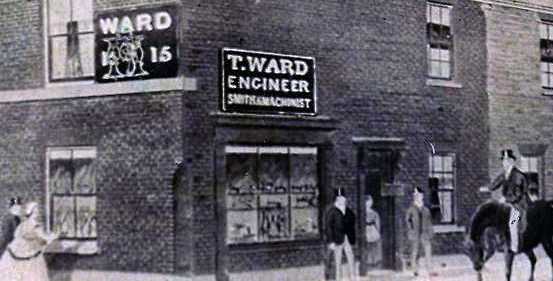 On the Norfolk Coast Thomas had a corner workshop at 15 Albion Street & Railway Road, Kings Lynn. He obviously did not prosper in sewing machines as the 1881 census has him listed as a general labourer in Swaffam, Norfolk.
I have never seen one of Thomas' machines. He may have just been a retail agent for his brother's Arm & Platform and other makers, rather than make them himself, so we had better get back to our main story. It was just an interesting ditty I thought you might like.
April 1873 the Ward Arm & Platform is born
Edward's first patents for the Arm & Platform were in the early 1870's but in April of 1873 the full patent was granted for his spectacular Arm & Platform. He continued for several years as he perfected each part of his spectacular machine. The Arm & Platform was obviously his pride and joy.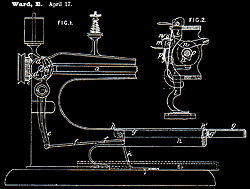 One of Ward's improved patent application of 1875

Ward's splendid rising free-arm table was the work of a brilliant mind and superb craftsman. The light elegant lines of his machine are simply inspiring. The lightweight and ease of movement makes his machine stand above most other hand operated machines. His little but precise shuttle is a delight in itself.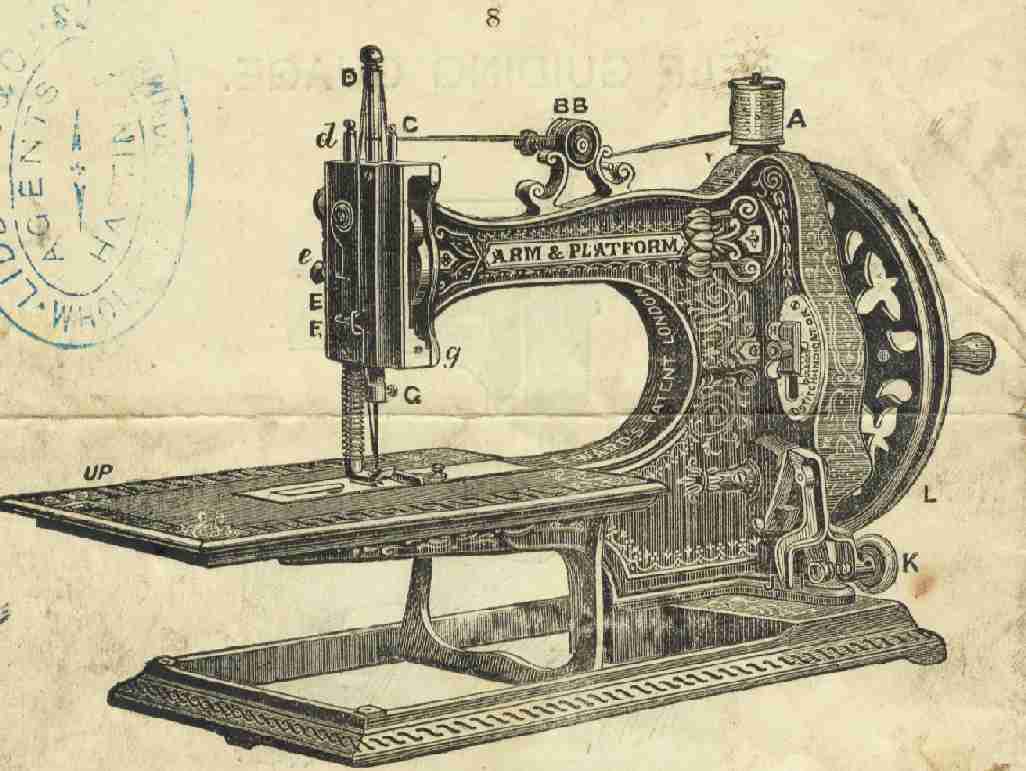 The stunning improved Arm and Platform was one of the very first free-arm sewing machines.
Invented by the perfectionist, Edward Ward of London, England.
Success was assured, one company placing an order for £18,000 worth of machinery. That must relate to a fortune in today's money.
However, top-quality hand-made engineering came at a price, which was above his competitors at over £4. Remember Weir's machine was 55 shillings at the time! Quality came at a price. Even the tension adjustment was a fine-vernier calibrated dial compared to the basic springs and washers of his opponents.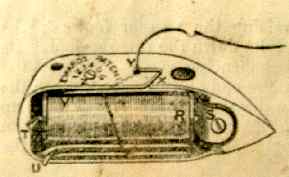 Even the tiny shuttle had a calibrated tension and was self-threading!
In 1877 Edward was granted the first ever patent for a self-threading shuttle!
The launch of his spectacular machine was met with much approval and the press of the day lavished praise on Edward Ward's inventive skills. The machine came with a host of attachments and a unique thread-oiler that clipped onto the top of the machine, a throw back to Ward's boot making machines.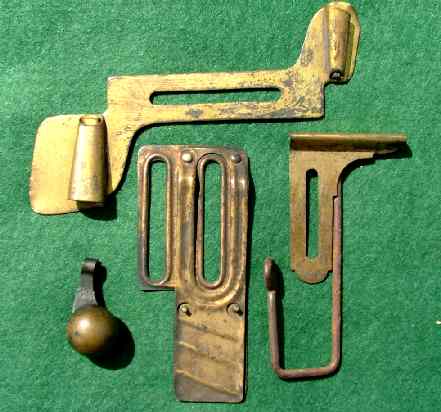 plenty of extras came with the Arm & Platform
including the little round thread-oiler on the left
The Queen Magazine, a popular publication in the Victorian era, described his magnificent machine as the most perfect dressmakers machine yet invented. Now that can't be bad!

Edward's business was never large. He didn't really cracked the big time, and hated mass production and the loss of quality that implied. It was not for the lack of trying to get big but he stayed a small engineering company supplying specialist, handbuilt, machines to wholesalers such as M. Liddiard's, his Hasting Agent.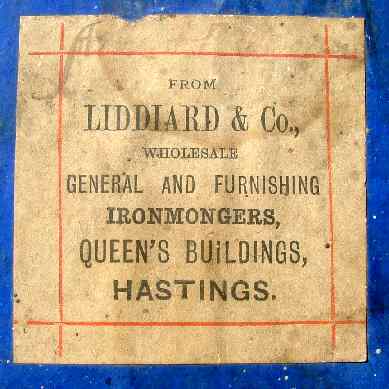 One of Ward's wholesalers just up the road from me (where Logi Beard invented the TV).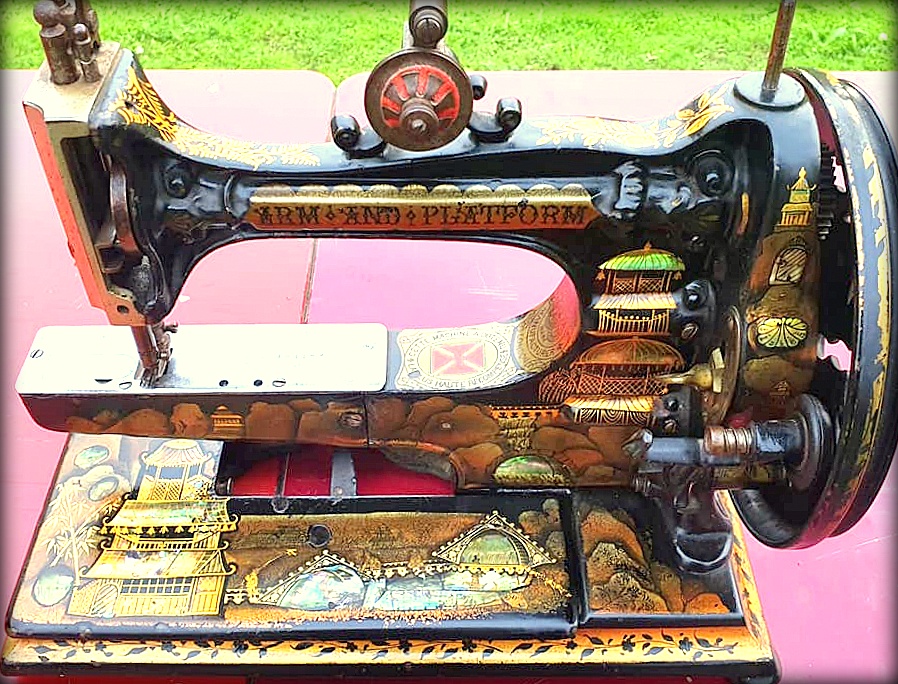 This is one of the rarest Ward Arm & Platform machines I have ever come across. It is in the Jorge García Collection in Asturias, Spain. From what research we have we know that it was a special order placed by wealthy French family (they even lived in a castle!). The oriental decoration was the height of fashion for the late Victorian period. The decoration and French inscriptions would have been created by a craftsman employed by Edward Ward (possibly just for this machine). As far as I am aware it is unique. Many thanks to Jorge for the image.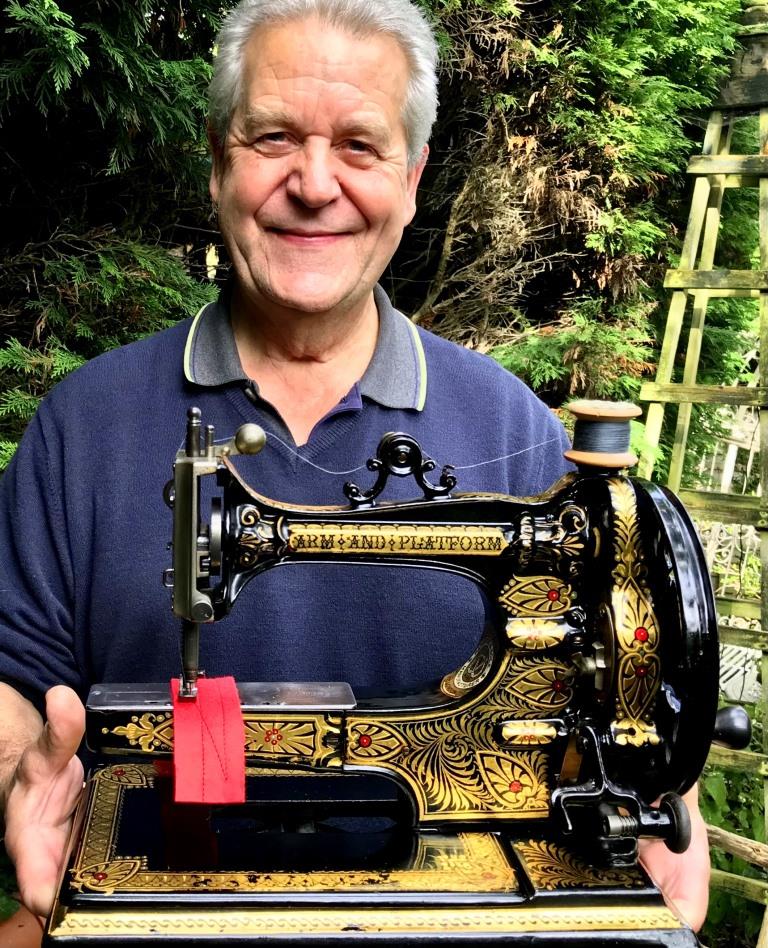 A beautiful standard Ward Arm & Platform sold by Christies in London. It is now in my Sewalot Collection complete with the Christies auction catalogue. Original museum quality machines like these always fetch a premium when they come up for sale.
Now back to our inventor and engineer Edward Ward. Later in the 1880s, also made and sold other machines as well as his Arm & Platform. He also manufactured and sold bicycles much like many other smaller sewing machine manufactures of the time. His was called the Ward Capital Safety Cycle.
In 1886 he patented an anti-reversing machine mechanism to stop the user accidentally going backwards whilst treadling a sewing machine, a common problem even today. Singer later used the idea for a while on a few of their treadle machines as did Willcox & Gibbs.
He also played around with a chainstitch machine much like the popular Willcox & Gibbs. There was the Ward Alert sewing machine of 1888.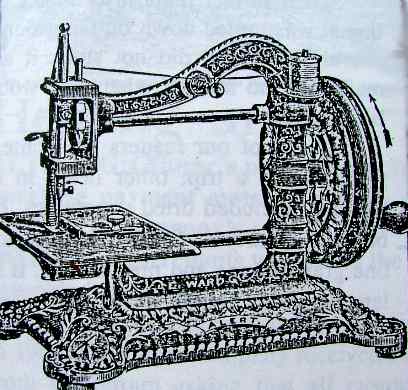 A woodcut of Ward's 1888 Alert chainstitch
Finally, in the same year his model 12 possibly made to compete with Singers best selling 12k. He was also selling another boot machine, he seemed to love tinkering around with very specialized machinery.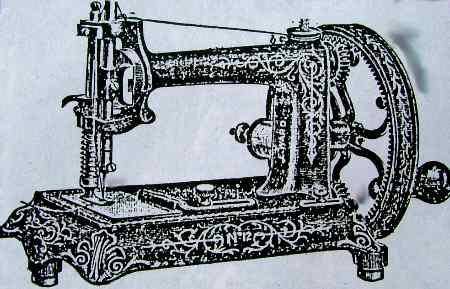 Edward Ward's last machine the model 12 of 1888
By the early 1890s Ward became disillusioned with the cheap imported sewing machines and lack of craftsmanship in his competitors machines. I can understand how he felt. It was a bit like back in the 1960's when stuff from Hong Kong was cheap, much cheaper than our products, but what tat! Most of my toys broke after about three goes, maybe it was just me!
Aged 63, a good age, after 40 years in the trade, he decided to pack it all in and enjoy himself. In September 1892 he retired from the sewing industry and left it to the mass-produced machines of the day rather than his hand built beauties.
Sellers & Allen took over selling the Arm and Platform machines until their demise around 1893-95. However going from the odd one that does turn up without Ward at the helm we see a huge drop in the quality of the castings and much more.
Arm & Platform sewing machine suppliers
J A Blacklock
252 Tottenham Court Road
London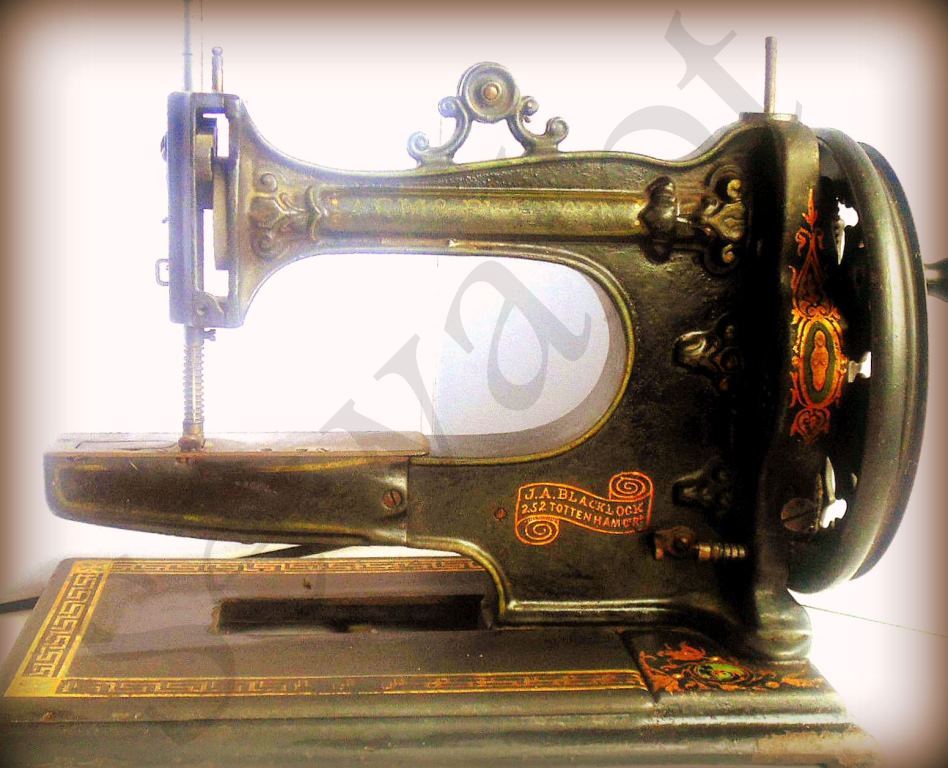 This very rare early A&P sewing machine turned up and it shows the earlier model had not been made to such a high quality. Still an immensely valuable machine though.
However after Ward retired it did not stop him tinkering with other inventions (not more sewing machines). Edward Ward perfected a wood-working machine for his nephew's sawmill, Walter Savage.
Tragic Demise
Unfortunately our inventor came to a tragic end in October 1896, dying from wounds inflicted by a pony whilst out on a drive, with Walter, along Langdale Road, Peckham, East London. Ward was thrown from his carriage and trampled to death by the pony!
One of the first true British sewing machine pioneers was dead!
Edward Ward's legacy to the world was one of the finest sewing machines ever made and one of the most sought after. His hand-built beauties are still a wonder to behold. There are several in museums around the world, including the Science Museum in London.
One sold in November 1993 for over £1,500 and another at Christie's in London the same year for over £1,650 plus commission, another more recently for £3,375. Special original ones keep rising in value. They are incredible machines and as the papers of the day reported, the finest machine that can be made by human hand.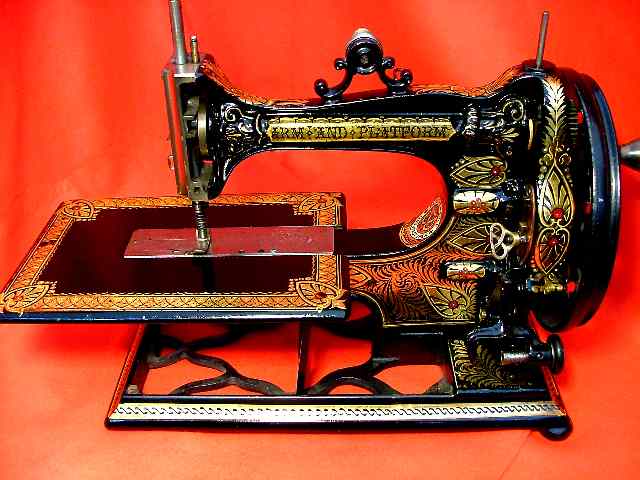 Ward's stunning Arm & Platform is one of the most beautiful sewing machines of the Victorian era and very collectible today, so grab one if you ever get the chance.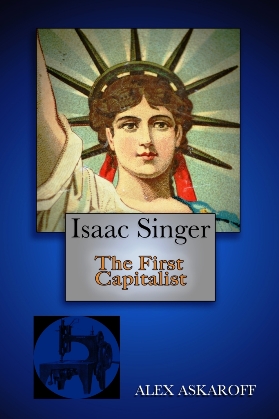 Most of us know the name Singer but few are aware of his amazing life story, his rags to riches journey from a little runaway to one of the richest men of his age. The story of Isaac Merritt Singer will blow your mind, his wives and lovers his castles and palaces all built on the back of one of the greatest inventions of the 19th century. For the first time the most complete story of a forgotten giant is brought to you by Alex Askaroff.
I spend hours researching and writing these pages so if you have found it useful or have anything to add please do let me know: alexsussex@aol.com
News Flash!
All Alex's books are now available worldwide on: Amazon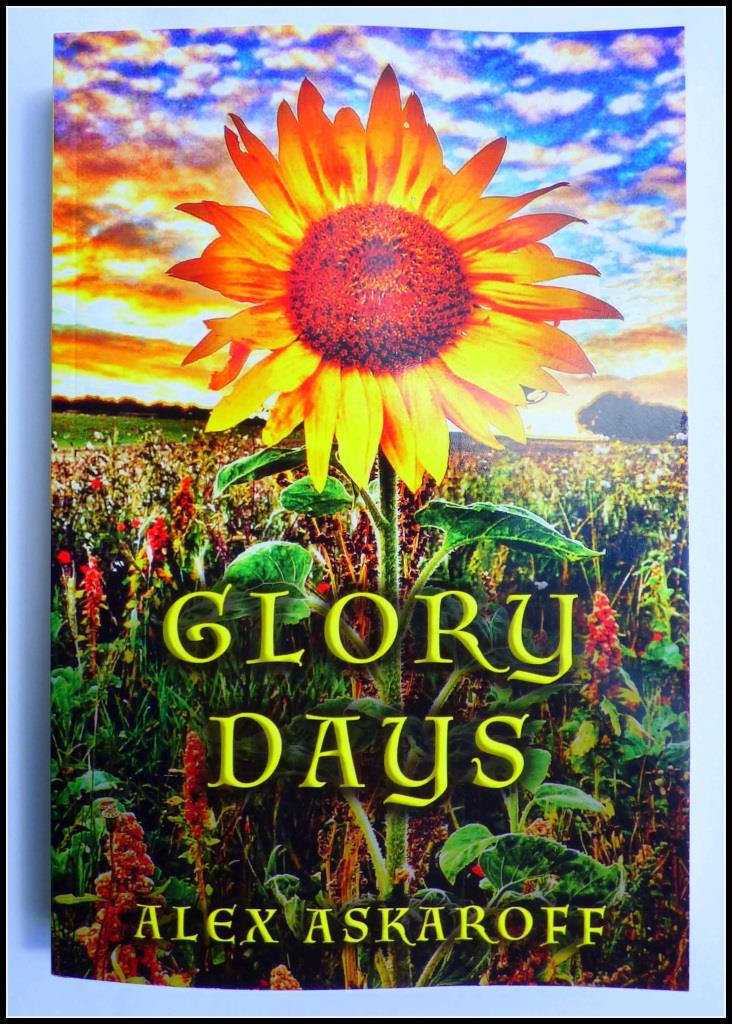 If this isn't the perfect book it's close to it!
I'm on my third run though already.
Love it, love it, love it.
F. Watson USA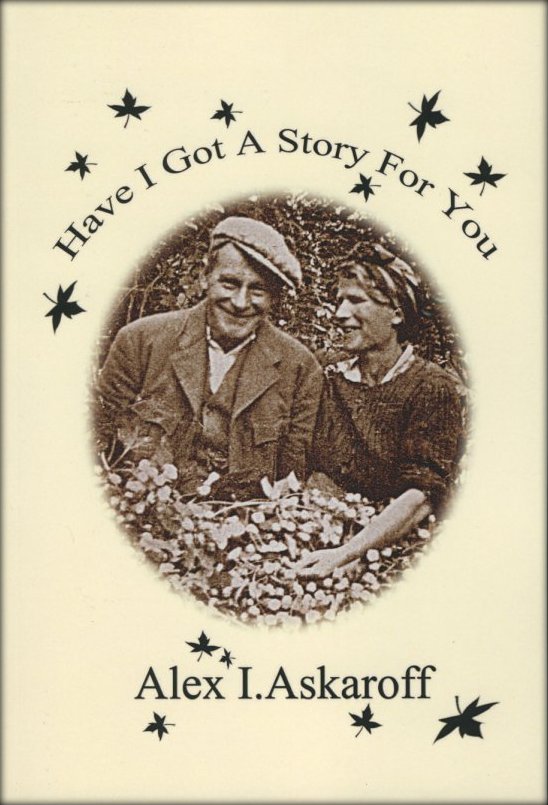 This might just be the best book I've ever read!
J. Vincent, Horam, East Sussex.
Hello Alex,

I have read your brief history on Edward Ward were you mention his nephew Walter Savage. Walter Savage was my grandfather. I do know that my grandfather was very successful, employing approx 120 people. The business extended from Glengall Road to the Surrey Canal which included Stanley and Derwent wharfs. As far as I can make out the main part of his business was the box and packing case section. I have always been intrigued as to what happened to the business.
Regards Brian Savage
Hi Alex
Brilliant page on this beautiful and rare machine I see many other sites have copied yours but none compare.
Well Done
P L Murray
Dear Alex,
I have been reading your very interesting article about an ancestor of mine - Edward Ward. It is a fascinating article and I have learnt some very useful information.
Our family originates from Brewood in Staffordshire
.
Edward's father was James
,
a blacksmith from Brewood (born 1805), who himself was son of a locksmith James from Brewood (born 1777). James (father of Edward) married Charlotte Bagshaw in Walsall in 1829.
Both father and grandfather were only married once.
William was the son of the older James and Uncle to Edward and Thomas. My great great granddad was Joseph (railway carriage fitter) who was also brother to James and William and Uncle to Edward.

Regards
Clare Ward