Home of the Sewalot Site
For antique and vintage sewing machines
Sewalot Homepage
Sewing machine Tension Problems sorted in a heartbeat!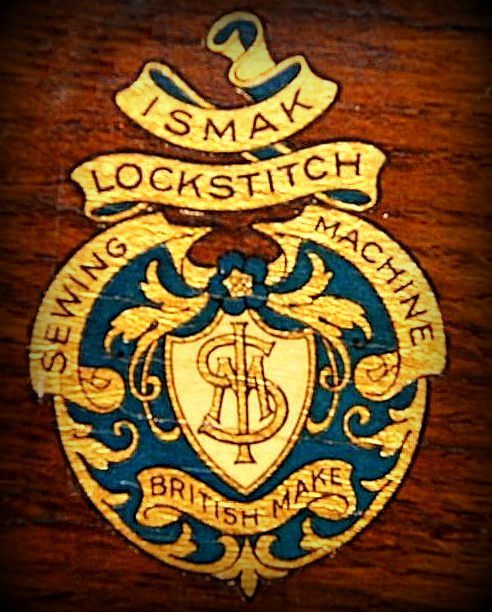 1921
The Ideal Sewing Machine
&
ISMAK Sewing Machine
By Alex I Askaroff
Alex has spent a lifetime in the sewing industry and is considered one of the foremost experts of pioneering machines and their inventors. He has written extensively for trade magazines, radio, television, books and publications world wide.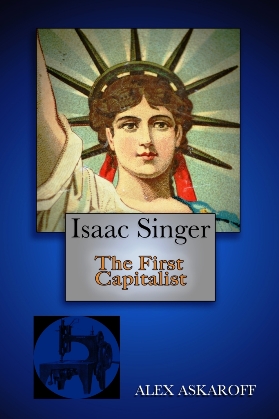 Most of us know the name Singer but few are aware of his amazing life story, his rags to riches journey from a little runaway to one of the richest men of his age. The story of Isaac Merritt Singer will blow your mind, his wives and lovers his castles and palaces all built on the back of one of the greatest inventions of the 19th century. For the first time the most complete story of a forgotten giant is brought to you by Alex Askaroff.
See Alex Askaroff on YouTube:
http://www.youtube.com/watch?v=8-NVWFkm0sA&list=UL
The Ideal Sewing Machine Co Ltd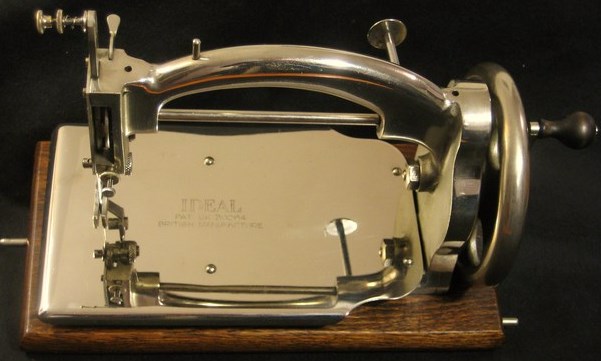 The stunning Salter's Ideal Sewing Machine
Circa 1910-1925
(I'll explain the dates presently)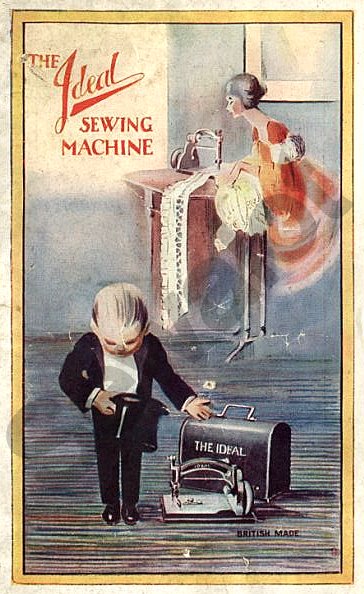 presenting the Ideal Sewing machine a one year wonder.
The name 'Ideal' has been put on many sewing machines over the years but on this page we are going to talk about the British Ideal Sewing Machine.
It is rare that as late as 1910 a complete sewing machine patent application is filed and approved. By then over 60 years had passed and thousands upon thousands of patents had been issued all over the world. This made patenting a brand new, complete, sewing machine almost unheard of. From 1840 when sewing machines were almost unknown to 1900 (just 60 years later) the world was producing over 20 million machines a year. Germany had over 300 factories making machines and North America had 200 plus. There were factories in almost every major country in the world producing sewing machines. Then along comes the Ideal Sewing Machine.
On December 30th 1910 Leslie Salter applied for his improved Portable Chain Stitch Sewing Machine. Patent application Number 30,264.

Leslie Salter of 50 Copthall Avenue London was an engineer by trade. Perhaps he had hoped to make his millions from this superb art deco model.
The company premises were at 66 Broad Street Ave, London EC2.
It was so different to anything on the market that the patent was granted.

Ideal Sewing Machine
Or
Salter's Improved Portable Chain Stitch Sewing Machine.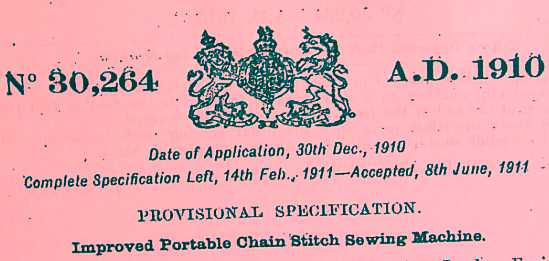 The Ideal Sewing Machine patent application of Dec 1910
US Patent 1,200,675
Little else is known about the British made Ideal patented by Leslie Salter. The company chairman was H. Stone and the later workshop, Sandycombe Works, was near Kew in London. What we do know is a bit of an enigma. Harry Stone was chairman of the company from 1919 until 1922 and ran the company from their offices at 66 Broad Street Avenue, London.The well-engineered small tin plate machine was first patented before The Great War, the patents being issued in December 1910 and accepted on the 8th of June 1911. Hold on though, because that is not when the machines were made. read on...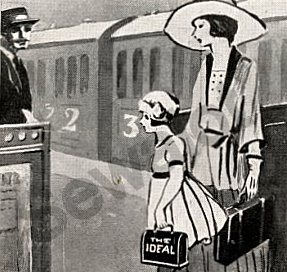 Ah the Ideal sewing machine so small and sweet you can take it anywhere.
Ideal Sewing Machines from around the world
A quick bit of extra information. Do not confuse the British Ideal sewing Machine with the much earlier American Willcox & Gibbs chain-stitch copy, (also called the Ideal sewing machine). There were actually several American Ideal machines. They were produced by Davies, White's, and New Home. Confused? Read on it gets worse...There was also a German manufacturer.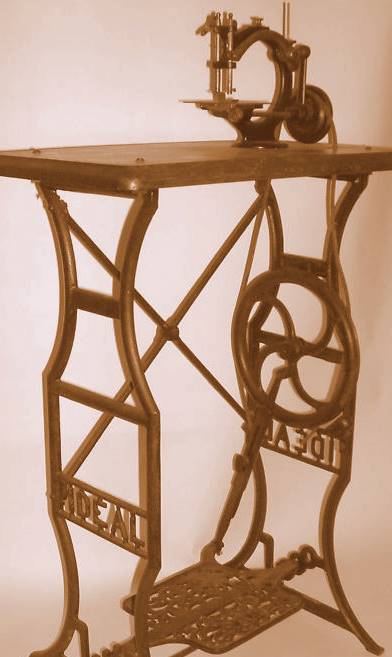 This is the American Ideal sewing machine circa 1880. It was marketed as both a child's machine and as useful to both mothers and the servants! Blimey...The Davis Company produced an Ideal as did New Home and White Sewing Machines.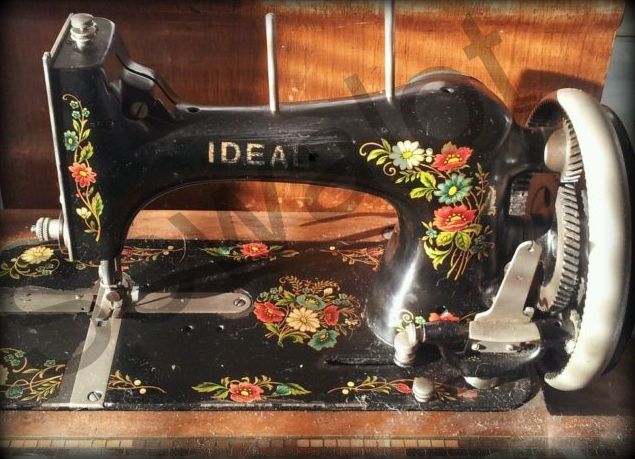 This is the German Ideal sewing machine possibly by L O Dietrich, not to be confused with our British model of the same era.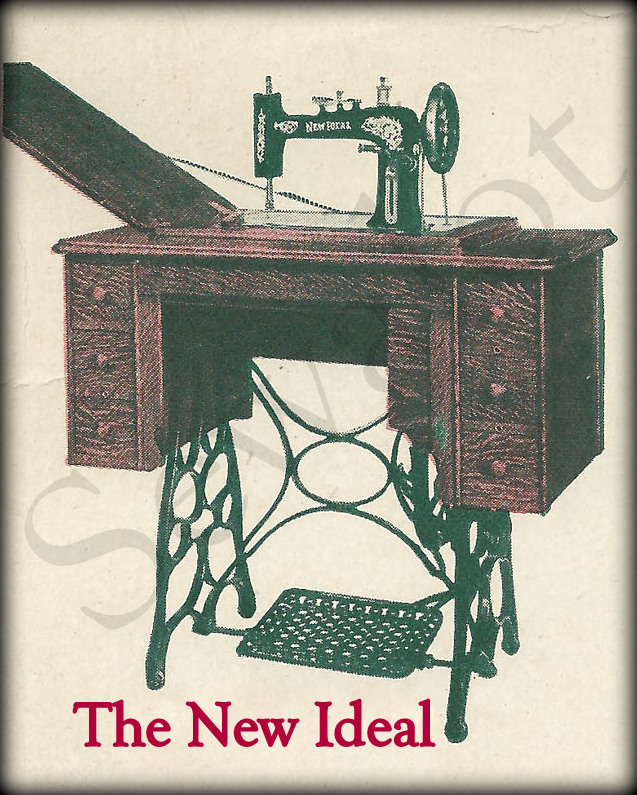 The New Ideal Sewing Machine by New Home in America, circa 1890-1910
New Ideal Sewing Machine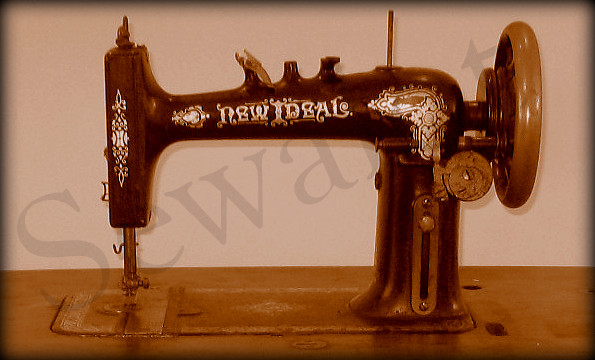 This is the American New Ideal Sewing Machine was made by New Home around 1900
Now back to the British Ideal Sewing Machine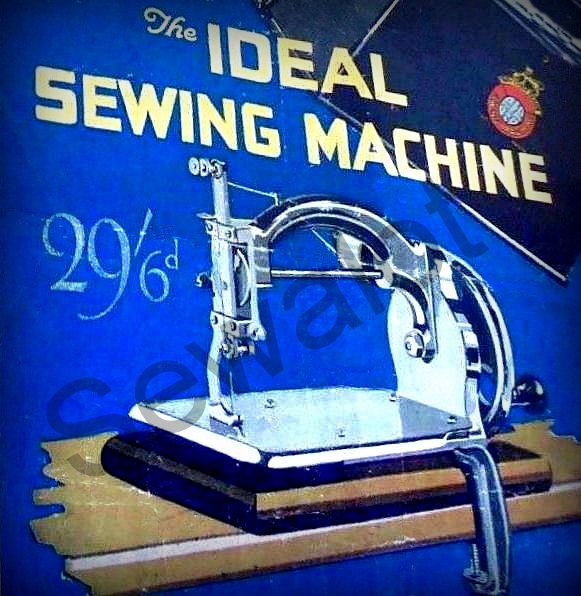 Patents were issued and each surviving machine is stamped across the bed with the 30264 United Kingdom patent numbers. Such a bold display across the machine was intended to scare away competitors. Priced well under full sized sewing machines at 29'6d it was aimed at a hole in the market between the big boys and toy machines.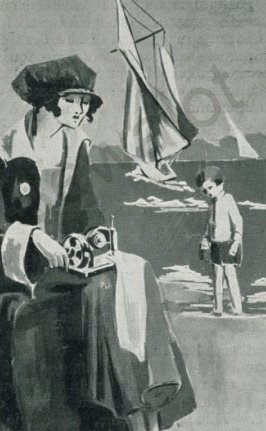 I love this little ad. Mumsie sits by the sea sewing. Highly unlikely but a good advert. My Mum would be sipping wine and reading the Times!
Although paperwork stated 'World Wide Patents' we know that Salter had German, American and French patents showing that he did intended to market his machine to a larger world market. Little did he know that just around the corner was a devastating World War!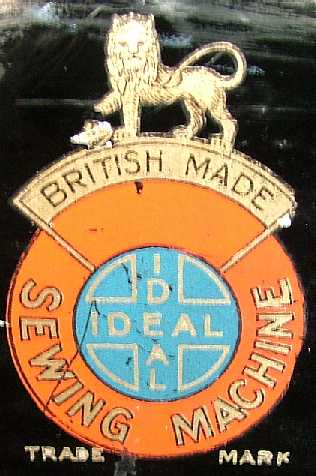 Ideal sewing machine trade mark on the tin
1921
Although patented in 1911 there is some confusion about the start of manufacturing. Some records state that it was not actually manufactured until after the Great War as late as 1921, Though there are reports of them being used during WW1.
There was a launch of shares in 1921of 2,000,000 shares of one shilling per share.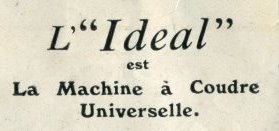 There is also another curious point. In January of 1914 Herbert Westcott of Adelaide Road, London, patented an almost identical machine to the Ideal except that it made a lock-stitch not a chain-stitch. Patent No 1459. If you were to look at the two patent applications together they would look like twins, not identical ones but instantly recognisable as from the same stock. This may be connected to the ISMAK Sewing Machine, more of that later.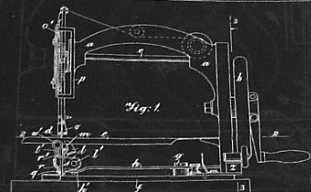 The patent of the Herbert Westcott lock-stitch copy of 1914 notice the undeniable similarities to the top of the Ideal Sewing Machine.
Was Salter's machine held up due to a copy trying to come onto the market or was there another reason? The similarities are way too close for chance!
The Ideal Sewing Machine Co Ltd
Sandycombe Works, Kew &
66 Broad Street Avenue
London East Centre Two

The Ideal Sewing Machine is only 10 inches long. An Art Deco engineering masterpiece of style and performance.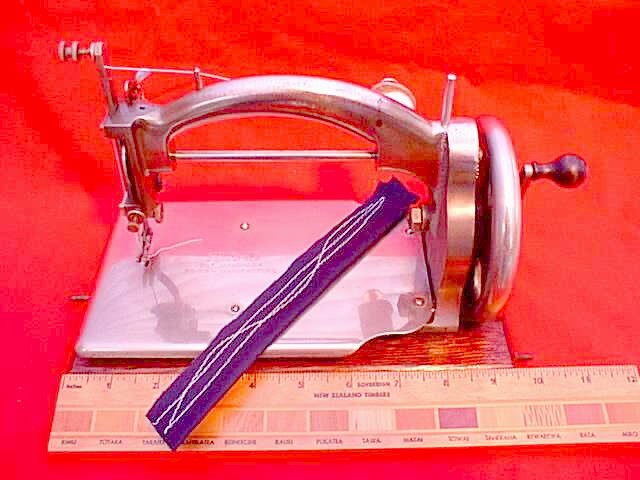 The machines were made at their London factory at Sandycombe Works, Kew and 66 Broad Street Avenue. EC2.
So we are not positive about the actual start of manufacturing and there is no evidence of the time it was stopped. Not too good eh! But great fun to collect.

Let's look at the facts. We have the patent date of June 1911. From 1914-19 we have the Great War and of course it did not just finish overnight. Then we have the dreaded Spanish Flue killing millions and then by 1921 things settle down. There are facts to back this up mainly from their advertising. So we can make the assumption that along with the share launch the big Ideal sewing machine launch was also in 1921.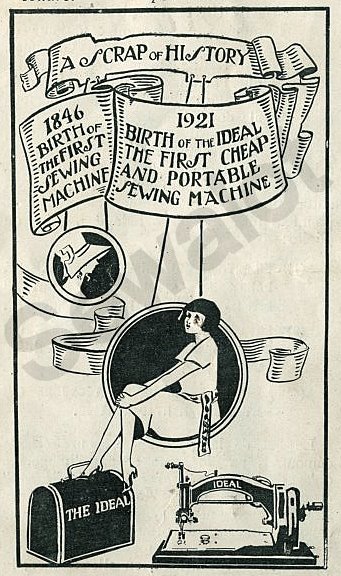 Well this is the only piece of advertising for the Ideal that I have ever found showing the 1921 start date.
Oxendale & Company Ltd
Granby Row
Manchester
Suppliers of the
Ideal Sewing Machine
1921
The machines were small, light, and easy to use. Why, with all the money spent on advertising, they did not manage to get a better foothold in the market is curious. It could have been that the flaws in the Model A had put people off. "Okay for thin work but don't try sewing proper stuff." I have never seen so much advertising for a sewing machine that only lasted a year! It must have been a financial disaster for the people involved.
The machines came in a tin, black, with a dome metal case
and there were slight changes to the machine so we have Models A &B. Note the different ends.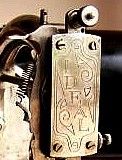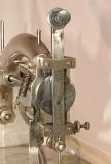 Ideal Sewing Machine model B Ideal Sewing Machine model A. Open style.
Sewing problems with the Ideal Model A
The Model B had an adjustable presser foot hight and a slightly improved lifter cam. Now this was essential as the model A only handled thin work. Because the walking foot could not lift over thick fabric or felt it simply jammed. This problem was overcome with the adjustable lifter on the Model B. They are so rare that I have never seen a Model B. One day I'll get my sticky little fingers on one!
Interestingly I have been told that the machine manufacturer, Salter, may also have a connection to Salter's family, the famous British scale makers but I have found no evidence to support this…Yet!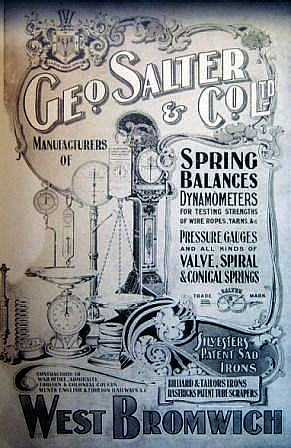 Salter scales and pressure gauges
The patented walking foot mechanism is very similar to the very early 1850's Pillar or Fire Hydrant machines made by American manufacturers such as Shaw & Clark.
It was easy to copy these long out-of-date mechanisms without fear of patent infringement.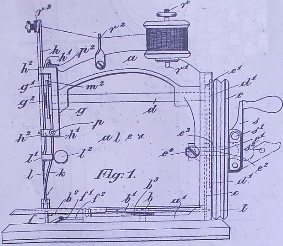 Ideal sewing machine
The original patent drawings of 1910 with slight differences to how most machines look. Note the spool holder on top of the machine not behind.
The machine produces a single chain stitch, using a hook beneath the plate to capture and hold the thread, a simple and effective method used by many early sewing machines like Raymond and Muller.
There were several improvements made to the machine and several surviving models show these slight variations. They had 10 years from 1911-1921 for the launch so they had time to get it right!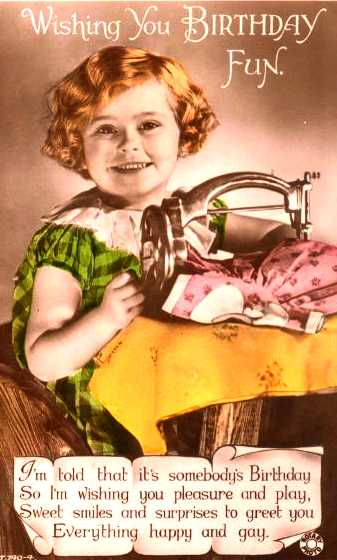 The Ideal Sewing Machine, notice how the spool is on the front of this model!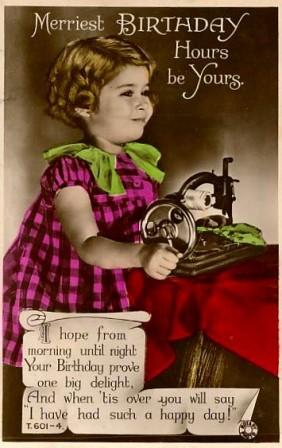 Notice on this model the thread is at the back showing constant change!
Sewing machine Tension Problems sorted in a heartbeat!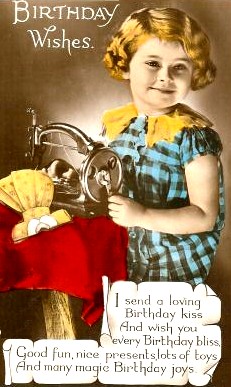 For a sewing machine that is rare they sure did a lot of advertising
We know that by late 1922 The Ideal Sewing Machine Company had all but disappeared.
After what seems to be the longest beginning of any sewing machine company from 1911 to 1921 it also had the shortest production run. The Ideal sewing machine was almost one-year explosion!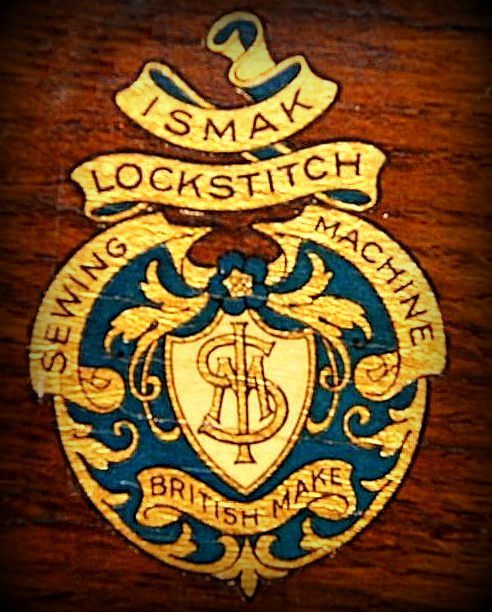 ISMAK sewing machine
Patent 3084422
£7, 7s, 5d
Interestingly just before the company closed they messed around with a lock-stitch machine. A report in the Daily Mail on 23rd October 1922 stated that Mrs Kemp had won £100 for suggesting the name ISMAK for Ideal's new and remarkable lock-stitch sewing machine. ISMAK stood for Ideal Sewing Machine Kompany. The ISMAK sewing machine is extremely rare today with only a handful ever turning up. They are dearly sought after by serious collectors. I only have one in my Sewalot Collection.
Although it was a lockstitch there were a few similarities that pointed to it being made at the same factory as the Ideal chain stitch machine. However the overall quality was well below the standard of the day (being churned out by the big boys like Singer and Frister & Rossmann).
The machine obviously did not catch on as some time later in 1924 an Australian company were selling off the ISMAK sewing machines at less than half price.
ABC Ltd Brisbane, Australia.
100 ISMAK Lockstitch Sewing Machines
for sale,
Clearance price £3, 10s, first come first served...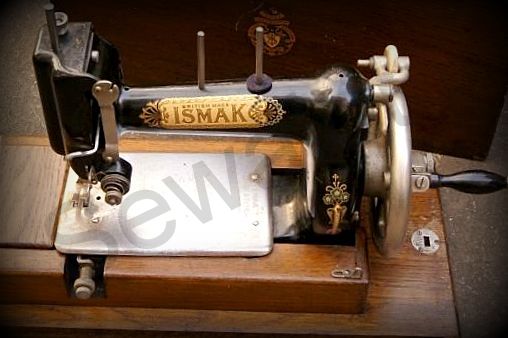 The ISMAK sewing machine is a rare beast. This one, in my Sewalot Collection, is the only one I have come across in over 40 years of collecting. The lack of quality in the finishing doomed the machine to an early death. It was clumsy and awkward to use but a fascinating final piece of the Ideal Sewing Machine Company history and I treasure it.

The first instructions sheets also arouse curiosity for the Ideal as in each corner of the original instruction sheet is a small swastika?Pre-war I believe this was an ancient Asian peace sign and it was not until 1920 that Hitler adopted the swastika. These machine instructions seldom turn up today.
Stories about the Ideal Sewing Machine
These tales may be true. I have no doubt that a few sample were kicking about before the big official start date of 1921.
I heard one story that cannot be confirmed and blows the 1921 manufacturing start date to pieces. It was a story of a soldier who took one of these little machines to war with him in 1916. In the trenches he repaired his uniform on the Ideal sewing machine all through the hostilities. The man and his machine survived and the Ideal was put up for auction a few years ago.
I have been told stories like this several times and there is another tale at the bottom of the page.
Apparently the Ideal Sewing Machine was purposely supplied to 'Batman' (personnel assigned to a commissioned officer, not the bat-winged vigilante saving Gotham City). These men carried the lightweight machine about with their kit and repaired 'the officers' clothing when needed.
"James bring the ideal. I seem to have ripped-me-pants."
Harrods & Selfridges
To my knowledge, in London, they were only sold from two London stores, Harrods and Selfridges. Both these stores were very up-market only selling the very best products.
Coming from those stores they may have been expensive for a chain stitch machine. Much more costly than the Singer 20 or similar machines of the age. This may also have contributed to its short life.
The engineering is to a good standard (unlike the ISMAK) with unusual square cut steel gears and clever adjustable shafts around the machine that allow for timing, feed and tension adjustments.
Elegant, simple and well made the Art Deco Ideal sewing machine was perfect for the period.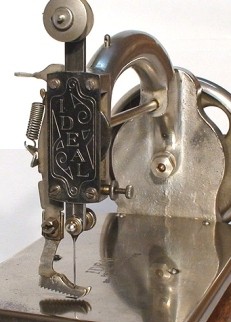 The pinnacle of Art Deco in a sewing machine and with a walking foot or vertical feed as some call it. No teeth underneath for this baby. Not the screw on the presser bar arm so that you can adjust the height of the sewing for for thicker material. This was only on the improved Model B Ideal Sewing Machine. Both models run very well on a 339 or Singer 12 needle.
The British Ideal is a true classic collectors dream, small, elegant and unusual.
They fetch excellent money in good condition and are well worth grabbing if you get the chance. Unfortunately the metal tin and thin nickel plating is prone to corrosion so if you do spot one of these beauties make sure it is in nice condition.
The last sign of the Ideal was in 1925 with Stephen Rowe in control of the spiralling company. After that the business, and these unique sewing machines, disappeared with little trace.
The Ideal Sewing Machine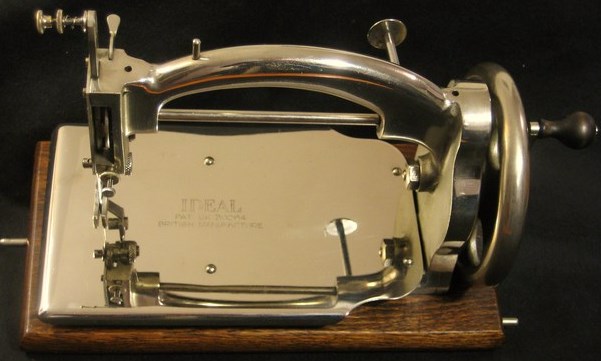 This is as good as the Ideal gets condition-wise. It is a beautiful machine and is set into a period that just screams Deco.
I hope you liked my little piece about Ideal. It is an accumulation of 35 years of snippets that hopefully will one day grow into a more complete jigsaw puzzle. Do let me know if you have information to add: alexsussex@aol.com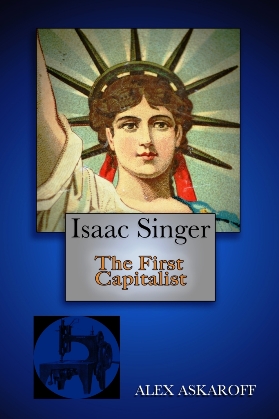 Most of us know the name Singer but few are aware of his amazing life story, his rags to riches journey from a little runaway to one of the richest men of his age. The story of Isaac Merritt Singer will blow your mind, his wives and lovers his castles and palaces all built on the back of one of the greatest inventions of the 19th century. For the first time the most complete story of a forgotten giant is brought to you by Alex Askaroff.
News Flash! Alex's books are now all available to download or buy as paperback on Amazon worldwide.
"This may just be the best book I've ever read."
J Vincent Horam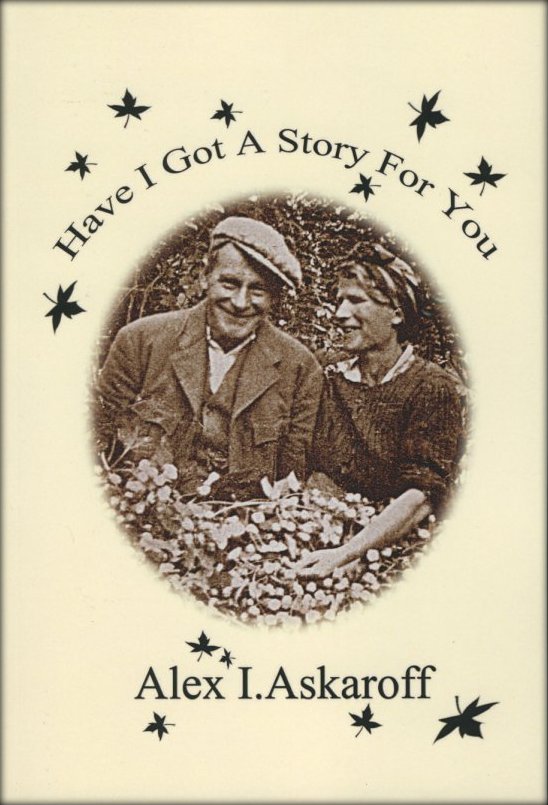 "My five grandchildren are reading this book aloud to each other from my Kindle every Sunday.
The characterization is great; both heart-warming and funny, and the story never lags.
I enjoyed not only the story, but watching my grandchildren's delight in hearing it.
The illustrations are the best I've seen in a very long time.
Anne Lancaster USA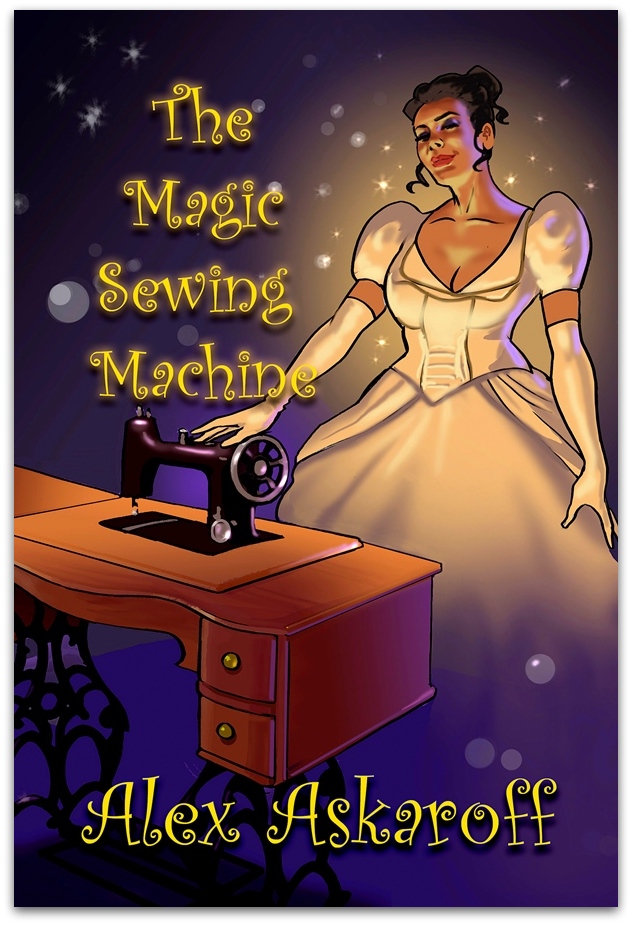 If this isn't the perfect book it's close to it!
I'm on my third run though already.
Love it, love it, love it.
F. Watson USA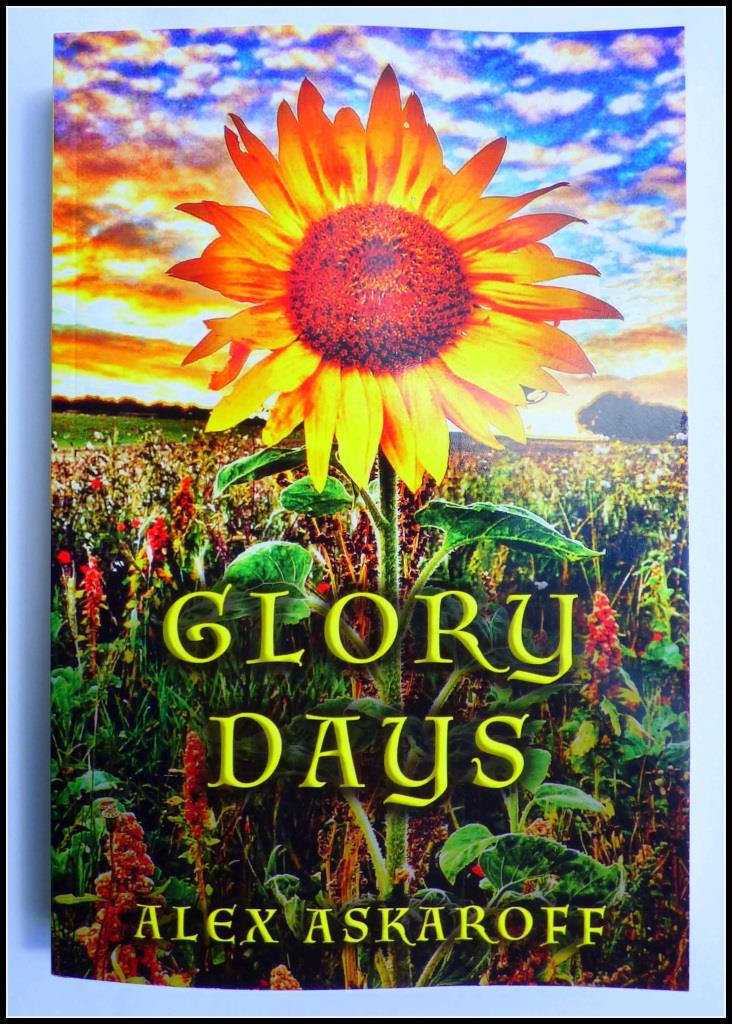 The way it's written you can just imagine walking beside him seeing the things he does.
Definitely look forward to reading more of his adventures.
Amazon FIVE STAR review
News Flash! Alex's books are now all available to download or buy as paperback on Amazon worldwide.
Fancy a funny FREE read: Ena Wilf & The One-Armed Machinist
Copyright ©
Alex Askaroff
What a great page! Thank you for your time.

Paras
Hello Alex,
I just wanted to express my thanks for created such amazing pages.
Wishing you all good things.
James Michael Hughes
Hello Alex,
May I say a big Thank You for putting so much time and effort into your Ideal sewing machine page. It is by far the best I have found.
Alice May
Alex, you have the best sewing machine site I have ever come across how many hours do you spend on it?
Ruth K, South Africa.
Alex
Well done and supa pictures.
F G CANADA
Alex
I was given an Ideal sewing machine and after finding your site I will cherish it all the more.
Betty N
London
Hi Alex,

I just wanted to write you a quick note and thank you for the information on your website, and provide yet another story for your collection about the Ideal sewing machine.

My Great Grandfather was sent from Australia to Great Britain at the start of World War 1. He was allocated a mechanical position in the Air Corps and was responsible for the 'cloth' components of the aircraft. The size and weight of the Ideal machine made it a perfect 'tool' and he took it back to Australia with him when he returned home.

My Grandfather was only in the UK for a short period of time (well before 1920). So, as you suggest, some production must have commenced much earlier than 1920.
Once again, thank you for the information on your website, I've found it extremely helpful.

Kind regards

Cindy Myers
Sewalot Homepage