Grain Sewing Machines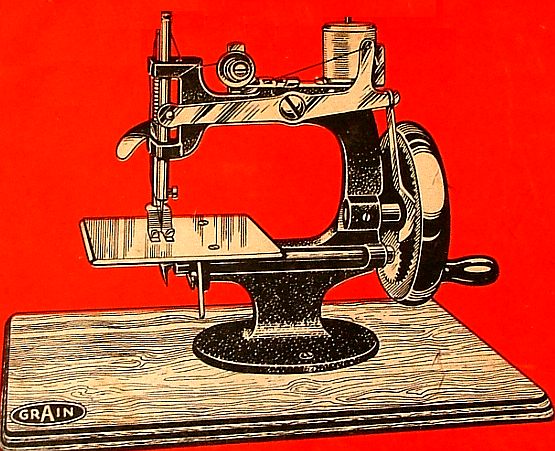 Simply The Best

For many years the best toy sewing machines in England were hand built by a small Nottingham firm. They made machines of such quality, that although they came with a years guarantee, many of them are still working today, decades after they were made. They surpassed Singer and all the other manufacturers, only being equalled by the sublime Bernina toy sewing machine. However by the 1960's cheap imported models, which were prone to make girls cry rather than smile, put paid to this beautiful machine and they were no more.
Here is the story of their brief rise and fall.
It's a funny thing research. Being so familiar with the Grain sewing machines for many years I assumed that the company which had made the perfect little machines was long gone but how wrong I was.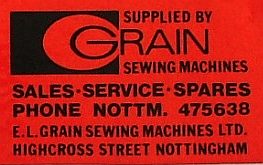 One day, on my daily sewing machine repair travels I came across a modern sticker on an industrial sewing machine with the name E L Grain. I phoned the number and was amazed to find the company still going strong.
Research up until this point was very thin but now thanks to people like David from Grain's, I have managed to bring much more information to light about many children's first sewing machine.
Hopefully now that I have put there history on the Internet many will copy it and follow up with more information.
1950's Prices for Grain sewing machines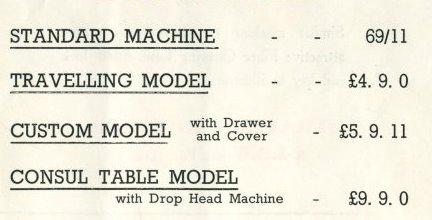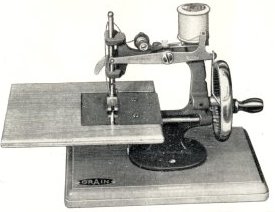 Standard Grain sewing machine 69s11p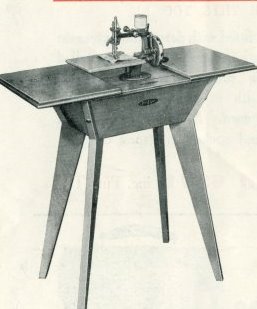 Consul table model grain sewing machine £9.9.0
Super rare model.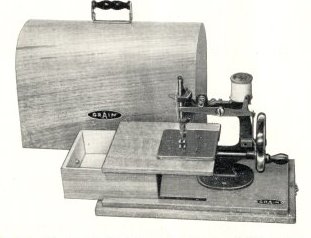 Custom model grain sewing machine £5.9.11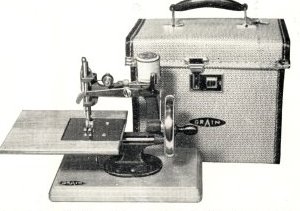 Travelling model Grain sewing machine £4.9.0
The Grain toy sewing machines were one of the most successful British toy sewing machines of the 1950's. However the company was started many years before the Grain miniature sewing machine turned up.

The company was founded by Ernest Leslie Grain in 1930.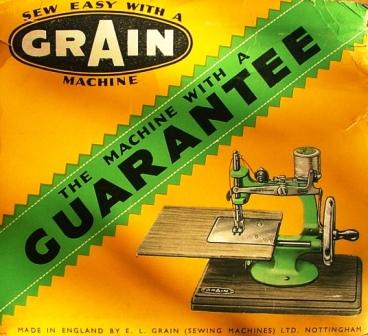 This green Grain is one of the most common colour to turn up today and cost £5. A weeks wages in the 1950's the equivalent of £350 today.
Ernest Leslie Grain was a former mechanic working for Willcox & Gibbs. He decided to go it alone and opened premises in Clinton Street Nottingham. Business was good and soon the company moved to larger premises at Highcross Street Nottingham. This was right in the centre of the Old Lace Market of Nottingham.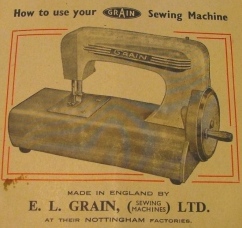 E. L. Grain sewing machine MKII circa 1959-63. One of the huge benefits of the MkII was an anti-reverse so you could not turn the wheel backwards and jam the thread. It was little touches like this and attention to detail that made the MkII one of the best toy sewing machines ever made.
The Lace Market is an historic area of Nottingham no larger than a quarter-mile. During the days of the British Empire it was the heart of the world's lace-making and selling industry. It is still full of impressive Victorian industrial buildings and is a protected heritage site. The area is packed with red-brick buildings and the streets are lined with iron railings and old gas lamps. It has become one of Nottingham's visitor highlights.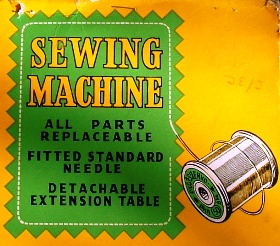 The Grain Sewing machine takes a standard 705 needle available today.
The Lace Market was actually never a market, not like we imagine in the sense of having stalls, however there were salesrooms and warehouses for storing, displaying and selling the lace which was shipped all over the world.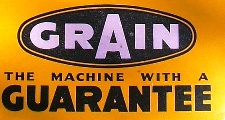 The only toy sewing machine that came with a proper 1yr guarantee. Repaired by any main dealer.
After the Second World War many firms were looking for ways to continue trading and new peace-time products to sell. Grain's were no different and in the late 1940's the idea of a small sewing machine sold to the masses was appealing. More so because Ernest had worked for Willcox & Gibbs and knew full well the potential of a chain stitch machine.
Producing a smaller lighter machine was the perfect solution. E L Grain became E L Grain (sewing machines) Ltd.

Spring of 1947 the first Grain sewing machines hit the market.
Grain, like many other companies such as Essex diversified into manufacturing miniature sewing machines that actually produced a perfect chainstitch. In March 1947 the first Grain Miniature Sewing Machine was born.
Originally all the machines were crinkle black and sold locally in Nottingham, but as production increased during the 1950's several other colours were introduces such green and rare red.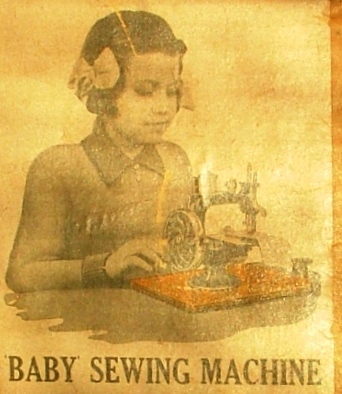 The first Grain machines were advertised as Baby Sewing Machines. This was a marketing mistake that was soon rectified. The machine was capable of sewing through a large variety of materials and for mass marketing needed to appeal to adults as well as children.
The Grain Baby Sewing Machine soon became known as the Miniature Sewing Machine and proudly stamped British Made.
The machine was almost an exact copy of the best-selling model Singer 20. Once the Singer patents ran out anyone could copy their simple but efficient design. This is what Ernest did with excellent results. The machine produces a simple but effective chainstitch.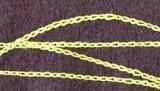 All Singer, Essex and Grain toy machines produced an identical stitch.
Along with Essex and Singer, Grain became one of the top selling British toy sewing machines of all time. The result, due to excellent engineering, is that many have survived to this day and have become very collectible.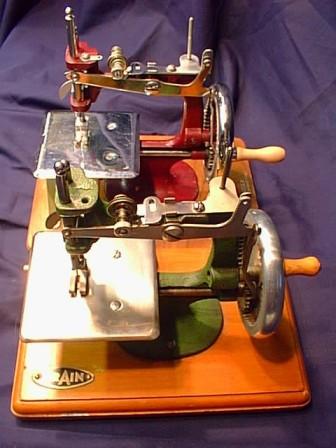 A standard green Grain and a red Essex showing the similarity. The Essex was produced in much greater numbers.
Nearly all MkI Grain machines were identical except in colour. Black, green and red.
Grain's started to make changes to their furniture on the basic model and supplied extension tables drawers and tables. The prices varied from around £3.9 shillings for the basic green model to £5.9 shillings for the red with extension table and drawer to nearly £10 for the deluxe red model with miniature table. today these tables are extremely rare. Also they came with round plywood dome-cases and occasionally a square ply box.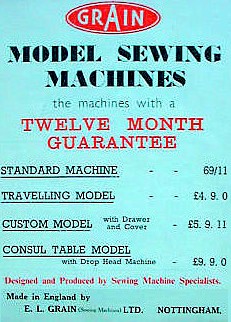 Let's just stop a minute and see what £10 was worth in 1955. It was over a weeks wages or more. That would work out that the basic Grain machine would have cost the equivalent today of about £350-£600. No wonder the quality was so good! I am still amazed that they currently go on Ebay so cheap. An investment for the future for sure.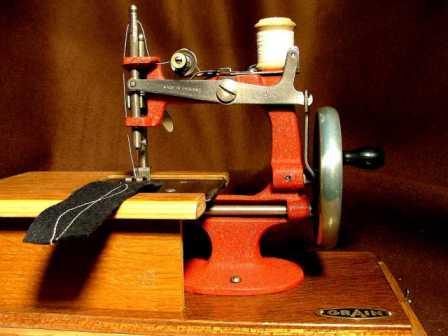 A rare red Grain with extension table and drawer that I sold to a New Zealand Lady a few years ago. Postage was ridiculous but she was delighted.
Grain's supplied full back-up for their little marvels and advertised extensively. The machine took the same needle as a standard sewing machine which was a clever move and you can obtain instructions for the Essex machine, which is identical to the Grain on my Essex page.
The company passed from Ernest Leslie Grain to his son Peter Grain. However just before the end of production an entirely new model was launched looking very different to the earlier grain models.
MkII Grain toy sewing machine models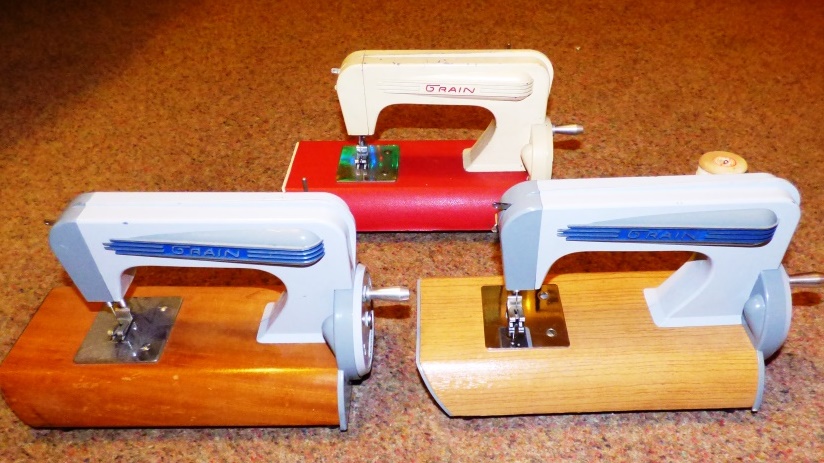 The one on the left is a wood base, the one on the right a metal cast base with faux wood covering and the one behind the super-rare red grain to match their earlier best selling red model.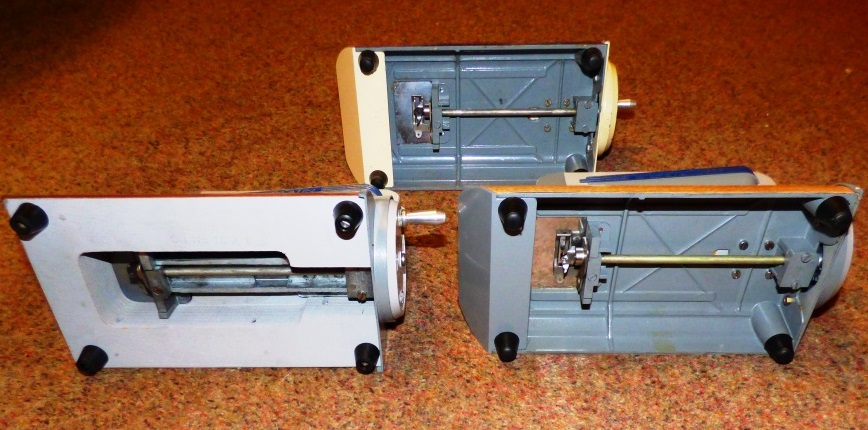 There are three distinct later models of MkII Grain Toy Sewing Machines
The first of the new Grain toy sewing machines had a plywood laminated base but as production rose the base was cast. Then they had a faux wood covering and finally for just the briefest period the machine was updated to a red base and cream top. In 40 years I have only seen two of these red crinkle finish models.
The MkII are the rarest of all the Grain sewing machines as they never sold in any quantity before production ceased. Also the machine made a superb stitch with full phosphor-bronze bearings and high-quality engineering.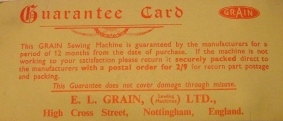 E L Grain guarantee card. All machines were guaranteed for a year, 60 years later most are still working perfectly.
Basically costing almost as much as an adult machines the Grain MKII was at the end of an era. Cheap Japanese imports fuelled by American money invested after WWII had produced a manufacturing giant in the Far East. Japan could out-compete almost any country in the world until China took over decades later.
The Grain MkII is so retro if it was a car it would be a V8 out of Detroit. Our British beauty is a dream to sew with and hard to find. Supa retro! With its 'oilite' bronze bearings it was silky smooth and a delight. Out of all the sewing machine toys that were ever made the MkII Grain is by far the best. Along with the Bernina Toy sewing machine, Grain's are the Roll's Royce of the toy machines.
Simply the best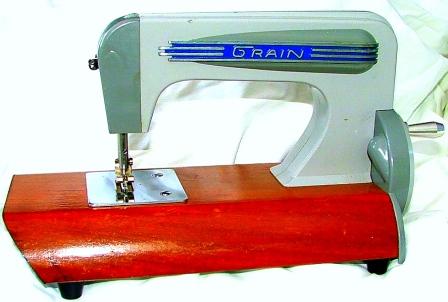 Grain MKII sewing machine rare and sought after, circa 1959-61. The shape so fit the space-age era of futuristic rocket cars and men-on-the-Moon. This is the wood laminate base model the first of the MkII's. Soon production produced a covered mock wood cast base.
The end of an Era
At at some time in the early 1960's production of the Grain Miniature Sewing Machine became just to expensive to produce and so manufacture of the British beauty ceased.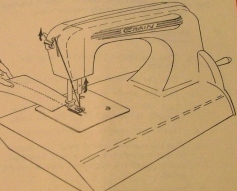 E L Grain MKII a rare machine today and beautifully engineered. If you spot one grab it quick they represent amazing value for money and will last a lifetime.
However it was not the end of the Grain Company. The business was taken over by Peter's son, John Grain, who is currently Managing Director.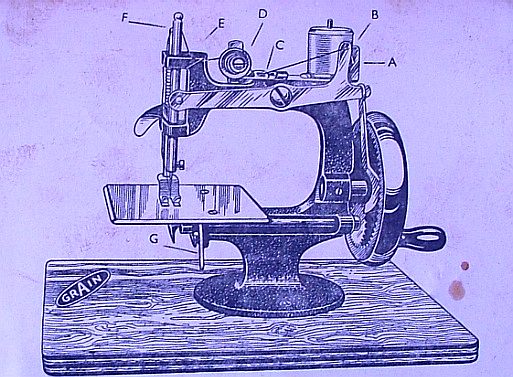 The company, which now specialises in industrial and domestic machines, is going strong and has become one of the largest independent retailers in the United Kingdom specialising in Brother and Toyota Embroidery machines.
They are also distributors, and importers of Siruba machines.
E.L.Grain are agents for most other major manufacturers including Pegasus, Juki, Frister & Rossmann, Yamato, Kansai, Mitsubishi, Durkopp Adler, Seiko.
As I write they are currently working from the Blenheim Industrial Site in Nottingham.
For thousands of girls this sewing machine was their first exciting entry into the sewing world. Many would go on to make their own clothes, wedding dresses and curtains all of their lives, saving thousands of pounds and having the pleasure of telling everyone they made it themselves!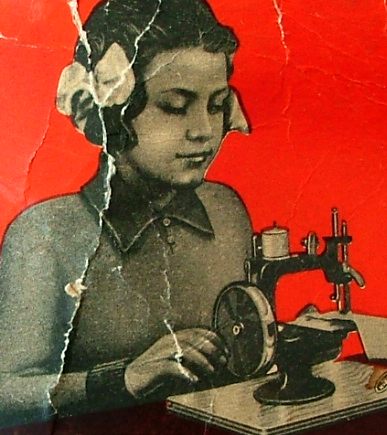 Was she one of the family?