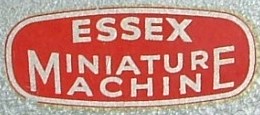 Essex Toy Sewing Machines
Made in Great Britain
Thousands of youngsters once grew up with the familiarity of the sewing machine. One of the first sewing machines that mum & dad were likely to buy their kids during the 1940's and 50's was the superb, British made, Essex Miniature Sewing Machine.
The Essex was based on the best-selling Singer 20. Once the patents ran out anyone could copy their simple but efficient design. Of all the similar machines the Essex was by far the most successful with around 150,000 models made.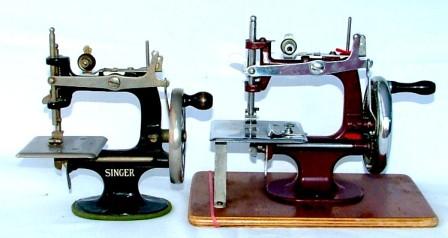 Here you can see the two models together the Essex No1 and the Singer No 20.
Differences are minor but both have identical threading up and operating procedures.
The Essex Miniature Sewing Machine was manufactured by the Essex Engineering Works. They had their premises at 12 Nelson Road, Wanstead, London, E11. In 1950 their telephone was... Wanstead 2833... how brilliant is that, straight out of an Ealing studio picture.
Now, the Essex was never sold as a toy but as a proper small sewing machine capable of excellent results. The machine produces a simple single thread chain stitch. Easy to operate and simple to use it was a dream for kids and adults the country over.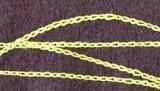 The simple chain stitch of the Essex
Research is a funny thing, sometimes it is easy and sometimes it is hard. The Essex was a bit of an enigma, almost no history of the machine seemed to be anywhere. Even when the internet flourished no information was forthcoming. So I hatched a cunning plan.
I managed to track down the local paper where the factory once was. The Wanstead & Woodford Guardian were brilliant and ran articles for me asking if anyone still remembered the old factory? It was worth a stab in the dark.
Well to my surprise emails started to come in and the response allowed me to fill in the missing story of the Essex machines.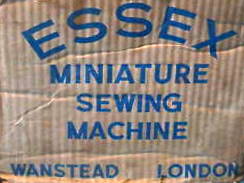 To my amazement Jane Smith contacted me and gave me some great information. Jane broke the news that not only was the Essex Engineering Works still going strong but she was the Company Secretary! Although the company no longer produced sewing machines they still made high quality coin operating mechanisms for loads of machines from pub pool tables to washing machines. They are one of the longest running manufacturers of these specialist machines in the world. Their slot machines are exported all over the world.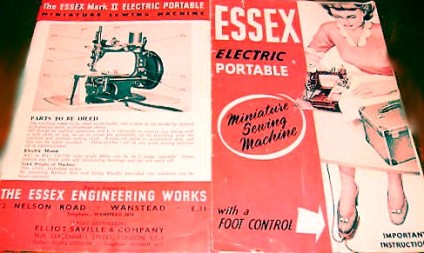 For a short time Essex produced a mains electric model to appeal to adults.
With Jane's, and a few others help, I managed to compile a much better picture of the company. Here goes...
The company was founded in 1935 by Horace Kenneth Victor Allen. The family firm is still run by his son, Kenneth Rinaldo Allen and the third generation, Maximillian Anthony Allen, is also involved in the business today.
The factory was built on the site of the old bottling works of the Nelson Bottling Company who bottled beer there. It was a notorious area in the pre-war era and people remember the endless crates of beer bottles stacked in the yard.
Opposite, on Hermon Hill, was Wanstead Hospital built in 1861 originally an orphanage for lost sea-farers children. The hospital was used to film Doctor in the House and re-named St Swithins for the show.
Originally the company was a small repair shop for one-armed-bandits. We all remember those. Employing around 35 workers the company kept to high quality advanced engineering.
During the Second World War the company switched to manufacturing parts for guns and precision tools and gauges. I would love to hear from anybody who worked at the factory during this extraordinary time. alexsussex@aol.com.
After the war, the company became aware of the shortage of sewing machines. It was a period in history where you would be put on a waiting list at your local shop and contacted when a machine arrived. I have heard of cases where customers have waited over a year for a sewing machine. Not quite such a problem today! The market was huge and ripe for a new sewing machine.
It was decided to use the small and simple chainstitch model, and after tooling up they went into production.
In 1946 the first Essex Miniature Sewing Machine was born. Like Henry Ford you could have your sewing machine in any colour as long as it was maroon!
The Essex Sewing Machine Mk I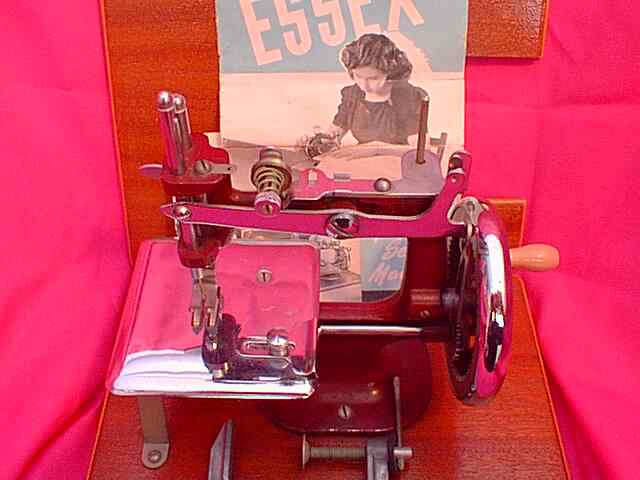 The Essex Miniature Sewing Machine 1946-1956. You could have any colour as long as it was maroon!
After a slow start production boomed and by 1956 over 150,000 of these little beauties had been manufactured. They sold in almost every outlet all over the country from big department stores to small corner shops.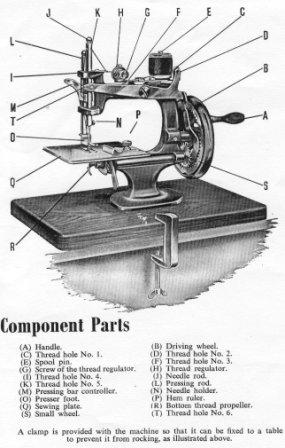 Each Essex contains around 30 parts and all the presswork and machining was done at the factory in Wanstead. The machine became a firm family favourite and is still one of the most popular machines to turn up. Due to its high quality most still sew very well.
In 1956 the world was changing, out with the old in with the new. Rationing had finally finished in 1954 and a new sound was coming over from America. It was time for a change.
Essex Toy Sewing Machine Threading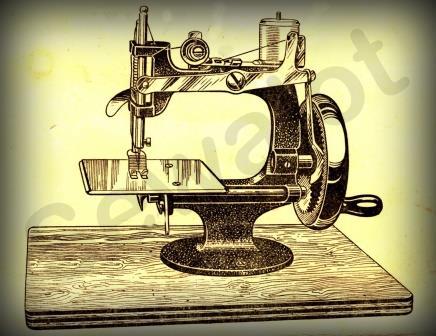 threading the Essex Toy Sewing Machine was easy as there was no underneath threading.
The MkI was for a short time sold with the option of being electric but what was needed was a completely new machine.
Larger department stores were looking for a more modern looking machine, an updated version of the old No1. They were happy with the old machine but wanted something new and flashy to match the era. The Essex Engineering Works thought long and hard and after re-tooling and casting, produced, at considerable expense, the Essex Miniature Model II.
Essex sewing machine Mk II
The new machine was an instant success but there were storm clouds approaching! The Japanese, funded by American investment after the war had started manufacturing sewing machines. These heavily subsidised machines were imported into Britain at impossibly low prices.
The writing was on the wall, not only for the car and motorcycle industry but the humble sewing machines as well. Singers up in Clydebank and Jones in Manchester also suffered terrible losses.
To add to this a new era was approaching and girls were becoming far more interested in lipstick and Elvis than sewing!
The Essex Engineering Works finally brought its sewing machine manufacturing to a close and concentrated on its slot mechanisms.
To date they have produced over 1.2 million coin slide mechanisms, check out your local Laundromat next time you are in the area and look for their stamp!
Values
At the moment, as I write, values are at an all time low on these little beauties. They can be picked up on auction sites for a few pounds. This is because the era of the computer in every house has made the machines easy to find from anywhere in the world and few yet have realised the value of these little gems.
However there is no doubt that before long they will shoot back up to their real values. In 1950 they cost a weeks wage! The equivalent today of around $500.Work that out in today's costs and you will see why you should grab one if you get the chance!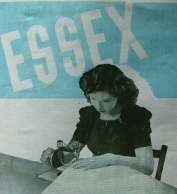 Essex Toy Sewing Machine circa 1955
Sentimental value should never be underestimated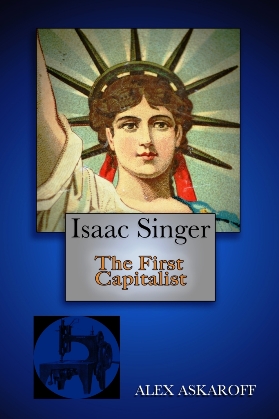 Most of us know the name Singer but few are aware of his amazing life story, his rags to riches journey from a little runaway to one of the richest men of his age. The story of Isaac Merritt Singer will blow your mind, his wives and lovers his castles and palaces all built on the back of one of the greatest inventions of the 19th century. For the first time the most complete story of a forgotten giant is brought to you by Alex Askaroff
Hi Alex-
I am kicking myself. My Mum had this beautiful machine in a carry case and she used it to make my clothes in the late 50s early 60s. I stupidly gave the machine away and I now bitterly regret doing that.
Sue H
Hi Alex,
I was really excited to find your web site and to read the history of the
Essex
Engineering
Company
. My mother bought me an
Essex
miniature sewing
machine
when I was a child and I spent many happy hours sewing with it right into my teens. I made a dress on it that I wore when I started work at David Evans Department store at the age of 15. It sparked my interest in sewing and I still love sewing today.
Jen Harry
Hi Alex
I just have to write and tell you I am so pleased I found your site. I have an original sewing machine from the Essex Engineering works. This was my mothers. When I was a little girl she made all my clothes with it, this was well over 55 years ago. I can still see her now sitting at the table making curtains and clothes. I looked up the Essex Engineering Company on the internet and was thrilled to see your pages with the said sewing machine on there. I will now keep it a few more years, thank you
Janette Mills
Hi Alex,
I was thrilled to have found your extremely informative site on the Essex Machines. I
was
clearing out my mother's house and found one in its own blue/black case. It was my grandmother's and she brought it with her to Canada when she & my grandfather emigrated in the mid 1960's. Someone had offered me
money
for it, but after reading your article, I think I will hold onto it. My grandmother had been a great seamstress in her younger days & had made all my mother's clothes for her until she came to Canada in 1948.
Thanks so much!
Diane Tomes-Low
Halifax, Nova Scotia, Canada
Hi Alex

I have spent most of my life being fascinated by my Granddad's use of a tiny sewing machine which I now know as ĎThe Essex miniature sewing machine.í He was given it by an auntie after he got married in 1944 and had been using it regularly to hem up his trousers and pyjama bottoms right up till he passed away recently at the grand old age of 95! Whilst sorting through his things I came across the instruction manual which prompted me to search the internet for some information on it and was delighted to find your site and read its history. Although I personally donít use it, I would never part with it, as it is a lasting memory of my Granddad which will live on in our family forever.

Thanks
Karen Tweedie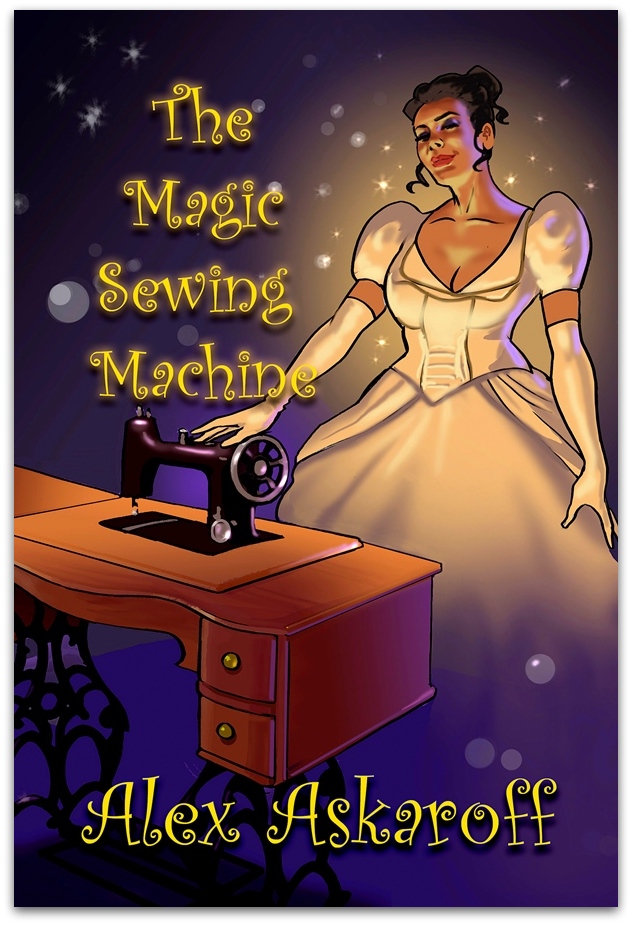 "This wonderful book is now the 'must read', bedtime tale when my grandchildren stay. They won't go to bed without it!" FIVE STARS.
M Johnson Alberta
Hi Alex,

Just wanted to say thanks for a great page with info about the Essex sewing machine. And particularly the link to the instruction book. I looked online to see if there was any info, and was delighted to find your site.

kind regards,

Helen
Hi Alex
In my loft I have just came across the little sewing machine my parents bought me second hand in early 1960ís for £5.
I used to use it making clothes for my children when they were very small. I am handing it down to one of my daughters and I was so happy to find out the origins of it before I handed it over. I hope my daughter will be as pleased with it as I was when I first had it.
I never knew anything about it till I ventured onto your site and found out about its original beginnings.
Margaret D, Fife
I have 'the Essex' still in its original box it was my Nans- I knew nothing about it's history until I stumbled across your web site. This is what Sunday sewing afternoons are all about ! My husband now says he doesn't mind
it
taking up space, quite so much as it feels like a little bit of history.
Many thanks,
Emma B