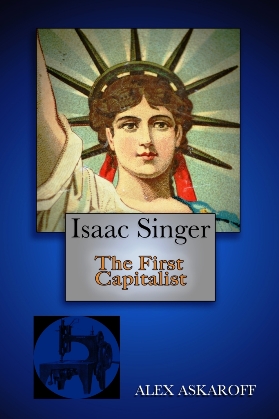 Most of us know the name Singer but few are aware of his amazing life story, his rags to riches journey from a little runaway to one of the richest men of his age. The story of Isaac Merritt Singer will blow your mind, his wives and lovers his castles and palaces all built on the back of one of the greatest inventions of the 19th century. For the first time the most complete story of a forgotten giant is brought to you by Alex Askaroff.
The William Jackson Automaton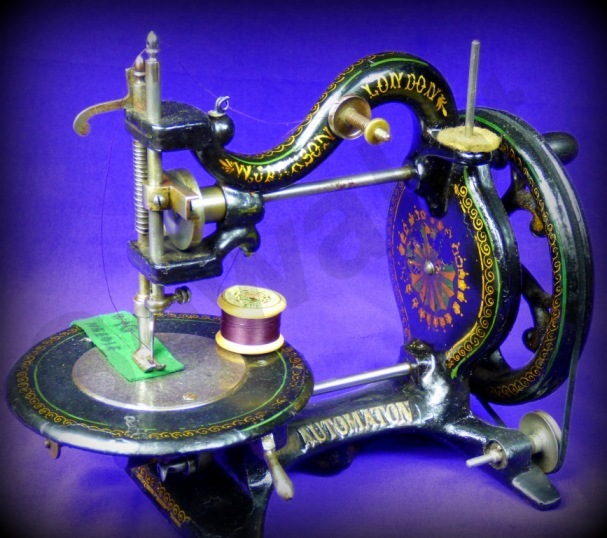 William Jackson Automaton sewing machine of 1872. The machine cost four guineas when new. This machine is part of the Alex Askaroff Sewalot Collection.
Let me start by saying most people have never seen a Jackson machine. To my knowledge there are only a handful that still exist. However Ebay and other auction sites are allowing machines found in old lofts and junk-rooms to come to light. So let me tell you what little I know about the machines.
William Jackson had the perfect founding in the early British sewing machine trade. William was a Yorkshire lad who moved to London in the 1850's and found work in the early but busy sewing machine business. He worked for several years in the employ of the sewing machine pioneer Newton Wilson (so Newton Wilson stated but he did have the knack of mentioning anyone who became well known in the sewing business).
William did not waste his talent working for the man and upon leaving he had firm ideas of the sewing machines he was going to make.
31 December 1859 William Jackson's
first registered patent application
In 1859 while living at No 4 Spring Terrace, York Road in Lambeth Town, London he was granted a patent for a large chunky machine for heavy industrial work.
In 1864 he was granted a patent for another chunky machine but this time it was a chain-stitch machine which if it sewed as badly as it looked was probably not a big seller. William seemed to be oblivious to the visual appearance of the machines that he was making.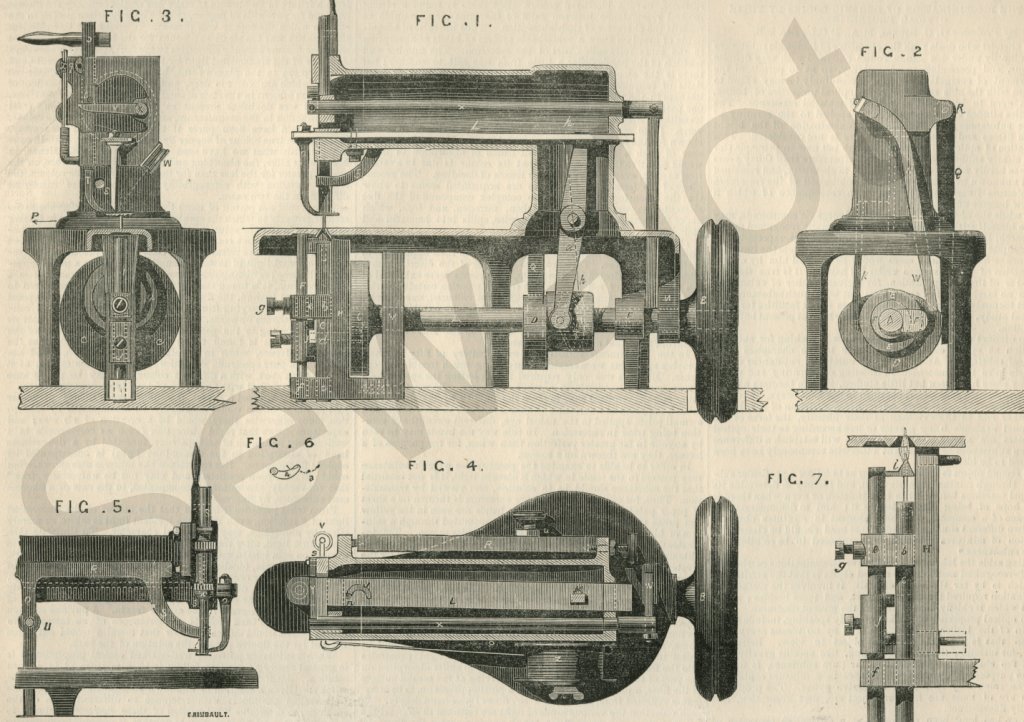 You can see his 1864 machine drawings above. They look more like machines designed 20 years earlier.
William Jackson Retail Premises
1a Caroline Street, Eaton Square,
Pimlico, London South West
He then branched out into smaller machines as well and by 1867 he had his shop in Eaton Square and was showing of his machines at the grand Paris Exhibition, the L'Exposition Universal. At this time each machine would have been painstakingly made by hand on small machinery.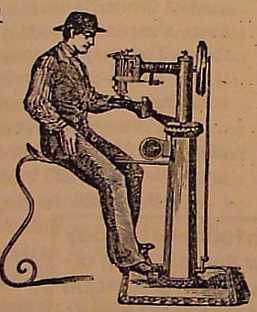 To start with William Jackson kept to a different market to Newton Wilson and produced large boot and sole patching machines which he manufactured throughout his sewing machine career. Cleverly not giving his machines model numbers he confused his competition.
In fact he worked on some of the very first machines imported into Britain copying the rotary hook of Wheeler & Wilson. He was at the very birth of our trade in this country. I love the sprung seat on this 1870's advert.
Note the treadle operation to keep the hands free for work. though this chap looks more like he is riding a horse! The machine was for attaching the soles of the shoes to the upper-body.
In his advertising he proudly boasted that his sole patching machine could be operated by a child and was capable of sewing 300 soles a day! I doubt if a child could even reach the treadle but I understand what he was trying to say.
William Jackson sole patching machine 1859-1867
By 1870-71 William Jackson had moved part of his manufacturing out of London to Warlingham in Surrey and cheaper workshops. However being out of the hustle and bustle of the capital also meant he missed out on the latest ideas.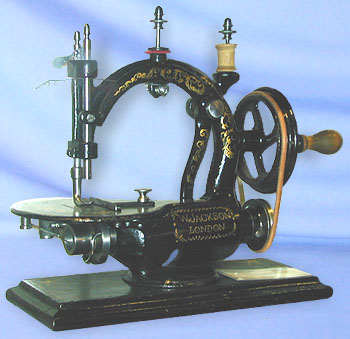 His first domestic machine, (possibly 'The Victoria' though don't quote me as it was on Weir's adverts that it was so named), was not a great seller. I believe he sold what little stock he had of them to James Weir around 1871. I have to wonder if James G Weir bought them or forced Jackson to sell them to him because of some sort of patent infringements. It seems to coincide with Jackson's sudden move out of London. Weir sold them at the same price as Jackson had. Jackson's machine used a rotary hook similar to Wheeler & Wilson so I could be grasping for some connection once again. Weir was a man of bluff and bluster so he could have scared Jackson (his competitor down the road) into thinking he would end up in lengthy litigation. Either way Jackson sold of his stock to Weir which he flogged alongside his brilliant 55 shilling machine (imported from Raymond in Canada).
William's departure was not for long though and it lead to the Automaton, a very different looking sewing machine but with the same fundamentally flawed top stitch mechanism and weird epileptical feed.
He seemed to be a man of many talents and produced bicycles, velocipedes, prams and carriages as well as his sewing machines. It may have been this small scale manufacturing of many items that kept him from concentrating on his sewing machines and perfecting them.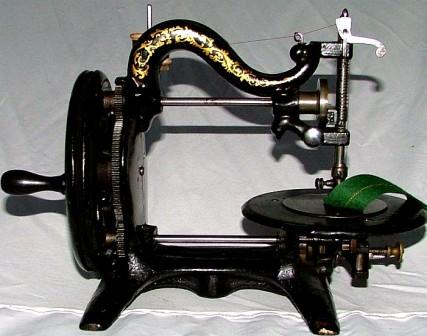 However it was not long before William concentrated on the much larger domestic market with this small rotary hook lockstitch called the Automaton.
William Jackson Automaton 1872 sewing machine
W. Jackson
30 Rue Montagne de la Cour
Bruxelles
In 1872, William Jackson was granted Patent No1311. In May of that year he was back at 1a Caroline Street, Eaton Square, Pimlico, S W London as well as Warlingham in Surrey and also premises in Middlesex.
The patents were for improvements to a sewing machine rather than a machine itself. His castings and shape were unique (he could have also patented these and had them made at a local foundry. He did not have his own).
Interestingly though sales were poor he must have had some good financial backing as he even used Queen Victoria's printers, Eyre & Spottiswoode. Though his machine was flawed and doomed to failure his hook assembly and castings were first class. The model in my Sewalot Collection is a stunning piece of 19th Century engineering and innovation. If only he had perfected the end product!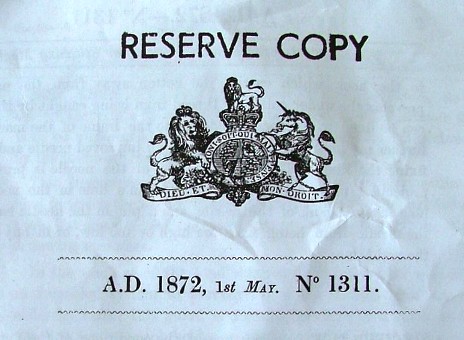 William Jackson sewing machine patent.
William had two novel ideas for which he claimed patent protection. One was a simple metal-finger beneath the bed of the machine to stop the top thread from twisting into the under-thread of the lock or fast-stitch. A simple and crude idea but it was unique enough for a patent.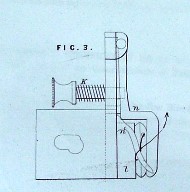 The other was for a needle that could not be put in the wrong way or at the wrong height. This was a great idea at the time and should have caught on. However it was much cheaper to simply add a needle-stop screw to the needle bar rather than manufacture bent-top needles. You can see the patent needle to the right.

He had rushed the patent into the Patent Office and had forgotten to add a bobbin winder to his design, which he added later.
William Jackson went into business with his sons and soon produced the super-rare Automaton lock-stitch for the domestic market. Beautifully cast with lavish hand-painted gold work the machines proudly displayed, W. Jackson, London.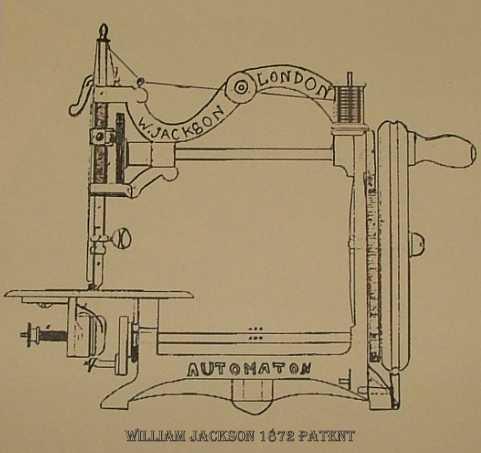 William Jackson sewing machine 1872 Automaton £6 on a treadle.
To this day only a handful have ever surfaced, they are super-rare. The machine was a delight to look at and easy to sew with. It had faults like many of the early machines but you would not guess it from his advertising, the machine was capable of sewing from one to 20 layers of fabric with consummate ease...Yeah right! What sort of advertising was that, 20 layers of fabric! Even a heavyweight industrial would struggle to get that amount of fabric under the foot, let alone stitch it! I suppose people were selling hair tonic in the same papers so we can forgive William for a bit of over zealous advertising.
William Jackson Sewing Machine manufacturer
36 Boulevard Malesherbes
Paris
The machine used a rotary hook mechanism reduced in size from his boot-patching machine that worked reasonably well. It was a basic copy of the Wheeler &Wilson patent with a revolving finger to pick up the lower stitch. However he was also using a fiddly little extra wire underneath to hold the top and bottom thread away from each other. It was a poor design and prone to failure.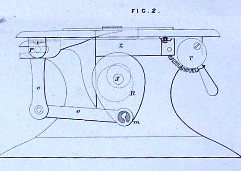 However the bobbin was clumsy to install and you need nimble fingers. I know, I must have dropped the bobbin 10 times or more while I was getting his machine ready to stitch. The machine produces a basic lock-stitch but would have greatly benefitted from a simple take-up spring to remove loose thread from the shuttle area. Nearly every major manufacturer was using one by the 1870's so you have to wonder why he did not.
The William Jackson hook 1872 patent
By the 1870's machines like Singer were producing great quality stitching, so it was only looks, price and advertising that could make the Jackson stand out. The machine was not in the same class of stitch as other mass-produced models on the market. In fact the machine was so simple it was really out-dated before it was on the market. A bit like computers today. William was selling an Sinclair 64 next to Microsoft's Vista!
His beautiful Automaton was priced at £6, as a treadle, or £4.4s as a hand model.
William Jackson & Company
11 Quai d'Orleans
Lyons
As well as the Automaton he made a beautiful small chain-stitch machine called the Duchess of Edinburgh, priced at £2.2s. Both machines came with a five-year guarantee and optional, simple, treadles.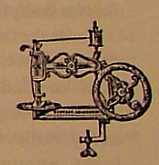 The Duchess had a unique hand wheel that could be operated in either direction. It must have had some sort of ratchet mechanism. That was a great idea as many machines jam if operated in the wrong direction. He called his Duchess a loop-stitch machine as it produced a simple loop or chain-stitch, similar to what we see today along the top of potato sacks.
The William Jackson Duchess sewing machine 1874
In 1881 Jackson's had their premises at 53 Cannon Street, London. I cannot find any mention of the company after 1884 and assume they, like so many other small companies disappeared, swallowed up by fierce competition from the sewing machine giants.
However William Jackson did leave behind some spectacular hand-built machines and none more so than the amazing Automaton.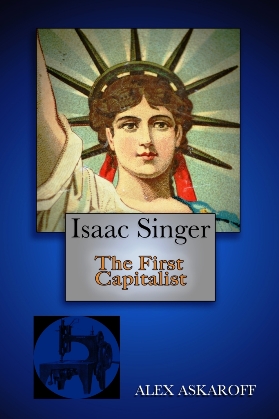 Most of us know the name Singer but few are aware of his amazing life story, his rags to riches journey from a little runaway to one of the richest men of his age. The story of Isaac Merritt Singer will blow your mind, his wives and lovers his castles and palaces all built on the back of one of the greatest inventions of the 19th century. For the first time the most complete story of a forgotten giant is brought to you by Alex Askaroff.