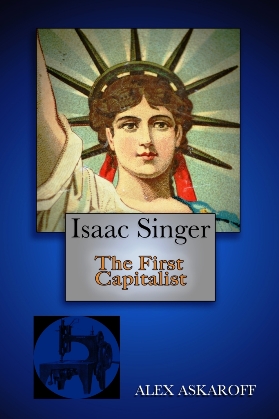 Isaac Singer The First Capitalist
Most of us know the name Singer but few are aware of his amazing life story, his rags to riches journey from a little runaway to one of the richest men of his age. The story of Isaac Merritt Singer will blow your mind, his wives and lovers his castles and palaces all built on the back of one of the greatest inventions of the 19th century. For the first time the most complete story of a forgotten giant is brought to you by Alex Askaroff.

Linda Clark
What a fantastic piece of history u saved for us Alex. I enjoyed the read.
John Ruf
Thanks, Alex, what an engrossing read. I have always enjoyed the story of the Willcox and Gibbs; that Gibbs invented the chain stitch while trying to duplicate existing machines amuses me.
Marti Marti Johnson
Your stories always are great! I've learned more about the early industrial age from you than from nearly every class I've ever taken in history! Keep up the great work!
Marsha Minick Storey
Thanks for posting. Great article.
Neil Chisholm
Really enjoyed the article. Had no knowledge of 'The Kings'!
Kam AmiKam
Thanks Alex for all the information.
We learn every day.
Pauline Manser
Great research and work once again Alex. Your Sewalot Site is awesome it must have taken you years!
Malcolm Price
Amazing I never even knew about this. Your work is astounding, no wonder they call you 'The Sewing Machine Guru'. One point 'Foul Swoop' should be 'Fell Swoop'. Superb stuff.
Lynne Amberly
What a wonderful piece of research Alex. If ever you write another book do let me know. I have all of yours (except the children's tales).
Anne Goff
Wonderful look into the history of our much loved machines! Thank you Alex for writing this. I really appreciated the amount of research involved in the writing of it.
Sharon Flora
Great article. Thanks Alex
Robin Harvey
Thank you Alex. Interesting bits of history and wonderful photos. Many of those machines I have not seen, even in pictures.
Susan Maddox
This was a wonderful look into history. Thank you Alex Askaroff. I can't wait to share this posting with some of my friends.