"If the British Empire and its Commonwealth lasts for a thousand years...men will still say...this was their finest hour!"
Winston Churchill
You may wonder why I have added this page about J. K. Ross D.F.C. on my antique sewing machine site?
At Eastbourne Auctions, where I occasionally search for my sewing machines, I was browsing all the usual suspects that appear in the auction, from old medals to antique furniture, when I came across something that immediately caught my eye.
It was the framed remnants of a crashed World War Two Hurricane fighter plane, partially excavated by Murray Barber and his historical archivist team back in the 1980's and later raised from its muddy grave. The Hurricane had crashed after being shot down at Rochester in 1940.
I was immediately fascinated. The pilot who survived to fight another day was Jack Kenneth Ross. As the plaque on the frame read, the plane had been shot down by 'friendly fire'. I thought I must have the brutal twisted bits of metal that had been accidentally destroyed while protecting our country. So I bid.
After winning I rushed home with my bits of hurricane to try and find out what I could about our hero.
I searched and searched. Google was not proving much help, and, as much as I searched in 2008, I was surprised to find almost no information about the young lad that had fought so bravely to protect our country.
So I started to collect pieces of the missing puzzle that was J K Ross's life. With the help of a few family relatives, fellow crew members and years of persistence I have put down what I could find out, in the hope that it may help any family relative who is searching for more information about Jack Ross. If anyone can add any further information to Jack's page please do mail me: alexsussex@aol.com
This page is dedicated to Jack Kenneth Ross D.F.C.

Battle of Britain
Pilot Officer J K Ross, 79163, D.F.C. Green Section 17 Squadron
Hurricane Mk1 P3536
A Hawker Hurricane Mk 1 in 17 Squadron markings
Prior to the Battle of Britain, Pilot Officer Jack Kenneth Ross D.F.C. (Distinguished Flying Cross) and Flying Ace was a veteran of the air battles over Dunkirk. The experience that he gained harrying German planes over the coast of France proved invaluable to Jack.
He was one of the 'Special Few'. The 2927 young men from Great Britain and overseas, pilots and aircrew, who are officially recognised as having taken part in the Battle of Britain.
These men fought hard and many died young. Amazingly, we sit here today due to their sacrifice. The German invasion of Britain was planned and ready to go ahead. Had Britain lost in the air there would be nothing to stop the Nazi onslaught. Invasion of Britain was essential to Hitler for complete domination in Europe.
Successful invasion of Britain could, in turn, have led to Germany having time to finish their nuclear weapons development that was well under way, something that was thankfully cut short. Had Germany succeeded in being the first country to gain nuclear weapons they could have taken any country or continent that they wished and our world would be very different today.
These, and many more diabolical plans, failed due to those splendid young men (and women), who fought for freedom, our freedom, in the skies of Britain on that long hot summer of 1940.
This is the story of Jack Ross, Flying Ace, our forgotten hero.

17 Squadron received their first Hurricanes in the June of 1939. Jack Ross joined 17 Squadron in May 1940.
Using Le Mans and Dinard as forward airbases, in June 1940 Jack's squadron was busy in Brittany defending the remnants of the British Expeditionary Force as they were being evacuated from the beaches of Dunkirk.
Constant attacks by German planes on the retreating forces were hampered by British pilots running skirmishes along the coast. This helped over 300,000 troops to escape capture by the advancing enemy. Jack Ross shared in the destruction of several enemy fighters during this time.
By July of 1940 most of the daily papers were reporting openly that the German invasion would start at any moment.
Pilot Officer Ross was flying a Hawker Hurricane, a single-seat fighter of the Royal Air Force. Jack was not sure that the RAF would accept him as he was a small man standing only 5ft 2" in shoes. He found out to his delight that the RAF were always ooking for smaller pilots as it gave them more room in the cramped cockpits.
The Hurricanes saw more action in the Second World War than any other type of aircraft. With their eight Browning machine-guns they shot down more enemy airplanes than any other fighter. The success of the Hurricane has placed it among the greatest fighter planes of all time.
After heavy fighting in France and over the skies of southern England the Squadron returned to Debden Airbase on the 2nd of September 1940. Unfortunately for the squadron, September saw the start of the planned enemy invasion of Britain.
Firstly the British airfields were to be demolished, then the infrastructure, then Operation Sealion, the mass invasion of Great Britain could begin. Without air supremacy a land invasion was impossible. The Luftwaffe had to destroy our air force for most of Germany's other plans to take effect.
the sky's on fire
On 7 September the Daily Mail reported that there had been 14 hours of continuous air battles over our skies. The RAF had shot down a reported 45 enemy aircraft, five going down within 10 seconds of each other.
The squadrons of fighter planes were fighting, returning to base, refuelling and re-arming then getting back into the air. The pressure for all the pilots and ground crew was unimaginable. It was here in the furnace of war that our young heroes had a baptism of fire. There was a 30 minute break between landing for fuel and ammunition and rushing back into the skies.
Unlike some of the Squadrons, No 17 Squadron was not rested but fought all the way through the Battle of Britain.
On 7 October German bombers set London Docks ablaze.
Sunday 13 October 1940
Sunday started with early fog, clearing to a fine morning with broken cloud thickening later in the day. London and Kent were under constant attack by enemy aircraft some dropping parachute mines with devastating effect on civilian targets. A convoy was attacked off the East coast, followed by raids over Thames Estuary and Kent.
At 12.48hrs Green section, of 17 Squadron, was once again scrambled to intercept enemy aircraft. Around 25 enemy aircraft came over the Channel at Hythe heading towards Lympne.
At 13.35hrs, two more waves of over 30 German planes flew up the Medway. The first wave penetrated to Central London but the second were intercepted at Dartford and repelled with heavy losses.
Ground force Anti-Aircraft plastered the sky with Ack-Ack as spotters called out their marks. Debris and shrapnel was falling like rain over London.
The fighting became intense as the weather changed and the skies became patchy with cloud. Pilot Officer J K Ross darted in and out of the clouds chasing his enemy. But in the heat of the action he was hit by our own anti aircraft fire. This was not uncommon as a plane in hot pursuit of the enemy, was also in direct line of fire from our ground guns.
He ripped off his flying helmet (which stayed in the plane), disconnected his radio and oxygen connections, and bailed out of his stricken Hurricane P3536 at 13:51hrs. Pilot Officer Ross was wounded but parachuted to safety. One of the benefits of being small was the ability to easily get out of the tight cockpit.
His plane crashed into the east bank of the river Medway, 51.357780 N - 0.452970 E, just above Wouldham, near Rochester, at 13.54hrs. Locals say that the plane was almost swallowed up by the mud with ammunition scattering everywhere and one of his wheels floating down the river. They say that for years after the area stank of fuel with oil bubbling up onto the surface of the river until the planes successful salvage in the 1980's.
Over the following years there were several failed attempts to pull the Hurricane from the muddy river bank. The successful team who managed to salvage Jack's plane in the late 1980's came up with a clever plan. A Thames Water Crane, mounted to a barge, was floated up river on the high tide. They positioned themselves over the wreck and waited for the tide to fall. Once anchored in the mud they managed to dig around the plane and lift it. Apparently it was a fascinating day for the locals watching the dedicated team, covered in mud, managing to do what no one else had done.
Now back to Jack who had bailed out injured, during the Battle of Britain. Pilot Officer Ross was picked up and rushed to Gravesend Hospital.
As the Battle of Britain came to a close J K Ross, who was wounded in both legs, quickly recovered. He resumed his unit, shooting down a DO17 on 27 October and a JU87, possibly two, on 11 November.
The huge losses encountered by the Luftwaffe made it impossible for them to continue their mass assaults. With Hitler in a fury he reluctantly scaled down the air invasion.
Although Britain was not safe, and would still come under terrible bombardments, no mass invasion was now possible. The 'Special Few' had done their job and although a pilots life was measured in days, not years, Jack Ross had survived the worst aerial attack in history.
Hitler halted Operation Sealion and looked East for domination of Russia and their oilfields.
Britain was temporarily safe as long as no weapons of mass destruction were available.
Russia was now under attack.
In June of 1941 Germany started its invasion of Russia. Within weeks Russia and Britain formed a military alliance and supplies were shipped to the northern ports of Archangel and Murmansk. At the First Protocol Moscow Conference, Britain agreed to try and send 200 aircraft a month, (between October 1941 and June 1942) to the Soviet Union to help Russia survive the German onslaught.
The British factories were now at full production with many women taking over men's jobs who were away training and fighting. Canadian factories were also producing the Hurricane. In total around 14487 Hurricanes and Sea Hurricanes were produced in Britain and Canada during WW2. There is little doubt that the Hurricane was the backbone of the RAF.
When 134 Squadron was formed in July 1941 Jack was promoted and joined them as Flight Commander J K Ross.
151 Wing
In the summer of 1941 what was left of the depleted 17 Squadron joined with the re-formed 134 Squadron out of Leconfield. The Squadron was to form part of 151 Wing bound for Russia, which also included 504 Squadron.
The British supply convoys heading to Russia were within attack range from the Luftwaffe based in Norway and Finland. Russia was poorly equipped (using a strategy of 'burn and retreat' against the Germans while they tried to arm themselves). While resupply was underway a number of Hurricane 11B's were provided to fly support and protection sorties.
Winston Churchill had promised Russia support and part of the support to protect the Russian convoys were two new RAF squadrons 81 and 134 which now formed part of 151 Wing of the RAF, commanded by Wing Commander H. N. G. Ramsbottom-Isherwood RNZAF.
To Russia
Equipped with Hurricane aircraft RAF 151 Wing was shipped to Russia aboard the Aircraft Carrier HMS Argus out of Abbotsinch, along with the pilots and ground crew necessary to train the Russians and their new Red Air Force. They set sail on August 19 from Glasgow toward Scapa Flow.
Such was the vital importance of their mission that no expense was spared to make sure that they made as safe a crossing as possible. They then sailed from Scapa Flow to Murmansk on 30 August with three Tribal Class destroyers and the Cruiser HMS Shropshire as escort. Murmansk at the time was a naval base and supply centre. It was also a main target for the Germans.
From Iceland, they travelled to Spitzenbergen, where they met up with the Aircraft Carrier HMS Victorious and three more destroyers including HMS Matabele and HMS Punjabi and possibly HMS Sheffield.
Wing Commander John Francis Durham "Tim" Elkington continues...
Aboard HMS Argus, 18th August, the First Sea Lord gave us a briefing which, I must assume, told us that we, as 151 Wing, had been promised by Churchill in response to Stalin's demands for support. Our role was to be "the defence of the naval base of Murmansk & co-operation with the Soviet forces in the Murmansk area. We were to instruct the Soviet authorities in the operation & maintenance of our aircraft & ground equipment, which was then to be handed over to them".
And so it was that we became part of the first ever convoy to Russia, together with merchantmen carrying the rest of the Wing & crated Hurricanes, & escorted by HMS Victorious, Shropshire, Punjabi, Somali & Matabele.
This dangerous voyage was shadowed by the Germans and was under constant threat. The Aircraft Carrier HMS Victorious mounted surveillance missions and shot down a Dornier 17 that was spying on them. Several times along the route planes were scrambled to meet possible German threats.
B-team Flight Commander, J K Ross, was amongst the pilots and ground crew on this perilous journey.
The convoy changed headings several times to avoid being ambushed by U-Boats. In total there were 11 ships including two aircraft carriers trying to make for Russia. Churchill's promise to the Russians was of the utmost importance and the convoy, with its precious cargo of pilots and planes, had to make it through.
They arrived off the coast of Russia on 6th or 7th of September 1941 (more Hurricane's continued to follow but these were the very first).
The pilots had to fly the Hurricanes off the decks of the aircraft carriers (which were luckily in calm seas). They had halted 200 miles off the Russian coast.
With unreliable compasses the pilots were told to take off and then line up with HMS Argus and another destroyer in line with it, then head in that direction until they spotted land!
At least two of the hurricanes were damaged during take off but both managed to arrive safely.
151 Wing was a conglomeration of survivors and joined squadrons including Squadron Leader Rook with 81, 134 and 504 Squadron.
Part of the team, that I have found so far, (many from 17 Squadron)
Wing Commander H. N. G. Ramsbottom-Isherwood RNZAF
Squadron Leader A G Miller
Flight Sergeant Turner
J K Ross
Cameron (later MRAF Lord Cameron of Dalhousie).
Flight Lieutenant Berg
Furneaux
Wollaston
Mc Cann
Sheldon
Sergeant Barnes
Sergeant Clark
Sergeant Campbell
Sergeant Gould
Michael Rook
John F D Elkington
Sergeant Campbell smashed his undercarriage on the ramp at the end of the deck during lift-off as did Flight Lieutenant Berg. They both had to make emergency crash landings at Vaenga Air Base. They both survived.
Jack Ross led B Flight, 134 Squadron, and all his squadron took off and landed safely at Vaenga. Jack was flying Hurricane Z3763. At Murmansk 15 Hurricanes that were still crated along with assorted ground equipment was shipped via merchant ships to Archangel. The planes were then assembled and flown by veterans from The Battle of Britain and the earlier Battle of France. On the ground they were maintained by Australian, British and New Zealand ground crew.
Vaenga was a huge airfield with separate Russian and British barracks. The teams had 20 pilots each and over 500 personnel and ground crew. The airfield was rough and consisted mainly of rolled and flattened sand, mud and snow. Taking off and landing was hardly better than from a farmers field.
When the RAF first arrived the Russian General, absolutely delighted to see the British pilots, invited them to a huge welcome breakfast of salmon, ham, caviar and champagne. He then introduced them to the Russian pilots they were to train.
The RAF Pilots noted that as the day progressed into evening, and the vodka flowed, each Russian boasted more and more about how many German planes they had shot down. Each announcement was met with a round of applause and cheering and another toast of vodka, a drink that many of the British men had never come across before, but would leave an indelible memory.
By the end of the night most Russians had apparently shot down at least 19 German aircraft each, and some of the Russians did not even fly!
Jack was so hung-over that the next few days were a blur. He not only missed all the entertainment put on for the pilots, but also the training and the camp concert! He fared better than some of his men who had passed out before the evening was over. They would be more careful with the vodka from then on.
Training operations began in earnest at Vaenga on the 11 September and Jack Ross, though almost half the size of some of the Russian pilots, soon showed his worth and technical skills. Jack was five feet two inches tall and always had the seat of his hurricane on the highest setting. Actually, short pilots fitted the planes better than tall ones who had to cram themselves into the cockpit.
Hard training and hard drinking followed for both the British and the young Russian pilots led by Captain Kuharienko and Captain Safanov.
By now Jack Ross was a superb pilot and his training was to prove invaluable to the Russians and their oncoming fight with Hitler. Jack and a Russian pilot, Kuharienko, formed a great friendship, some of the other pilots said that it was because they were both very short and had similar problems climbing into their planes. But the truth was that they both had the same sense of humour and the Russians said Jack was the most amusing pilot to ever set foot on Russian soil.
The Russians were not only friendly but deadly keen to get their planes into action to protect the Motherland. Mother Russia was worth dying for and the sooner they could get the Hurricanes into the air the sooner they could attack the German invaders.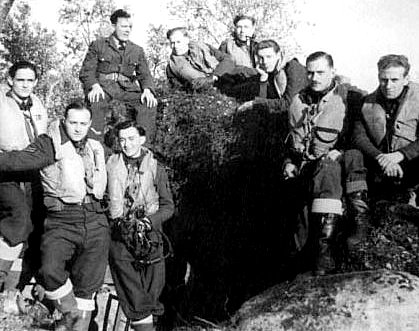 134 Squadron in Russia. Picture courtesy of Imperial War Museum London. Jack Ross is far right .
To begin with, Patrols were sent out to observe the enemy, especially along the Finnish border but had orders not to engage. This was ignored by most of the Russian pilots who were fearless, flying through heavy German flak, attacking anything they could. Coming back to base with ammunition left was an insult to the Motherland.
The Russian fuel was a danger in itself as it was poor quality, low octane and often dirty. On one patrol, flying Hurricane Y-Z3763, Jack's engine cut out no less than three times over enemy territory!
Back at base Jack shouted so much at one of the Russians, in charge of the fuel, that the Russian ran off and came back with a bottle of Vodka to calm him down.
As the Russians progressed with their training, patrols were sent out to escort Russian bombers on raids over the German advancing lines. During this time Jack led several missions to destroy enemy positions that he had spotted.
On 27 September Jack's plane was hit while flying a mission over the front line but managed to get back with his engine spurting out black smoke.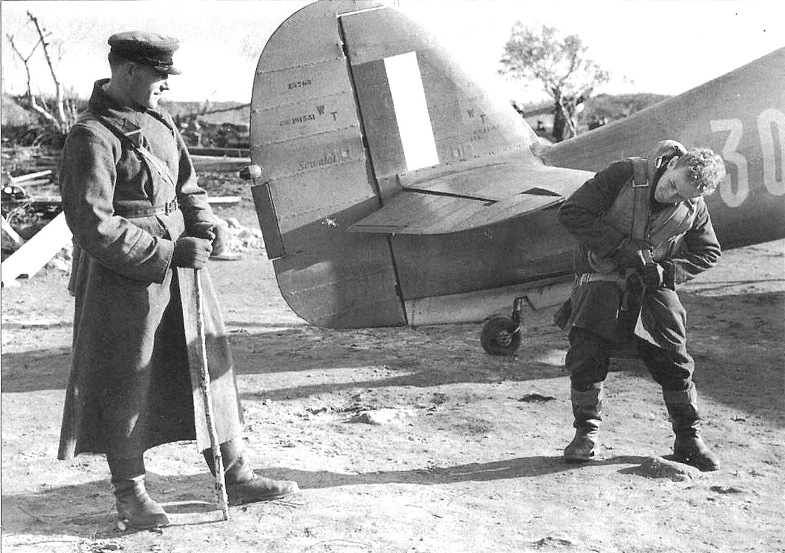 Flight lieutenant Jack Ross D.F.C. removing his parachute after a dog-fight. He is in front of his Hurricane Z3763. Note the well wrapped Russian looking on, and the state of the runway they had to land on.
Several Russian pilots were killed during this time in bombing raids, dog-fights and recon flights. Flight Lieutenant Berg was injured but later recovered. His war in Russia was over.
Captain Safanov was awarded the Soviet Gold Star and became a hero of the Russian people. He then started to train other Russian pilots and was a natural leader. His ability to take off on the rough, often frozen, airfield was second to none.

During October the Germans had figured out where the aircraft were coming from and attacked the airbase.
Wing Commander John Francis Durham "Tim" Elkington continues...
October opened with attacks on our airfield. No advanced warning system existed. On the first occasion, some 20 Ju88s dropped their load & we took off to intercept through a hail of bullets, dodging the bomb craters. One 81 Squadron pilot, whose engine was stopped by a blast on take off, was then blown off the wing by another blast. Of 134 Squadron, I was first away & managed to catch up with them at 7000'. My No2 joined me & we damaged one Ju88 which later failed to reach home.
On another occasion, A Flight were already up in the air, and B Flight managed to take off during the bombing raid as the field was raked with machine gun fire and bombs.
Now that the Germans knew where they were based, more attacks followed, and most times with no warning. Jack and his colleagues would have to take off amid bombs raining down on the airfield. Occasionally they would receive a telephone call from someone who had spotted the Germans coming.
This is where the rugged endurance of the Hurricane paid dividends as the pilots scrambled and took off over the rough ground, trying to gain height before an attack.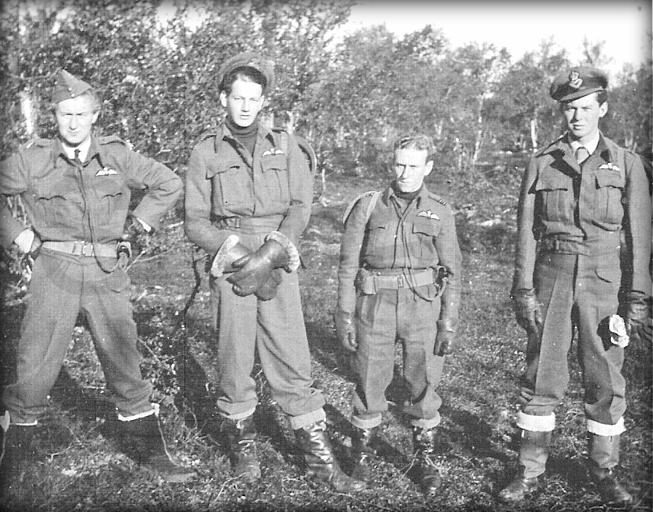 From left to right, Neil Cameron, Tim Elkington, Jack Ross, Rex Ferneaux. Jack Ross had the bonus of being small which allowed him much more room in his cockpit. It was noted that the smaller pilots had higher kill rates.
For the next few weeks it was a cat-and-mouse game of hit-and-run with the Germans. They would suddenly appear, attack, then disappear. For example they would bomb Murmansk and flee before Jack and his squadron could find them. Their daily tasks and patrols also included escort duty for the large Russian PE2 twin-engined bombers.
This a a fantastic excerpt from the Russian, Red Fleet Newspaper, describing the airbase at the beginning of the Russian winter.
The first snowstorms of the winter have just hit the airbase. The pilots are grounded and bored, they can't even play their 'English football'. They have gone into the dugout where everything is quiet. The only sound on the airfield is from the whining wind.
It is warm and dry in the dugout. there is a smell of smoke and fresh rye bread is neatly sliced on the uncovered, roughly constructed table. In the stove there is the crackling of the traditional English fire and around it are seated a number of duty pilots. They are seated on stools or in armchairs which they have constructed themselves. They are warming their feet, drinking tea, smoking, laughing, and, of course, joking. the mood is excellent.
Someone has just completed a drawing of pilot Michael Rook. the picture represents this airman flying his machine with an outstretched arm of unusual length catching German Messerschmitts, as if he were picking raisins from a raisin loaf. The fascists are depicted with frightened mugs. 'Mickie' Rook just picks them from everywhere. A few days ago he brought down two machines. Seated not far away in the dugout is Rook himself. He is drinking tea, with milk, and is shaking a warning finger at the caricaturist. Pilot Rook has a young face with a dark moustache and a radiant complexion on his cheeks. "That is not quite correct" says Michael Rook. "I have only brought down one Me 109, and as far as the other is concerned, I can't say for certain whether he was brought down by us. However it is correct that we damaged 2 Ju 88's."
"Oh! Oh! Not we but you," shouted the pilots all around him.
The funny little picture is passed from hand to hand. The squadron commander, Miller, picks up the poker and pokes the fire. Suddenly, the outside door is slammed with a bang. Enters Captain Ross. He is in very bad form. he is complaining about the weather. "Wind and stormy weather, I can't fly, and not to fly is boredom."
Captain Ross is not very tall but he is muscular. He has light vigilant eyes. The snowflakes can be seen thawing on the curls of his chestnut hair. he does not wear a hat. With a frown the captain seats himself on a stool near the fire and shuts his cigarette case with a 'click'. "I love to fly," says he, "and the Germans love to be beaten."
By the middle of October the British pilots training rolls were nearly over. With the Russians trained. On 19 October, a few miles from Murmansk Sound, the planes that the Squadron had brought with them were officially handed over to the Russian pilots.
The Russians formed No 1 Russian Hurricane Wing of the Red Air Force. Three Hurricane Squadron's were led by Senior Lieutenant Yakovenko with Captain Safanov and Captain Kuharienko leading a squadron each.
Over the following weeks 151 Squadron made sure that the Russians had everything running as well as they could and prepared to leave the base. Because of the large number of British personnel on the base they staggered the return to Britain, many sailing from Rosta and some from Vaenga (now Severomorsk, Murmansk Oblast). Some of them on HMS Kenya.
Jack was awarded the Distinguished Flying Cross on 24 of November 1941. He was now one of the most experienced fighter pilots in the RAF adding at least seven enemy aircraft in Russia to the other planes shot down in Europe.
There were some heavy goodbye celebrations before they finally left!
All RAF personnel were to depart by December 7th at the latest. In fact they all departed in plenty of time, arriving back in Britain at Rosyth on the 6th of December.
Wing Commander John Francis Durham "Tim" Elkington continues...
Came the time for return home, the most testing time of the expedition, for me at least, began.
On 16th November I was put in charge of an advance party of 7 officers & 60 airmen, which I had to lead in deep snow, in virtual night, down the 10 miles or so of treacherous track to Rosta oiling jetty. We knew when we reached our destination, at 5 pm, because our kit became black with oil. Our only casualty was one airman with a broken arm.
We waited there 6 hours for the fleet minesweepers we had to board for the voyage to Archangel – HMS Hussar, in our case, Gossamer & Speedy, but they had docked at a different jetty. Eventually bed, without food for 14 hours, at 2 am.
Transferred to an icebreaker, captained by a very large lady, & following the Lenin – the world's largest – we struggled through 6" deep ice for the last 20 miles into Archangel. We were passed by one merchantman loaded with crated Hurricanes & tanks. On the icebreaker I made the acquaintance of General Gromov – the pre-war long distance flyer.

24th November – transferred to MV Empire Baffin, a 10,000 ton cargo ship. Despite the icebreakers, moving yards at a time, it was not until 28th November that we were steaming past the Gorodetski light & into the open sea. We were held to 7.5 knots for the Russian boats with us – their first convoy to the UK. It was only then that we found the 2 Esthonian stowaways who had crossed the ice at night to board us.

29th November – HMS Kenya, with most of the Wing Personnel on board, joined us.

30th November – hove to in gale & heavy seas – lifeboat washed away & slag ballast on deck shifting. We had to rope ourselves into our bunks at night. No chance of sleep. Everything heavy with frozen spray which had to be constantly chipped off with shovels. We were sleeping in our clothes in case we had to get Vic Berg – who was in full plaster after his terrible crash – to the lifeboats.

1st December - attacked by U-boat – destroyers depth charged - no casualties, but an outgoing convoy later lost several ships. Ballast shifting again. Our airmen helped to re-locate it.
After what seemed a lifetime fighting against unimaginable forces of nature they eventually reached the safety of Rosyth in Scotland by December.
More than 2,900 Hurricanes were eventually supplied to The Soviet Union between 1941 and 1944, 210 MkIIA's, 1557 Mk11B's, 1009 MkIIC's, 60 'tank-busting' MkIID's and 100 MkIV's. Interestingly only 150 Spitfires were ever sent to Russia.
later in December 1941 the Squadron, now back in Britain, gathered Spitfires and Hurricanes at Catterick to take to Northern Ireland, arriving at Eglinton air base in Northern Ireland early in January 1942.
Death of a hero
Pilot Officer Jack Kenneth Ross D.F.C. was killed shortly after while on active service on 6 Jan 1942.
After circling a convoy to provide fighter protection Jack's plane, a Spitfire MK11A, P8393, developed a fatal engine fault.
It was only when the other pilots reached their base at Eglinton that they realised Jack was missing. There had been no distress call. Constant efforts to contact him proved futile.
The other pilots assumed that his plane must have suffered a total electrical and mechanical failure and gone down into the Irish Sea whilst trying to return to base. The pilots immediately refuelled and retraced their flight path to find Jack.
Although extensive searches were carried out neither Jack or his plane were seen again. His body was never recovered. In all likelihood Jack went down with his plane, which has never been found. The front scoops of the plane were lethal when hitting water as it sucked the plane under.
When the searches were finally called off the men went to the pub (which was on the airfield) to toast their lost comrade. The war had claimed yet another young pilot.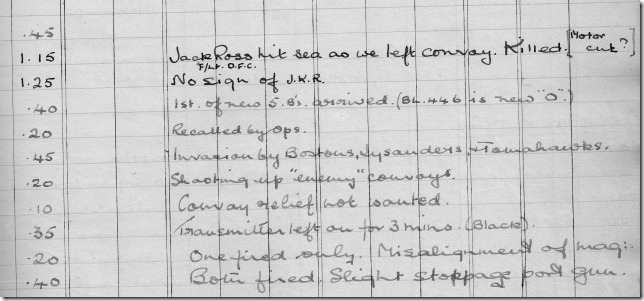 A small part of the flight log of Wing Commander John Francis Durham "Tim" Elkington on the fateful day of Jack's death.
There is a memorial with Jack Ross's name at Runnymede, he is on panel 66.
From the poor photo below only Bird-Wilson survived 17 Squadron.
Bird Wilson once recalled his fear as his tiny squadron of 12 Hurricanes faced down over 100 German planes. Flight Office H A C Bird-Wilson was one of the lucky few who survived the war.
Green Wing 17 Squadron 1940.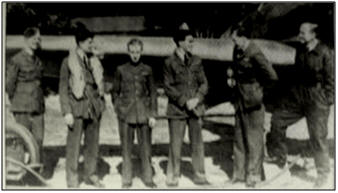 Left to right.KIA, (Killed in Action).
Sgt G A Steward, KIA 23/10/1941.
P/O D H Wissler, KIA 11/11/1940.
P/O J K Ross, KIA 6/01/1942.
F/O H A C Bird-Wilson survived.
Sqd Ldr C W Williams KIA 25/08/1940.
Sgt D A Sewell KIA 19/03/1944.
Flt Lt Jack Ross, third from left, was a formidable flyer. What he lost in height he made up with in determination and skill.
Jack Ross is one of our British heroes. I raise my hat to the special few that risked their young lives so that we may live free. His name is carved with pride on the Battle of Britain memorial Roll of Honour.
Never in the field of human conflict was so much owed by so many to so few.
Winston Churchill
Jack Ross D.F.C.

Any direct relative of J K Ross can contact the Service and Personnel Veterans Agency with his service number. From that they should be able to tell you which medals he was awarded and a copy of his service record including where he was killed. The number is 0800 169 2277. www.veterans-uk.info
If you do find out any further information please let me know: alexsussex@aol.com
Hurricane Rolls-Royce Merlin engine from Z2389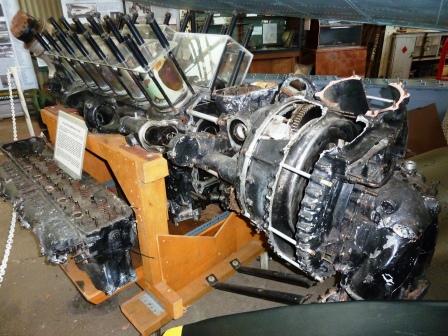 This is the Rolls-Royce Merlin XX engine from Hurricane Z2389 which was crated and shipped to Russia in early 1942. The Hurricane was shot down over Siberia in May 1942 while being flown by a Russian pilot for the Red Air Force. The surviving parts of the Hurricane were shipped over from St Petersburg in the1990's. It is currently under restoration at Brooklands Museum though the engine is so badly damaged it will not be part of the restoration.
Another amazing fact is that a few of the Hurricanes from the Russian Murmansk crew were pushed into the freezing lakes after the war. They are so well preserved that they were later dragged out and painstakingly restored. I saw one fly at Shoreham Air Show in Sussex August 2011. It was magnificent.