See Alex Askaroff's machines on Youtube
http://www.youtube.com/watch?v=8-NVWFkm0sA&list=UL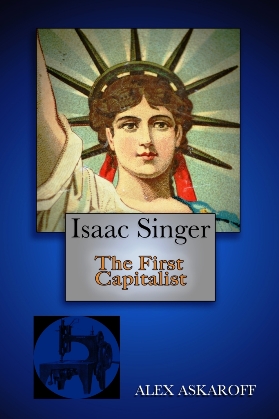 Most of us know the name Singer but few are aware of his amazing life story, his rags to riches journey from a little runaway to one of the richest men of his age. The story of Isaac Merritt Singer will blow your mind, his wives and lovers his castles and palaces all built on the back of one of the greatest inventions of the 19th century. For the first time the most complete story of a forgotten giant is brought to you by Alex Askaroff.
The Opel Sewing Machine Company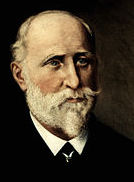 Adam Opel 1837-1895
Firstly I must add a quick thank you for all the pictures sent in from around the world including Opel SA who provided five pictures. It really helps when I am building these public reference pages to help collectors all over the globe. And an extra thanks to the Treadleon group who also sent several pictures of the now rare Opel treadle machines.
Now to our story
Adam Opel was the son of a Russelsheim locksmith with itchy feet. He often argued with his father about his career and finally refused to go into the family business. He left home and travelled Europe instead. However, it all turned out well in the end, as he went on to become the largest manufacturer in Europe of cars, bicycles and sewing machines, employing thousands of staff.
Long before cars were invented Adam Opel became transfixed by a new gadget that was sweeping the world. Let us go on a journey and discover a little about this fascinating man.
He was born on 9 May 1837 and lived an extraordinary life from a journeyman living on his wits to a wealthy businessman who now lays in his own huge mausoleum.
Adam grew up working with his father, P. Wilhelm Opel who, although he had come from a farming background, had become the official locksmith of Russelsheim a bustling town a few miles from Frankfurt. Adam learnt how to repair and maintain locks for the town until he got itchy feet and wanted to see the world. He pleaded with his mother, Anna Katharina Opel, until she persuaded his father to let him go. Permits were obtained and off he went to seek his fortune.
Aged 20, Adam travelled all across Europe and England as a journeyman metal worker and locksmith. He spent some time in Liege, Brussels, but soon found working in one place as boring as working for his father. By Spring of 1858 he had made the decision to save enough money to head for Paris, arriving in the summer of that year.
In Paris, after a quick spell as a baker, Adam Opel resumed his work as a locksmith working with a safe manufacturer who made expensive safes for storing precious metals. In Paris Adam became enthralled with the latest inventions, especially sewing machines, which he had seen at the Paris Exhibition. His experience with intricate mechanisms of locks was the perfect grounding for understanding the complex mechanisms of sewing machines.
A thought entered Adam's head that if he could gain enough experience in the manufacture of sewing machines he could start his own business back home. With this in mind Adam managed to obtain work at the growing sewing machine business of F Journaux-Leblond who made some of the most beautiful (and now collectible) sewing machines of the period. Here he learnt how to produce and repair different sewing machines.
The market was huge for these new fangled contraptions and many men, like Isaac Singer, were becoming millionaires from their sewing machines. In 1859 Adam wrote to Georg Opel, his younger brother, and asked him to come and join him in Paris to study how these machines worked. Between them they hatched a cunning plan to high-tail it back to Germany and start their own business. Adam then went to work for Huguenin & Reimann a much larger and more experience sewing machine manufacturer. Here he gained more experience on how to build his own sewing machine making constant drawings and notes for his future use. When he had enough information and tools he headed back home.
Back in Russelsheim, Adam told his father the exciting news but his dad was not so happy. He wanted Adam, along with his other two sons Georg and Philip, to run his locksmith business so that he could retire. Adam did as his father asked and everyday worked at his father's factory but in the evenings, what he did in his own time, well that was another matter.
His father agreed that he could continue his silly sewing ideas on his own time and Wilhelm asked his brother, Adam's uncle, if he could use some of the space on his farm.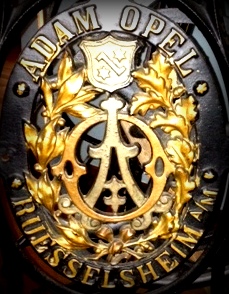 Opel side treadle plate
Around the summer of 1861 Adam Opel converted one of his uncle's cow sheds into a basic forge and workshop. He cleared out all the old rubbish set up work tables and oil lamps and got to work. Adam Opel was well aware of the speed that sewing machines were sweeping across Europe and he was going to make sure that when they reached his hometown of Russelsheim, Hesse, in Germany, he would already be making them.
He worked tirelessly with every spare second that he had to make his first sewing machine and from this he made his fortune. His uncle, seeing his enthusiasm, even lent him money which he would send to his brother Georg (still in Paris) with orders for the sewing machine parts which he needed and that he could not make himself. Each evening Adam would finish at his father's factory, pick up his supper, and walk up to his uncle's cowshed where he would light up his oil lamps and carry on putting together his first sewing machine.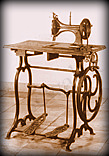 Adam Opel's first sewing machine, though tough and very German had touches of French design influence from his training in Paris.
Adam Opel Sewing Machine Manufactory
His first sewing machine was completed at the beginning of 1862 and from that sewing machine a great empire grew. After a while Adam's brother returned from Paris to help Adam full time in his business as Adam could not keep up with the orders. Later his youngest brother Phillip also joined the business. I guess his dad must have given up any ideas of his kids taking over the family locksmith business! It was obvious that the explosive rate of expansion of sewing machines was a completely different venture for the family.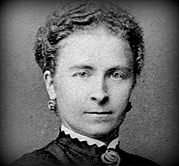 After Adam married in 1865 he named his newest sewing machine 'Sophia' after his wife, Sophie Marie Schiller. Coincidentally he used a substantial amount of her wealth to expand his factory, which was now situated conveniently close to the local railway station and even had the latest steam power. Sophie took a keen interest in her husband's business and together they planned the expansion of the Opel Sewing Machine Company.


This is where Adam Opel moved to after investment from his wife. The factory was enlarged and a purpose built forge and casting rooms added fro the foundry. Steam power was later added.
The Opel Sophia Sewing Machine
Anyone out there in Internet Land have a picture of a Sophia sewing machine? I would love to add it to this page.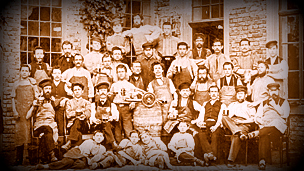 1875 the factory is growing fast. One of the younger workers in the picture, Adam Klingelhofer, stayed with Opel for 75 years!
The tiny beginnings of Opel that started in his uncle's cow shed would become one of the largest companies employing thousands of labourers, engineers and craftsmen. By 1885 the business was employing over 300 personnel. When sewing machine production hit 100,000 sewing machines the company celebrated by holding a torchlight procession through the expanding town.
Interestingly a young lad called Adam Klingelhofer, that started as the companies first apprentice, stayed with the company for 75 years.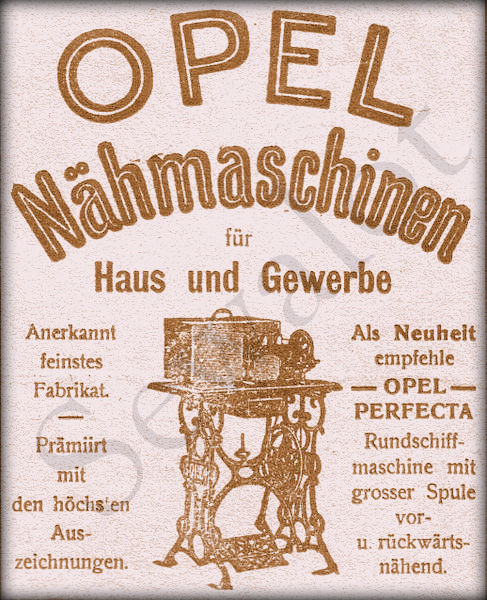 The Opel Perfecta Sewing Machine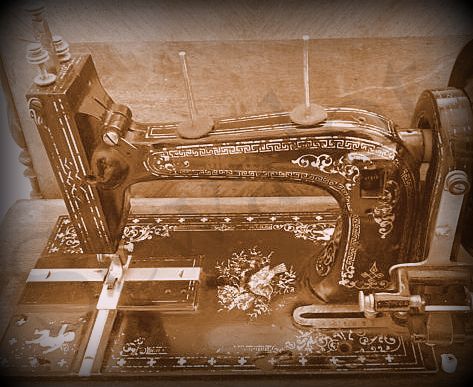 Opel Simplex sewing machine. The Opel Simplex was a high-arm transverse shuttle circa 1890. An Art Nouveau classic.
Adam Opel did not stop at sewing machines. As soon as he saw strange contraptions with a human perched on top riding them, called velocipedes, he copied them as well. In 1886, just as he had produced his 20,000th sewing machine, Adam Opel launched his first Penny Farthing bicycle.
A tale goes that after he built his first bicycle, from parts that arrived in the post, he could not ride it and fell off in front of his children, several times. He swore that he would never build another bicycle but after his sons mercilessly begged him for their own bicycles he gave in and built them better ones than his own imported English one.
Adam later sent his eldest son, Carl Opel, to England to gain valuable experience in the manufacture of these new contraptions.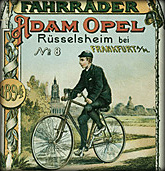 1894 the Opel model 8 bicycle
All five of his sons went on to win prizes in various cycle races with their own hand-built racers. Their names became synonymous with the very latest and best technology in bicycle manufacture.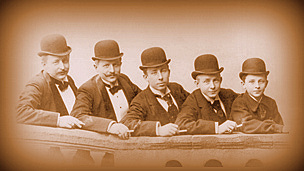 The five Opel Boys became the most famous cycling family in German history.
Carl Opel born 31 August 1869
Wilhelm Opel born 15 May 1871
Heinrich Opel born 22 September 1873
Friedrich Opel born 30 April 1875
Ludwig Opel born 1 January 1880
Incidentally bicycles were easier, cheaper and faster to build than sewing machines. Also there was more profit in them. The writing was on the wall for their sewing machine production, but for now it was still expanding.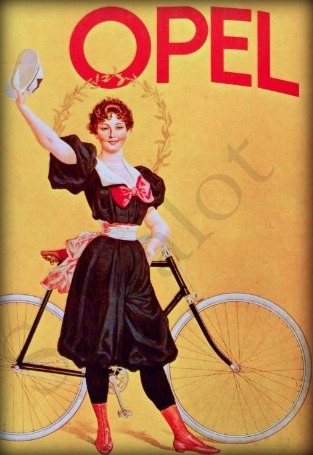 Opel went on to lead the field with their superb bicycles
The company expanded at a colossal rate with the help of Adam Opel's children.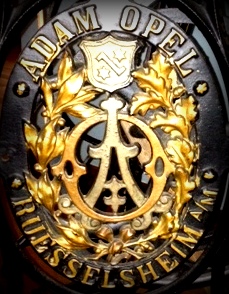 After Adam Opel died on 8th September 1895 his wife and sons went in to partnership with their first car makers Friedrich Lutzmann. Lutzmann was also a locksmith by trade and their partnership did not last long. However this first foray into cars would last up until the present day (now under the control of GMC General Motors Company).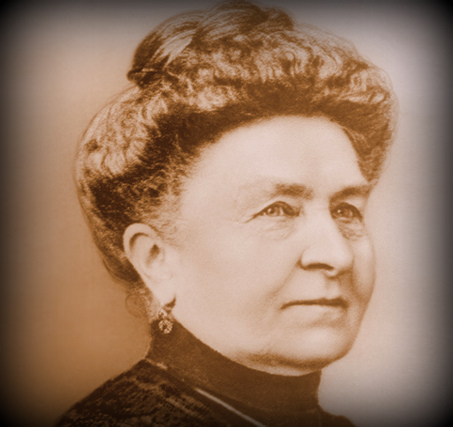 It was clear that his wife and children could carry on his business with little outside help. Sophie Opel had become a formidable business woman. For the next six years they continued with their expansion in their three main fields, sewing machines, bicycles and now cars.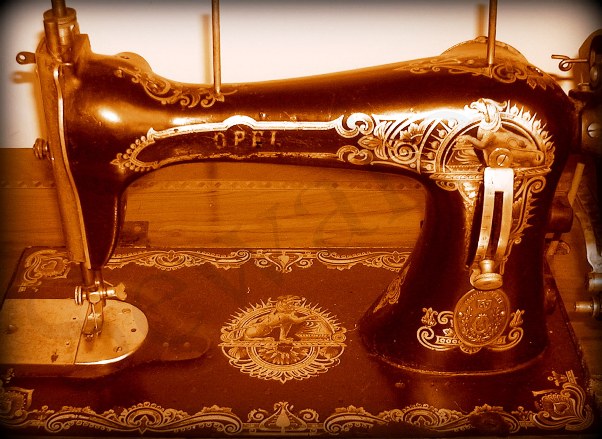 The Opel company formed an agreement in the year of Queen Victoria's death in 1901 with the French car company Darracq S A and they manufactured a simple two-cylindered engine vehicle called the Opel Darracq. Opel went on to produce countless automobiles.
By 1911 over one million sewing machines had been made by the Opel company.
By the mid 1930's Opel was the largest manufacturer of cars in Europe.

1909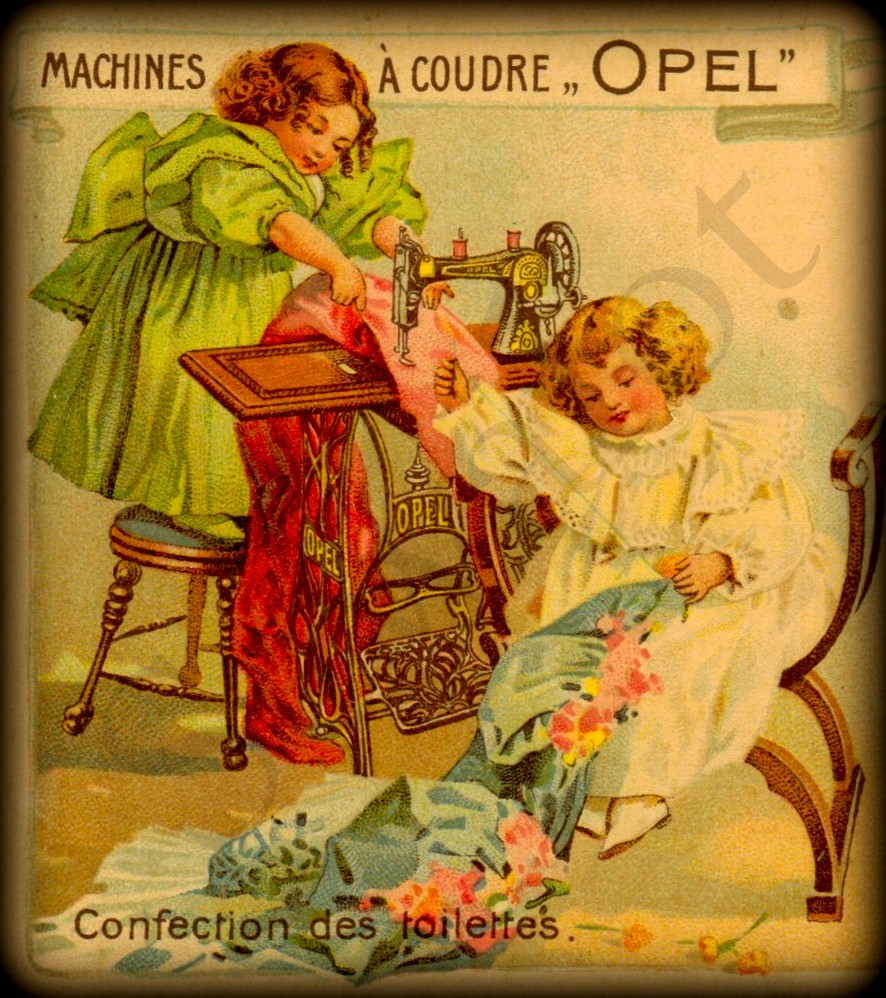 So that is how it all started way back in 1861 in a cow shed in Russelsheim.
Sewing machine production ceased shortly before World War One as the company concentrated on their other expanding markets of cars and bicycles.
At its peak the Opel company employed nearly 70,000 personnel. During the 1920's and 1930's Opel sold of much of its bicycle & car production.
Like many German factories the Opel company suffered severe damage during WWII.
What the allies did not bomb the Russians nicked after the war but the company just about survived and continued to grow once again.
Their sewing machine production had ceased years before but they did leave us with some superb sewing machines, a few of which still survive today around the world.
Opel sewing machines are far rarer than I first thought and although the Opel company made well over a million sewing machines not many have survived to this day so if you have an Opel cherish it.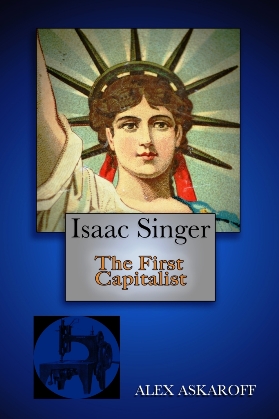 Most of us know the name Singer but few are aware of his amazing life story, his rags to riches journey from a little runaway to one of the richest men of his age. The story of Isaac Merritt Singer will blow your mind, his wives and lovers his castles and palaces all built on the back of one of the greatest inventions of the 19th century. For the first time the most complete story of a forgotten giant is brought to you by Alex Askaroff.