No1 New Release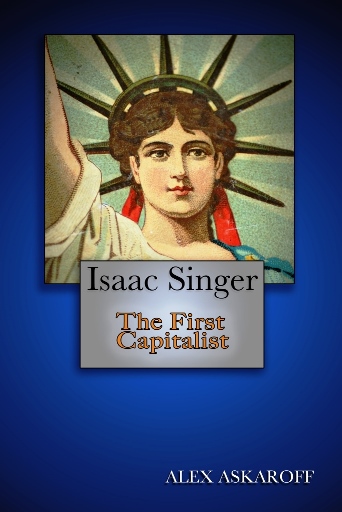 Most of us know the name Singer but few are aware of his amazing life story, his rags to riches journey from a little runaway to one of the richest men of his age. The story of Isaac Merritt Singer will blow your mind, his wives and lovers his castles and palaces all built on the back of one of the greatest inventions of the 19th century. For the first time the most complete story of a forgotten giant is brought to you by Alex Askaroff.
News Flash!
All Alex's books
full of short true stories, are now available in paperback and instantly on Amazon, Kindle, and iPad.
Fancy a funny quick free read: Ena Wilf & The One-Armed Machinist
See a day in the life of a sewing machine engineer: Alex Askaroff on Youtube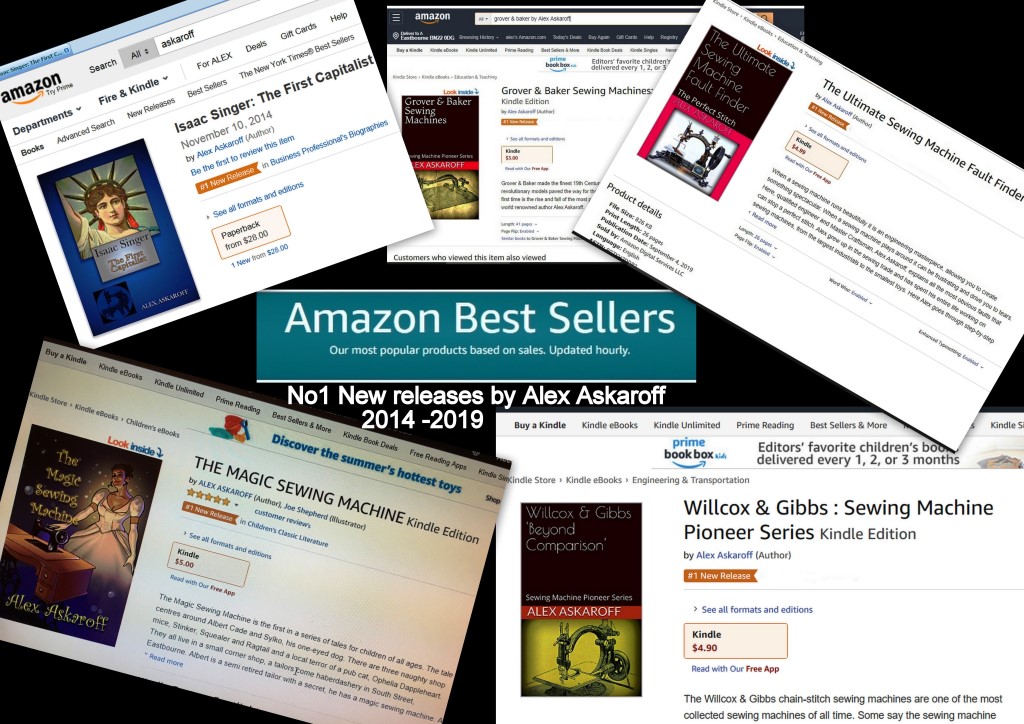 Sewing Machine Tension Problems SORTED in a heartbeat!
Hi Alex
I was so excited to find your book. I am from Luton. I used to sit at home trimming hats whilst my children slept. I also worked in a hat factory. I have one of my dads Luton straw hat it must be over 70 yrs old.
When Luton was in the cup final my dad had a straw hat made. It was so large that it filled the top of his car with Luton on it. The whole street had cheered him off. Luton lost and the hat blew off the car on the M1 motorway on the way home. My parents had a fish and chip shop in Chapel Street and there were loads of pubs in Luton because of the thirsty hat trade.
Cheers Jill
Hi Alex
Canada lost a lot of Beavers to the Fur Trade because Beaver Fur is THE BEST for making fine Top Hats. Every spring the Port of Thunder Bay awards a Top Hat to the Captain/Master of the first vessel; Salty or Laker to come up Lake Superior and dock. Usually coming in to pick up a load of Canadian Grain that is to be exported globally. Twice in recent years the First arrival has had a female Master; she has been offered a cash gift in lieu, but both times has requested the traditional Top Hat because it is such a honor and known to be such. In 2016 the first and second vessels arrived within less than an hour of each other! A Close Call. Salty is an Ocean going vessel, while Laker remains within the Great Lakes/St Laurence Seaway which is Fresh Water.
Liz Powell
Hi
I have read with huge interest and with many fond memories
of the
Luton Hat Trade
.
My grandfather and great grandfather were blockers and my father, Sidney Simpson, had a business at 6 Silver Street Luton until 1960 selling ribbons etc.
In 1962 I joined A&C Simson of Guildford Street, as a management trainee, intent on managing, even owning, my own factory one day. I did everything from stoking the boiler, when the boilerman was on holiday, to learning the various manufacturing processes.
A few years later I joined A company called Richards and Thirkell who were Manufacturer's Agents for Swiss plait manufacturers, German velvet manufacturers and Italian cloth manufacturers. This work of course brought me into contact with many of the Luton hat manufacturers in search of orders. I remember well Jacoll Hats in Guildford Street, referred to by Linda in one of the stories I saw, which had become a Public Company.
I recall so many wonderful people and variations in the industry. So many good friends and associates. 'The Hat Factory' museum and gallery was Albert
'
s, a factory I knew well. Walter Wright shown on the heritage Website was a customer I saw regularly.
Great memories. I would love to hear from anyone who might remember me or my family.
Best wishes,
Hello Alex,

My name is Marian Lumsden (nee Middleton). I was born in Luton, Bedfordshire, England. My mother Madge Middleton (nee Copley) was also born and raised in Luton. I understand her cousins owned a hat factory. Our house on Frederick Street and my Grandmother's house on Old Bedford Road are still standing.

My mother was a copier for the hat factory. She worked from home and would go to pick up a hat from the factory and the materials necessary to make copies of the hat. She said all her skills went back to her training in the hat factory.
She told me that when strangers came to Luton, they would always ask why all the women were walking around with large hat boxes. Many women supplemented their income by working from home while they raised their children.
As a child, she would show me how she made fabric flowers and when Easter bonnets were still in style, she used to buy my sister and I straw hats and spend considerable time decorating them with fabric flowers, ribbons and netting. I must say our bonnets were quite spectacular in comparison to the store bought variety.
I was
so
pleased to have found your
book
. Thank you again for all your research.
Marian Lumsden, Canada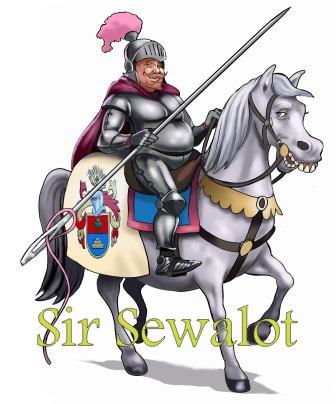 Sir Sewalot, fearless protector of the Sewalot Site. He needs to do a little more exercise!