Alex has spent a lifetime in the sewing industry and is considered one of the foremost experts of pioneering machines and their inventors. He has written extensively for trade magazines, radio, television, books and publications world wide.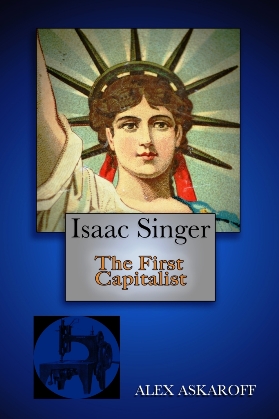 No1 New Release Amazon Certified
Most of us know the name Singer but few are aware of his amazing life story, his rags to riches journey from a little runaway to one of the richest men of his age. The story of Isaac Merritt Singer will blow your mind, his wives and lovers his castles and palaces all built on the back of one of the greatest inventions of the 19th century. For the first time the most complete story of a forgotten giant is brought to you by Alex Askaroff.
The perfect surprise present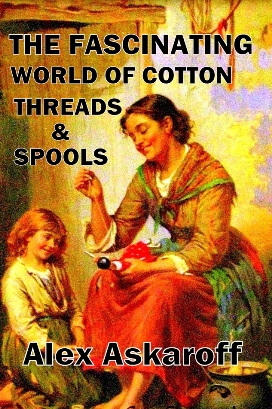 A Brief History of Bernina Sewing Machines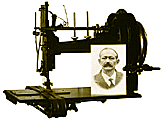 In 1893 Bernina Sewing Machines were born in Steckborn Switzerland when Karl Friedrich Gegauf (Fritz, A German from the Black Forest who became a Swiss national) patented his first hemstitch sewing machine. This was the start of Bernina and the fabulous rage of sewing machines that continue to this day.
The name Bernina comes from 'Piz Bernina' one of the most beautiful summits on the eastern range of mountains in the Swiss Alps.
In 1893 Fritz Gegauf brought onto the market the first dedicated hem-stitching sewing machine. It was based on the popular domestic High-Arm transverse shuttle machines of the period (first designed by Singer in 1864). The machine worked via a cleverly designed wheel-belt feed which moved the work through the bed of the machine. It could run at over 1,000 stitches a minute and was a huge success in the manufacturing industry. It was this machine that set Fritz on the path to great wealth and prosperity in the sewing machine business.
The Fritz Gegauf Hemstitching machine of 1893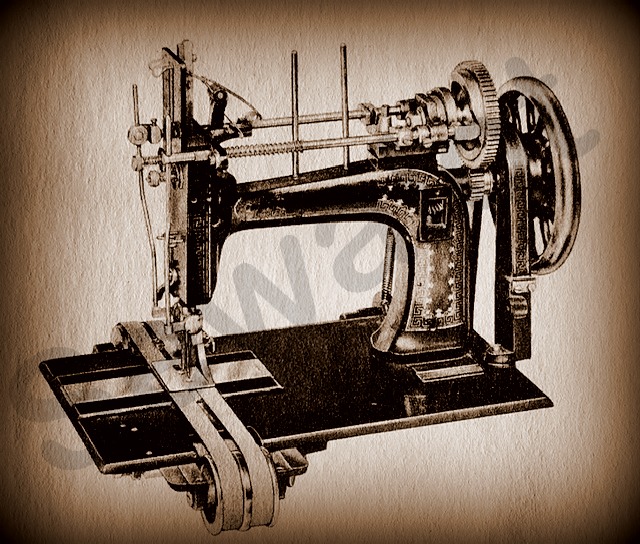 The Fritz Gegauf Hemstitcher used a two needles, two tensions, and two bobbins underneath, plus a clever belt feed. All the Gegauf hemstitchers ran with two bobbins. A marvel of engineering at the turn of the 20th Century. These machines put Fritz on the market and allowed massive expansion of his sewing machine empire. The spreaders on top of the machine held the material apart as the stitch was formed creating the effect that we know today as a decorative heirloom hem, Google it you will know what I mean. This decorative stitch was widely used in the lingerie and fashion industry, right down to table cloths.
With the order book bulging, Fritz designed and made a dedicated hemstitch and in 1900 he proudly presented the Gegauf Model D.
The Fritz Gegauf Hemstitching model D of 1900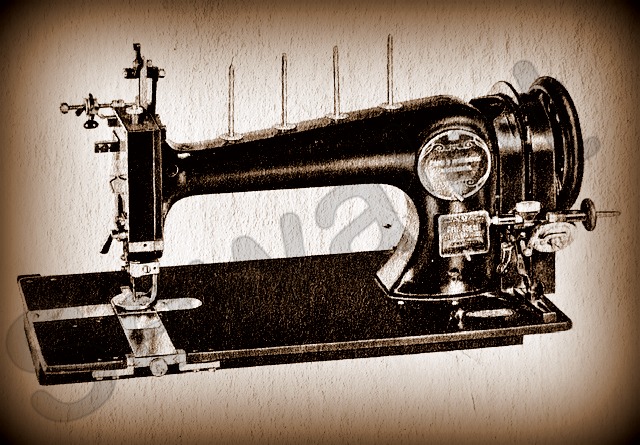 With the Model D we see the first real dedicated professional hemstitch. The machine still used the old fashioned long-bobbins and shuttle. It was once again a twin needle but far simplified, larger clearance and faster. This was aimed directly at the manufacturing sector and was a huge success.
Hem-stitching was slow and laborious hand work. With the Fritz Gegauf hemstitch, work could fly through the machine. Consequently the price of very expensive hem-stitched fabrics dropped like a stone. This in turn led to a flourish of hem-stitching. At one point around 1910 it was so popular that, legend has it, the decorative heirloom stitch became known as the Gegauf Stitch! Now that's something. To Gegauf, sound more like a German dance! Today it can fabricated with special winged-needles available for most sewing machines.
The Fritz Gegauf 1905 hem-stitch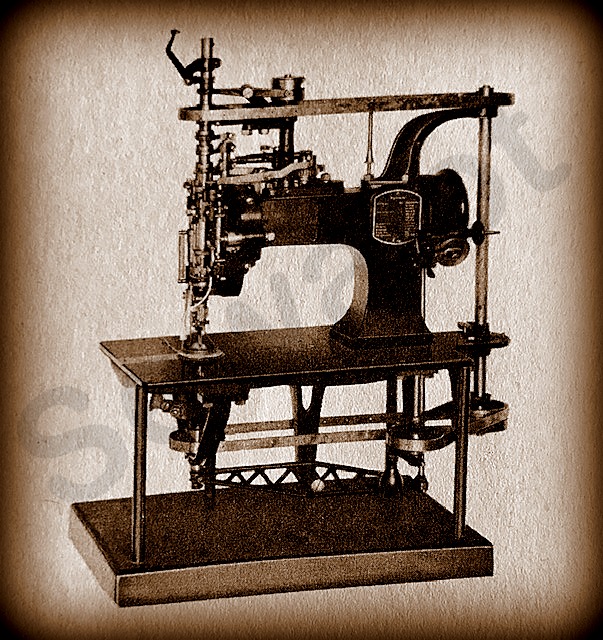 I know, this contraption looks complicated and torturous. I would love to have a go at using it. The next model doesn't look so scary.
The Gegauf Fisa hem-stitch of 1925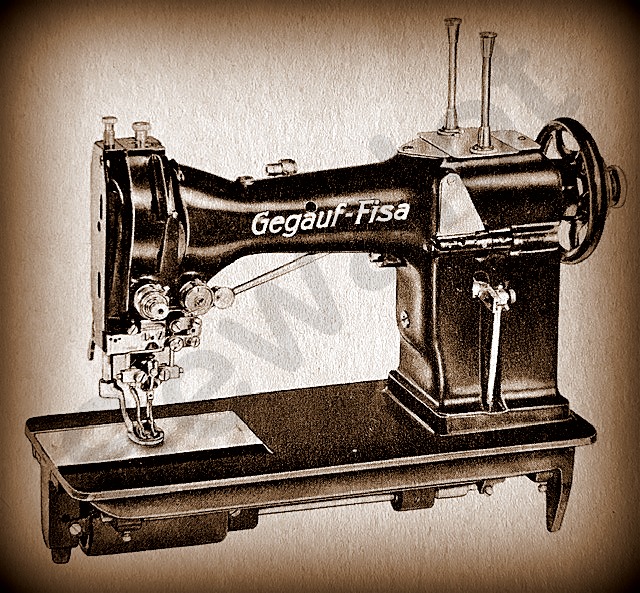 This simplified version of the Gegauf hemstitcher still uses a top spreader for the stitch and allowed for pressure adjustments to the outer ring and spreaders. This gave you super control over the hemstitch. Improvements in manufacturing also meant that this model could stitch at over 2,200spm. Professional hemstitching was here to stay.
Karl Friedrich Gegauf died in December of 1926. Hemstitching had lost much of its appeal during the inter-war years with austerity biting hard. A mark of opulence and luxury the Swiss sewing machine company needed to diversify to survive. In 1932 the first Bernina marked sewing machines came on to the market. These were basic straight-stitch heavy duty professional machines of superb quality. Amazingly many survive to this day.
The Bernina Model Cl 105 sewing machine 1932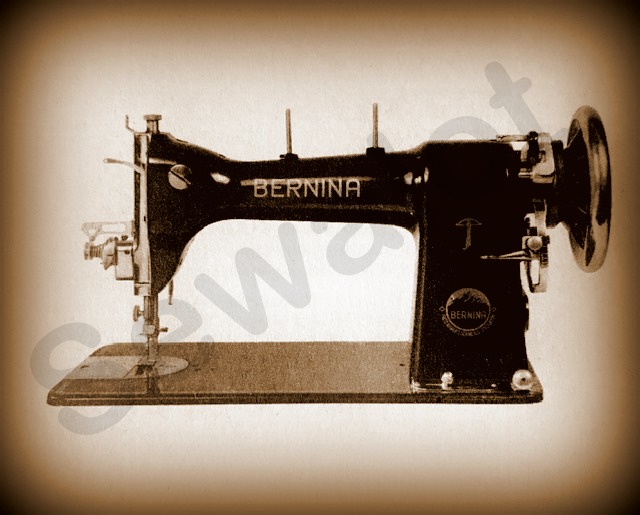 The Bernina Industrial class 113 was soon followed by the Cl 114 circa 1933. The 113 & 114 are rare machines today. The Cl 114 looks similar to the later zigzag 117 but is straight stitch only.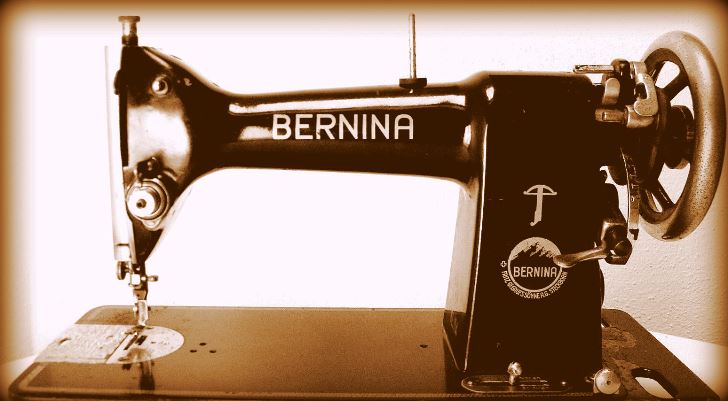 Bernina model 114 was a professional quality straight stitch. Note the crossbow trade mark that Bernina used for a few years. Maybe a nod to their local hero, William Tell.
The Singer 47w70 cylinder arm was very similar to the Bernina KL113 with a specific use of darning.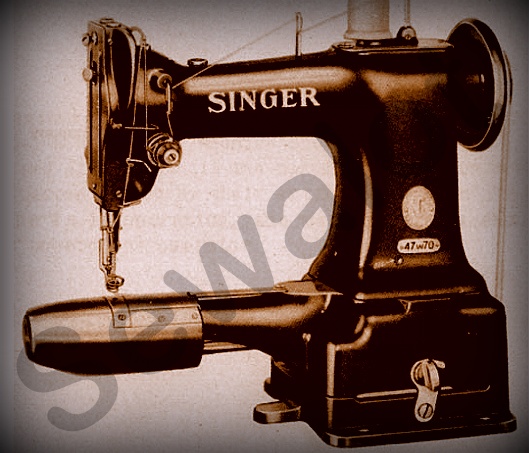 The KL 113 Bernina Sewing Machine was a tubular arm machine known as a barrel arm or cylinder arm, very similar to the Singer above. It was a specialist sewing machine for fast darning. It was for repair of everything from overhauls, boiler suits and the like. It proved very popular with laundries, hotels and hospitals where they would repair the ripped cotton sheets. I still service hospitals using these old machines today. I have been told that only a very few Bernina KL113 sewing machines were made so I have been unable to track one down. If you have one I would love to add a picture to this page: alexsussex@aol.com
In 1938 Bernina brought out its first zigzag machine. The Class 117 was a beauty, stunning quality, superb design and fast, boy was it fast. It could fly at over 3,000 stitches per minute. The machine also had a reverse and used a round bobbin. Bernina were now in the main sewing machine market along with the big boys. With sales expanding world-wide what could possibly go wrong! Oh along comes World War Two...
Bernina Cl-117 zigzag sewing machine came out in 1938 with an external lamp and flat faceplate. However by 1941 the lamp was inside the housing by the needlebar as shown in this model below. The earlier models were then marked as 117K with other minor differences such as the needle position switch. The later model became the 117L.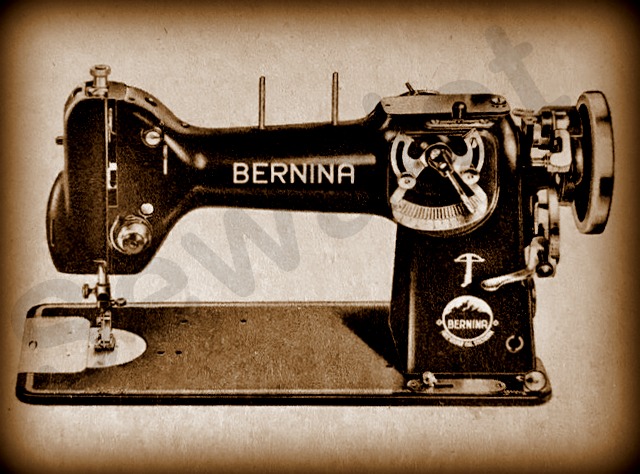 Bernina zigzag 1940's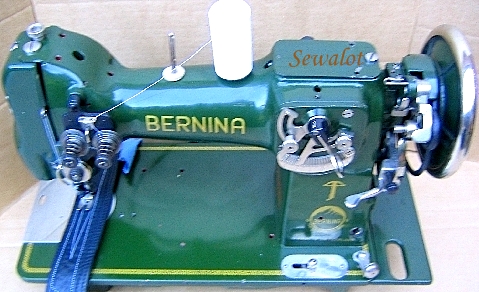 Notice the double tension on this heavy duty zigzag circa 1940. There are a few people who would call this heavy duty professional sewing machine a 'domestic' but it is clearly meant to be bigger, faster and tougher. This model could have been made just post WW2. The double tension was great for thicker threads and heavier work. It is still used on many industrials today. The double tension can smooth out troublesome threads and give you better sewing performance. These models are rare today. I come across them now and again in my work. I have probably seen less than 40 in my lifetime.
During the war years Switzerland remained neutral. This allowed the Bernina company to retool and concentrate on their smaller domestic sewing machines. What they brought out was something very special. Although the machine was ready for sale in 1943 their first domestic free-arm zigzag machine did not really take off until later in the 1940's. By then world markets were bouncing back from war and sewing machine sales were on a boom. The Singer Company alone had over 3,000,000 back orders for sewing machines!
The Bernina 125 zigzag free-arm sewing machine of 1943
Marketed by Bernina as the first free-arm portable sewing machine in the world.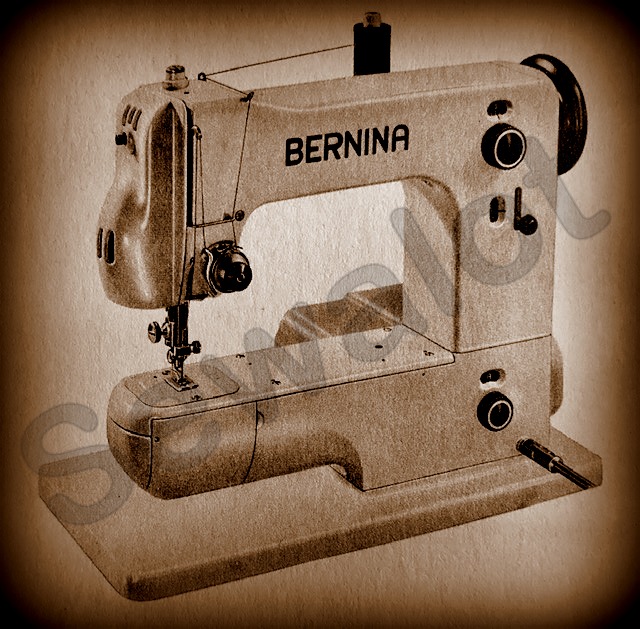 This is truly something special. The Cl 125 blew most of the competition into a cocked hat. It was free-arm, zigzag, lightweight, portable and even had a knee operated speed controller and built in motor.
Bernina advertised their new machine as the first portable free-arm sewing machine in the world! Of course there had been many free-arms and many zigzag machines but what Bernina in Steckborn did was combine all the best features with their own unique design. They introduced a world beater that was going to put them in front of the pack for decades to come. Superb quality, superb design, superb features. I bet a few of the other sewing machine companies had heartburn when they first laid eyes on that baby!
The Cl 125 set Bernina onto a different path. Primarily up until WW2 they had been concentrating on larger, heavier machines for the manufacturing industry. From now on they were making smaller domestic machines as well. Although expensive their new machine was a best seller. It showed that even in the post-war austere years, people would pay for quality and nothing came higher than a Bernina. Strangely some people say that Bernina grade metal was never that strong but in a lifetime in the sewing trade I have never seen Bernina metal fail. To me it is up there with the highest sewing machine quality needed. In fact their needle bars are so strong I have used them as hole punches and metal drifts for years.
The Bernina 530 Record sewing machine circa 1954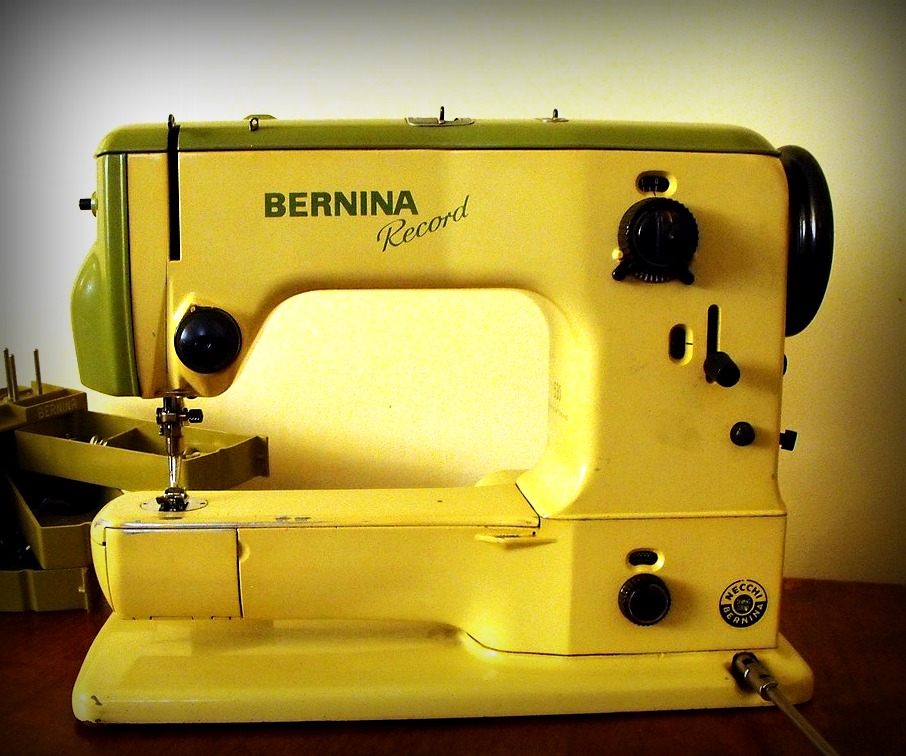 Keith Hallgren kindly added this brilliant piece of information (and image of his 530 above). It tells how Bernina cracked the main sewing machine market worldwide and became the force that it is today.
In 1954 Bernina introduced the Record series with the 530. Prior to this their sales were respectable but small. Singer made more machines in a day than Bernina made in a year! Singer still held 95% of the global market although European companies were starting to put a small dent in Singer.
Elna had released the Supermatic in 1951, and was seeing some massive success in the North American market. The Elna Supermatic was so incredibly successful that it is still commonly found in Canada.
Now this is the amazing bit. By 1963 Bernina would sell 2 million machines. I believe that the 530 Record was most responsible for their entry into the global market. The increased sales led to the establishment of their own dealer networks in North America.
The success of the 530 was such that Singer even approached Bernina. They wanted to strike a deal whereby they would distribute Bernina machines through their vast network of Singer stores. Bernina declined and for a time opted for shared North American distribution with Necchi (the Bernina toy at the end of the blog is probably a Necchi).
The Bernina 530 Record sewing machine was compact, (but a wee bit heavy) and featured 12 built in stitches. It had a powerful motor and drop feed. It also introduced Bernina's proprietary clip on foot system and had a semi-automatic buttonhole feature. There were no external accessories required and all the extra feet, bobbins and thread stored nicely in the rear mounted tray (patented by Bernina for the 125 a few years earlier).
It was also built like a Swiss watch and stitched beautifully…a hallmark of the Bernina machines that followed. It must have been a wonder for people to come into a shop and test drive this phenomenal machine.
The Bernina Sewing Machine factory circa 1960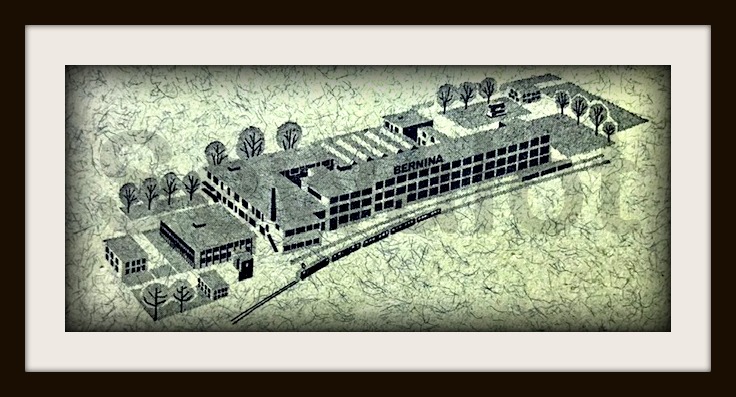 Note how small the train is in the front of the factory and you will get some idea of the scale of the massive plant. Steckborn is on the shores of Lake Untersee in Switzerland and by 1960 was the largest sewing machine factory in the country.
More than any machine since its first hemstitchers, the Bernina 530 Record set new standards and turned the small Swiss specialists into a global network. Also this is the point where many European sewing machine manufacturers made their biggest mistake leading to countless thousands of skilled technicians loosing their livelihoods.
By the 1960s cheap imported machines were flooding into Europe and America. Firstly the Japanese dominated but they were soon caught up by Chinese sewing machine makers. What nearly every European sewing machine manufacturer tried to do was compete with these imports. Of course that was impossible. The Far East could make a sewing machines for a fraction of the price any European maker could, simply because of their cost of living. Everything was far cheaper in the Far east, from food to housing. The result for the great sewing machine companies of old was catastrophic.
One by one the big makers cut their quality, their workforce and their output. However Bernina took a different tack. They kept their quality high and priced their machines accordingly. This was a turning point for the company. As they expanded other European makers downsized. Bernina machines became the most expensive machines on the market and business boomed! Now that's a lesson in marketing.
The Bernina 530-2 Sewing Machine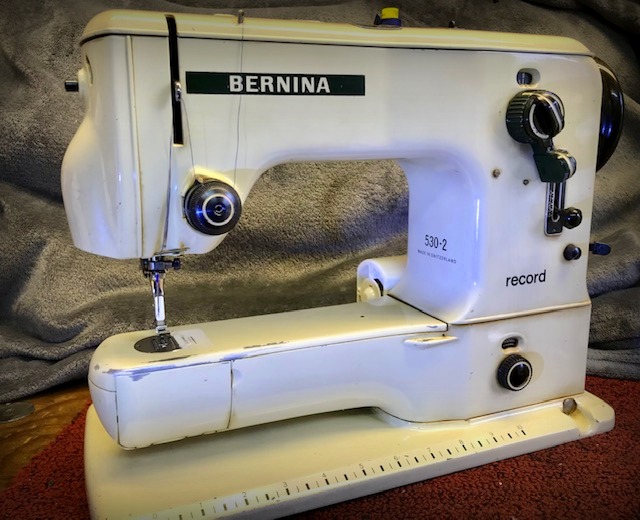 The Bernina 530 was something else, strong, powerful, reliable and capable of stitching everything including the kitchen sink (well almost). Amazingly the machine above is still in daily use at a dress shop in Eastbourne. It has been sewing professionally for nearly 70 years. If it were a car it would have done a million miles at least. I have had to convert it to a modern motor but besides that my customer would never be without it. Actually when it was new it was sold with either foot control or with knee control motor. It was this stunning workmanship that kept Bernina in business while everyone around them fell like nine pins.
By giving customers outstanding machines with outstanding performance, Bernina managed to expand whilst almost every other European sewing machine manufacturers were collapsing. Sometime back I wrote a short book called The Rise And Fall Of Singer Manufacturing In Britain. It goes into detail how Singer rose to become the largest sewing machine company in the world and collapsed just as spectacularly. Kilbowie in Scotland became a wasteland for a generation but that is another story.
Bernina 600 sewing machine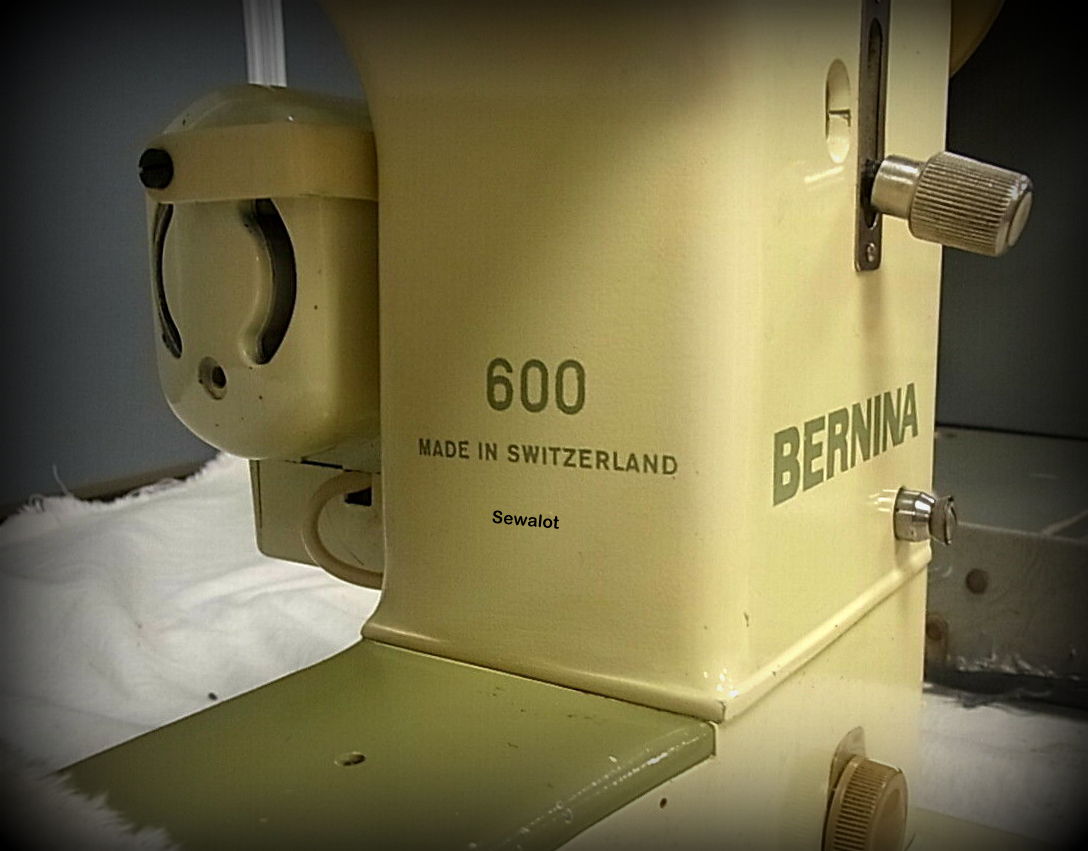 By the mid 1950's Bernina introduced the stunning Bernina 600 sewing machine. Drop feed, free-arm with an external motor they once again had produced a winner of outstanding quality. By enclosing the zig-zag arm within a cam and bracket-fork, there could be no extra movement of the needle besides what had been set by the operator. This meant the machine produced a near perfect zig-zag through all work. This is very different to many modern machines where the needlebar is so loose and floppy the needle can go almost where it fancies!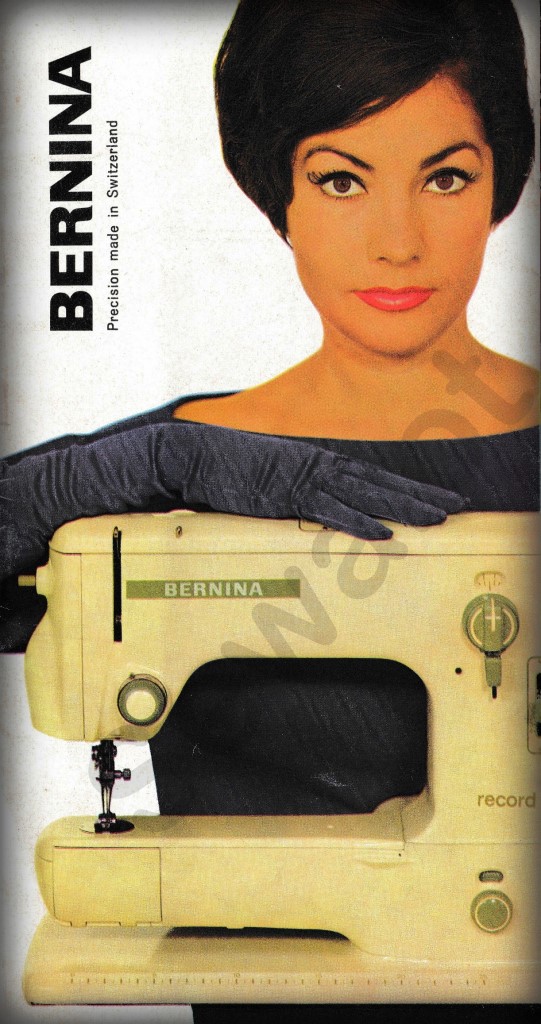 By 1960 Bernina were proudly boasting that they were the No1 free-arm sewing machine producers on the planet. They were now the market leaders. All this high quality came at a high price. They were the most expensive machines available. you can see from the list below the amazing prices in 1961. the prices are in GB British pounds shillings and pence. Interestingly my parents paid just over £1,000 for our house around the same time! WOW. Still, nothing lasts like quality and many of these machines are still sewing to this day.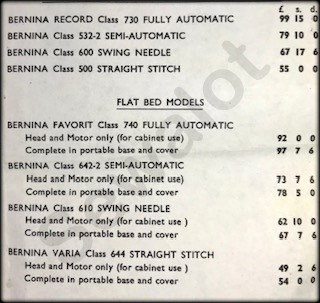 Dating Bernina Sewing Machines
Unfortunately early dating details were lost for Bernina machines made before WW2. However, from the 1940s (from the Bernina 530 onwards) there is a super easy way to date you Bernina up to 1969 (not the KL series). To date your Bernina between these decades find the serial number. The first two digits tells you the year that it was produced. How easy was that!
Now, from 1970 Bernina used a different method with codes for the production years. Find the serial number. The first number or digit is the decade that the machine was made. See the list below.
1970s-1
1980s-2
1990s-3
2000s-4
2010s-5
The second number of your serial number (it should be between 1-9) is the year in that decade that it was made.
The rest of the serial number is the unique number for that machine. For example, serial number 1788762. Take the 1 as 1970, add the 7 and bingo your machine was made in 1977. How simple and efficient is that.


By 1960 the Bernina sewing machine range was growing and growing. First is the Bernina 640 fully automatic sewing machine, followed by the Bernina 642 zigzag, then the Bernina 644 straight stitch flatbed and finally the Bernina model 610 sewing machine. Only the Bernina 610 in the range shown was a free-arm.
The Bernina Minimatic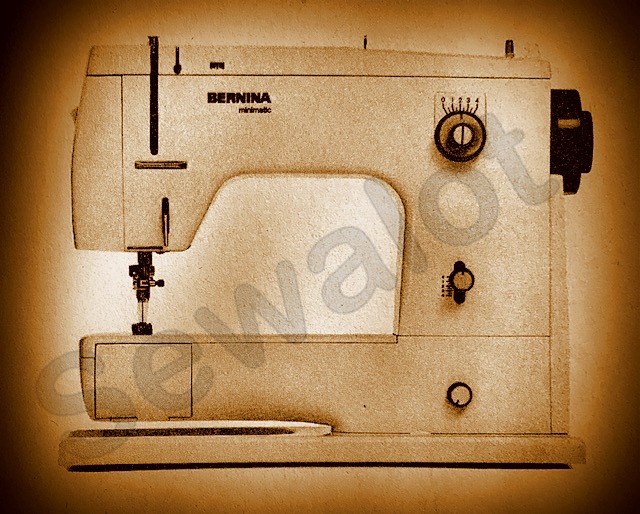 To me the Bernina Minimatic is the finest small sewing machine in the world. A multi stitch dream that will sew just about anything you throw at it and laugh. I have spent a lifetime in the sewing trade and few machines are as dear to their owners as the Minimatic's. Trouble free perfect stitching from a lifetime of innovation in engineering.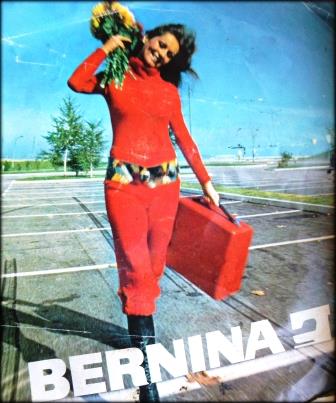 I love this add for the new Bernina Minimatic. Bernina are great machines but as we all know (like most quality machines) some weigh the same as a small truck. Obviously this girl has been working out!
The 1950's and 1960's saw a massive expansion in Bernina's domestic and professional machines. The Bernina 850 and 950 sewing machines are still a favourite amongst sewing professionals the world over. Many being sold in industrial tables with 400w and 1hp motors underneath. They were fast, smooth and super reliable. The large rotary hook was bigger than many full sized industrial machines and could fly along at several thousand stitches per minute. The hardened feed dogs could pull heavy work through with ease.
The commercial Bernina 217 sewing machine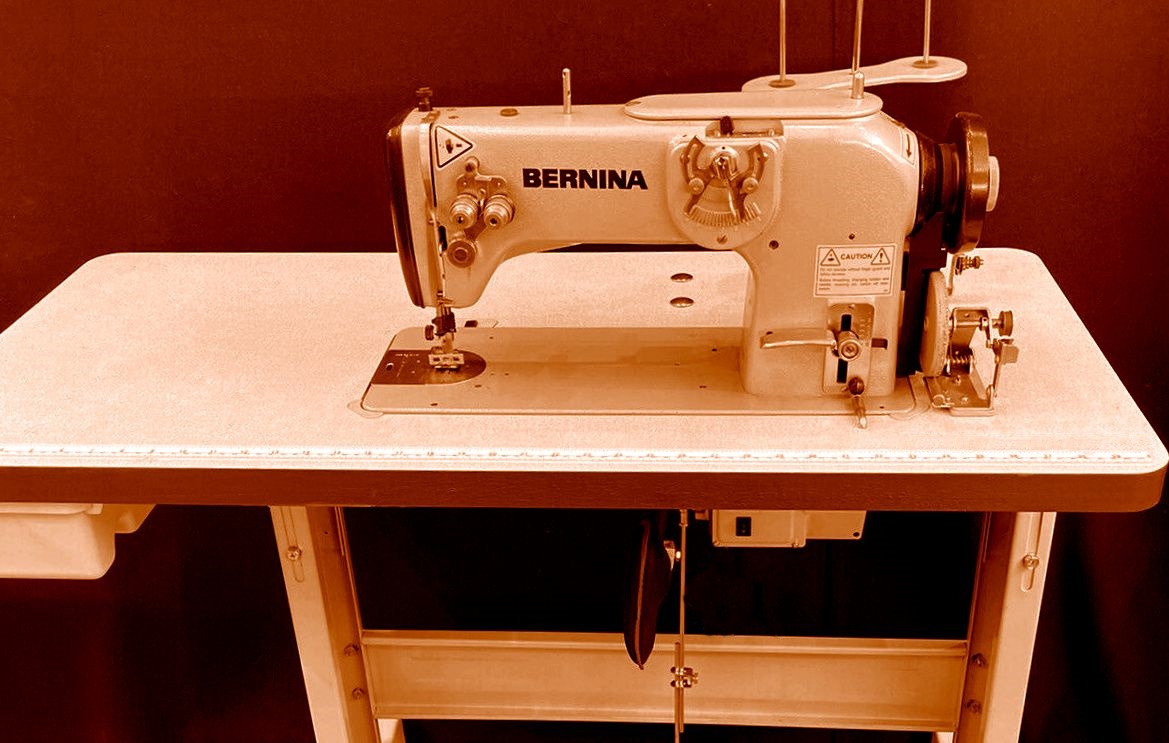 Bernina produced a range of heavyweight machines like the Bernina 217 above. Set in an industrial table they could work effortlessly for decades earning a living. When an industrial motor wore out it was easily replaced. The Bernina 742 was greatly appreciated by professional machinists around the world. Once again set in an industrial table it would sew all day with ease. The Bernina 742 Industrie became a popular stable-mate for machinists that needed more flexibility and power in their stitch. Servicing, with its quick release parts was so simple that it could be carried out in a very short time.
The Bernina 742 Industrie sewing machine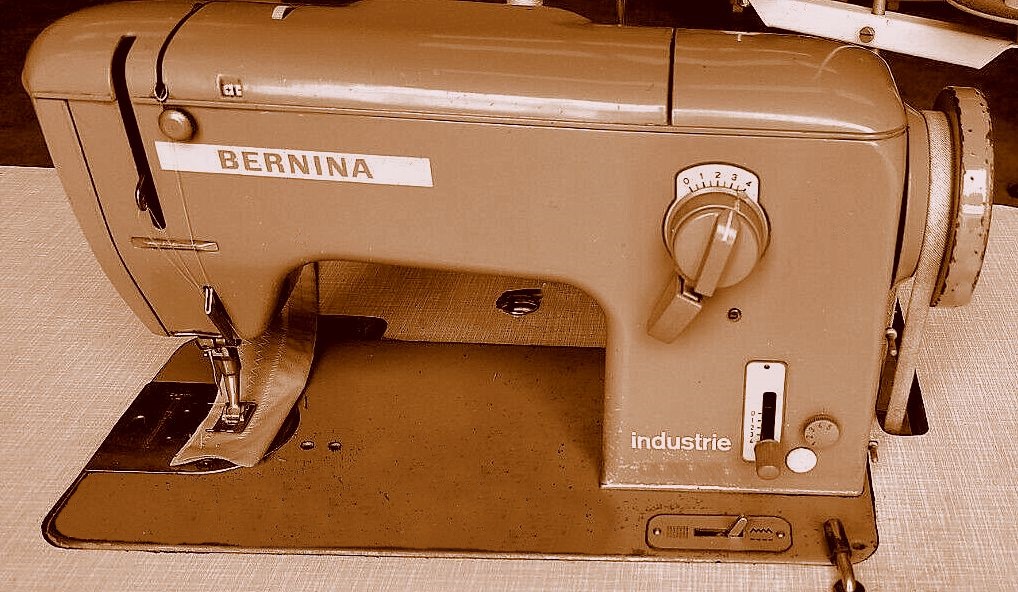 By the 1980's Bernina were established as the finest sewing machines in the world. Swiss engineering at its best. The Steckborn factory was producing one winner after another. Bernina had spent decades keeping their quality high and their customers happy. Specialists dealers all over the world supplied and serviced their Bernina machines.
The Bernina 950 industrial sewing machine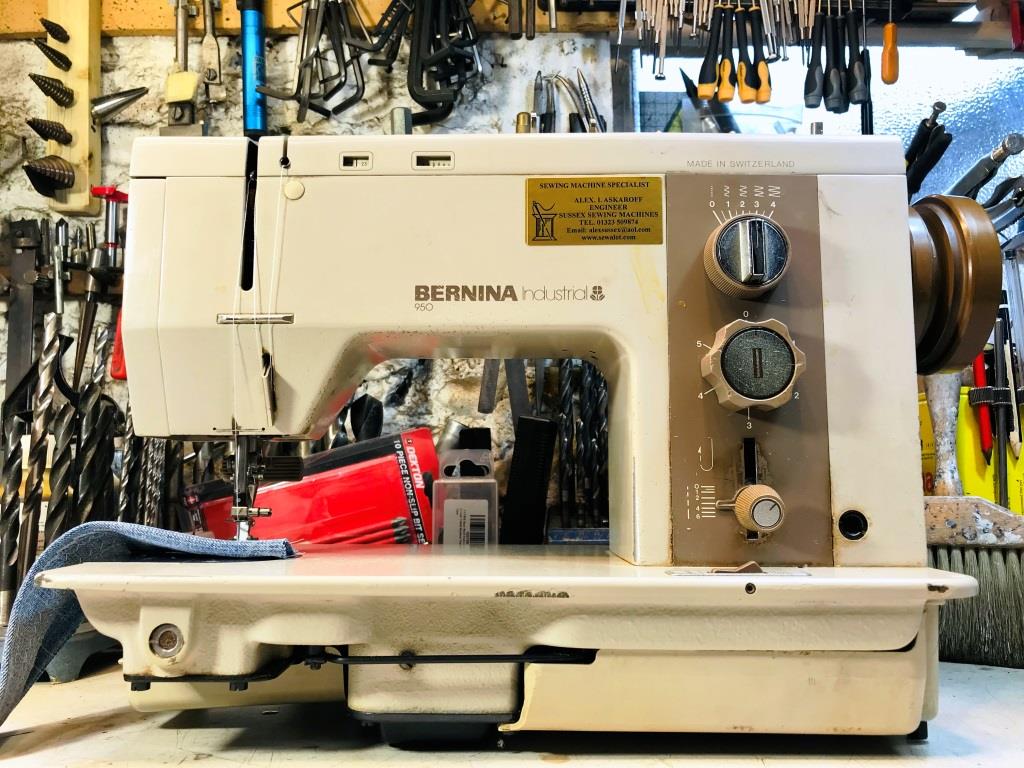 It's crazy but today there are about 20,000 different types of industrial sewing machines from lightweight shirt makers to heavy rope stitchers. Some could sew through your hand without noticing like the Singer No7. Some, like the Singer 188K were basic small straight stitches. One of the finest all round industrial sewing machines ever made was the Bernina 950.
The Swiss made Bernina 950 industrial sewing machine ticked a lot of boxes. It could be supplied as a portable but mainly it dropped straight into an industrial flatbed table and connected to a large underfed motor via a long belt. As well as being a superb straight stitch it had flexibility with a selection of other patterns and stitches, even a few decorative stitches. As a medium-weight industrial it was unbeatable and decades later most are still running away in workshops across the world. People who tell you that Bernina did not make industrial machines don't really understand the concept of an industrial sewing machine. It not all about massive heavy cast iron, it is about what the machine can do and few match the Bernina 950 industrial for flexibility, reliability and long-term performance.
The Bernina record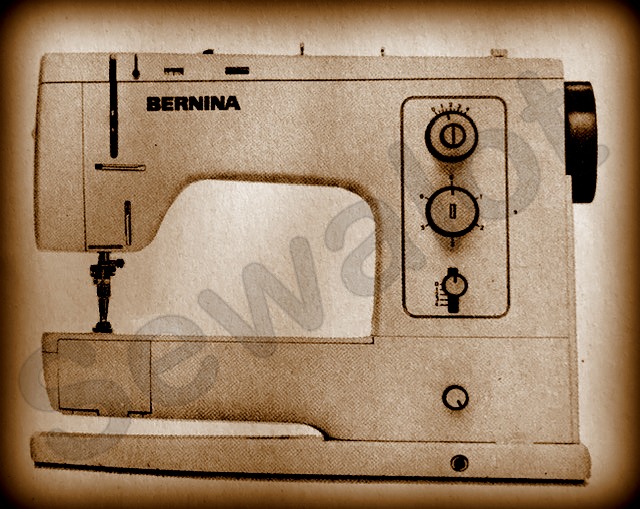 The Bernina Record Series are amazing, big, tough, powerful. They even have knee lift foot controls. If you are looking for the perfect machine you need go no further. Bernina produced the first domestic free-arm zigzag machines and decades later used all that experience to bring onto the market one of the finest machines ever made.
By the 1990's technology was racing ahead and many European makers found that the best technology was coming from further east. Today Bernina machines also come from further afield but still hold true to the core values of engineering excellence. If you have the money why not buy the best! As my dad always said, nothing lasts like quality. Karl Friedrich Gegauf would be very proud of the machines Bernina produce today, though they may blow his mind!
Now, I have two little more things to finish off this page with. Everybody is familiar with the usual Bernina machines so I thought I would give you a picture of a very rare and unusual Toy Bernina from the 1950's. I also have a YouTube clip on it. This link is below. It's awesome.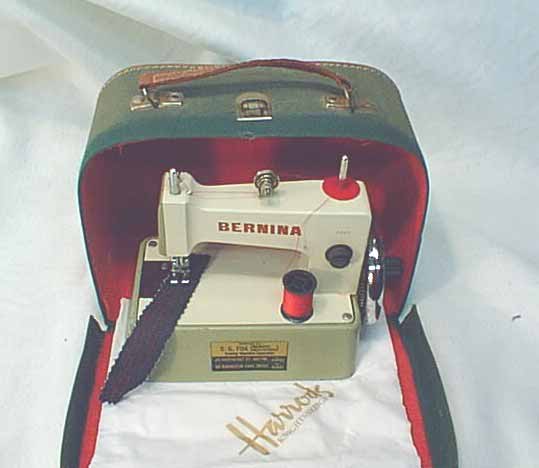 This is my Bernina Toy Sewing Machine circa 1955-60. Possibly made by Necchi.