One of the first pre war Necchi models circa 1925. Based on the Singer model 15 the Necchi sold well all over Italy before slowly being exported world-wide.
Necchi made many models always to the highest standards and pioneered many improvements to modern machines. Being an Italian machine naturally they had to make their sewing machines pretty to look at as well as useful. Today Necchi machines of the 1950 to the 1970's were the curviest of any sewing machine. Strange but true.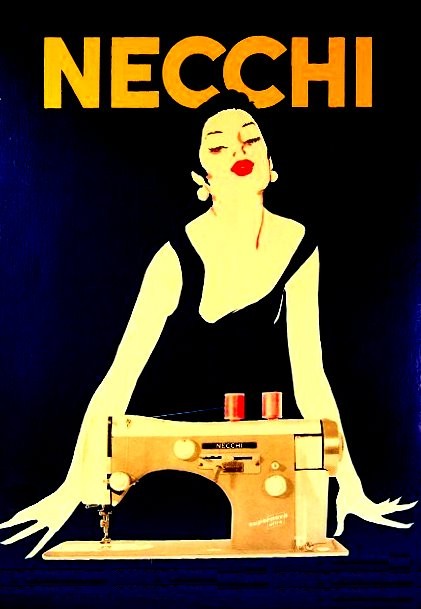 The sumptuous Sophia Loren dripping over her new Necchi
The gold medal winning Necchi Supernova was so far ahead of its time that it took the sewing world by storm on its release in the late 1950's. Even by today's standard it is advanced.
Necchi used the most beautiful women of the day to advertise their machines as we see here with a young Sophia Loren.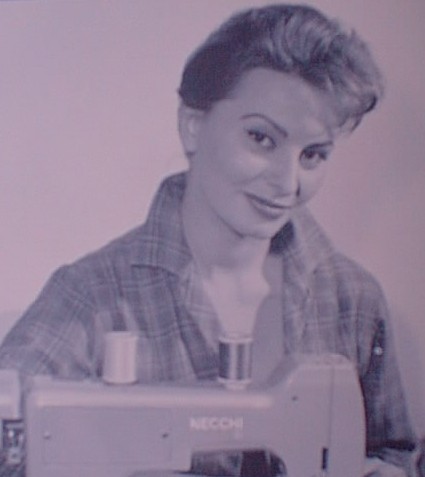 Sophia Loren 1959. With kind permission from Necchi Italy.
Later, the Necchi Mirella was so inspiring that it became the only sewing machine ever to be on permanent display at the Metropolitan Museum of Modern Art in New York. It represents the highest aesthetic level a sewing machine has ever achieved.
Necchi now supply the most up to date computer machines a far cry from the simple machines of the 1920's.
News Flash!

Both my latest books, Sussex Born and Bred, and Corner of the Kingdom
are now available instantly on Kindle and iPad.

Fancy a funny read: Ena Wilf & The One-Armed Machinist

A brilliant slice of 1940's life: Spies & Spitfires


Alex's stories are now available to keep. Click on the picture for more information.

CONTACT: alexsussex@aol.com Copyright ©